FYI... For an American Idol recap, scroll to the next post... for Facebook users, click to
Clouds in My Coffee
to see videos...
Before we begin (finish?) here's a recap of The 100 Coolest Things of the Year, numbers 100 thru 6...
The Introduction and Recap
The 100th thru 91st Coolest Things of 2008
The 90th thru 81st Coolest Things of 2008
The 80th thru 71st Coolest Things of 2008
The 70th thru 61st Coolest Things of 2008
The 60th thru 51st Coolest Things of 2008
The 50th thru 41st Coolest Things of 2008
The 40th thru 31st Coolest Things of 2008
The 30th thru 21st Coolest Things of 2008
The 20th thru 11st Coolest Things of 2008
The 10th thru 6th Coolest Things of 2008
One of the best things about a blog site is that as things are more important and more cool throughout the year, chances are, you've already blogged about it. So much of this will be a recap of what has already been written, with bits and pieces, plus the link for the entire story...
So, finally...
The 5th Coolest Thing of 2008. Toni Rocki Honda.
From the moment I picked up my new-to-me Honda Accord, I knew that my time with my 1999 Mercury Pezochit was limited. Yes, yes, this car caused me much grief, and yes, it wasn't exactly a "chick magnet" vehicle... but I had had it for about 8 years. I felt like I had paid car repair bills every single one of those years. You can read my
car-ownership history here
, a sad tale of lemons, wrecks and bad auto decisions...
Here's how I start the story...
I'm hanging out at The Happiest Place in the Mall the other day, and I get a text message. "Call me when you have a minute". The Lovely Steph Leann needs to converse with me for some reason, and I'm puzzled why.
Could she have discovered my hidden stash of Sweet Valley High novels? Did she find the full 3rd season of
Manimal
on my computer? Surely not... its well hidden.
(I'm just kidding. I don't have Manimal on my computer... duh!)
. Or maybe she finally realized that she's so far out of my league, its funny, and she wants to negotiate a deal... who knows...
I call her back, and after the usual married pleasantries, she tells me, "Okay, so my cousin JoAnna is selling her car." Its a 95 Honda Accord, with 102K miles on it. The price is extremely cheap, and its in really good condition... do we want it?
(I only say "extremely cheap" because I don't know if JoAnna offered it to anyone else and and what price, so I don't want to put her on the spot--if you really wanna know, just ask me)
We discuss it for a few days, consider the options, and decide its worth a look-see. But when to go? The car is in Gadsden, an hour up the road, I've got a very busy weekend, I'm at The Happiest Place in the Mall and The Most Caffeinated Place in Soho Monday and Tuesday, maybe Wednesday, but that night we need to pack, because on Thursday, we're going to The Happiest Place on Earth Not Next to The Lovely Steph Leann with our friends DeLisa and DeNick.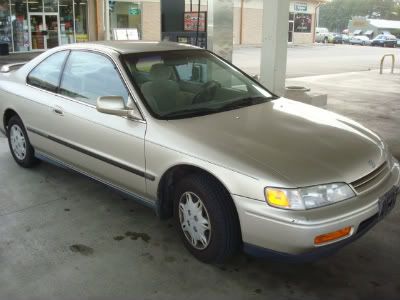 Do you want to know what happened? How the little Honda Accord came to be known as Toni Rocki Honda? Sure you do...
click here for the full column
from September 20th, 2008.
Movies I'm totally stoked for in 2009... "The Land of the Lost", starring Will Ferrell... "Star Trek", cause even though I'm not a Trekkie, I dig JJ Abrams... "GI Joe", which had the trailer premiere during the Super Bowl... "Transformers 2", cause how could you not be excited?... "Night at the Museum 2: Battle of the Smithsonian", cause I loved the first one, and this one not only has all the major cast back, but also Amy Adams!...And finally... these two...And I think this will be just fantastic...
The 4th Coolest Thing of 2008. DeLisa & DeNick at The Happiest Place in the Earth.
One of the best things about my job as an assistant magic maker at The Happiest Place in the Mall is the fact that we are able to go to The Happiest Place on Earth more often, and with that, we are able to take friends and loved ones with us.
Our first excursion with this ability came last September, around the birthday of The Lovely Steph Leann, as we traveled down to Orlando, Florida. With us was The Lovely Steph Leann's BFF from high school, DeLisa, and her husband DeNick.
This is The Lovely Steph Leann and DeLisa being all BFFy on The People Mover in Tomorrowland
I know that The Lovely Steph Leann just loves DeLisa dearly, and because of the marriage, she in turn dearly loves DeNick... and personally... I do too. There are great people in this world, perhaps people you don't see often enough, but people that none the less will bend over backwards to help you in all manners that they can, expecting nothing in return, and both DeNick and DeLisa fall into this catagory. Heck, just last week, DeNick, handy manny that he is, came over and installed a shower curtain rod into The Cabana's guest bathroom, and... well, I was going to say "helped me", but truly, I followed his instructions in laying down carpet in our newly almost finished attic turned super duper closet area upstairs. Anyway, it was this type of affection and adoration that made The Lovely Steph Leann and I look forward to taking them with us to The Happiest Place on Earth.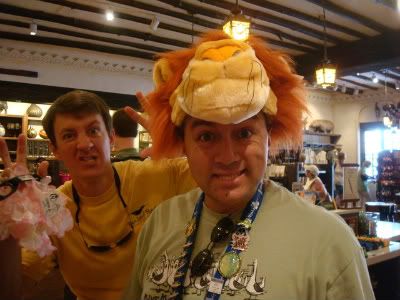 Not sure which is more disturbing... the lion on my head, or the fact that DeNick wants to look growly with a flowery lei wrapped around his hand
Neither are Disney-philes like we are
(yes, yes, someone out there just said aloud "well, who is?")
but both do enjoy the parks and the splendor of it all. We even worked out a great deal where we flew down on Thursday night, stayed at All Star Sports Resort, hit the parks on Friday, Saturday and Sunday, taking in some shopping on Monday. We had character meals together, and even dined extravagantly at Le Cellier in Epcot.
DeNick is one of those people that make me nervous when we go out to eat in a restaurant that has been chosen by The Lovely Steph Leann and I... he's such a cooking aficianado, you can only hope that whatever he tries, he likes... so when you hear him say, "Wow, that's really good" like we did at Le Cellier or in Animal Kingdom Lodge's Boma restaurant, you breath a sigh of relief.
Random The Happiest Place on Earth Story... DeLisa, DeNick, The Lovely Steph Leann and Yours Truly was coming out of Soarin', in The Land, headed back outside to presumably ride Test Track, when we saw a Cast Member with a lanyard. The Lovely Steph Leann and Yours Truly made a beeline for the guy, with DeLisa--newly indoctrinated pin collector that she was--following close behind.
DeNick likes to pose when he knows the camera is watching.
The Lovely Steph Leann notices a pin from Toy Story, a Woody pin, on the guy's lanyard, and exclaims, "Oh, you have a Woody! I want your Woody!" probably louder than she intended. I glanced over at DeNick, who was smirking, his left elbow in his right hand, his left index finger covering his twitching mouth. I shot a look at DeLisa who was also smirking. Finally, biting my own lip, I dared a glance at the Cast Member who looked at us, sighed, and with a half smile said, "Go ahead and laugh. I am not allowed to, but you can." DeLisa, DeNick and I began to laugh heartily, and a few seconds later when The Lovely Steph Leann understood her vocal folly, she half laughed, half gritted, "Shut up!" while smacking both me and DeNick. The Cast Member even enjoyed a laugh. Good times. Good times.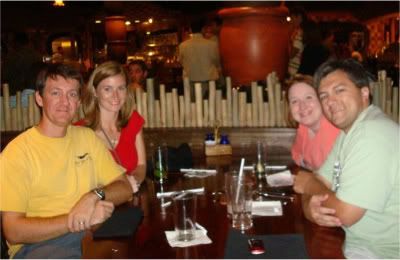 The four of us enjoying drinks and an African style buffet at Boma, located inside Animal Kingdom Lodge
By the way, if you want to read some early blogging stories, you can read the story of DeNick and DeLisa's wedding told in three parts...
Part 1: Its In the Shoes
Part 2: Its All Greek To Me
Part 3: Everybody Wang Chung Tonight... Everybody Go Greek Tonight
Some of the crappiest things, or biggest disappointments of 2008? In no particular order... Auburn firing Tubby... "Mamma Mia!" was a disaster on the big screen... "Indiana Jones & the Kingdom of the Crystal Skull" was a huge blemish on the Indy Legacy... The New England Patriots lose the Super Bowl, thus ending their bid for undefeatedness... Being a Starbucks manager isn't everything I hoped it would be... and, of course, John McCain gets the Republican nomination, all but assuring that the most liberal, left-wing idealistic, socialistic minded (these aren't slanders--this is who he is. don't get offended. you elected the guy) Democrat in Congress would win the White House.
The 3rd Coolest Thing of 2008. The Happiest Place in the Mall.
Its interesting that I'm just now finishing this list at this point in March, though I said I would try to get it done by the beginning of February. Right, right... anyway, I was talking about
"High School Musical 3: Senior Year"
last night to a fellow Cast Member, about the final scene.
At the very end, when the credits are just starting, all the major players in the movie, that being
Zac Efron
,
Vanessa Hudgens
, Monica Coleman,
The Junior Goddess
, Corbin Bleu and that
dude who plays Ryan Evans
, are all standing there, taking a bow. They have these big grins on their faces, grins that read "Wow. We did it. The show is complete..." and they are smiles that only people who have been involved in drama can understand. That big exhuberance you feel when the show you've slaved over
(or in this case, a movie trilogy)
has finally come to a close, a smashing, wonderful, rousing, successful close, and its over, so your smile is part sadness that its over, part relief that its over, part excitement that its over, but all smiles because its over. Wendy Deckermiller... Erin the Marine Wife... you feel me. I know you do.
Anyway, I was trying to describe this feeling to my Fellow Cast Member, when she said, "How do you know?" I told her I'd been involved in student drama now at Valleydale Church
(an sbc fellowship)
for almost 10 years, and before that, I was a drama minor in college. She said, "But you didn't finish, did you?" and I said, "Of course I finished. I have a degree in broadcast communications, with minors in theater and sign."
And she stammered for a second, then said, "Then why are you here? In retail?"
And I smiled, "Because... well, because I want to be."
And its the absolute truth. How many people are doing the jobs they want to do, or feel like they are in jobs that suit who they are almost to a tee? Granted, if offered a creative ministries position at a church, or full time with the All Things to All People drama team in Student Life ministries, or if The Happiest Place on Earth called up and said, "We want you in our creative department", I might have to take a gander... but for now? I work at The Disney Store. I'm an assistant manager. I'm paid pretty good jack
(I'm not rich, President B. Hussein Obama, so please don't tax me yet)
to demo toys. To discuss the new line of Power Rangers with a guest. To toss a ball filled with glitter swirling around a plastic Cinderella to a little girl who can barely catch it. To hand out free Jonas Brothers posters to a squealing pre-teen convinced she is not only the biggest Jo-Bro fan in the world, but the future Mrs. Joe. Or Kevin. Or Nick. To come up with ideas of how to get Pinocchio on DVD into the hands of more people. To help people plan their first Disney vacation by telling them the dos and don'ts of fast passes, Toy Story Mania, the dining plan and pin trading. To tell an unhappy guest that yes, Peter Pan just went back into the vault, but luckily, we have a few copies left.
This is what I get paid for. Yes, yes, it has its challenges, it has its difficult spots and there are things about the Disney Company that make me think, "What the crap? They are a bajillion billion dollar company, and they do it THIS way?" But I love my job. I love going to work. I love the people I work with. I feel valued there. I feel accepted there. I feel important there, something I felt somewhat at Parisian Corporate, something I felt at Cox Radio, but never, ever felt at NBC13, and only partly felt, some of the time, at Starbucks.
When I was trying to decide whether to leave Starbucks, an ordeal I wrote about in a piece called
"Between a Mouse and a Bean Place"
from last June, I was faced with a decision one should be so lucky to have... which great job to choose from? Stay where I am, be happy. Be okay. Take the new job. Be happy. Be okay. I followed the essay up with another column a few days later called
"Taking the Mouse, Leaving the Bean Place"
. Anyway, you can read the full story there...
"Why are you still here?"
"Hmm. Because... because I want to be. That's why"
The 2nd Coolest Thing of 2008. The Cabana.
We spent much of 2007's latter half looking at houses. You know the routine, anyone who is married and has looked for a house... you lurv a house and your Significant Other merely likes it. They just adore the house you are looking at, but you are thinking it's just okay... which a house should never just be "okay".
We searched and searched... we saw a three story townhome next door to Mark & Cindy Warner that I absolutely loved... the basement was finished, it was like a mini-apartment, and I was already envisioning it as a Man Cave, with a big, fat tv on the wall and a ping-pong table in the corner. We don't drink, but I might even start collecting wine, who knows... The Lovely Steph Leann liked it. Just okay.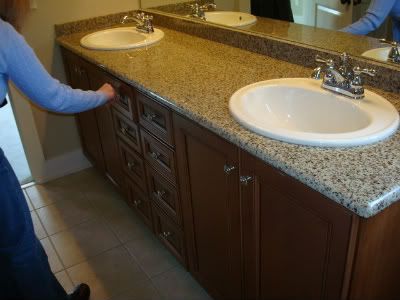 The Lovely Steph Leann, inspecting the drawers and sinks at The Cabana
We looked at another home that had this huge living room, with this huge stone fire place, large rafter filled ceilings and big bay windows. The Lovely Steph Leann loved it, or at least this part of the house... I slowly talked myself into it, but that time, she had soured on it. Something about the house needed a new roof soon, or whatever. Our real estate agent was Tanya Stephens, now... Mischa? Mescha? We're terrible friends having not kept up with her...
Tanya, The Lovely Steph Leann and I pulled up to one house, and my response was "Hmm". Immediately, Tanya turned around and said, "You don't like it, do you?" I looked at her, "I didn't say anything." She smiled at me and said, "Yes you did. You said 'Hmm', which tells me at first glance you don't like it, and if Stephanie likes it, you'll to be talked into it. And thats not a good sign."
We found another one down past Greystone, a home that I liked well enough, but The Lovely Steph Leann wasn't crazy about. Tanya nailed it perfectly, something like "Dave, you like this house because its new, and its fun, and Steph, you don't like this house because its so new that it doesn't have character." Righo, Tanya.
The funniest moments though were perhaps when we both didn't like the house, like one in Bluff Park that was nice enough, but you could tell the guy living it was either fresh out of college or still living like he was. The house smelled strongly of bad potpourri, and having grown up in a smoke-infested home, it took me about three seconds to inform The Lovely Steph Leann that the powerful fragrance is covering up the cigerette smoke in the house. Plus the small fridge with beer cans on top, sitting beside the bed in the bedroom didn't help any, and neither did the old Pepsi machine on the porch. We passed.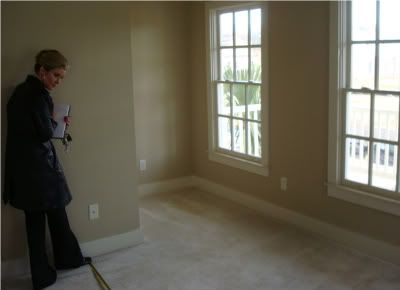 Our agent, Tanya, helping us get a measure of the bedroom
We had to sign another lease at The Casa de Pesos Apartment on December 31st, or go month to month, but since we weren't close to finding a house, we figured we'd just sign a 7 month lease and keep looking for houses. On the last day of the year, I signed the contractual lease locking us into The Park at the Galleria and its ever rising rent until August of 2008.
The next day, The Lovely Steph Leann and I were at Mikey's parents home for their annual New Year's Day gathering, when for whatever reason
(I'm sure she remembers),
The Lovely Steph Leann had to run an errand... and for whatever reason, Lil Sister Ashley goes with her. A little while later, I get a call on my celly from my dear wife, saying, "David, you HAVE to come look at this house! You have to come look! Ohmigosh! Hurry up!"
I hop in the car... maybe Lil Sister Ashley went with me... or maybe it was Rev'rn Ty... you know what, doesn't matter. Anyway, when I arrive in this newly built neighborhood of Beaumont, I see three or four houses that are built, the rest are just dirt plods awaiting a foundation, or foundations awaiting a frame, or frame awaiting a wall. The one in question rests on Laurens Street, numbered 1508. It's got a palm tree in front. No joke. All the houses down this street do. I'm diggin' it.
The Lovely Steph Leann, looking over the kitchen area

I walk in, and the first thing I say to The Lovely Steph Leann and Lil Sister Ashley is, "If we end up moving here, we're calling this place 'The Cabana'. We just are."
Its dusty with the smell of drywall, the paint cans are everywhere, the floor is half there, the stairs have plastic all over them... but it kinda hooks me. This place is kinda cool. The Lovely Steph Leann... well, you just have to understand her. She has levels of likes and dislikes. For instance, during Idol, I started a verse of "Hero" by Marc Antony, and she yelled at me because she so deeply despises this song. If I were to sing "I Hope You Dance", she'd just ask me to stop, because she just merely hates the song. Conversely, she has two positive emotions... like it and love it. You'll know like it, because she'll smile, or she'll agree, but you just get this hint that she's not crazy about it, but it'll do. When she loves it, you know it.
And she loved this house. She was clapping, pointing out random things in the home, like the fireplace and the attic and the counters and the sinks and so on and so forth. She loved this home. And you know what? I could see it... I didn't know if I was in love with it--yet--but I really, really liked it.
We contacted Tanya, and on a Sunday, she met up with us, telling us that she had this house in mind for us as well. She loved it too. The next few days were a whirlwind... we met with the realty company several days later for what I thought was an informational meeting... so when the lady said, "Oh it will be blah blah blah down to hold the home for 2 weeks, and closing costs will be blah blah blah..." I looked at The Lovely Steph Leann and said, "Do we need to discuss this?" and she nodded and said, "No, I have a check." What? I looked confused, and she said, "Didn't I tell you this was a meeting about reserving the house?" Uh... no... she looked, smiled sheepishly and said, "Oh... well, this is a meeting about reserving the house!"
A week or two later, we met with Gary "The Idol" Eubanks and signed the papers. We were officially homeowners. Thus began the homesteading saga you can read about in
"The Glorious Road to Colombiana"
.
Life at The Cabana
Just two more quick notes... if you ever need someone to walk the house with you to determine what needs to be fixed before moving in, call Ruth Campbell, the mother of The Lovely Steph Leann. The woman is... well, ruthless. She walked in with her green dots and put them on every nick and cranny, every paint streak that was streaked, every nail that was a little bit crooked, every railing that considered shifting left 0.07 degrees... she was all over it. It was awesome. She and the Wonderful KT also are owed some props for helping us to get the place cleaned up in time for move-in, including one most-to-all-nighter on the eve before we moved. I also give props to J Rob for coming to the Casa de Pesos and helping me get done packing up... KT and Britlicious did a wonderful job that next day too. This gets a nod in
"The Moving Diaries: 24"
and
"RIP Casa de Pesos"
And who'da thunk that a year later, we'd still be on Phase 4.
Before we finish... people/things that barely missed the cut that deserve a mention... in no particular order... Tanya Stephens... Sonic Cheesesticks... Dayla Ellison... Big Jon Taylor... Croyle... Britlicious... Jamie Cartledge... The Purple Onion... Scotty Latta... Pruitt Cool Award Nominee Tyler Campbell... Ashley Tisdale... Amy Valdmanis... Pruitt Cool Award Nominee Mikey... Dale's Southern Grill... KidStuf... Gainey Wins the DFC... JustFish... Pruitt Cool Award Nominess Lil Sister Ashley... Trey Cartledge... The Freckled Becca & Bobowen... Sammi Carby... Dixon Brock... Cristie Stephenson... The Dainty Steph Halpert... Andy Murry... Chipotle Mexician Grill... Wendi Deckermiller... Blair Andress... Kelly Karrell... and I'm sure I'll think of more when I finish this list...
THE COOLEST THING OF 2008
Three words:
1) I'm
2) Debt
3) Free
Read about Freedom here....
And now that this list is done, we'll continue with blogs about our real life...