THE RESULTS
So, Seacrest comes on and tells us that he has the results... results that may shock us all. Hmm... perhaps The Ambigiously Gay Adam is the odd boy out? Of course, the judges can save one person, once in the entire season--and of course, they didn't use it with Jazz Murray or Jorge the Latin Lover.
My prediction of who should go home? Well, as much as I want to say the obvious, the guy is talented. Even though I don't like him. The weakest, though, and the one who doesn't have a shot in Ensley of winning this thing? Mike the Oil Rigger, followed closely by Scott the Blind Guy and possibly MJC. Then again, if Lil Rounds goes home, its not going to shock me.
The Lovely Steph Leann just raved about The Ambigiously Gay Adam, how effortless he sang, how his voice moves back and forth with so little strain, and so on and so on. I threw up in my mouth twice as she raved.
But first, here's the reason we should let the whole thing record, then watch it via DVR... the group song. Tonight its a butchery of "T-R-O-U-B-L-E" by Travis Tritt...
Ever see one of those quiz things in bars and wing places, and though you aren't playing, you end up guessing, even silently, the answers? You ever find a question that the answer given is kinda wrong? That happened tonight as The Lovely Steph Leann and I had some wings for dinner over at Buffalo Wild Wings... she had the teriyaki, I had the parmesian garlic... the question on the screen was "His second hit was the self-penned 'Anymore'" and the choices were Travis Tritt, Tracy Lawerence, and two others I don't remember. The answer, of course, was Travis Tritt, but the question was wrong. Yes, "Anymore" was an excellent song (with an equally excellent, albeit unintentionally funny, video).
Tritt released "Country Club" and had five hit singles, including the title track, "Drift Off to Dream", "Help Me Hold On", "Put Some Drive In Your Country" and "I'm Gonna Be Somebody. His second album was called "Its All About to Change", and featured "Here's a Quarter (call someone who cares)'", "Anymore", "The Whiskey Ain't Working" and "Nothing Short of Dying", so really, "Anymore" was like, Tritt's 7th single. Very annoying to know so much random crap, and to be able to tell when the Wings quiz show is wrong.
And yes, this entire paragraph got me through the group song, the commercials and partly through the horrendous Ford commercial. I think it would be funny, though, to see Scott the Blind Guy driving in one of these videos.
I guess to kill the hour, we see video of what happens when Idols go home, Mike the Oil Rigger talking to his daughter and video of everyone covering their mouths during rehearsal due to MJC's illness...
The Widower Danny Gokey is safe... remember, the Top Ten go on tour, so you'll see The Goke on the road. Lil Rounds sits down, she's on the tour as well, and freaks out when she's told to sit. The Eyebrowed One, Anoop Dawg stands. Seacrest discusses the judges comments last night, and Anoop Dawg is safe.
Red Ally and Mike the Oil Rigger both stand... never good when two stand, especially when one was a bit iffy last night. Seacrest asks Paula to guess who is in the bottom three, and Paula stammers and stumbles and stutters and mutters and Simon says "Answer the question" about fifteen times. And Red Ally is... in the Bottom Three. Booo!! Mike the Oil Rigger still stands, asking aloud, "What does that mean for me?" And he's in the Bottom Three as well. He joins Red Ally on the Silver Stools of Jeopardy.
And here to perform his new single "Then", Grand Ol Opry member Brad Paisley. With a name like "Paisley" and his boyish goofy look, I wasn't a Brad Paisley fan to begin with... but over the years, I've really started to pay attention to his music and ya know what? I really like this guy. Seriously, with "I'm Gonna Miss Her" and "Whiskey Lullaby" and "Online" and heck, who doesn't love a song that suggests searching his loved one for "Ticks"?
Back now... the American Idol results are in. Scott the Blind Guy stands up... he's going on tour with the top ten. Up next? Megan Joy Corkery, who has this look of "oh crap" on her face. The judges loved her, but really, I just thought she was okay... sort of weird. But either way, she's safe.
Matty G stands. And I just noticed that Alexis Grace and The Ambigiously Gay Adam are sitting at the end of the bench... so after telling Matty G he's safe, which Seacrest just did, he'll tell Kris Allen he's safe, which he just did... and now, Alexis and The Ambigiously Gay Adam stand together.
Simon admits that he rewatched the show after going home, and says, "Adam, it was even worse the second time." Seacrest goes judge by judge, asking their opinions, and The Lovely Steph Leann rolls her eyes and says, "Oh, blah blah, let's go..."
And who is in the bottom three? Alexis Grace. The Ambigiously Gay Adam sits down, to freak us out and make our skin crawl next week. Seacrest decides to send one back to safety... Red Ally goes back to the Couch of Anxiety.
I blame the judges. I completely blame Paula, Simon, Kara and Randy for their hypocritical comments of Alexis Grace, because no, she didn't sound anything like Dolly Parton, even though they said she did, and if she had sounded just like her, they would have chided her for sounding too much like the artist. They chided her for not picking a raw song with angst, as if "Jolene", because a song about a chick desperately trying to protect her man from being stolen by the town hottie didn't provide enough angst. All the while, they pour on affection, love and emotion for The Ambigiously Gay Adam and a very subpar The Widower Danny Gokey. Yes, yes, the people vote, but listen, this is a nation who believed everything that President B. Hussein Obama told them (and see what we got??) so I can fully believe that many people who voted believe much of what the judges tell them. I blame the judges. Okay, the show is back on, I'm done.
But before we find out the results, we see Carrie Underwood discussing how wonderful her life has been, and Seacrest's narration tells us that she's had 9 consecutive #1 singles, won over 40 awards for her career, and been nominated for Entertainer of the Year. And you can add to that list "And she never dissed the show that created it all for her, unlike Kelly Clarkson, so we'll continue the Carrie love fest forever!" Not saying she doesn't deserve it, cause Carrie Underwood is feeeee-nominal...
She and Randy Travis are doing a duet called "I Told You So", which led me to ask The Lovely Steph Leann, "Is this a remake of the old Randy Travis song?" She shrugs, unknowing, but when Carrie starts, "Suppose I called you up tonight and told that I loved you..." I nodded. Yep. This is an old school Randy song from the 80s, from the 1987 album "
Always & Forever"
. The song is also Carrie's 5th single from her fantabulous second album, "Carnival Ride".
Simon reveals that one of the two, Alexis and Mike the Oil Rigger, is worth a save-consideration. Though Alexis is probably not ready to admit it to herself, Mike the Oil Rigger is thinking "uh-oh".
And the voters say... Mike the Oil Rigger is... safe. WHAT? WHAT??? Alexis Grace could be going home? What? Uh... though I'm not shocked, I'm a little unhappy with this item. So Simon tells her that she is going to sing, and they'll save her based on what she will do right here and right now. She sings "Jolene" again. And understandably, her voice is a bit crackedy, and she's about ten feet in front of all four judges, who are huddled and staring at her and whispering to themselves.
The judges say... it wasn't good enough. They keep the "save". Alexis Grace goes home, and though she's been told by the judges now that she's got an amazing career ahead of her, let's be honest... how many 10th, 11th and 12th place Idol contestants do you remember? Brandon Rogers? Julia DaMato? Amy Adams? Vanessa Oliverez? Maybe Chris Sligh? Exactly. Alexis will drift into the back of our memories, while, like Sanjaya, The Ambigiously Gay Adam will be stuck forever. I'm bitter. Very, very bitter.
________________________________________
THE PERFORMANCES....
Thankfully, this Tuesday has been much, much less eventful
than the previous
, so tonight, we'll turn to...
THIS IS AMERICAN
IDOL
So how's this for vague? Not just country music... not just songs from The Grand Ol' Opry. Its songs from artists who are members of The Grand Ol' Opry, whether their songs are featured in the walls of the Opry or not.
This is a hoot, because I grew up on old school country music... The Statler Brothers, Johnny Cash, The Mandrell Sisters, The Oak Ridge Boys, even early Judds and early Randy Travis, who just so happens to be mentoring the contestants tonight.
Don't get me wrong... I love Carrie Underwood, and Garth Brooks and Clint Black and Brad Paisley and Alison Krauss and of course, Pickles--I love Pickles!--and so on and so forth, but old country is still classic. And to see Randy Travis teaching them is kinda funny... he's like the old uncle that you don't want to talk to, but is actually in fact wise beyond his years. And he was in the Patrick Swayze Magnum Opus,
"Black Dog".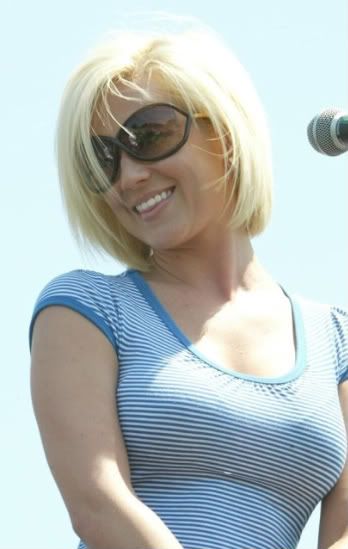 Aw... did you know she's coming to B'ham in September? Will I go? I just might.
Ever want to know the members of the Grand Old Opry?
You can find them right here
...
Jorge the Latin Lover and Jazz Murray left tonight. Eleven more perform tonight.. its 8pm, so we'll see if we can catch up to the show in an hour. Country Week is going to be a little tougher, maybe tougher than Michael Jackson, because at least with Jacko, you have a slight range of music--but with Country? All sorts.
Simon makes a point that he doesn't care for country music at all... and we know this.
Mike the Oil Rigger
apparently is going to take on some Garth, singing "Ain't Goin' Down Til the Sun Comes Up", which as Seacrest points out, "He has a lot of words to memorize".... but really, any country fan, ie, Garth Fan, worth his salt knows every word to this song. And its one of those you can't just jump in mid-verse... you gotta start that off right at the beginning. "Six o'clock on Friday evenin', mama doesn't know she's leavin'..." gets you going.
Not sure if I liked Mike the Oil Rigger's performance, or I just happened to really like the song, but I think it was pretty good. Randy says it was a cool song choice, though it didn't bring out certain vocal capabilities. Kara liked his personality, but wants the big notes. Paula liked it. Simon couldn't understand it, though Mike the Oil Rigger said, "Country folks understood it."
Here comes Red Alley, aka, Allison Iraheta. She's going to do "Blame It On Your Heart" by Patty Loveless, who I really dig. Actually, its "Blame it on your lyin', cheatin', cold dead beatin' two timin', double dealin', mean mistreatin', lovin' heart." Just so you know.
Her voice is just awesome, by the way. She's not to the point where I'm ready to crown her My Next American Idol, but I look forward to hearing her in the upcoming weeks, perhaps a rock week or something like that. And I really like her take on this song... very rockabilly.
Two songs in a row that I could sing from from to back, start to finish on my own. Love it.
Kara loved it. Paula talks about flowers and rainbows and pink clouds. Fluffy puffy poo. Simon said it was good, but perhaps a little out of tune here and there. Randy thought it was DOPE! Indeed.
One of my favorites last week, Kris Allen comes out, though he is singing "Make You Feel My Love", another Garth song that either he lent to Billy Joel, or Billy Joel lent to Garth, who knows.
(actually upon looking it up,
its a Bob Dylan song
).
This is dangerous, by the way, because slow, soft ballads like this can show off alot or really backfire.
This from the musical expert, right?
It was good, but it was slow. Paula was pleasantly surprised. Every word seems to be a struggle for her, though I'm not sure if this is any different than any other week. Simon thought it was terrific, and thinks it was a great song choice. Randy thought it was really cool, "with tender moments with my dawg Kris. A tender dawg." Kara loved it.
Oh, another note... its from the movie "
Hope Floats
", one of the worst movies I've ever seen in my entire life.
Lil Rounds! She's like Brad Pitt... I want to not like her, but I just can't help myself, really. I just like 'em. She's bringing home Martina McBride's "Independence Day", which you cannot, must not and shall not sing unless you have one heckuva voice. Martina is like the white, non-crack, non Bobby, country version of Whitney. And Martina? Totally a member of the Ashley Judd Club. In great standing.
Its kinda weird though to see a black chick take on such a country staple. Another song I can sing front to back... I liked Lil Rounds singing this, but it was not nearly as big as I thought it was going to be... she should have wailed that song at the end... it looked uncomfortable, and sounded so.
Randy felt the same way. Of course, since Idol's producers love Lil Rounds, doing something a little different will be okay for her, right? All great artists take chances, right? Kara says just as much. You let MJC do this, sound exactly the same, and I guarantee they slam her for song choice, and picking too big a song. Paula liked it, but felt she should have sang different parts. Simon, who calls her "Lit-Tul", and then finally "Lil", says it came over as a wedding singer that is forced to sing a song that someone else has requested. He is wondering where the Mary J
("Blige" not "Jane", by the way)
went.
After four... its Red Ally, Kris Allen, Mike the Oil Rigger, Lil Rounds
And now here comes The Ambibiously Gay Adam Lambert. A guy like Adam is the kind of guy that a guy like Randy would just as soon shoot. The Ambigously Gay Adam is going to try to take on "Ring of Fire" by Johnny Cash, but put a different spin on it.
THIS SONG SUCKS!!!
You know what this reminds me of? When Alex and Sophie write this sweet little ballad song in
"Music and Lyrics"
and then Cora, the arrogant pop star turns the song, "Way Back Into Love", into this weird, freaky, sexual, unnecessary tune. If Johnny Cash were alive, he would likely come out and put a size 12 cowboy boot in The Ambigiously Gay Adam's face.
Kara thought it was strange. But then she tosses on "But I kinda liked it!" at the end, almost as if the producers yelled, "We love this guy! Say something nice, or your fired!" Paula would hand her rooms keys over, though she's not sure if she'd get some action or they'd compare shoe shopping experiences. Simon? "I think was Randy Travis was trying to say is 'What the heck was that?'" Randy (Jackson) says it was fresh and hot and all that. I hated it.
The Lovely Steph Leann, however, really likes him. Seriously. She, for weeks now, has gone on and on about how amazing his voice is, and his vocal talent, and how great he is and how talented he is and blah and blah and blah... we're in counseling now.
Scott the Blind Guy
is going to sing another Martina song, "Wild Angels", to which Randy Travis says, "When I first heard this idea, I thought 'not a good idea'." But he came around to like the version.
This song has never been one of my top faves of Martina, though its not bad. And Scott the Blind Guy's version is not bad, either. Its funny, for me Martina McBride is one of those artists who has songs that I really don't like, but conversely, the songs I do like, I really, really like.
Paula is impressed, though he should step away from the piano. Simon says that is a stupid idea. He does criticize the song choice, but Scott the Blind Guy jokes, "I've lost a lot of hat picks". Randy says it wasn't the song, but is looking for better vocals. Kara sums up by challenging him to "up the game a little bit."
Here's how Martina should sound... and any song about an abused wife blowing her house up with her jerkweed husband in it? Good stuff. And for folks like Brad Latta, I didn't post the song for the opening remarks, I posted it for the quality of the performance...
Alexis Grace
, who looks ravishing, is up next. She does the right thing by buttering up Randy Travis, telling him how great he is... then she tells him that she'll be singing "Jolene" by Dolly Parton, one of my favorite old school songs, and one of my favorite two or three Dolly songs.
"Jolene" is a song about a chick of the same name, who is movin' in on the singer's man. The singer is begging Jolene to back off, because Jolene is apparently the new hotness, and can have any man she wants, but "please don't take my man... just because you can."
I do love me some Alexis Grace. Lovin' this version, by the way.
Randy wasn't sure about the notes, and tried to make it more bluesy than it should be. Kara tells her she lost her edge, and maybe she should have gone with "Last Name" or "Before He Cheats". I can't believe this, but when Paula says, "I think that song served you better than they think you did", I agree with her. I think Alexis Grace did a great job with it, and "Jolene" is just the right kind of angst song that suited her well. Simon didn't like it all that much.
Kara and Paula say they "miss the dirty"... what is this, American Stripper?
While I think
The Widower Danny Gokey
looks kinda like my buddy Justin Fisher, The Lovely Steph Leann still calls him Robert Downey Junior Junior.
He's going to be singing "Jesus Take the Wheel"... the video shows us him messing up over and over in front of Randy Travis... while The Widower Danny Gokey laughs, Randy looks unamused. The camera only shows him from the waist up at first, and in that white jacket, The Widower Danny Gokey looks like a Hoth Stormtrooper, sans the helmet.
So, he sounded okay, but I didn't think it was all that wonderful. The Lovely Steph Leann liked it, though she's been sipping on Gokey-Aid for a few weeks.
Either the judges will love him, or they'll use the words "indulgant" at some point.
Kara didn't like the first part, but loved the second part when "you hit your stride!" Paula loved all of it. Still struggling for words. And coherent sentences. Simon agrees with Paula, disagreeing with Kara. He doesn't like the outfit, using the words "polar expedition"... to Hoth?? Randy didn't like the verses, but loved the chorus.
After eight... Alexis Grace, Red Ally, Kris Allen, The Widower Danny Gokey, Mike the Oil Rigger, Scott the Blind Guy, Lil Rounds, The Ambigiously Gay Adam
Here comes Anooooooooop Dawg.
The Eyebrowed One himself will be singing Willie Nelson's immortal classic, "You're Always On My Mind", which was redone by The Pet Shop Boys in the mid-80s. The Boys version was good, but not like Willie.
That might be the first time Randy Travis has ever actually said a Middle Eastern name out loud.
And... it sounds marvelous. Seriously. The Eyebrowed One is bringing it... were this done in 1992, I can honestly say I would consider buying the cassette single of this song, a la Michael Bolton's "When a Man Loves a Woman". And as I was in the middle of typing that last sentence, The Lovely Steph Leann says, "You know... he kinda reminds me of Michael Bolton... in a good way!"
The other night at Jason and Emmy Turnbow's house, our friend Heather King said, "You two compliment each other perfectly!" and Emmy nodded, and mouthed "Yes. Yes."
See what they mean??
But remember, Anoop Dawg isn't The Ambigiously Gay Adam or Lil Rounds, so will the producers tell the judges to really like him?
Paula loved it. Simon said, "You managed to go from Zero to Hero. That was a good, solid song." Randy loved it, cause he liked the vocals and the arrangement, which was dope. Kara commends him for doing what he did tonight, because it is so hard to do with that kind of classic song.
Up now is
Megan Joy Corkery
singing a country standard, that being "Walkin' After Midnight". Randy says, "This song has been done in every possible way over the years", though he liked MJC's take on it.
Can MJC sing Patsy? Not easy. Except for the tats up her right arm, MJC looks smokin' hot. Not that the tattoos are bad, they are just distracting with that sleeveless dress on. MJC definately has a different sound on the song... not sure if I like it or not, really.
And I'm not sure if MJC has on a dress, or simply a skirt and a boob separator/holder. The Lovely Steph Leann agrees.
Randy thought it was good, impressive. Kara acknowledges MJC having the flu, but liked it. Paula tells the world that MJC has already been to the hospital with her illness, as MJC coughs on stage. Simon says she looks great, but doesn't like the style. He did like the song, though.
Okay, I liked it. I'll admit it.
And to round out the show, in the pimp slot,
Matty G
. He'll be singing "So Small" by Carrie Underwood, and Randy isn't sure if this is a great song... but ends up liking it.
Matty G was one of my favorites last week, which was surprising. And this week? He sounds awesome. If I were to put this song, Matty G's version, in one of my playlists, it would probably go in with Howie Day and John Mayer and possibly Blessid Union of Souls. Dude sounds great.
Kara loves it, making a comment that forces out a "That's what she said", then a hearty laughter by me, followed by a eye roll from The Lovely Steph Leann. Paula tries to say Authenticity. After four tries, she gets it. Simon says it was great, reminding him of Buble. Randy said it was his favorite of the night.
In a year when I thought I was supposed to like Alexis, Lil Rounds and Scott the Blind Guy, and I end up liking Alexis, Matty G and Kris Allen. Who knew? This is American Idol.
So, tonight's favorites... Matty G, Anoop Dawg, Alexis Grace, Red Ally, Kris Allen, MJC, The Widower Danny Gokey, Mike the Oil Rigger, Scott the Blind Guy, Lil Rounds, four thousand other people who tried out, then The Ambigiously Gay Adam.