NOTE: If you are reading this on facebook,
click here to see the videos
(they will not appear in facebook notes)
What the heck is Clouds in My Coffee?
Click here to find out what the heck this is all about
.
The Introduction and Recap
The 100th thru 91st Coolest Things of 2008
The 90th thru 81st Coolest Things of 2008
The 80th thru 71st Coolest Things of 2008
The 70th thru 61st Coolest Things of 2008
The 60th thru 51st Coolest Things of 2008
And now... we begin the Fifty Coolest Things of 2008
50. The SEC Championship Game
Go Gators! Go Gators! Go Gators! Go Gators!
49. Kourtney Kelley
This kid is just amazing. She's 21, one of the WalkAbout Hall of Famers
(fyi, for the new coffee drinkers, WalkAbout is the name of the Valleydale Church (an sbc fellowship) middle school drama team that I've been honored to lead for almost a decade)
, and I've been amazed at her faithfulness for many, many years. Kourtney has two sisters, also WalkAbout alumni, but Kourtney is the one that I've ended up being the closest to over time.
Heck, I remember the day, when she was an 8th grader and she told me of how she planned on doing mission work with her life. Years later, she's a student at Carsen-Newman College and is planning on doing just that very thing... mission work with her life. And of course, at 21, she's still got the goofyness and silliness that comes with being just that old--and that's what makes her endearing.
She's easily someone you can use as a role model, and I'm only hoping that in however many years, The Lovely Steph Leann and I can have a daughter like the Kelley girls.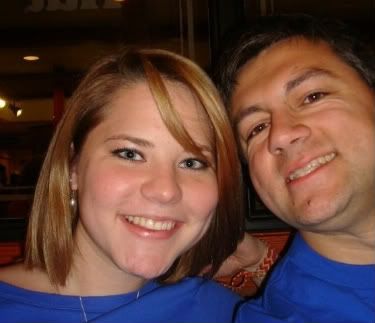 Hope she's okay with the fact she's one rank below...
48. "The Rock: The Most Electrifying Man in Sports Entertainment" on DVD
It's no secret that I have a mancrush on The Rock. He's the man. He... well, he rocks. I mean, I guess you could say he's my favorite actor, though I've never thought too much about that part, though I look back on his days in The WWE. My. Favorite. Wrestler. Ever.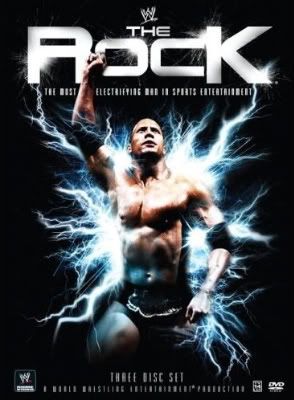 So when this DVD was released, a 3 CD bastion of his greatest matches, greatest interviews and greatest moments in his WWE career, how could I turn that down??? I didn't. I went out and bought it the day it was available, and through my limited time, I watched a match here, a match there, and enjoyed every second of Thheeeeeeee Most Electrifying Man in Sports Entertainment...
Listen up Jabronis...
That's right... an actual match, on Clouds in My Coffee. The Rock, the People's Champion wearing The People's Elbow... vs. Triple H, from April 30, 2000's WWE Backlash. For the WWE Championship.
And here's Part II of the match.
For the record, I can respect and understand why Dwayne Johnson would eventually want to drop "The Rock" from his name, and just be known as Dwayne Johnson. However, I think he totally should be Dwayne "The Rock" Johnson. Seriously. He'll always be The Rock.
He's actually only done ten or so movies, with a few more in post-production, according to his IMDB page. Here are three you should see...
1)
"Walking Tall".
Its a remake of the Buford Pusser
(one of the greatest dirty sounding clean names ever)
bio film, but its better, cause it has The Rock in it.
2)
"Be Cool".
Its a sequel to "Get Shorty", sort of, with John Travolta being funny, and The Rock being funnier.
3) "
The Rundown".
On the Dave100, and it stars The Rock. 'Nuff Said.
47. Jason & Emily Turnbow
When The Lovely Steph Leann and I were looking for a Sunday School class... excuse me, a LIFE CONNECTION class
(you're welcome, Pastor Calvin)...
we ended up in an "older" married class. I say older, because they had us by about four or five years, and they all had kids, and they were all in a stage of life we couldn't relate too, especially having been married only a year by then. We got wind of a "newly married" class starting up, so we joined. A year later, we, as a class, transitioned into the "young married", and our new leaders where this couple that I had seen before, but never met... he seemed cool enough, she was very pretty and seemed nice, and they had kids.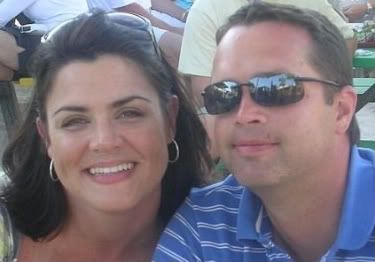 Who's luckier? I say he is. The Lovely Steph Leann may disagree. The real answer? I am. Ha!
It was then that Jason and Emily entered the life of The Lovely Steph Leann and d$. And we are forever blessed for it. They are a family that loves Jesus and lives fearfully and wonderfully made by our Creator, and one of the things that I think I love the most about the Turnbows is how much they love each other. You can tell easily that Emily is all about her some Jason, and Jason in turn honors and respects Emily ultimately.
Anyway, it was this year I really felt like I wanted to mention them in the Top 100 Coolest... because they truly are two of the coolest, greatest people I know.
We'll be back to our Hallmark Channel special presentation after this break
46. Re-Reading "Salem's Lot" by Stephen King
Actually, it was listening to "Salem's Lot". I remembered really enjoying the book last year--in fact, it made the
Top 100 Coolest Things of 2007
at #51. Truth be told, I don't look at last year's rankings when I make this years standings, but there is a reason it ranks higher the second time around...
I was listening to the audiobook, read by Ron McLarty--its very, very true that a good reader can make an audiobook, a bad reader can destroy one--who is an excellent reader. And the best part about it was... I was driving Toni Rocki Honda
(my little car)
down to Panama City Beach Thanksgiving week, overnight. And there aren't many things creepier than listening to a good, solid vampire story while driving in the middle of nowhere
(try south of Ponce de Leon, Florida)
in the middle of the night
(try 2am)
.
By the way, "Salem's Lot" ranks right up there as one of my favorite novels by anyone.
45. Matt Halpert
There are many readers of Clouds that live in the area, and that know names I mention here and there--people like KT, J Rob, Paulie Walnuts, and so on. And there are those who read the blog--Mindy D'Andrea and Dixon come to mind--that don't have a clue what I'm even saying when I say "Matt Halpert", so its my job to make it real to those people.
Simply put... Matt Halpert is the 2nd funniest guy of 2008 in my humble opinion. Or not so humble, however you look at it. I know Matt mostly through his wife, The Dainty Steph Halpert, who is a friend of mine, and a good friend of The Lovely Steph Leann. The Dainty Steph Halpert teaches the youngsters and also works with me at The Happiest Place in the Mall, but Matt is the funny one. Not that she's not funny, but Matt has this dry humor that is just splendid.
Case in point... a group of us went to the drive-in a few years ago to see Fantastic Four: Rise of the Silver Surfer and Matt and The Dainty Steph Halpert rode with The Lovely Steph Leann and I down and back. After the movie, I asked Matt how he liked it... now you have to understand, the guy is a scientist who works on mice at UAB, and he goes on this hilarious
(to us, perhaps not to him)
rant on how wrong the science was in the movie.
"They became superhuman because their molecules changed? That's ridiculous! I mean, what does that even mean?"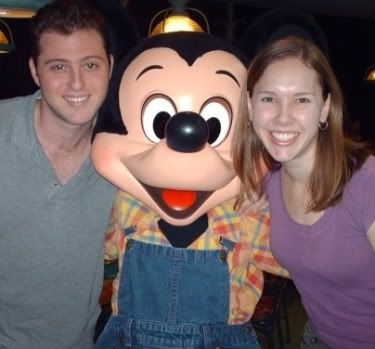 Here's a snapshot of Matt, Mickey and The Dainty Steph Halpert. Matt is the one on the far left.
Sometimes he would come into Starbucks and start talking about his job, and I think he was making jokes, because he would say stuff and then laugh... I would laugh too, though I would have no idea what he was talking about. Later, The Dainty Steph Halpert would tell me she felt the same way. He's just a funny, funny guy.
fyi... I had a hard time with Stephanie Halpert. I mean, I had called her My Friend Stephanie, but no one remembers that band, so the humor is lost. And S'halpert didn't really work either. So, I thought about her for a moment, and didn't want to use an adjective greater than "Lovely" to describe her, because in my eyes, there is none Lovelier than Steph Leann. But I will tell you want Steph Halpert is... dainty. I looked it up. It means precious, it means delicate, it means... well girly. And to me, that describes Steph Halpert. Thus, a nickname is born.
44.
"For Better or For Worse"
Some of my favorite comic strips nowadays include "Pickles", "Zits" and "Mother Goose & Grimm", but when I think back to growing up, my favorites then (and now, really) were "Garfield", "Peanuts"... and "For Better or For Worse".
It was started in September of 1979, centering around a family in Canada, the Pattersons. John and Elly were the parents, and when it started, Michael was around 5, and Elizabeth was 2 or 3. And, the story unfolded in real time. The strips were funny each day, but each strip built upon the last, and when I started reading it, somewhere in 1988 or 1989, Michael was a teenager, Elizabeth was on the verge, and a few years later, April was born.
It was a comic about a family. And it aged in real time. The kids grew up, just like I did. Babies were born, people graduated high school, people graduated college, people got married... just like I did. It was great.
Imagine my surprise when I found out that the strip had ended... Lynn Johnston, the strip's cartoonist, decided the story had gone far enough. And the very next day, the papers began to run the first strip from 1979.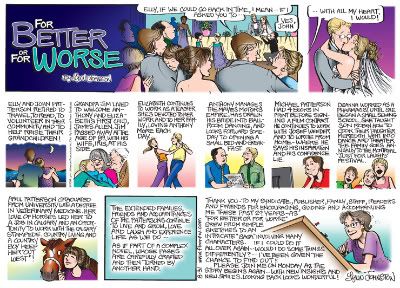 Lynn Johnston's final original strip
Johnston's plan is simply to re-run the old strips in order, tweaking and fixing things along the way. And I'm looking forward to catching up and growing old with the Patterson Family... all over again.
43. "The Gingerbread Girl" by Stephen King
The final appearance of author Stephen King on the 2008 Coolest List is really just a short story. It appeared in the July 2007 edition of Esquire magazine, and now is among the stories in the
"Just After Sunset"
collection released this year.
Emily is a runner. She wasn't, until her baby suddenly dies, and her marriage falls apart, but now, running seems to be the only thing that soothes the pain. She's running down a lonely stretch of Vermillion Key, Florida, on the beach when she stumbles upon something she shouldn't have... and the runs into someone she doesn't want to run into.
And the story takes off. Its simple, really. Some of King's best work is not supernatural, its just good people taking on bad people, and sometimes the bad people win. And sometimes they don't. I read this story early in 2008, and it stuck in my head all year. Excellent.
42. Lego Star Wars: The Complete Saga
Early in 2008, I finally got a Wii. And with the Wii, I got the game I really wanted... Star Wars Legos. And for over 75 hours (not straight), I sat with Wiimote in hand, chopping up bad guys with my light saber. Its a great game, as it takes you through six missions per Star Wars Episode, gaining characters and ships all along the way, earning credits, earning Gold Bricks, completing side missions and so on.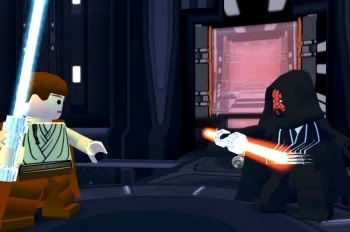 Its a fun little game, really... you're a Lego man. Or chick. And when you die, you fall apart like Legos do. Everything around you, save for the ground and sky, is made of Legos. Even the boulders that come after you have little studs and brick shapes all over them. The ships have those familiar snap-circles on the underside of them... and its a fun game to play, too.
Of course, imagine my surprise when I find out a few weeks ago that my game, with was almost 80 hours into and 98.4% complete had been erased. Instead, it said "Game 1: 2.4% complete." Seems like my wonderful little niece Madeliene, High School Music lover that she is, wanted to play Star Wars Legos. And she somehow saved over my game. Oh, to have the problems I have.
41. Sarah Palin
Ya know, I could go on and on about the things I like about Sarah Palin, and I could on and on about how stupid the McCain camp was by not just turning her loose and letting her be who she is, but I won't.
I really, really like Sarah Palin. And she gives me hope for the future, especially when President Obama gives me nothing close to resembling hope.
And Finally...