Wow.
Wookiee shot me a text this morning, saying "Sorry 2 hear about Samson". My first thought was that the women's basketball team had been defeated... they won the state championship two years in a row, but I figured they lost a few seniors and... wait... basketball is over. This was my brain function at 715am this morning. I texted back "What happened?" and Wookiee replied, "Check net. Some nut went on shooting spree in Kinston, Geneva and Samson."
None of these words registered in my barely awake brain. "Shooting spree" and those town names didn't click. The Lovely Steph Leann appeared from her three-times-per-week 6am workout at Curves Chick Workout Center, hearing Wookiee's text. She asked who was texting me so early, and I said, "Wookiee. He's saying something about Samson." She sighed, and said, "Yeah, I heard that there was a shooting in Samson."
I moved to Samson in 1984, from Austin, TX. My parents didn't want me to grow up in the big city, and since Samson was my mother's hometown, they thought it was a quiet place to live. And it was. It is, really.
We moved to 320 Johnson Street, on the corner of Johnson and Farmer. A year or so later, we moved across Farmer Street into a bigger house
(with a huge yard that was ideal for football).
Another year or so later, we moved across Johnson Street into a new home, and there my father lived until he passed in 2000, and my mom still lives.
Troops from Fort Rucker, 20 miles away, stand guarding Samson's downtown area. Looks like they are standing in the Ripley Street & Main Street intersection. I think its funny that they keep referring to "Downtown", when its just two blocks of half empty stores.
Johnson Street is also known as Highway 87, running from Troy, straight through Elba, straight through Samson, goes 9 miles to the Florida border, becomes Highway 81 and then heads straight to Panama City Beach, with a turn or two. It intersects with Highway 52, which runs through several counties, including the ones in question. For perspective, Andalusia, Alabama sits in the central/western part of the state, with Opp about 20 miles away, Kinston about 5 miles after that, Samson 8 miles after that, then 10 miles to Geneva. Keep going, and you'll run through Hartford, Slocumb and eventually, the big city of Dothan.
Let's walk down the sidewalk in 1984 Samson, shall we? The Piggly Wiggly sat on the corner of Highway 87 and Highway 52. Walk down the block a bit, you would have come to People's Drugstore, which made amazing real cherry cokes. There were a few hardware stores and feed stores on your left, and as you cross Ripley Street, you'll see the spot where a bank went in. A few more small shops, then you come to The Hobo Pantry
(back then, it was The Hoco),
then cross another small street and you'll be at The Big/Little Store, selling gas and fried chicken, of which in my life, I partook of both in immense quantities. On up the road just a bit more is Flower and Gift World, though we'll cross here.
We'll now cross Highway 52, or Main Street, and we'll be at Samson Banking Company, the main bank in town. Here on your left now is Clark Furniture, Merchant's Clothing Store, then Bill's Dollar Store
(no jokes please).
Then we come to Faulk's, an old antique store, there's The Western Auto and on the corner is an appliance store who's name escapes me.
Twenty five years later, not a ton has changed. People's is now gone. The Pig is a discount grocery store, or a tobacco store or something else. The Western Auto has become Bradley's True Value Hardware. Many of the feed shops are gone, Faulk's became a flower and gift shop owned by Forrest and Charlotte Wright, who also owned The Wright Place, a restaurant I have discussed here before and worked in for a long time. A video store or two popped up, first dealing in VCR videos, now DVDs and I can only assume Blu-Rays too.
My first movie ever on a VCR? "Batman". My first movie ever rented? "Coming to America".
Clark's is also gone, as is the appliance store, mostly remaining empty. I think a pool hall opened up at one point, where Merchant's used to be, it might be open, it might not, who knows. Sandy Wright, daughter of, has a salon there somewhere. When the Subway opened up down the road toward's Geneva, it was a big, big deal. Somewhere along the way, we even lost a red light, going from three to two, with the light at Ripley and Main Street being replaced by a caution light.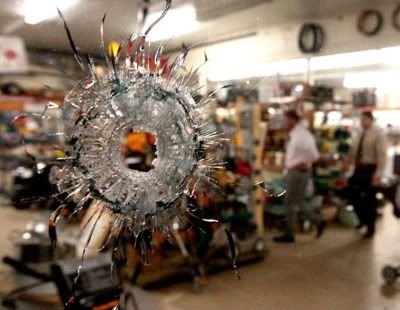 If this were any other topic, THIS would be a brilliant photograph. Well, it is a great picture in itself... but what it represents is horrifying. This is the glass at the True Value, that used to be the Western Auto hardware. My mom bought her washer and dryer from there, paying about $40 per month for a billion years until she got it paid off. They kept pencil-written ledger books. I got my first radio from here, a boom box in 1985, where I listened to Wham!'s "Make It Big" and Starship's "Knee Deep in the Hoopla", and stayed up late nights with my finger on the record button, hoping to catch the full version of "Born in the USA" by Bruce Springsteen.
The first time I ever remember our town making the national news? The pipe plant east of Samson, about two miles out of the city limits, caught fire once, spewing deadly chemical smoke into the air. CNN's Headline News covered it, so me and all my friends were excited that for a minute and thirty seconds, our town was shown on a national news network.
This is how small our town is, and not just because its 3 miles from the east to west city limits. The population runs around 2,000, maybe a bit more, maybe a bit less. It always makes me smile thinking about people who graduated from Birmingham area schools like Hoover and Spain Park and Vestavia, with classes running anywhere from 250 to 600. I had what, 42? I knew all of them personally, had had conversations with every one of them personally, knew about families and backgrounds, crushed on a few of the chicks, hung out with lots of the guys... I cannot fathom a Junior/Senior Prom where I didn't know at least one person in each of the couples, because I just knew everyone. And they knew me.
I know underclassman. I was good friends with Jason Howell, an 8th grader and fellow sax man in the band. I was good friends with Rona Mock, a freshman, and was excited, like everyone else in the school, when she ended up with Ryan Hutchison, a junior. If you gave me an hour, I'll bet I could come up with the names of at least 75% of our yearbook, names like Rachel Thorton and Wade Rials and Curtis Cantrell and Paula Baxley and Julie Dunn and Amanda Adams and JT Thomas and Tracey Carter and Jason Lambert and... Michael McClendon.
I didn't really know this kid very well, he was in 6th grade when I was a senior, but I knew of him. I knew some of his classmates better, fellow 6th graders like Casey Glisson and Kelly Spivey and David Stephenson and Jessica Caldwell.
To the average reader, folks like KT and Mindy D'A and McQ and others, these names mean very little... just like names would sound to me if they began to recite people they knew from their childhood and growing up. But to people from Samson, from the area, all these names resonate with a face, with a memory, with a conversation, with a first kiss or a beer or an argument or driving down Main Street, turning around in the Samson Banking Company parking lot and driving back down Main Street.
I grew up here. I lived in that little yellow house, three houses down from the libary with its
(no exaggeration)
about 10 bookcases of books. I rode my bike to Samson Elementary in 1984, the first year it opened. I played "A-Team" and "V" at school, and in my yard, sometimes with people, sometimes by myself. I grew older, and Star Wars action figures gave way to writing and drawing and seeing movies with Greg, or Chris McCall, or Tonya Windham
(three BFF lifers for me).
This was life in Samson. Until yesterday.
When people ask me where I'm from, I say "Samson, Alabama" and am often responded to by, "Where is that?" My answer is, "Its a little town about fifty miles south of Troy, maybe 9 miles above the Florida line. Do you know where Enterprise and Dothan are? You do? Well, we're about 18 miles southwest of Enterprise and 43 miles west of Dothan."
Now, I feel like its going to be like Paducah, Kentucky or Columbine, Colorado. People will identify the town with lots of people being shot at the hands of someone who didn't have a value of human life.
After The Lovely Steph Leann said she'd heard the news that Wookiee had texted me about, I got out of bed, brushed my teeth, used the restroom and slowly made my way down to the computer and television to see what this was all about. And I was floored.
I said a few days ago that nothing really surprises me. I stand corrected. Yesterday, a job turn-of-events surprised me. And this news today floored me.
Michael McLendon, 27, shot the dogs. Then he shot his mom, Lisa, 52, three or four times, laid her on the couch, put towels on top of her, then doused her, the towels and the house with lighter fluid, then setting it on fire. He then drove to Samson, down Highway 52, where he pulled up onto West Pullum Street, a street I'd ridden my bike on many times, or had gone through on the way to Chris McCall's house, and opened fire on some relatives of his that were sitting on the porch.
Why were they sitting on the porch? Because that's what people in Samson do on pretty late winter, almost Spring days. They sit on the porch. McLendon riddled the porch with bullets, killing five people... including Tracy White, 34, who I know. Knew.
Tracy White and I were in the same grade together, though I do believe she dropped out to get married somewhere around our junior year. She married Murray Wise, and I remember kidding her about her name going from White to Wise, and how it wasn't much of a jump. I didn't know her all that well, I just remember she had this thick head of bushy black hair and a quiet disposition about her. And she made the unfortunate decision to sit on the porch yesterday afternoon. You don't have to send me your kind regards, I only grieve over Tracy's death in the same manner that I feel for all the people who were killed, and a town that has now lost its "boring" status in the worst way possible. Perhaps Tracy only slightly more because I knew who she was.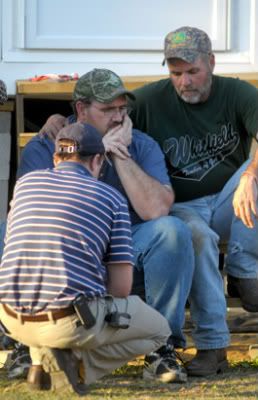 The big guy in the middle... someone correct me, but is this Murray, Tracy's husband? This was taken outside of the home where the front porch became a bad place to be.
On that porch, Dean Wise, 15, James White, 55, and Virginia White, 74 and nearby, also were shot and killed.
Somehow, he opened fire at Andrea Myers, killing her and her 18 month old baby daughter Corinne. Someone nearby ran up, grabbed 4 month old Ella and snatched her out of harms way, though the baby suffered injuries either due to shrapnel or an actual bullet.
Then, McLendon drove through Samson, pulling up at The Big Little Store, shooting at random. Killed Sonja Smith, 43, walking out of the gas station. Injured Greg McCollough, who used to order hamburger steaks at The Wright Place when I waited on him, his extremely good looking wife and their two cute kids.
Then he shot James Starling, 24, as he tried to run away, and Bruce Malloy, 51, who was driving past him, before screaming down Highway 52 into Geneva, shooting at a Wal-Mart where he injured a few people, before the police caught up to him, stopping him by a PIT manuever--this cool trick where to stop a perpretrator, you ram their car with yours... a cool trick until it was used to stop a guy who killed a whole bunch of people in my hometown.
I think this is the Big/Little Store, where I used to get fried chicken on weekend lunch. Chris McCall used to work there a long, long time ago. They've remodeled, and its lost some of its charm, but still...
There was apparently a shoot-out at or near Reliant Metal, where McLendon used to work, and involved in the final battle was Josh Myers, a sheriff's deputy. He was the husband of Andrea, and father of Corinne and Ella, though he had no idea that while he was firing at McLendon, his wife and one daughter was dead, and another gravely injured.
I listed the names because I want to be able to remember their names... I have been watching the news all day, hopping around from Fox News to CNN to MSNBC both online and on television. The news is all over, discussing "What caused this guy to snap?" and "How did it happen?" and "Let's show you the timeline and the trail of carnage", all fine questions when they are talking about another town, another event.
I gotta say, as a kid, we often joked about Samson's Police Force. Maybe it was because it has been such a slow, dying town for so long, there wasn't much for the SPD to do. But from what I gather, they, along with Kinston's and Geneva's and a few other departments went above and beyond, probably preventing more bloodshed. There were police car windows that were blasted out, and officers injured, some of them saying, "I'm not stopping until we get this guy!". I tip my hat to you.
Not sure which is worse... the orange numbers, which from watching "CSI: Crime Scene Investigation" I assume means bullet casings or other points of interest... or the Tonka Truck and scooter sitting amongst the shooting spree evidence.
So, from here... the news will move on. This will be a story that will dominate for another few hours, and another more pressing story that you haven't heard will take center stage for a day or so, followed by another and another. You'll probably get updates here and there, buried in between President B. Hussein Obama's love fest and the upcoming Madoff trial and more kids for Brangelina... you, Coffee Drinkers, will slowly forget it, maybe remembering it not so much as what happened, but more of "It's d$'s hometown." Honestly, if this were any other town, I'd forget it too.
But its not any other town, not to me. It's Samson. I wanted to get out of that town so badly in May of 1993, but I love my town right now more than ever.
I apologize for the jumbling words, run on sentences and random thoughts here and there, I just thought it would be good for to jot some thoughts down before they do become mixed, blurred and memories.
See, three hours away, in the big city, life is unaffected. The "Worst Shootings In Alabama's History" are but a blip on the news ticker to most people by I take it to heart. My town just suffered a blow that most cities would easily survive.
This afternoon, I plan on watching American Idol from last night, maybe make some shortened notes, then do the results show later. I'll call my mom in a little while, see how she's doing and then grab some lunch. Maybe I won't watch any news at all... I'm sure I will see it later.
This is why I blog. To help me, and you fellow Drinker, figure out what the heck just happened, and to help accept that we probably will never know.
(Steve Crews, you probably know more than I do, running the newspapers in that area, so you can let me know where I get the facts wrong... good job on the news.)
(Oh, and one more thing... thanks to Pa & Ma Cartwright, The Big Wazyluka, Katyboo, Jess, Shelby and several more people who sent their well-wishes and hopes that I and my family were doing well after all the news broke. Yes, I am great, and my family is just fine. Mom is probably sitting on her porch right now)