NOTE: If you are reading this on facebook, click here to see the videos (they will not appear in facebook notes)
Are you new to the blog?
Click here to find out what the heck this is all about
. And we'll continue our annual list of the Top 100 Coolest Things of 2008...
The Introduction and Recap
The 100th thru 91st Coolest Things of 2008
The 90th thru 81st Coolest Things of 2008
80. My Backpack
Cheap (on sale, plus my discount). Functional. Fun.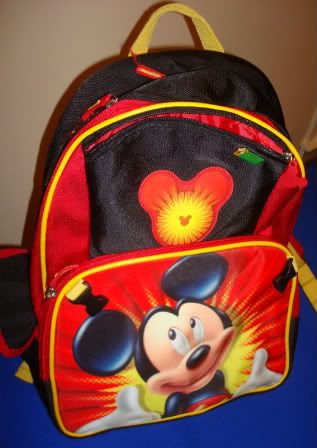 Best. Backpack. Ever.
79. Chicago Dan
Dan Gerber is a very good friend of Tyler Campbell, the self proclaimed "Sexy Beast" of the Clouds in My Coffee Blog. Don't ask me.
Anyway, I met Dan, or "Chicago Dan" as we call him--he's from... Chicago...--several months ago when he came with Tyler back home for a Sunday lunch, along with some of the other faces I knew. He seemed like a cool enough guy.
Over Thanksgiving, he came with Tyler down to the beach with the family for the Annual Campbell Turkey Week Beach Pilgrimage, as he couldn't go back to Chicago for the week... and he's just a neat guy. Funny, clever, smart as a whip (when I start using phrases like "smart as a whip", how old does this make me? Excuse me, I'm going to take my dentures out) and it was even more funny when they both came with me and The Lovely Steph Leann to go antiquing. Hence the picture below, with Dan (left) and Tyler (right) holding a Swim Ken doll. Ken's trunks change colors when they get wet! The shorts, not Dan and Tyler.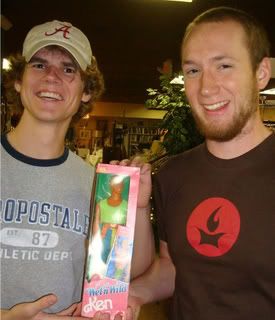 78. "The Incredible Hulk"
Let's pretend that abomination and smear of the good Hulk's name that
Ang Lee created years back didn't exist
. Let's put it on the shelf with Rocky V, Superman III, Saw II-XXVI, Caddyshack 2, Pearl Harbor, Twilight and all the other movies that should have never been made.
Now that that's done, I have to say I am excited someone has finally brought The Green Goliath the silver screen after all these years. And Edward Norton as Banner is brilliant--he's great in the role, and Liv Tyler as Betty is also great, and is a much better choice than some random chick like, I dunno, Jennifer Connelly. Besides, Connelly won an Oscar. She would never do a "Hulk" movie.
(remember, we are pretending the other one doesn't exist).
And make sure you watch until after the credits.
For what it was, it was fantastic. Fun, thrilling, not too deep on emotion--let's be honest, the folks want to see The Hulk smash things and blow stuff up. If a random director who should never do something like this, like, I dunno, Ang Lee, he'd be wise to skip the emotional depth. This isn't "BrokeHulk Mountain". HULK CAN'T QUIT BETTY!!!
77. Watching The White Oaks
Got to see the rock band The White Oaks play in May, and it was really, really awesome... some of the highlights include:
Seeing so many friends there--The Good Doctor Earl, Tommy Mac, Sybil, and of course, Amy Valdmanis
If there was a Valdmanis Fan Club, I'd be an officer. She's just great. Where all my Valdmaniacs at? Right heh! Right heh! (what am I even talking about?)
Hanging out with Lil Sister Ashley, which I don't get to do enough
Seeing Joel Blount, who is awesome
Meeting Nancy Osborne, who, after I told her gushingly all about The Lovely Steph Leann, she told me gushingly all about her man too
Of course, the band. The White Oaks are a great band.
You can read the whole thing right here
.
76. Manda Laughlin
She was #83 last year, this year she leaps 7 spots. Maybe its because now that she's in college, we relate just a little better, maybe its because we meet at IHOP twice, maybe three times per year to catch up.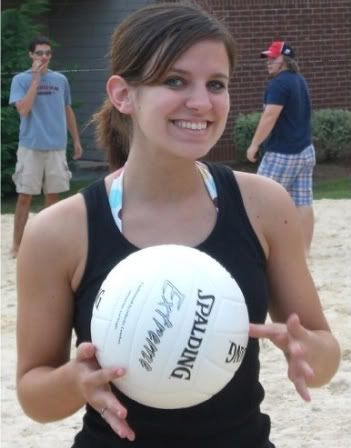 Did I tell you she's on a full ride scholarship at Auburn for volleyball, and her serves have been clocked at over 40 miles per hour? Well, its not true, so that's probably why I didn't say anything about it. But it would be cool if it was true, eh?
She's great.
75. The Boston Celtics Win the NBA Championship
My mom was a Boston fan, so when I grew up, I learned to 1) Hate the Lakers and 2) Like the Celtics, necessarily in that order. So, today, I hate the Lakers and like the C's. When Orlando got a team, the Magic, I instantly became a Magic fan, so I've been supporting them since their very first game
(a loss to the Nets 111-106)
in 1989, and alternately, I've been a Spurs fan--this is because I spent five years in Texas.
The Spurs have been good to me, winning four championships in the last decade or so, but the Magic, not so much. However, since this is about the Celtics, let me say it was very cool to see them take it this year...
Kevin Garnett languished in Minnesota for so long, a team that wasn't willing to spend the money needed to win. So when he was traded to Boston a few years back, adding the third and final piece to a team that already had Paul Pierce and Ray Allen, it was... well, Magic. Not the guy or the team, but magic, the chemistry. And thought they almost were busted by the surprising Atlanta Hawks
(who is also building),
they fought out the 7 games and went on to knock off The Hated Lakers in the Finals for their 18th title.
I love watching it when guys who deserve championships win championships. Like when Elway won for the Broncos, another pro favorite team that has been very good to me.
74. Taking Back the Mile
I've discussed it before... Elisabeth Malphrus and I borrowed stuff from each other at Troy State. She borrowed my leopard print boxers. I borrowed her Spam t-shirt. Neither one got the other items back, so that makes us both 1 for 1, right? Well, then she goes and borrows all six volumes of "The Green Mile" by Stephen King. When he first wrote the story, he released it as a "seriel novel", publishing one 100ish page part at a time. And Liz borrowed it. Then she never gave it back.
And the original chapters are out of print, you can only buy the full novel in one book. But then, I stumbled across all six parts at a bookstore that The Lovely Steph Leann and I frequent when we go to the beach for Thanksgiving, Books By the Sea. And at only $2 per, I got the whole collection back. So take that, Liz!
73. American Idol
At about 400 posts, I would daresay that 100 of them are either about, or at least discussing American Idol in some form or fashion. And this season was great, much better than the previous... I can't knock Idol, some great stuff has come from that show, like Daughtry
(who I can't help but like)
, Carrie Underwood
(both CDs are grrrreat)
, Kat McPhee
(I'm interested in seeing what she does next)
, Kelly Clarkson
(the Idol Original)
and of course... PICKLES!!! I love Pickles.
Anyway, last year was a mess. There were some highlights from Jordin Sparks and Blake Lewis, but the fact that Sanjaya lasted as long as he did was a bad, bad thing for the show. So this year, there was much room to improve... and improve they did. Young David Archie, who had more talented at what, 14, than most people do all their lives... The Dreadlocked One, who faded in the stretch, but had some fantastic moments... David Cook, who reminded me so much of Rob Thomas--a guy who looked like he should rock much more than he actually does--that I started calling him that... The Black Julia Stiles, Syesha Mercado, who also had her shining moments... the crazy fer-a-ners, Carly and Michael Johns...
There were some down nights, and as the season wore on, you could tell who wasn't going to make it... The Black Julia Stiles began to falter, KLC stayed on waaaaay too long, The Dreadlocked One was just tired of it, even Carly and Michael, who perhaps went home to early, showed signs that perhaps they wouldn't make it. And it came down to David vs. David, which with only two or three weeks left, you knew that would be the finale. And it was great.
I look forward to blogging about American Idol this year, I look forward to discussing Kara, the new Idol judge with Randy, Paula and Simon, and I look forward to coming up with my own nicknames and trying to predict who might win it all...
Wait, what's that? Did I forget someone? Oh yes... lest we forget...
72. My Next American Idol Brooke White
It's well documented on Clouds of some of my favorites... sweet potato casserole... The Rock... The Goddess... Hootie... and I do love me some Carly Simon. Perhaps that is why I liked her so much. My Next American Idol Brooke White wasn't exceptionally pretty, nay, she seemed almost plain with hints of prettiness and flashes of good-lookedy.
My Next American Idol Brooke White + Carly Simon = Idol Goodyness.
But her voice is so great. I mean, she can't sing everything... she won't be filling in for Courtney Love in a Hole reunion tour
(alert! alert! the first time Courtney Love has been mentioned in Clouds, I think!)
and she won't be rivaling Alison Krauss in record sales. But she's got this gentle, great, sweet niche voice that, when singing just the right song, sounds wonderful.
71. "Phineas & Ferb"
Who remembers the Animaniacs from the 1990s? Jeff Herring and I would watch the foo' out of that show during breaks at Troy State, I recall. I liked it because while it was a kids cartoon, it also had plenty of jokes for the adults too...
And thats why I enjoy Phineas & Ferb so much. Phineas and Ferb are step-brothers who are always looking for something to do, as the show takes place during summer vacation. So what do they do? Build a roller coaster. Start a rock band. Fly to outer space. Build a drag racer. Whatever.
And Phineas' sister
(and Ferb's half-sister)
Candice
(voiced by Junior Goddess Ashley Tisdale, thanks)
does everything she can to get them caught. Along the way, they find a way to sing a new song, entertain their friends and of course, save the day. And the entire episode is worth watching just to hear Ferb speak--he does it once per episode. And its hilarious. If you have The Happiest Channel on Cable
(no, not Cinemax, Alan the Facebook Stalker)
then check it out, cause its on all the time.
Oh, and did I mention they have a pet platypus named Perry, and Perry is actually a secret agent?
The Hannah Pruitt Cool Award
Ya know, there are some things/people/places that just make this 100 Coolest List every year. Is it fair to have them take up coveted spots? I say no. So, this year, I'm bestowing upon four recipients an award named after the coolest person I know, my friend Hannah Pruitt. It's The Pruitt Cool Award.
For the record... now that Hannah Pruitt has her own award, I'm totally changing the name of the iPod playlist. I don't want Hannah overkill. Oh, and congrats to Hannah and John on their 4th year of wedding bliss this past week. It can be tough, believe me, when you've been married as long as The Lovely Steph Leann and I have (five years in February) we know it can be a challenge.
Our first recepient...
They are two of my favorite people in the whole wide world. She's trying to desperately finish school at Southeastern Bible College, he's some sort of engineer and brilliant. One of my first cool moments with them include:
Sitting at the home of Ross Robinson, in one of our first "Newlywed Class" at Valleydale Church (an sbc fellowship), Jessica is sorting her Skittles. James then informs us that she likes to put them in ROY G BIV order. Still one of the funniest things I've ever heard.
James and Jessica Hawbaker are two of our closest friends, and I know that The Lovely Steph Leann holds Jess to somewhat of a BFF status, especially after four years of knowing them... and James? One of the funniest guys I know. I mean, the guy brews his own ale, and can even make his own cheese--how cool is that?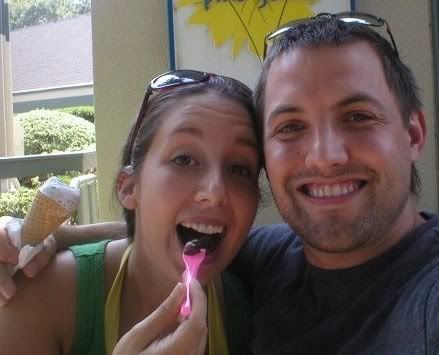 An incredibly cute couple, and totally fulfilling the "made for each other" cliche, I didn't want to post a cutsy picture... I wanted something fun. Like Jessica eating.
So, for being so awesome and so cool, the first recipient of The Pruitt Cool Award is Jessica and James Hawbaker. Consider yourself to have a proverbial spot on The 100 Coolest List every year...
Coming soon... Crappy movies are always good with someone fun...