NOTE: If you are reading this on facebook,
click here to see the videos
(they will not appear in facebook notes)
Are you new to the blog?
Click here to find out what the heck this is all about
.
And we'll continue our annual list of the Top 100 Coolest Things of 2008...
The Introduction and Recap
The 100th thru 91st Coolest Things of 2008
The 90th thru 81st Coolest Things of 2008
The 80th thru 71st Coolest Things of 2008
70. Four Christmases
"I'll tell you what movie I couldn't believe was only PG-13 and not Rated R!" Cindy Warner proclaimed at our latest KidStuf practice.
"What, Role Models?" I asked, thinking how in the world Cindy Warner would be caught that that film, then remembering it was actually Rated R.
"No!" she exclaimed. "Four Christmases!!"
Hannah Pruitt, the coolest person I know, leaned over and said, "Whatever. I loved it." Then we high fived.
This was such a funny movie...
here's what I said a few weeks ago
:
Its a contrived plot that relys on the strength of its leads and Vince Vaughn definately does his end of the job. He's one of the funniest guys out there.Reese Witherspoon is one of those actresses that I keep forgetting 1) how talented she is, and 2) how hot she is. She shouldn't be hot, either, she's got this weird goofy grin thing going on, along the same lines that has made me never find Julia Roberts attractive... and yet, somehow she is.Reese is funny in this movie. She's been funnier, though, as seen in "Election", one of the most wickedly funny movies ever, and even
"Sweet Home Alabama"
. Avoid anything that has a number after
"Legally Blonde"
, though.Anyway, they play a couple who, since both comes from divorced homes, somehow avoid visiting the four different families they'd have to see on Christmas Day. Through a pretty clever set of circumstances, however, they are forced to do just that very thing... the parents are great, played by Robert Duvall, Sissy Spacek, Jon Voight and Mary Steenbergen, all four Oscar winners. Dwight Yoakam also has one heck of a funny cameo too (I didn't even spot him at first).
And Jon Favreau is at his stupid best--anytime the words "Dry Humping" and "screensaver" can me included in the same dialogue, it makes for high comedy.
70A. Reese Witherspoon
Granted, one funny, good movie does not an appearance on the 100 Coolest Things necessarily warrant.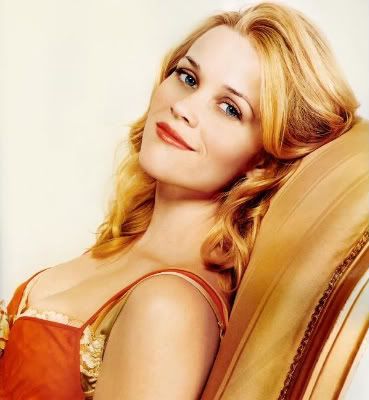 Let's welcome Reese Witherspoon, this year's inductee into The Ashley Judd Club. Reese, you can have a seat over there next to Kate Winslet and Debra Messing.
I wrote about three Reese movies to check out, naming
"Election"
,
"Man in the Moon"
and
"Walk the Line"
. Since we're on the subject, I wanted to give you a couple more Reese movies to check out:
"
Pleasantville
"... a flick that was in serious contention for The Dave100
(that being my 100 favorite films of all time).
She's charming, she's funny, she's hot and its also worth a look at a young Toby Maguire and former That-Guy William H. Macy, and late That Guy Hall of Famer JT Walsh (in his final film)
"Sweet Home Alabama"
... I debated on this for a while, trying to decide whether to recommend this film or the equally cheesy "Legally Blonde". After some careful decision
(re: deciding which I'd watch if they were the only two movies on television),
I chose this one. Its just fun, plus a bonus for The Lovely Steph Leann, it stars Colin Firth Club member Patrick Dempsey.
"American Psycho
/
Cruel Intentions"
... Honestly... as a Christ Follower, I cannot recommend either of these films. As a movie fan, I can recommend either one of them. Don't watch them. but if you do, Reese is marvelous in both.
69.
truTV
Oh, talk about a guilty pleasure. For someone who is a fan of "World's Wildest
(insert authoritative group here)
Chase Videos" and crap like that, this channel is like manna from heaven. Seriously... here's a
story I shared last April
:
Once, while actually in Panama City, I was about to head out of the hotel room to enjoy the sunshine of a 75 degree day. One of those shows was on, and I ended up sitting down and watching it. Drew Morris came in. He started watching it. Shawn Sharp walked in, and he too was caught. Another guy came in, and was sucked in. So, at the worlds most beautiful beaches, on a nice 75 degree day, when there are scantily clad Christian girls outside in inappropriate bikinis (this was a churchy type retreat, complete with Valdmanis), and there are four guys, watching two hours of "World's Wildest Police Chases".
And those shows? They were on CourTV. Which, as of January 1st, 2008, became truTV. The channel not only shows Cops over and over
(still waiting for the Bucky Covington sighting)
, it boasts progams like "Maui Chopper", "Speeders", "Rehab: Party at the Hard Rock Hotel" and "Carribean Cops", its a cornucopia of videos, stupid criminals, stupid drivers and drunk folks. Plus, its website features
"The Dumb Blog"
, a listing of the dumbest criminals of the week, which tells of this guy:
Wearing a ski mask, Frank Goldshtein politely waited in line for his turn to rob the bank, according to police in Stow, OH. Ten minutes later, the jig was up when Goldshtein crashed his car in a yard and cops recovered the stolen loot, the ski mask and the toy gun he allegedly used to extract the cash from the teller.
Its not reality. Its actuality.
68. The Crap Trap with The Lovely Steph Leann
One of the favorite things I love to do is eat, and one of the even more favorite things is to eat at great places with my lovely wife, The Lovely Steph Leann. And one of the best places we've eaten in the last while is The Crab Trap. Located down close to Sandestin, Florida, its this big seafood dive that has lots of shrimp, fish, lobster and of course, crab legs. Lots of crab legs.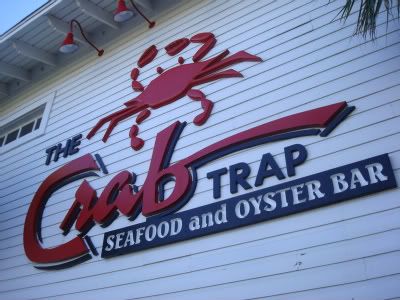 And for an hour, that's what we feasted on, splitting a King Crab plate and big dish of some sort of crab dip, with crab, cream cheese, seasoning and chips. Fantastic food. I am still slightly full.
67. I.O. Metro
One day, I was at The Happiest Place in the Mall, when who should stop by but Bobowen. He and his wife, The Freckled Becca, were hosting an "open house" across the way at Patton Creek, where he was managing a new store called I.O. Metro. I had no clue what this even was, but heck, Bobowen and The Freckled Becca are good friends and I wanted to support them, so we went.
And it was the neatest thing... I didn't have a clue what I.O. Metro even was, but of course, being the hip chick that The Lovely Steph Leann is, she knew. Its a big furniture store, full of accessories, home items and so forth. That, of course, led to
The War of the Table,
which wasn't the best night in the world (which, by the way, The War of the Table had its own Appomattix moment when, last week, we actually got a table--that's for later, though) but overall, it was neat to see such a big store, and such a big accomplishment for Bobowen. And The Freckled Becca is just precious.
66.
This Letter from Scott Latta
Dear Magic 96.5,
MERRY CHRISTMAS! Wow! Where does the time go? It's weird—it seems like only yesterday that I flipped by for my weekly Peabo Bryson fix, and instead of hearing "Tonight I Celebrate My Love," I heard something else entirely. I checked the calendar, thinking "Surely it isn't time for 'I Want a Hippopotamus for Christmas' already," and sure enough, there it was: September 4, letting me know that you had already switched over to Christmas music and were prepared to pepper my ears with the same eight songs incessantly for the next four months!
I should begin by saying that you're not likely to find a bigger fan of Christmas
(or, incidentally, Peabo Bryson)
than me. I start walking around Hobby Lobby in mid-July looking for ornaments and tinsel. And I don't even use ornaments and tinsel. I just like to walk around the store holding them. I invented the "dirt angel." I spray myself with aerosol snow. I really love Christmas. So this is my season. This is it for me. And, you know, there are some things that are hard to screw up. Ice cream comes to mind, and sugar cookies and Helen Keller jokes and Pixar movies.
Christmas is one of these things. I could spend Christmas in a Malaysian prison and I'd pretty much enjoy myself. But listening to your radio station—listening to the same eight songs you put on repeat—makes me want to burn my tree. It makes me want to pour out the Salvation Army bucket and bang Santa over the head with it, then pick up all the change and throw it at animals. Every year, my love for Christmas makes me think maybe—maybe—I should give you another try, and every year you ruin Christmas for me.
So, you should know that I hate you. But don't get me wrong! I don't necessarily hate Christmas music; I just hate what you do with it. You know what? I want to be in on your production meetings, if you have them. I want to be there when the station manager says the words, "I don't know, I just really think people want to hear 'Run, Run Rudolph' by the Jackson 5," and I want to throw a dry erase marker at him. Seriously. How much Burl Ives does a person need? My rule is that one Burl Ives song holds me over for 10 years. In the last week, you have played enough Burl Ives to cover not only my life, but the prison sentences for OJ Simpson (33 years), Vinson Filyaw (421 years), and Charles Manson (life, no parole).
Did you know that Bruce Springsteen, Michael Buble and James Taylor have all released Christmas albums? I'm not being sarcastic; I'm seriously telling you because I honestly think you think that Christmas music stopped being recorded around 1971. But it didn't. That's the thing; we don't have to listen to Aaron Neville. Get on iTunes sometime. There is a whole other world out there you need to be listening to.
Thank you for taking the time to read this letter. Also, as the only radio station in Birmingham that plays non-stop Christmas music, thank you for being a shining example of the precarious dangers of monopoly power and why we should always fight against it.
Actually anticipating the return to Michael Bolton,
Scott
Scotty... this one is for you...
(somehow, Scotty has gotten a dozen mentions these last few weeks. Too bad the Pruitt Award winners have already been decided--Scotty might pick one up next year.)
65. "Nature Girl" by Carl Hiaasen
It's not a secret that I am totally anti-manmade global warming, in the sense that I don't believe its manmade (neither does most of the world) but also I'm not a fan of books, movies and shows that end up having a "We Americans are destoying our planet. We suck" theme. See "Still, The Day the Earth Stood" and "Happening, The". Or better yet, don't.
Carl Hiaasen is a native Floridian who has written a ton of books, mostly set in his home state, and many times dealing with enviromental issues. Its a credit to him, though, that he doesn't delve into the "we suck" mentality. He just tells his story, and give somes good "hey, take care of our planet" wisdom and tells a nice story. "Nature Girl" is just such a story.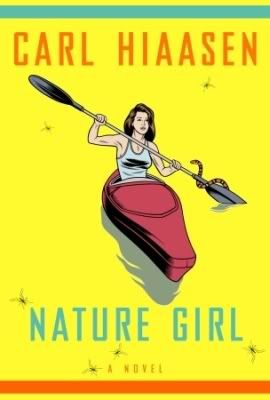 His characters are goofy--Boyd, a scam artist, Sammy Tigertail, a Seminole who is trying to hide from a dead guy who he didn't kill, and the books ingenue, Honey Santana, a oddball chick who sets out to punish Boyd after he insults her on the phone. Its not a serious book, its almost a ridiculous... well, no, it IS a ridiculous story, but credit Hiaasen on making it enjoyable all the same. If ever there were a novel to define "beach read", this would be it.
64.
"Over the Rainbow" by Israel Kamakawiwo'ole
No, I can't pronounce his name. No, I don't know anything about the guy. What I do know, though is this is a great tune. Combining "Over the Rainbow" with The Great Satchmo's classic "What a Wonderful World", its soft, done on the ukelele, and classic.
Of course, what brought it to just about everyone's attention--besides the countless times its been in commercials, movies and TV shows--is earlier in the year when Jason Castro, "The Dreadlocked One",
performed it (brilliantly I might add)
on American Idol. Over a dozen plays on my iPod this year puts on the list...
I'll be completely honest. When I googled Israel Kamakawiwo'ole, I was not imagining this guy. Apparently, he's a Hawaiian music legend, so much so that when he died in 1997, the Hawaiian state flag flew at half-mast.
63. Troy Over Florida International
My best mate Wookiee called me up, telling me of the extra tickets he had for the October 18th bout between the two college football powerhouses, Troy
(my alma mater)
and Florida Int'l. I said I was in--it fell on a rare Saturday that I was free from The Happiest Place in the Mall. We made some phone calls, seeing who else was interested, and Matt Halpert and J Rob decided they would join us... J Rob them punked out.
So, Wookiee, Matt and myself proceeded down to Troy, Alabama, stopping at Crowe's Chicken along the way for dinner, and then to the game. It was a blast.
Troy won 33-23
, and it was fun hanging out with Wook-Fu and the incredibly dry-witted Matt, who had never attended many college games--he's an NFL enthusiest from Houston, so all he has are the Texans and Rockets. And Astros, but he doesn't talk much about them.
62. WarGames II: Nuclear Wastelands
December 29th, 2008. The warriors came. Tyler. Zack. Danny. Pinkerton. Young Garrett. For a brief time, Papa Ron Campbell. Yours Truly. They chose their armies, we surrounded the battlefield, we rolled the dice. First, it was the mission game. Every five minutes, a country was nuked. Every 300 seconds that went by, another army was destroyed. Danny emerged victorious from the warm-up.
The elder Campbell couldn't handle the pressure. The big game was at hand. The armies moved. The dice rolled. The cards were earned. Now every 20 minutes, a country fell at the hands of the Nuclear Option. Tyler fortified, then was cut off, in Australia. Young Garrett took over Europe. With Danny owning South America, and Zack taking much of Asia, Pinkerton had little chance and was eliminated. Yours Truly had no hope, buried in South Africa.
And yet, then Young Garrett, ever unreliable, fell. Tyler was the next to fall, Zack then went down. Danny and Yours Truly had only to eliminate each other--Danny in his first WarGames, Yours Truly hoping for a back-to-back win, having won WG I. And suddenly, the Nuclear Option mattered more than ever, striking Danny twice in key areas, leaving Yours Truly enough life to amass a legion, to strike fast and to finally dominate. And Yours Truly is WarGames Master once again.
Geeks, nerds and dorks of the world, rejoice.
61.
"Death Race"
with Mikey
If you are standing in the welfare line, and with President Elect Obama set to take charge in a matter of days, you might be soon, and you ask for cheese, they give you the block. If you ask for butter, they give you the block of butter. If you ask for Bruce Willis, they give you... Jason Statham.
Imprisoned for a crime he didn't commit
(aren't they always)
, he's forced to compete in a television game show where criminals race each other in death machines, with the winner having a chance to go free. There's the corrupt warden
(Joan Allen)
, the angry black man (Tyrese Gibson), the hot chick (Natalie Martinez), the older, wise sage
(Ian McShane)
and of course, the crazy foreigner
(Max Ryan)
. But all that doesn't matter.
What does matter is how terrible this movie was. How terrible, and yet, how Craptastic. Absolutely Craptastic. The plot is lousy, the action is predictable and repetitive, the deaths are kind of unimaginative, but the whole movie tosses together makes for an entertaining night, at least with the right person.
Enter Mikey, who, like myself, share a love and appreciation for Craptistical Films. We saw this movie at the dollar theater in town, which made it much better--
"The Punisher: War Zone"
might have been salvagable had I only paid $1 instead of $9 for it.
Coming Up... For Better or For Worse restarts, The Official Troy State Crush returns and... you're doing what to Matt Damon???