I told The Lovely Steph Leann tonight that I hadn't filled out my bracket, and was in danger of missing it for the first time in at least 20 years.... I've been filling them out ever since I was at home in Samson, Alabama, usually when I walked four houses down to the Samson Public Library and secretly pulled out the thick paper bracket in the middle of the latest Sports Illustrated issue.
Typically, I'm terrible. I never watch college basketball, though somehow, by March Madness time, I'm an expert. Truth of the matter is, when The Lovely Steph Leann and I both fill out a bracket, she beats me. Its happened something like five out of the last six years. I'll probably beat her this time around, though that's more than likely due to the fact I don't know that she'll fill one out by the time the tourney starts in, oh, 13 hours. Especially since she'll be on the road to Pensacola tomorrow morning.
THE MIDWESTLouisville over Morehead State, Siena over Ohio State, Utah over Arizona, Wake Forest over Cleveland State, West Virginia beats Dayton, Kansas over North Dakota State, Boston College over USC and Michigan State over Robert Morris...Louisville beats Siena, Wake Forest over Utah, Kansas over West Virginia and Boston College upsets #2 Michigan StateLouisville and Kansas move to the Elite Eight
Personally, I'm a college football fan. Don't get me wrong, I enjoy a good baseball game, cheering for the Baltimore Orioles since 1990. Why? Well, I spent the summer of 1990 in Hampton, VA, visiting my sister and her family, and someone gave me an extremely cool Orioles baseball cap. Thus, an alliegence was born.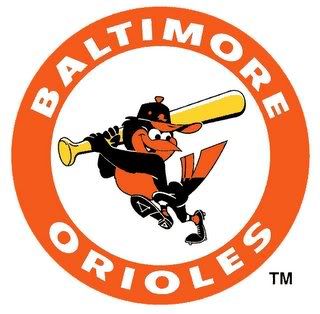 This was the logo atop the hat I owned. I wished I still had that hat, but I wore that thing slap out.
Never been a Braves fan... I think its mostly because prior to, what, 91 or 92, NO ONE I knew talked about the Braves, no one I knew wore a Dale Murphy jersey, no one I knew cared anything about them... until they started winning, and then every Braves fan I met said the same thing... "I loved them even when they was crappy an' all! I love the Braves! Go Chipper!"
THE WESTUConn destroys UT-Chattanooga, BYU over Texas A&M, Purdue over Northern Iowa, and in love offering tossed to The Freckled (re)Becca, I am choosing Mississippi State over #4 Washington. No ye Huskies. Marquette over Utah State, Mizzou over Cornell, Maryland slightly upsets California, and Memphis over CS Northridge.UConn then edges BYU, and for my boy-oyz Marky Mark and JustFish, Mississippi State upsets Purdue! Dawgs win! Dawgs win! Marquette upsets Mizzou and Memphis knocks out Maryland.UConn then beats Mississippi State (enjoy what you can get) and Memphis takes out Marquette to advance to the Elite Eight.
I also enjoy basketball, with the two teams I root for being San Antonio Spurs and the Orlando Magic. I was a Spurs fan when I lived in Austin, Texas, from around '80 to 84, but when Orlando got a team in 1989, I was hooked. I actually kept the scores of every single Magic game for the first three years of their existance, writing them down first in a little Orlando Magic pocket guide I had acquired, then just in a notebook... my plan was to have every game written down, and had I continued this particular quest, I'd have quite a journal 21 years later.
Alas, I didn't keep it up. It was easier at first, dork and non-invitee-to-parties that I was in high school, though in 1991, 92 and 93, I just got too busy, first with tennis, then with a few parties I actually was invited to (thanks Beverly Day!) and so on. But I was pumped when Shaq was drafted in 92, then Penny Hardaway was acquired in 93... twas to be good times. Then Penny became the Penny we know now, Shaq went to the Showtime Lakers and all was lost.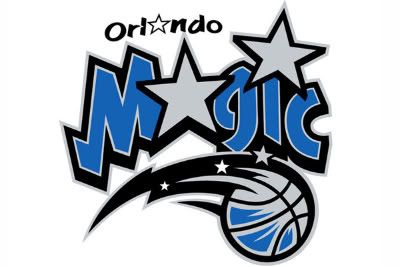 I remember the Magic's first game... November of '89, at the O-Rena, I watched on tv as the NJ Nets beat the Magic (I had to look score up, it was 111-106), and a few days later the Magic won their first game, beating the Knicks (118-110, again I had to look it up). I had a limited edition Magic hat, number 502 of 1500. I wore it all the time, after the Orioles hat had worn out. I left it in the backseat of Cyndi Bledsoe's car when she went home for the summer. She told me her car was broken into, and it was stolen. I was heartbroken.
As for the Spurs? My favorite player became David Robinson, and I rooted for him constantly. It became even easier to root for him when Tim Duncan was drafted in 1997, because Robinson and Duncan, The Twin Towers, led the Spurs to the title in 1999... and yes, it was strike-shortened, so it was great to see their championship vindicated in 2003. Then they won two more in the last five years.
What happens when the Spurs play the Magic? I dunno. I seldom watch most of the regular season... like baseball, I start paying attention when the playoffs approach. Like now. I'm watching the Pistons and Rockets.
Next season, though? I think I'm going to totally toss myself into the Spurs and the Magic, especially the latter. Well, after football season is over, anywhere.
THE EASTPittsburgh over East Tennessee State, Oklahoma State over Tennessee, #12 Wisconsin over #5 Florida State (it had to happen), Xavier over Portland State, Virginia Commonwealth over UCLA, Villanova over American University, Minnesota over Texas (who I picked to win last year and they were booted in the 2nd round), and The Dookies over the Mighty Bearcats of Binghamton.Pittsburgh over Oklahoma State (they used to be called Pitt, by the way, which I liked better), Xavier over Wisconsin, V'nova over V'Com, The Dookies over Minnesota (coached by Tubby Smith, who was driven out of town pretty much by the Kentucky Wildcats, who, coincidentally missed the Big Dance for the first time in 18 years...)Pitt beats Xavier and Villanova beats The Duke Blue Devils to move into the Elite Eight
Which brings us to hockey. Now, this is a sport I only watch during the Stanley Cup Finals, and thats if its a series clinching game in the finals, and thats if its a team I root for, namely, the Colorado Avalanche. I was going to switch to the Atlanta Thrashers or the Nashville Predators, both of which I'd love to see in person, but I've been a 'Lanche fan for quite a while. Actually, I was a Calgary Flames fan early on, but when the Nordiques moved from Quebec to Denver in 1995, I switched a few years later...
(I don't claim their 1995 title, but I am part of the 2001 Stanley Cup championship)
For whatever reason, two cities I've loved all my life would be Baltimore and Denver. Only been to Baltimore, and that was briefly to the harbor for lunch during a trip to NYC on a 1998 mission trip. Never been to Denver. Want to spend time in both.
Bottom line is, I could really care less about hockey. I don't know how the Avalanche are even doing, but if they make the playoffs, I'll probably pay attention. Somewhat.
THE SOUTHThe Tarheels of North Carolina over Radford, Butler beats LSU, #12 Western Kentucky over #5 Illinois, Gonzaga over Akron, Arizona State over Temple, Syracuse over Stephen F. Austin, Clemson beats Meeeeeechigan and in a rare moment of "I might believe the hype", I'm taking Oklahoma going deep, starting with a win over Morgan State.UNC beats Butler, Gonzaga beats the Western Kentucky Hilltoppers, Syracuse over Arizona Stae, and Oklahoma defeats ClemsonUNC beats Gonzaga... though you have to think that one day, maybe one shining day, the Zags of Gonzaga will actually make a Final Four. Not this year. Anyway, Oklahoma over Syracuse for the Elite Eight.
While I follow baseball and basketball primarily in the playoffs or at the most, the weeks leading up to the playoffs, and I scarcely follow hockey at all, I watch every single game of football I can possibly feast my eyes on. Perhaps its the simple 12-14 game schedule for college, or the 16 game schedule for the NFL, as opposed to the 162 and 82 games for baseball and basketball, respectively. Perhaps I just know more people who get into it more, thereby allowing more conversations to happen, more fun watching games and more debates to occur. Perhaps its the evolution of The DFC, which stands for The Deuce Football Championships, a game devised in 2000 featuring only Yours Truly and 8 friends who just picked the winners of 8 games per week, that has grown into a game entering its 10th season this coming fall, with over 35 people playing--congrats again to The Mighty Mark Gainey for winning his first DFC title.
I dunno. But I loves me some football. Whereas I wouldn't watch a basketball game unless it has meaning
(like the Pistons/Rockets, though I'm barely paying attention)
and I can't remember the last baseball or hockey game I turned on that didn't feature the words "playoff series", I would watch just about any two teams play football. And I have.
Turn on the Vs channel around 9pm on Saturday night, and heck, who wouldn't want to watch the Idaho Vandals and the Montana Grizzlies slug it out? Flip over to Fox Sports East, and why yes, I'll take in Miami of Ohio in a great battle with Central/Northern/Western/Eastern/Midwestern/South Central Michigan. Love it.
Though there are teams in all sports I like and root for, besides the ones I just mentioned,
(the Celtics, the Mavericks, the A's, the Sawks)
, and there are teams I don't like and root against
(the Lakers, the Yankees, the Braves)
, in the NFL, most teams fall into a "Like" and "Don't Like" catagory--and unlike the other sports, I typically have a reason....
I like the 49ers, being a Montana/Rice/Lott/Young fan back in the day. I don't like the Redskins, because my mom hated them. I like the Dolphins, mostly because I watched them growing up. I don't like the Browns, because they were bitter rivals of the Broncos in the late 80s. I like the Packers, yes, because of Favre, but I don't like the Raiders because they are inept. I like the Pats, the Jags, the Bengals and the Titans. I don't like the Cowboys or the Jets. Everyone else? The Chiefs, the Vikes, the Rams, the Seahawks, the Falcons and so on? I root for them or against them based on my own personal interests at the time. Falcons playing the Cowboys? Go Falcons! The Falcons play the Broncos? Go Broncos!
Like I said, I liked Denver, and Denver sports teams. So add that with one of my favorite players of all time, John Elway, and you've got a life long Denver Broncos fan. I even sent my football card to him to be signed, and it came back signed. Don't know whether he signed it or not, but it was signed by someone. And, in 1997, the Broncos became the first sports team to win a championship during the era I was rooting for them
(I've enjoyed similar successes with the Spurs, the 'Lanche and this past season's Gators. I'm still waiting for an Orioles championship, though with the Angelos running the show, it will be a long, long wait).
It seems when a team changes their logo, they win. See "Buccaneers, Tampa Bay" and "Patriots, New England"... and yes, "Broncos, Denver". However, I do miss the Orange Crush logo.
College football opens up a whole new conversation, because instead of 32 teams, there is what, 118? 112? Something like that. Now, I don't have an opinion one way or another on many of them, cause really, what do I have against the Southern Illinois Salukis?
Its no secret I'm a Gators fan. Say what you will, and some of you will, but Go Gators. And, yes, GO TROY! I'll always be a Troy (state) Trojan. And I think its not sacrilege to enjoy other teams besides your own... as long as you are keeping your main team(s) your main team(s). I do root for the Longhorns of Texas... did you know that I almost went to the U of Texas? Seriously. I had every intentions of doing so. Another story, another day.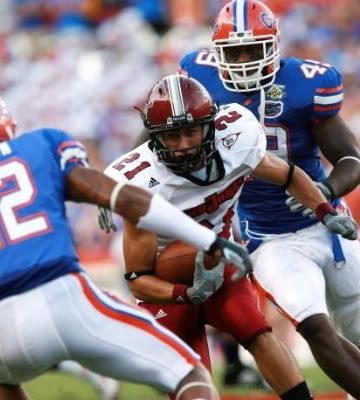 People asked me who I rooted for when Troy played Florida. Simple. Troy. I rooted for Troy, because thats my alma mater. I'm a Troy Trojans guy. Also, I knew there was no way they were beating the Gators, so that made it a little easier, knowing I was rooting for one team assured of a loss. No pressure. No chance of a mixed emotion feeling.
I root for the North Carolina Tarheels, mostly because they have been bad for so long, there almost isn't any harm in rooting for them. I do root for the Auburn Tigers, and was a Tubby fan, though I can understand the whole "time to move on" mentality. I also cheer for Oregon, cause the unis are worth it. I dig Nebraska and Michigan too, but mostly because of the history of the programs. Have to say, though, I did cheer when Appy State beat Michigan, cause it was awesome. And who doesn't love Boise State? And I cheer for the rise of the U of South Florida Bulls.
Teams I hate? The Ohio State Buckeyes for starters. Texas A&M. The LSU Tigers. The Tennessee Volunteers. The USC Trojans. The Missouri Tigers. I also cannot stand the Duke Blue Devils, but mostly that's a rare basketball opinion, because their football team has been pretty terrible. Can't stand Florida State or Miami.
DAVE'S ELITE EIGHTLouisville over Kansas, 77-73... Memphis over UConn, 65-63... Pittsburgh over Villanova 70-58... Oklahoma over North Carolina, 91-88, 2 OTs
Which brings us to the University of Alabama. I cheered for Auburn growing up, but I've always respected Alabama. They have something that Auburn doesn't have--one heck of a history. Now, while I would question all 12 of their titles, as I've read various reports about the validity of the Fantastic Dozen, I figure if half of them are bogus, that's still SIX national titles. Most colleges in this country would love to have half of that!
I'm not here to debate Alabama vs. Auburn, and maybe as a Florida fan, it excuses me from the debate. In fact, I found myself kinda rooting for Alabama in the Iron Bowl this year, mostly because I wanted an undefeated Alabama in the SEC Championship game. The Lovely Steph Leann is an Alabama grad, like many of you, and she does it like she wants it... she ONLY watches football when Alabama is playing. Otherwise, she could give a rip.
Bottom line is, I love sports. I just signed up for the Sports Package on DirecTV, which gets me channels like NBA TV, The Horseracing Channel, ESPNU, CBS College Sports, the YES Network, the New England Sports Network, and Fox Sports from every possible direction and area of this country and beyond. I believe somewhere between 690 and 705, I found Fox Sports KT's House. Its all over the place.
Anyway, all I can say is... Go Magic! Go Spurs! Go O's! Go Broncs! Go Gators... and GOOOOOOOOOO TROY!!!!
Oh yeah...
DAVE'S FINAL FOURLouisville beats Memphis 81-75... Pittsburgh downs an exhausted Oklahoma 80-66
Did you know that President B. Hussein
Obama did his own bracket
? All over the news, of course, but he's taking Louisville, Memphis, Pitt and North Carolina, with the Tarheels his pick to win the whole thing. So... his Final Four is one different from mine... though he thinks that Ty Lawson's injury will hurt them, as do I.
And for the record, this whole thing about the
President going on the Tonight Show
... leaving the White House to go spend time with Jay Leno and all... I think its brilliant. I think its fantastic. I love the whole idea. Now, on the show he's going to try to sell his economic plan, which I am so completely opposed to, but when I'm president in 2016, I will do my best to get on The Tonight Show with Conan O'Brien. And I will totally fill out a bracket on live television.
DAVE'S FINAL... Louisville Cardinals defeats Pittsburgh in an exciting 71-63, which will be a lot more exciting than the final score indicates.
If you want to win your office bracket... study mine. Then do the exact opposite
.