First and foremost... CONGRATS to Paulie Walnuts and his wife Sammi, who just had their baby daughter this evening around 5pm.
Say hello to...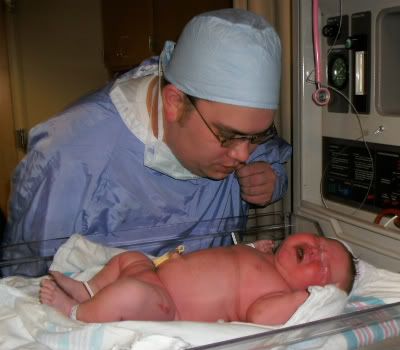 ...Catherine "Cate" Claire Carby. Weighing in at 12 pounds and 8 ounces. That is not a typo.
Okay, here we go...
Another night, another Wednesday, its episode 4 of the 6 audition episodes of American Idol. We're here at The Cabana, The Lovely Steph Leann has a blanket, ready to cover, and KT and J Rob are in the house, eatin' fresh, ready to watch...
THIS IS
AMERICAN
IDOL!!!!
Ryan opens the show at Churchhill Downs, in Louisville, KY, home of the Kentucky Derby. As the show comes on, all four of us are in discussion about delivering an almost 13 pound baby. Some procedure involving cutting, and e-pees-all-on-me or something. Gross. Glad to be a dude.
Some mom is pointing to her daughter "Right here, the next American Idol!" but I am captivated by her arm dangle.
The first contestant is Tiffany Shedd. KT says she's pretty, but she looks fresh from The Waffle House. Her eye shadow is about six inches tall. J Rob points out the Breast Mole. And Tiffany aims for Mariah's "Hero". It makes KT laugh out loud, and The Lovely Steph Leann covers her face right off the top. "Make it stop!"
Simon says, "Putting into horseracing terms, imagine 22 horses, and a donkey." This makes myself and J Rob laugh out loud. She was terrible! She tries singing outside, and her mom is bobbing her head and saying, "She is the next American Idol! They messed up!" Then Tiffany does the old tradition of, "This show sucks! I'm never watching it again!" We can only hope.
Joanna Pacitti is here with a backstory. I think she's pretty until I really look at her. Kara recognizes her as a signed A&M Records artist that didn't work out. "We Belong" by Pat Benatar is her song, and hey, she sounds great. I think she'll make the semi-finals, the Top 36. All four say yes, and Joanna goes on to Hollywood.
Mark Mudd Jr shows up, wearing a bolo tie, thick Kentucky accent, and J Rob thinks he's awesome. His great-great-great-infinity grandfather is Samuel Mudd, the guy who treated John Wilkes Booth after he jumped down and broke his leg following Abe Lincoln's getting shot.
He's singing "White Lightning" by George Jones--I daresay I am the only one in this room that has heard this song in its entirety. This guy carries his phone in a gun holster. He sounds terrible, they all say no and says "Be careful". They take it as a threat, which The Lovely Steph Leann pipes up and says, "In the south, everyone says 'Be careful'." Then she adds, "after all those commercials, that was a little bit of a letdown."
Brent Smith is throwing down on some Bad Company, and does a great job. Randy, Paula and Kara liked it, Simon didn't like it at all. Simon still says yes. Then there are jokes made on the show that, being boys, J Rob and I both laugh.
Here's a terrible chick named Irene. I mean, bad. The Lovely Steph Leann pulls the blanket. Another chick named Obianuju kills it
(J Rob demands a rewind to fully appreciate what just happened)
, while Wil crosses his eyes while destroying Soft Cell. White Big Poppa does a bad Michael Jackson
(crappy bad, not Sam Jackson bad)
and some guy does a terrible song dressed as a zebra crossed with Ace Frehley in full costume.
Backstory! Matt Giraud sings Gavin DeGraw, and KT predicts, before the song, that with this backstory, he'll make it. They tell him to get his swagger on and send him on his way to Hollywood.
They've been previewing this guy, a nerd, if you will, Ross Plavsic. He smiles and J Rob says, "He's been eating gravel!" He has learned Chinese or something, he's dressed in a business suit and when asked, "Why are you here?" he says, "I enjoy singing!" He has this bad deep voice singing some song I've never heard by Jay & the Americans, I think. Paula offers his some water and he... goes up and actually drinks from Paula's drink. She's completely offended.
"Love Me Tender" is his next song to sing, and Simon says, "This isn't getting any better." The Lovely Steph Leann yells, "Eww! This is grossing me out!" On the way out, he sings something about "my best wasnt good enough."
"Good stuff," J Rob smiles.
As we come back from the break, we see a hillbilly shout, "I tell ya I'm the next 'merican Idol, I tell ya that right thar". The Lovely Steph Leann says, "Yeah, maybe not."
Emotional backstory! She's a stay at home mom who had her baby at 19, with a baby daddy in Pensacola, in military school. The daughter is Ryan, who is cute as a button. "Dr. Feelgood" by Aretha is her song, and it seems a little shouty, but not bad. Personally, when she said "Dr. Feelgood", I was hoping for Motley Crue. She's off to Hollywood!
They tell her to work on stage presence, "dirty up" a little, and Kara says, "Go home and make love to your fiance!" Hey now!
Another bad montage! And here comes Aaron Williamson, who is ready to do his stuff. I bring this up because he's peppy beyond measure. He's yelling, representin' and shouting. The Lovely Steph Leann whispers, "Oh dear... I'm slightly worried..."
He's here to be the American's Next Top Idol, singing Creedences Clearwater's Revival. He shouts. Loudly. Very loudly. KT collapses into J Rob's arms. The Lovely Steph Leann bites her nails. Ryan Seacrest, on the outside, peers inside and whispers, "What the hell...?"
The judges are egging him on, which is kinda funny in itself. He's still smiling.
Rebecca Garcia is in line, ready to go... a reporter asks her, "How you gonna dazzle them today?" and J Rob whispers, "With my big horse nose." And that joke has a purpose. She is taking on Carrie Underwood, "Before He Cheats". The Lovely Steph Leann covers half her face with the blanket, KT giggles and J Rob laughs. Rebecca has a wristband on with the words... and when she forgets the line, Kara says, "Check your arm."
Kara laughs, and says, "That was good! That was funny! She was voted 'Most Humorous' in high school and..." She looks up and sees Rebecca's face, and realizes that this audition wasn't a joke. It was genuinely terrible.
This exchange:
Rebecca: Should I give up?
Rebecca's Mom: No, of course not
The Lovely Steph Leann: Heavens yes, please.
Its always refreshing to see a montage of great voices, and we have one with several contestants that get through.
At the end of every episode, there is a touching backstory, and this one is no exception. Leneshe is 18, from Cincinnati, and has a hard life. But now that Obama is president, that should all change, right? She's a single mom, has lived in shelters, so on and so on. Are we watching Americal Idol or Extreme Makeover: Home Edition?
I want her to be terrible, so badly, especially singing an original song... and you know what, she's pretty good. I somehow thought she would be. Simon loved her. This is an unusual step, because normally people who do their own stuff are terrible. Paula loves her. Kara loves her. Randy loves her. She's going to Hollywood--like I knew she would.
Nineteen contestants are heading to Hollywood from the Louisville auditions. But wait, Coffee drinkers--next week, its onto Jacksonville, Florida!