And finally, without further ado... well, wait, here's some ado...
A Recap of the 100 coolest thing to the 11th coolest thing of 2007
can be found right here.
The 10th coolest thing of 2007 is Nikki Brown. The 9th coolest thing of 2007 is the movie "Enchanted". The 8th coolest thing of 2007? Dave Ramsey. We skipped #7, because there is a tie for the 6th coolest thing of 2007... "How to Save a Life" and "Over My Head (cable car)" by The Fray took both spots.
The recap of this list is here
.
The 5th Coolest Thing of 2007? Seeing Mamma Mia! again
Last February, my buddy from Starbucks called me and said, "Hey, have you seen Mamma Mia!, the Broadway show?" to which I replied, "Nall Wall, I've seen that show three times. And I loved it each time. Why?" Nall told me he was getting tickets for his family and some friends, and he offered to get tickets for The Lovely Steph Leann and I.
A chance to go see my favorite Broadway show for the fourth time, especially with people who have seen it before? I'm totally down with it...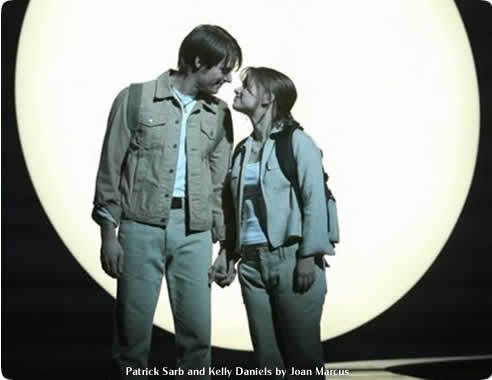 Mamma mia... here I go again, my my, how can I resist ya... mamma mia, does it show again, my my, just how much I miss ya...
Mamma Mia! is this great show that utilizes the music of ABBA, incorporating the songs into the story. The story simply is that Sophie is living with her mom on a small Greecian island, and she's getting married. Problem is, she doesn't know who her dad is. After digging through her mom's old journals, she discovers it could be one of three men. So she sends them invites to the wedding, and much to her mom's surprise, they all show up! Hilarity ensues.
As much as I love Les Miserables, the seriousness of it can depress you... Mamma Mia! is just so much fun. You can check out the detail
on the show's website
, and I'm actually kind of excited
about the movie coming up
this summer
(as is The Lovely Steph Leann, because it stars Colin Firth, the president of "The Colin Firth Club")
and
the trailer is up here.
The 4th Coolest Thing of 2007... Little Sister Ashley Spell
In case you were fooled, she's not really my little sister, but she might as well be. The Lovely Steph Leann and I met Little Sister Ashley when she accompanied her then-manfriend to a Deuce Family Christmas event. She and I chatted for a little while, as I did with everyone else, and when the night was over, she disappeared out the door to never be seen again.
Only she been seen again. We crossed paths again at a meeting for those who were considering going to China on missions, as were The Lovely Steph Leann and I were considering. Little Sister Ashley went, but we didn't, though the night was notable because I made some off-the-cuff remark that hurt her feelings--wasn't my fault! I didn't know.
Anyway, a few months later, we find out Little Sister Ashley is moving from Mississippi to Birmingham, and she has no place to go. So, we offer up the extra bedroom at The Casa de Pesos. And what was the budding of a frienship before turned into a lifelong BFFness for Little Sister Ashley and The Lovely Steph Leann and I. We sat up late chatting, we laughed, we cried, we bonded much over two months. Ever had those friendships that, when you go long periods of time without hanging out, you kinda feel a little sad? That would be Little Sister Ashley.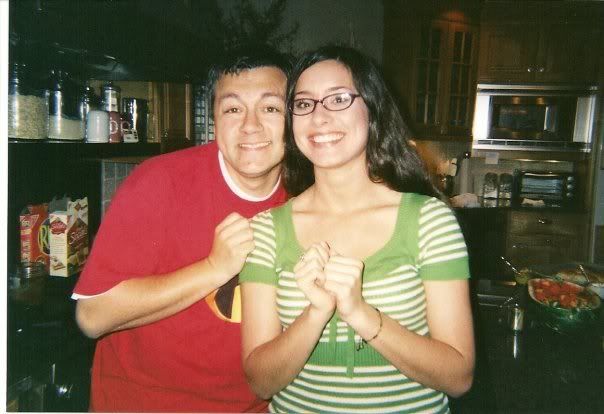 This is one of my favorite pictures. I really, really do respect, admire and adore this girl.
She's just an amazing chick of God, she uses the term "Dad" when she prays, and when she's praying for you, it makes a difference somehow. The Lovely Steph Leann and I hold Ashley near and dear to us. In fact, I can't imagine a cooler person in 2007 not named Steph Leann. Unless that person is...
The 3rd Coolest Thing of 2007... "Harry Potter & the Deathly Hallows"
If you haven't read this book by now, you probably still know what happens. If you don't, then its too late, you should have read it.
The 7th and final book in the Harry Potter series, we find our heroic trio--Harry, Hermione, and Ron--on the search for horcruxes, which are pieces of Voldemorts soul that must be destroyed in order to destroy him. Along the way, they find out about The Deathly Hallows, those things that can pretty much make you invincible. I won't go into detail simply because if you've read the first 6 books and know what I'm talking about, then you have to have read the 7th book already. If you haven't read the 7th, then I know you haven't read the rest of the books.
Anyway, I finished the book in about two days, and actually, I didn't even scan to the back of the book--and I'm notorious for reading the last few pages of any book before I finish it. What made it even more fun was who I was with during the release... Nikki Brown
(the 10th Coolest Thing of 2007),
Little Sister Ashley
(the 4th Coolest Thing of 2007)
and The Lovely Steph Leann
(truly the best thing about any year, really).
Nikki, Little Sister Ashley and I had Panera, made some magic wands, had some fun, met up with The Lovely Steph Leann, and a good time was had by all.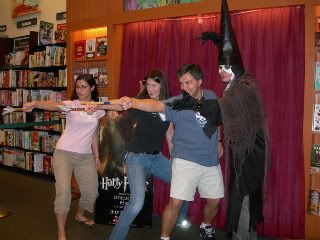 How utterly dorky are we now?
You can read all about it in last summer's
Potterblog
, followed by
Potterblog Reloaded
, and finally,
Potterblog Revolutions
.
Oh, and in case you were curious, JK Rowling admitted that Harry became an auror, Hermione played for the Holyhead Harpies Quidditch team before becoming a mother and working in the Dept of Magical Creatures, Ron worked for George at Weasley's Wizarding Wheezes before becoming an auror himself, George marries Angelina Johnson, Cho Chang married a muggle, Neville married Hannah Abbott, Umbridge gets arrested and imprisoned, Shacklebolt becomes Minister of Magic with Percy at his side and removes the dementors from Azkaban. Just in case you wanted to know.
The 2nd Coolest Thing of 2007... Going to Disney World
When is Disney not one of the coolest things ever? We found out in 2006 that it was a possibility that The Lovely Steph Leann and I wouldn't be going with the family to our annual weeklong jaunt in Panama City over Thanksgiving... nay nay... in 2007, we'd be heading to Walt Disney World for EIGHT DAYS. Like, leave for Disney on Friday, come back the following Sunday. Thats a whole lot of Disney.
Along the way, I had some of the best moments of my life with the people I love. Eating at Le Cellier with the entire family, dinner at Yak & Yeti with the Nalls, riding Everest and experiencing that backwards run when I wasn't expecting it, pin trading like a fool, helping other people learn how to pin trade, developing a love for PhilharMagic, meeting Mater and Lightnin' McQueen, experiencing Soarin' for the first time on the front row, getting molested by The Genie, riding around Orlando with the Lovely Steph Leann on a desperate search for a stinkin' Best Buy, taking one of the best pictures ever with Tyler and Benjamin on Big Thunder Mountain Railroad, getting refills in my overpriced Disney mug, buying lots of Disney ornaments, watching Poppa Ron poke back and Steve the Pirate on the Magical Fireworks Voyage... eight days in Disney World.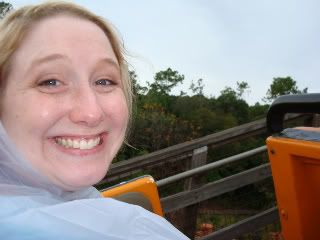 One of my favorite pictures from the trip... The Lovely Steph Leann as we climb the Big Thunder Mountain Railroad
We basically covered a park each day, then got to loop back and cover more parks again. Downtown Disney is one of my favorite places on Earth, but then again, so is the Magic Kingdom. The Lovely Steph Leann and I hadn't been back since our honeymoon, but there is something about walking into the park and seeing the castle looming in the background.
Your stomach flutters a bit, your mouth curls up into a big smile, you want to start skipping, you reach over and hug whoever you are with... you are truly in The Happiest Place on Earth. And if you are with people you love, all the better. What a great vacation.
Of course, I got tons of pictures, and
was able to blog about it
... but that was due to...
The Coolest Thing About 2007... Dave Gets Techo Savvy
First, it was the digital camera,. Here's what happened, in a nutshell:
The moment had arrived. A graduate student of Financial Peace University, I was ready for my first negotiation test--FPU's motto is "never pay retail", and so I was ready to negotiate for a better deal. I added up what I wanted in my head... the camera case, the extra battery, the 2gig memory stick and the camera together would be about $450 or more... but I didn't want to pay $450.
"Alright, Amberly, I want that camera, a case, a battery and a memory stick, and," I paused as I pulled out 4 Dead Presidents, "I have $400. This is what I'd like to pay."
She looked at me funny, and shifted slightly, "Um... well, there's tax...""That's cool. $400 plus tax sounds fair to me." I smiled big. This might just work.
So, I followed her around as she grabbed the Sony battery, a brand name memory stick
(not the cheap one, mind you)
and then we discussed camera cases, in which I decided on a slim, compact case that retailed for about $15 or so. Then Amberly opened up the case, pulled out a box and handed me my camera. As we walked to the register, she said, "Okay, so like, I'm going to have to ask about taking money off."
I smiled back, and nicely said, "That's fine. I'll wait while you ask. If they say no, I think HH Gregg has the same stuff across the street, and I know they'd do it--you guys are probably killing them in market share." She smiled back, and disappeared into the store, headed for a manager.
I waited perhaps ten minutes... kinda curious if she couldn't find anyone, if it took that long to convince someone to do it, or if she spent 9 minutes griping about customers not wanting to pay the price and one minute asking. Either way, she came back, and said "Alright, $400 plus tax".
"Thank you for not making me to go HHGregg," I replied.
"Yeah, well they probably don't have any of this stuff," she said in a little dig to the new store across the street.
And so, I came home with my new
Sony Cybershot W90
, with face detection, double anti-blur technology, megamovieVX software, 8.1 pixels, 2.5 inch display, viewfinder and so on. Now, please don't email me telling me I shoulda bought this other brand, because "for the money, you coulda..." or tell me "I got the same camera for only $259 at...", 'cause that's just not necessary.
I love my new camera, and I'm excited that its mine--I paid cash for it, I'm not making a high interest credit card payment, and I've been taking pictures of everything for a week.
Thank you, Amberly. Thank you very much. You can read the whole thing on
Amberly and the Digital Sell
Then, it was the laptop, at least, Steph's laptop. It was a blog that started with these lines:
People ask me, "Dave, why do you blog?" and I can look to this past Friday night and say "For nights such as this. Some stories need to be told."
Its a tale of woe. Its a tale in intrigue. Its a tale of bargain negotiation, mean supervisors, routers, wireless things and free memory installation. And that's just in the first part.
In the blog entitled
"Thousands of Possibilities (i got mine) Part One"
, followed
right by Part Two
, I tell the story of how I got our first laptop. It was a night full of work, led up to by several nights of research. Of course, this laptop was for Steph, and I got mine a few weeks later in less dramatic fashion, but yet, the story is still cool.
So, thats it. The coolest thing about 2007 is getting a laptop and digital camera... see, its cool because I never had those things, ever. I'm tired of feeding the hamster that ran our old computer, and I'm tired of feeding the bird that etches the photos in stone, a la The Flintstones, with my old camera.
What about 2008? Oh, several things have popped up already... Becoming acting manager at Starbucks Cahaba Heights, Chris & Brittney Croyle, DVR, paying off the student loan, The Cabana, this season of American Idol, Survivor: Fans vs Favorites... these are to be considered in The Coolest Things of 2008. The list appears on January 2nd, 2009. Watch for it.