Would ya like to know what we're working with up here, weather wise? On the top of the links is Stamford's Weather Info. Just so's ya know, and all.
The night has been pretty simple, really. When I last blogged, I was in a chair at the glass table of room 7071 in the Stamford Suites. Now, hours later, I am again.
After I hung up the laptop, I sat on the couch watching basketball, fully intending on going down to the Smiths room to help with stuffing eggs. The Lovely Steph Leann was napping, deservedly so, as she was my MVP today. So, I tilt my head back, and wham! I'm snoozing--which is pretty big, because I never take naps. And since we were meeting everyone in the lobby at 5pm, naturally, I awoke at 5:07, and got Steph Leann awake at 5:08.
Our humble shelter during this time of prayer and walking. Our pretty much the top corner, and you can see tail end of the car we're crammed into, the second red car on the left side
We hustled down pretty quickly to see Philip & Jill and Munchkins 1 (Bethany, 4) and 2 (Noelle, 1), Landon and Cristy and their entourage of Lauren (8), Lawson (5) and Layton (3), and Taylor and Cindi Smith and Mary Connor (6) and Sydney Claire (7). So yes, our children tonight were 1, 3, 4, 5, 6, 7 and 8.
While everyone went to the mall, the girls headed to dinner at The Kona Cafe, and the guys just hit the mall food court
(Jason & I had orange chicken at
The Panda Express
).
Trouble was brewing when the kids wanted to go to the indoor playground
(which was nothing but a bunch of big, giant fruits and vegetables made out of fiberglass that the kids could crawl on... I mean, who wants to sit in a lettice cup or climb over a carrot? Seriously...).
The playground featured Sylvester the Cat standing tall in the front, with his hand out, about four feet off the ground. Those children who could stand under Sylvester the Cat's hand got in. Those who couldn't, didn't. Poor Mary Connor came back in tears to her dad Taylor, as apparently there was a Mall Playground Commie standing guard, making sure no terrorist children over 4 feet got in. Sydney Claire had a better idea... "Why don't we go kick them, then prayerwalk for them?"
After dinner, the families split up, with various members going to see a movie, a few went shopping, and KT, Jason, the Lovely Steph Leann and I started at Barnes & Noble, toured the mall awhile, visited Target, tried their cool cart esculator
(its the neatest darned thing),
then ended up at Baskin Robbins.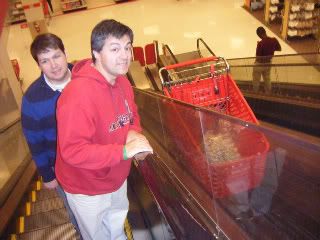 Jason and I, dazzled by the Target Cart Lifter
We discussed how it kinda looked bad spending the evening at B&N and 31 Flavors, but we decided that tomorrow would be "showtime", as its a full day of prayerwalking and Easter Egg Hunting, so we'll be ready.
Tonight's encouragement notes to both of us was from Nikki, while I got one from Emily Turnbow and Steph Leann read one from Ginger Latta... thank you! You chicks rock!
Pray for two things... huge attendance at the Easter Egg hunt tomorrow, and for good weather. Because we're supposed to have snow showers in the morning.