Anyone who is a "Grey's Anatomy" fan will get the title of this blog. Anyway, we're in Hartford, CT... well, Windsor Locks, right outside of Hartford, at the Bradley International Airport. And there's trouble abrewing...
Later, I will go back and give you the details of Monday night, which was awesome, and Steph & Dave's Manhattan Adventure. But the current events override the need to tell you those two days, so we'll get to that later...
We awoke this morning, both The Lovely Steph Leann and I sore from a full day of walking around Manhattan, combined with a dessert dinner, combined with a terrible bed at the Stamford Suites and Resort Spa. We packed last night, so it was a quick get up/shower and finish packing, and we were ready to leave.
Landon met up with us and Jason & KT
(Jillip and family were in Boston for the previous day, and the Smiths spent their night, along with the upcoming few days, in New York City)
for breakfast at The City Limit Diner. The breakfast was awesome, though Jason is still trying to wrap his mind around spending $7.50 for two glass of orange juice, and I'm still trying to comprehend spending$8.95 on a, albeit good, waffle.
We piled in the Chrysler Sebring, and made our way to Windsor Locks, to the Dollar Rent a Car establishment, right outside the Bradley International Airport. Jillip was there, kids in tow, and we took the shuttle to the airport. Once in the airport, Philip let us know that our flight had been delayed an hour, due to weather.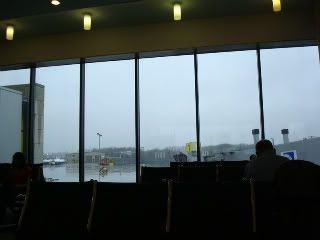 It's a dreary day at Bradley International Airport, in lovely Hartf, er, Windsor Locks, Connecticut
This was okay, because our flight was supposed to leave at 3:50pm, arrive in Newark around 4:30
(it says 5pm, but the flight last time was 26 minutes, so I'm guessing 4:30).
Once in Newark, we had a delay of several hours until our Birmingham flight, which leaves at 740p, and arrives in B'ham around 845p (CST). So being delayed an hour meant we spend an extra hour in Connecticut, and one less hour in Newark...
...however comma....
We then got word that the flight was being pushed back to at least 6pm, then 645, then possibly 7pm... which means we may or may not make our 740p flight to Birmingham. We were informed that that's the last flight out tonight to B'ham, and that all other airlines have no seats available.
Which means we either spend the night in a hotel in Hartford/Windsor Locks, or we spend the night in Newark in a hotel
(or airport).
This is a problem, not because it would kill me, cause heck, what a blog that would make, but because Jillip has Munchkin 1 and Munchkin 2, who won't like the airport floor. Jason and the Lovely Steph Leann both have to work tomorrow as well.
And here's the evening as it goes...
330p... Just got word that the plane that would take us to Newark is now here. But we aren't getting on it? Why? I dunno.
413p… Found out that the reason we can't leave, even though our plane is here, is that Newark has a "ground stop". That means that they can't allow anymore Newark bound planes to head that way, because, due to weather, they are having trouble getting in all the planes they have coming in already. Make sense? Yeah, me too.
415p… Also, discovered that the crew on the Newark to B'ham flight is coming from Syracuse, and they haven't left yet either. So we'll see…
430p… We've been told that we have an option… we can catch a flight to Atlanta on Delta, leaving at 620p, but we got nothing from Delta to Birmingham. Some options are maybe to call The Lovely Steph Leann's Mother, Mama Ruth, and possibly Jillip's parentals, Bob & Linda Waters, to come get us.
Another option is just to wait…
534p… We just got another option, we can catch a Delta flight tomorrow at 715am, after staying overnight, then from Atlanta get a connection to Birmingham. It's actually a good option, because we could just stay overnight here, keep our luggage, and just get in in the morning. The Lovely Steph Leann has pretty much determined that she is taking tomorrow off, and Jason is about an hour from making that call himself.
537p… The time has come to make a decision, and I think we are going with the Delta option tomorrow… wait… wait a minute…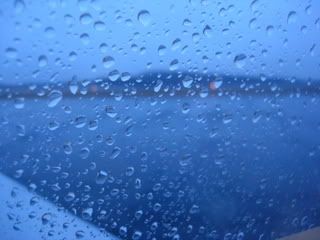 Staring out the window at Bradley Int'l runway, awaiting liftoff to Newark
540p… Our original flight is boarding! Yes! We will get on here, get to Newark about, what,
630p, then only wait an hour or so for our flight to Birmingham! I guess I'll report back while we're in the air!
603p… Taxiing down the runway, we just stopped. The pilot just told us that Newark has another "groundstop", meaning they won't allow any planes to land that are not already in the air. Meaning, we can't go just yet.
612p… We got word that the Newark Ground Stop is continuing, and we can't leave until 720p. Supposedly, our flight in Newark leaves at 740p. This means that we not only missed our guaranteed Delta option for tomorrow, this means that we may or may not have a way out of Newark once, if, we get there.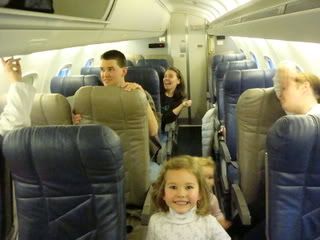 Just hanging out, for an hour, in a plane on the end of a runway in Windsor Locks, Connecticut. Munchkin 1 leads the way, with Munchkin 2 behind her. KT's expression, on the right, is shared by all, while the Jill half of Jillip, smiling in the back left, has the expression we'll all have when we finally get home.
714p… After getting a little toasty, the captain finally got the air running back here
(the plane's engines had been shut off due to the fact that… well, we just weren't going anywhere).
716p… The captain informs us that we are taking off shortly, and that the flight will be about 45 minutes or so. And so off we go.
8p… Its been quite a bumpy ride, I'll tell ya… not really turbulence, but just the rain, the plane is really, really loud, some sort of unusual whistling noise going on, and Jillip is having trouble with Munchkin 2. The guy next to me, in the aisle over, is traveling to Ottawa, eventually, but is having trouble too. Apparently, when he ran into travel problems, he called his travel agent. His travel agent fixed it. But the travel agent didn't call him or email him to let him know the changes. So he's all goofed up now. The girl sitting about six seats behind me is flying to England, via British Airways. She's also worried about her connection.
822p… We've landed. Now… did we make our connection??
823p… Still wondering. We're standing in the aisle on the plane, but we're not moving. The captain says, "Ladies and gentlemen, we are waiting for the tunnel to be taxied to our plane…"
827p… We didn't miss our connection! Whew… it's been delayed from 740p to 930p, at the end of the terminal. It's in gate 114A, which is down the escalator, where there are four gates—114A, 114B, 115A and 115B—all crammed together. The people awaiting a 838p flight to Colombia, SC, are sharing this gate with us.
835p… The Colombia flight got pushed back to 9p. Ours is still at 930p. I go upstairs to have an overpriced, undertasty piece of Chocolate Peanut Butter cake and an underpriced overlarge bottle of Poland Springs Water. They loves them some Poland Springs Water here in the North East.
912p… I'm sitting at Gate 112B, at the top of the escalator from 114A. There's no place to plug in my almost dead computer, so I had to come up here. I haven't heard anything about our flight being delayed again, though I did hear that the crew that was supposed to fly this plane, the one from Syracuse, hasn't landed yet—they were supposed to land in a few, but they aren't here.
914p… I just saw KT and Jill of Jillip go by, assisting a Japanese woman and her two kids, a family they had been connecting with downstairs in Gate 114A. I've already heard flights to Baltimore and another city has been cancelled. Just heard an attendant yell "Does anyone speak Russian??"
917p… I just got the call from The Lovely Steph Leann: "Come on, we're boarding"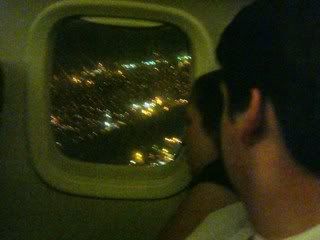 A little blurry... but I do like this shot. Here's KT and Jason, watching the lights of Newark disappear
1101p… I'm sitting in seat 14A, currently 36,000 feet above ground, and about 620 nautical miles from Birmingham, from The Cabana, from all my friends and my church and everything else. This has been one of those crazy days that, a year from now, perhaps on the Stamford trip of 2009, we'll laugh and say, "Wow, do you remember that?", much in the same fashion we talk about The West Way Inn, from 2005. Perhaps this day is our West Way Inn.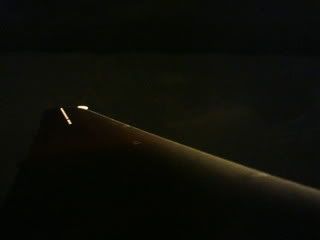 The wing above the clouds, almost in Birmingham
There's a roar of an engine behind me, mixed with a constant whooshing sound of the air vent above me, combined with the utter quietness of it all. No one is talking, Jillip is having no trouble now with Munchkin 2, Jason is sitting across the aisle from me, KT's head on his shoulder, in 14B and 14C. Jillip are a few rows back, while The Lovely Steph Leann is near the front again.
I'm off tomorrow, that being Thursday, and by the time you read this
(or by the time I even post it)
its possible I'll be still asleep, or perhaps doing a ton of laundry, or even venturing out to Wal-Mart to pick up some laundry detergent to do said laundry.
That all being said, two things will happen in the next few minutes--our plane blows up and you never read this, or we land. Let's hope for the latter. Though, after today, seeing Jesus if the former occurs might not be a terrible thing.