My Disney Vacation, A to E
My Disney Vacation, F to L
My Disney Vacation, M to P
Q is for Queue Lines
Sometimes, all you can do is stand in line, Fast Pass or no. Cause they don't make Fast Passes for every ride, you don't have Fast Passes for characters (see B for Beast), and, well, like any theme park, you are in a forced community for a period of time ranging from 15 minutes to over a hour. The longer you wait, the more you get to know those around you.
Typically, at most theme parks, be it Six Flags or Alabama Adventures, you make jokes about how long the wait is, or what condition the rides are in, or how the day is going in the park. At Disney, you open up much more. You talk about where you're from. You talk about how long you've been here. You talk about things you've done, things you've seen, and give pointers to other people.
It was in a queue line that I learned about the pin books at Guest Relations
(see P for Pin Trading)
, it was in a queue line that we passed on wisdom about some of the events and happenings, it was a in queue line (for Beast, no less) that we met a lovely couple who was taking their young daughter to Disney World for the first time... and on the Peter Pan ride, she lost her digital camera, which contained hundreds of pictures, including the one of her kid's face when she entered the Magic Kingdom for the first time. Poor woman. We saw her the next day at MGM, and she said she'd given up hope for the most part.
R is for Rides
My favorite rides, in no particular order...
Mickey's PhilharMagic (Magic Kingdom)...
a 3D show that sees Donald putting on Mickey's Fantasia hat. Suddenly, the magic goes awry, as Donald is catapulted into different Disney moments, including Ariel's grotto, Aladdin and Jasmine's magic carpet ride, and Simba's "Just Can't Wait to Be King" animal parade. I thought this was so freakin' fun, and ended up on it twice.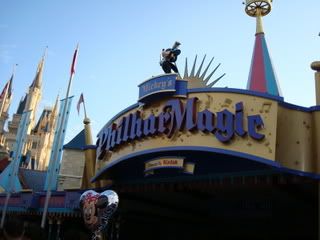 PhilharMagic is nothing but sheer 3D funEverest (Animal Kingdom)...
we've covered this one already
The Tower of Terror (MGM)...
the whole atmosphere is part of what makes this great. Everything from the line, to the lobby, to the elevator to the ride itself... even Cast Members get into the act. And instead of dropping just once, twice or three times, the ride dropped FIVE times. We thought it was anomoly, but the second time we rode it, it did it again. Awesome.
Mission: Space. (Epcot)
... this ride rocks my world. Its a centerfuge, and any ride that not only provides vomit bags on the ride, but has cots laid out as you're exiting to lay down on is a ride that I want to be on.
Buzz Lightyear Space Ranger Spin (TomorrowLand)...
Who doesn't love the Buzz ride? You get it, you fire at aliens, you rack up points, its all brightly colored, its a hoot. Steph and I have ridden it about five times over two trips. I've beaten her once. Its a terrible thing.
Some of Steph's favorite rides? Pretty much the same, thought she does love Festival of the Lion King (MGM), and Peter Pan's Flight (Magic Kingdom).
And, of course, we both loved...
S is for Soarin'
We'd heard about this ride all over the place, from queue lines to websites to idle Disney chatter... we had to go on Soarin'. So, on Wednesday, the family headed to the parks for Epcot day, our bus driver informed us
(which was kind of hit and miss with the bus drivers... we met some that talked and gave good park info the whole time, we met others who didn't say a word other than 'thankyouforusingdisneytransportationpleasegatheryourbelongings andchildrenandwatch...", usually just like that)
that Soarin' was currently the most popular ride in Epcot, and that we needed to get Fast Passes early. Upon hearing that, we made our plan to do just that--get Fast Passes for Soarin', whatever that ride was. I honestly didn't have a clue what the ride was all about, only that it was based on a ride hugely popular in California.
The ride queue is just packed, completely. Fast Passes are for an hour or so later, but the ride currently has only a 15 or 20 minute wait--probably because its 8 in the morning, and the part has been open for about 2 minutes. Located in The Lands, it's around the corner from Living Off the Land,
(which I refused to go on, for fear that they would end up saying something about erosion and man-made global warming, and it would ruin my day),
we all filed into the long hallway, and quick enough, we were in the lobby part of the ride, where you get ready to "board".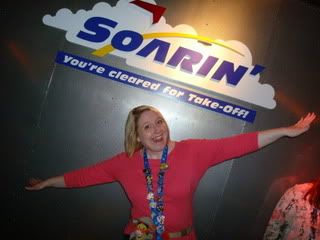 The Lovely Steph Leann, right before we went Soarin'
We were told to make sure we got in the front row, so when I asked the Cast Member for that spot for our group of 8, we stepped aside, waited another five minutes, and then went into the ride. As I walked in, the path was between seats, three rows on each side, all facing a huge IMAX-like screen. We walked to the front row, and strapped in. I couldn't even see the top of the screen without craning my neck painfully. It was a big, blue screen, one that you'd love to watch football on.
The room darkened, the canopy came down slightly, and suddenly, without warning, we were lifted high into the air. Remember, this is in a big dome like room, and I have no clue how high we are. The screen came alive, and all of a sudden, its like we're hang-gliding. We're soaring over panoramic views of the Rocky Mountains, over the ocean, over orange groves
(to which you could smell citrus),
through the woods
(to which you could smell pine),
and the seats are slightly moving. You truly feel like you are flying.
The music is set perfectly, and its easy to get lost to the point where you are lifting your feet up everytime you fly over a low branch, or duck quickly when the guy on the golf coarse "below" hits a shot that flies right by you. The ride lasted about three minutes, but its one that you don't want to end. It's the perfect ride to go on first, as it makes your day. It just sets you up to be happy... magical even. And in the land of the Magic Kingdom, isn't that the point?
T is for Tyler
When I'm writing my final blog at age 88, or at least dictating it to my great-great granddaughter Glory, I'll probably consider Tyler Campbell to be on my list as one of the 100 Coolest Things About Dave's Life. He's just a cool guy.
Tyler comes into town on Wednesday night, and hangs with the family on Thursday. On Friday and Saturday, he and Papa Ron are headed to Universal Studios theme park, and to Universal Islands of Adventure, but while he's in the Magic Kingdom, he's having a ball. Whats fun about Tyler is that he's not "too cool to ride the kiddy rides", and he was actually pretty giddy about riding Peter Pan's flight and It's a Small World.
Even after a day at Universal, he commented, "It makes you appreciate Disney." We got several pictures with Tyler and characters, and it was fun to hang with him during dinner at Liberty Tree Tavern. Minnie Mouse loved her some Tyler that night.
One of my favorite moments of the trip was when we rode Big Thunder Railroad. Steph and I were in the front, with Tyler and nephew Benjamin right behind us. I held up my camera, faced it back, and snapped about 15 pictures. And really only one turned out... but its this one: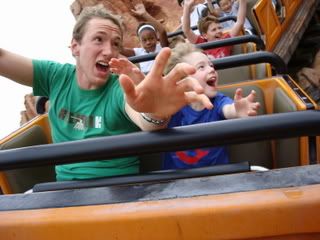 ...of which I'm very proud of.
U is for Unlimited Refills
The first day at the All Star Movies Resort food court, we had breakfast. And during breakfast, we used one of our Disney Dining Plan meals, a counter service. And with that counter service, we got a breakfast entree, and two beverages, like a chocolate milk for now and a water for later. Or, you could get two waters for later... if you splurged on The Cup.
For $13.49, you could purchase this 20 ounce handled mug, and you'd get free refills for... well, I say for your visit, but I just thought, who's to say I can't take the cup back when we go again in 2008? I figured with regular prices it would take 12 refills to make the cup worth it. With Disney prices, it would take about 7. I refilled 11 times that week.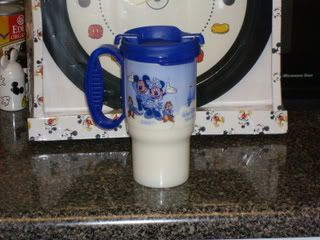 My new mug
Remember, we're leaving early
(where I got at least 5 or 6 refills heading out)
, and coming in really late
(where I only got a few as we walked back in--I can't drink Sprite right before bed)
, so I didn't get all the refills... though I possibly could have. When the Lovely Steph Leann and I had dinner at The Polynesian Resort on Saturday night, I discovered they were selling the same cups. I love this stupid cup. It's kinda ugly, its clunky, but besides the essentials
(money, camera, pins)
, it was truly the only thing I carried with me all week.
Finally... the end of Disney A to Z... coming soon