Are you new to Clouds in My Coffee? Click here...
Wow its cold. Like, seriously. I mean, I guess it gets Connecticut March cold in December in Alabama, but that doesn't mean either we are used to it, or that we like it.
This morning we got up and got rolling around 730 or so... the sleep wasn't bad, except for the fact our mattress is about as thick as my laptop here, and its only about a foot or so off the ground. Like, you have to fall down to go to bed.
We opened up one of the encouragement notes, and this one was from Scott Latta... and I have to say it was one of the funniest things I've ever read. The Lovely Steph Leann and I headed down for the official Stamford Suites and Resort Spa continental breakfast, and I use the term "continental" very loosely. Like, a rack with a few pastries, a pitcher of coffee, and a tank of hot water. And thats it. No milk. No OJ. Nothing but a single bagel, a single donut
(which I grabbed),
a few pieces of coffee cake, and some tiny muffins. I was soooo hoping for a waffle iron, but alas, nothing wafflesque to be found.
It was my/our turn to do the morning devotion, so I used what I was going to use--a quick reminder of the WalkAbout team verse, 2 Timothy 4:5, thanks to Rainbow Cheney--and I used what Scott gave us this morning, 2 Peter 1:4. It was good, so thanks to both Rainbow and Scotty.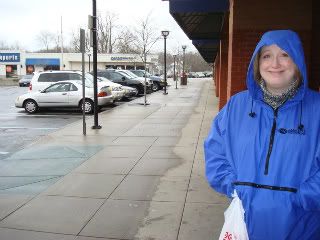 The Cold Steph Leann, sufferin' for Jesus, with a bag full of fliers and a parking lot full of misery
The Easter Egg hunt was hours away at this point, so our charge is to go out and hand out lots of fliers not only advertising the Easter Egg hunt at 2, but also the Easter service at Encounter next week. And its cold and rainy... like, really cold and drizzly, misery rainy. There's a shopping center about a mile or so down the road, so the entire group--Jillip Waters, Munchkins, Taylor & Cindy, MCSC
(Mary Connor & Sidney Claire),
KT, Jason, the Lovely Steph Leann and myself--went there, split up and tried to hand out fliers.
Let me be honest here... and I might have already said this, but I'll repeat... I deplore handing out fliers. Like, I would rather do almost anything than walk around a parking lot and hand people stuff. I like meeting people, I like talking to random people, its the "putting stuff in their hands" that I struggle with. KT and Jason went one way, while The Lovely Steph Leann and I went another. After talking to just a few people, we finally walked to an apartment complex, where we put them on all the doors. KT and Jason, who were having little to no luck finding people, joined us and helped us out.
The Lovely Steph Leann said, "To me, this is suffering" as she shivered. She is NOT a cold natured person, below 60 is cold for her... so the fact it was running around 35 was not too pleasant.
We finished the apartment
(Colonial Grove)
and then decided to go to Starbucks and get something to drink. We called the Smiths, they were at a grocery store, about to have lunch. The four of us figured we'd enjoy our drinks for a few minutes, warm up, and then head out... when ended up meeting with Jillip and they gave us a few more fliers, which we quickly dispatched with.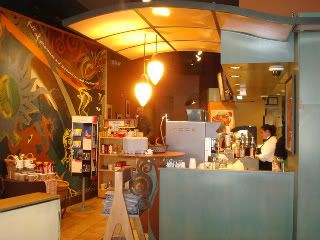 The Starbucks on Bedford wasn't as clean as my Starbucks is, but it did nicely. Some woman ahead of me dropped her coffee all over the counter, and the baristas were frantically trying to clean it up. I left them a large tip. They deserved it.
Lunch was a quick McDonald's trip, which was disturbing because not only was there a big sign that said "Today No Carbonated Drinks", they also didn't have the All American Meal. What kind of sick McDonald's doesn't have an All-American Meal? Typically, its #14 on the menu, but when I asked for #14, I was told, in very broken English "We no have 14... we go up to 13, but we no have 14". I told him its usually not on the menu, but its simply a burger, fries, pie, and a small drink, but since he stared at me with glassy eyes, I sighed, and just ordered off of the $1 menu. I didn't get a drink, cause hey, they have a snack menu at the front desk of Stamford Suites, right? I mean, a Sprite is a buck, but hey, I'm thirsty.
Only, they didn't have a Sprite. They had Sprite Zero and Diet Coke. I pointed to the little snack menu and said, "Oh, sorry, I thought you guys had..." but before I could finish, she snatched it up, "Don't go by that, that's old. We just got Sprite Zero and Diet Coke". Again, I sighed and walked away to the lobby, where KT ate nuggets, The Lovely Steph Leann nibbled on fries and Jason sat uncomfortably
(still not feeling his best).
I looked around at the lobby decor, and decided that the best way to describe it was simply, "It looks like Beijing threw up in here."
The time came to head to the church, and we all trundled our way down to the Universalist Unitarian Church where Encounter was meeting this afternoon. Our first assignment? Hide plastic eggs. Lots and lots of eggs. What made it rather funny though, was the proportion of eggs to the amount of space to hide them was quite irregular... not a very large lawn, but something like 1100 eggs... and you know when you are talking about something, and you exaggerate the number to emphasize how much it is
(ie, "I'm so hungry, I haven't eaten in like, ten years", which is silly because you ate this morning, right?).
Well, in this case, 1100 might be conserative. There were eggs
EVERYWHERE
.
And this was just part of the lawn... there was an eggceptional amount. Thank you, I'll be here til Wednesday.
On the sign. On the steps. On the sidewalk. On the bushes. On the trees. On the ledges. On the fence. On the dirt. On the shrubs. On the pile of sticks by the sidewalk. On the other steps. On the other fence. And wow, were they on the grass. And just when we think we're done, out walks Taylor, half smiling, with a "you gotta be kidding me" look on his face carrying... more eggs. "You're kidding?" I asked. "Nope," he said. At one point, I just took a bag, dumped it directly on the sidewalk and just started tossing eggs in every direction. Jason was chunking them across the yard.
And finally, the eggs were out. We had nothing else. The best way to describe this scene, borrowing from an earlier joke: "It looks like the Easter Bunny threw up out here".
Jason, playing Beckett to the eggs that were in his bucket
Time ticked slowly by, and around 10 minutes until 2, the kids started trickling in. I would love to tell you that we had hundreds of children file in, but not quite.... still, it was a good crowd. At one point, we had about 50 kids there, with their parental units, and Landon had said that about 80% he'd never seen before, which means it wasn't just regular kids.
They came in, KT and Cindy manned, er, womanned the snack table, Philip tried to play bouncer on the bounce houses/moonwalks/jumpy jumps or whatever you call them, Taylor and Jason were outside making sure there was not prematurely egg hunting occuring, The Lovely Steph Leann was somewhere, and I forget what I was doing--probably just writing this down on paper.
Sidebar: Its almost 10pm on Sunday night EST, and the wind is howling outside of our 7th floor window. Seriously, I can't remember the last time the wind howled. Literally howled. Back to the Easter Egg hunt...
Landon made the announcement that we'd let the 5-year-olds and under get a few minute head start, then all the other kids could go. He yelled "GO!", and the kids took off around the small year. Two minutes later, he yelled, "GO!" again, and the bigger kids went after them. I kid you not, in about three minutes, all 1100+ were gone. I mean, vanished. I walked around a little while later and found the shell of two different eggs, and that was it. Those kids were egg savages.
"Wait... I think I see one! Eureka, I finally found an egg!" I told Taylor that if each kid didn't come up with about 30 eggs apiece, I don't know what else we could do for them.
After the three minutes was up, all the kids came back inside, which was good because, frankly, not only was it cold, but it was drizzling and cold. Landon had all the kids open up their eggs, because one of them had confetti in it, and that signified a grand prize, which was a big basket full of stuff. One little girl opened up the confetti, the prize was hers, and Landon introduced a VeggieTales movie, I think
"An Easter Carol"
, starring Rebecca St. James as the Angel of Hope.
From there on, the day just consisted of a complete hodge-podge of activities, and I only say hodge-podge because truly, that's what it was. There was balloon animals, snacks, ring tosses, some sort of jellybean game, the video was going, and of course, face painting... The face painting typically is done by whoever wants to step up for something like this. I've painted many a faces before, and usually you start getting simple requests like "a flag" or "a cat" or "a rainbow", and by the end of the day, its "Denzel Washington in a Santa hat" or "A hawaiian cheerleader in a muumuu" or "a 1967 shiny red Corvette convertable with duel action mufflers and dice in the mirror". These kids are ruthless. Like they even know what a duel action muffler even is. I sure don't.
Landon had this covered, however... he recruited some of them thar young teenage folk to do it, and they had a single sheet of simple designs for the kids to pick from. Good job.
The other event was bounce houses. Or moonwalks. Or jumpy jumps, as I heard them called for the first time today--can we get a consensus on what to call these things? Anyone? Because they weren't the industrial grade, we could only allow two or three kids on them at a time, and we had a big one and a small one, with the latter being for kids under 4. The line for the jumpy jump was continually long, and Jason has the honor of guarding it for a long time. I finally took over, and Philip took over for me, and we noticed that the same kids were coming out and getting back in line, over and over and over.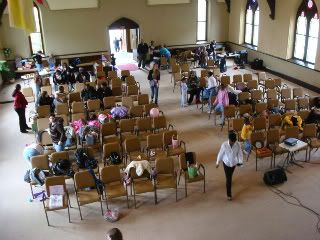 A view from above of the madness that ensued. There were about this many people in the back, on the jumpidy jumpers.
The afternoon was all in all a successful one, I think. Lots of new faces, Landon did what he did best, that is to wander around and talk to new people. I got a chance to not only talk to Cindy Smith (a cool chick) more, but also to Taylor (a cool guy), and play with MCSC, their kids, some. Somehow I became a target for the MC out of the MCSC, as she chased after me all day, while KT had fun with all the kids. The Lovely Steph Leann spent time with Munchkin 1, reading Snow White & the Seven Dwarves, which was cute as all heck.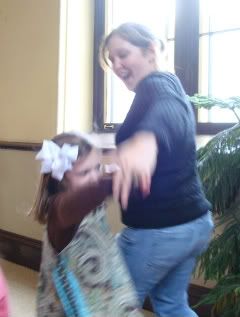 KT and MC dancing the day away. I'm not sure there was music playing, but it's never stopped KT before.
The afternoon eventually wound down, and families slowly trickled out, little by little, and our group meandered our way back to the Stamford Suites and Resort Spa, just in time for me to see Georgia beat Arkansas for the SEC title, and its third win in 30 hours. Impressive.
Encounter Service started at 6pm, so we left here around 540pm... KT wants me to mention the cool as grits Bobby, who is working the front lobby. I only waved at him as I was walking out, so I don't know that he's cool, but I promised KT a mention.
Taylor mentioned that he had read the blog, and commented about how detailed it was, joking, "Careful what you say! It might end up in the blog!", to which both KT and myself laughed, letting them know not everything ends up in the blog. Well, this conversation did, but besides that...
We had a great time of worship tonight, including a lengthy version of "It Is Well With My Soul", one of The Lovely Steph Leann's favorite hymns. If you've never had a chance to be next to The Lovely Steph Leann to hear her sweet voice sing when she's deep in worship, its amazingly beautiful. Just like everything else about her, but I digress.
The song was great, everyone ended up in prayer, I was forced by The Spirit to my knees to thank God for using me, even though I'm a selfish putz, and Landon finally came up to preach. The sermon tonight was on time, and how we should remember that we don't have a lot of it.
When we're at Valleydale Church
(an sbc fellowship),
Pastor Calvin teaches his series, usually throwing in an alter call at the end. For Landon Reesor, here at Encounter Church, the plan of salvation and an alter call is pretty much a part of EVERY sermon, because so many times people come once and done, so he's got to make sure that if that person in the back only comes one time, ever, they need to hear The Truth.
To wrap up the night, the Smiths, the Waters, the Roberts and the $s all had dinner at Lucky's, a Johnny Rocket's type place. The food was excellent, as it has been the three times before I'd eaten there, and it was just all around a good time to sit, relax and fellowship. Sometimes you just need that.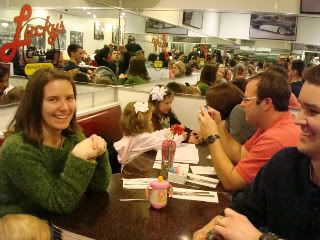 Jillip, kids and The Smiths gettin' their shake (and burger) on at Lucky's.
In closing, the Easter Egg hunt was a success. Lots of new faces, some of which we had seen the day before when we were handing out fliers, and some of which we saw that night at Encounter Church's service.
The Lovely Steph Leann was all smiles after she read Emily Turnbow's note, while I enjoyed Ginger Latta's tonight, and she left me with this:
The Lord bless you and keep you. The Lord's face shines upon you, and is gracious to you. The Lord lifts his countenance upon you, and gives you peace.
Tomorrow, we hand out Easter Service fliers in neighborhoods. I can do this. I can do this, right? I know I can!!