And we're live from The Cabana!!!!

There's a whole lot to talk about in the next few days, including moving, Starbucks, Survivor, and of course, American Idol… and what else but Idol would bring the blog back!

Tonight, it's the top 12 guys singing, and tomorrow, the girls will be singing. On Thursday, we lose two guys and two girls, until it's the Final 12. Randy, Simon and Paula are our judges, while Steph Leann lays on the couch, reclined, blanket in hand, though at this stage, if a blanket goes on the face, its really, really bad.
_____________

AT&T Internet Services have been nothing but terrible. I can get online, if I plug into the wall. However, the purpose of a laptop is to not be hooked up against a wall. I spent an hour on the phone with them Friday night for them to finally tell me, "Oh, the reason you're internet doesn't work through your router is that you need to update your password! Oh, but you'll have to call in to do that, and that department closed an hour ago. Call back tomorrow."

When I called back tomorrow, there systems were down. I called back Monday, the guy had no idea what I was told and what to do.
_____________

David Hernandez kicks off tonight, one of about half the group that I actually remembered from the auditions. Some of these guys, including the dreads guy, and Cheezydeezy, or whatever his name is, are in the Top 24, and I dunno who the guy is.

Hernandez is singing "Midnight Hour" by Wilson Pickett, as directed by the 60s theme tonight.

I hate the fact that I missed blogging the final audition shows and the selection show last week… oh, what I could have said about Josiah. Josiah the Winah. (That's "whiner", for you people in Mississippi).

D-Hern doesn't do it too bad, but its… well, kinda boring. Randy liked it, Paula blows some sunshine, and Simon says "better than I thought it would be". Steph Leann agrees that D-Hern lost the note at the end. "A little flat," she says.

Cheezydeezy comes up… he made it to the Hollywood round last year, only to get cut right before the finals. But now, Cheezydeezy is back! And why didn't we see this guy in auditions? With a name like Cheezydeezy, he should have been a highlight every week… kinda like he's a highlight right now in that orange suit. He is singing the song that says "I love you more today than yesterday, but not as much as tomorrow". I remember neither the title nor the artist, which is unusual. I'll get it later.

Cheezydeezy does a pretty good job tonight… Randy is calling it "old fashioned but aight", Paula blows sunshine, and Simon calls him Jacuzzi, tells him the suit is hideous, and the song was hideous.

In the Red Room, Colton compares himself to a likeness of Ellen Degeneres, America's favorite lesbian. But up next, David Cook, who looks very Rob Thomasy. He looks like he should be a rock star, but sounds more pop.

For the third time in a row, the song is started slow, only to break into the tune. David Cook is taking on "Happy Together" by The Turtles, which Steph Leann says, "I LOVE this song". She's tapping her foot… which means she's enjoying it.

And lets be honest… David Rob Thomas Cook is a pretty good singer. This style worked for Bo Bice and for Daughtry… Randy says "You made a rock joint out of 'Happy Together'! You worked it out, dude!" Paula loved it. Simon liked it, though he felt it was a little shouty.
_____________

Moving went just swimmingly… a big shout out to Little Sister Ashley, Wookiee, Mikey Nipp, Nick of Nick & DeLisa, Jon Taylor, Tommy McLeod, Jessica Hawbaker, Chris & Brit Croyle and Jason Roberts, who came out and helped us move from The Casa de Pesos to The Cabana.
But the moving MVP? KT.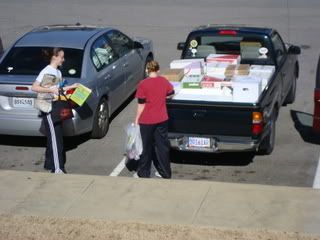 Brittney and KT, loading up another truck to move
She was awesome. Not only did she help us move, she was up late with Steph Leann the night before cleaning the floors. Like, up until 3 or so… only to be back around 9:30 to help move. Jason Roberts was with me, helping pack and disassemble furniture until midnight, but KT was all over it. She rocks.
_____________
Jason Yeager(meister) is here to do his thang. Tonight he's singing "Moon River", made famous by… Johnny Mathis? Henry Mancini? I only remember it from when
Fletch
went to the proctologist, this is the song he sang as he was being probed. Why do I talk about Fletch during Idol? Because Jason Yeager(meister) is boring me.
Randy and Paula both kinda like it, but sorta only. Simon says Jason came off much older than his 28 years. I agree.
Fletch singing "Moon River". He was more exciting than Jason Yeager(meister)
_____________

I LOVE DVR!!!! Holy cow, its awesome! I've season pass'd "Celebrity Apprentice", "Survivor: Fans vs Favorites", "American Idol" and "Mythbusters" already, as well as DVR'd WWE Raw twice. And I even recorded the last four laps of the Daytona 500 on Sunday, as Jason and KT pulled up to pick us up for Lifegroup at Valleydale Church (an sbc fellowship) with only five laps to go. So when I got home, I watched Ryan Newman take the race.

The downside? It only records however long it's supposed to. Which means, we missed the last two minutes of "Deal or No Deal" last week, and I missed the winner of the John Cena/Randy Orton bout with Triple H as the guest referee. Bad times. Mixed with good times. Times.
_____________
Robbie Carrico, the official rocker of the group, is here.
And Little Sister Ashley just came in! Yay Little Sister Ashley!
Robbie Rocker is doing Three Dog Night's "One", another song that Steph Leann says, "I love that song!!" We don't see her much anymore, now that she has a boo.
Robbie Rocker is singing and kinda shouty. Randy says, "You move me, baby!" Paula loves him—of course—and shovels some flowers in his pockets. Simon liked it so far the best.
David Archuleta is the youngest guy in the group, at 17. He sang "Heaven" by Bryan Adams in Hollywood, which contains the line "Oh, thinking about my younger years…", which means ,what? 10? 8?
Archuleta is doing "Shop Around" by Smokey Robinson & the Miracles, and singing it a little low. This kid was born in what, 1991? This means almost all of Paula Abdul's hits are older than Archuleta. This means that Mariah Carey's career is older than Archuleta. And more voluptuous.
Randy loved it. Paula says "brave and bold and flowers and sunshine and butterflies". Simon says "By a comfortable mile, best performance of the night." This kid will make the Top 10 overall, I call it. Little Sister Ashley says, "You just want to pinch his cheeks…" and Steph Leann says, "He's way too cute." Even Ryan says, "You can only vote for him, you can't adopt him."
_____________
The AT&T commercial is on, the
one where the little girl
gives her dad a stuffed monkey when he leaves for his trip, and Dad proceeds to take pictures of the monkey and send them to his daughter, while the Amos Lee song "Sweet Pea" plays. Its such a cute commercial
_____________

Danny Noriega is up next, and he is flaming like a gas soaked log thrown in a campfire. He looks like a male Jessica Alba, honestly, which isn't a good thing. He might actually perform on girls night too. He's singing "Jailhouse Rock". Which is funny. Guys hook up in jail. I'm just sayin'.

He's dressed like a Mormon. Randy says "You know how to have a good time!" There are so many jokes right now, only part of them involving Boggs from Shawshank, but I'll resist... though I wouldn't be surprised to hear the following exchange:
Danny Noriega (talking to David Archuleta): Hey... anyone come at you yet? Anybody get to you? We all need friends in here. I could be a friend to you. (Archuleta looks puzzled and walks away) Hard to get. I like that.
Paula actually uses the words "beautiful", "song" and "colors". Simon speaks for all of us when he says, "I didn't understand anything you said. What colors are you talking about?" Rainbows, maybe? Simon thinks the performance was grotesque. I agree.

I think Paula likes him because he could go with her shoe shopping. And Danny's dad looks like a gang banger… and Danny would be the kind of kid his dad would shank if they weren't related.
_____________

Two things to finish in the next year. First, the Top Ten Coolest Things of 2007, a list that would have been finished three weeks ago, except for the fact , you know, we moved. That cuts into your free time. Then a week without the 'net kinda sucks.

And then, the Dave100, the list of my favorite 100 movies. Coming this spring, perhaps one or two a week.
_____________

Another guy that I didn't see in auditions, Luke Menard, who kinda sounds like Kevin Max from dcTalk. Tonight he sings Jim Croce, "Everybody's Talking." They play this song at Starbucks sometimes, and it makes me happy. I thought that was the 70s… perhaps it's not Jim. Maybe I'm losing my pop culture touch. That week without the 'net could have cost me everything.
(I find out later its not Jim Croce, but Harry Nilsson. Duh.)

Little Sister Ashley says, "I don't think this guy's voice is that great", and I agree. I can see him going home Thursday. Randy says it was consistently sharp the whole time, and Paula struggles to criticize. Simon says, "The problem was that you are forgettable", and I totally agree with him. Luke Menard is boring.

And now, Colton Berry, the male Ellen Degeneres. He just admitted that he sings the Teletubbies theme song in his head when he gets nervous. And… wow… he's singing "Suspicious Minds", one of my favorite Elvis tunes. Colton is very toothy.

Having not seen this guy in the auditions, this is really the first time I've heard him sing. And really, he's not too bad. The weird leap at the end was… well, kinda weird. Randy says it was pretty good, while Paula says it was nice, and Simon says Colton has no relevance, and is more music theater. Paula retorts by using about 15 words to say a three word response.

Garrett Haley looks like Peter Frampton, crossed with Leif Garrett and a little Shaun Cassidy tossed in. He's 17, which makes him as young as Archuleta, which I didn't know. Part of me really wants him to sing "I Think I Love You" or "Baby, I Love Your Way".

But alas, he's singing… I'm not really sure. But I feel like I'm watching a well preserved video from Vh1 Classic, especially when they show him up close. "Breaking Up Is Hard To Do" is the song… I didn't recognize it from the terrible version. And up close, he looks like he's trying to grow his first mustache. Little Sister Ashley observes, "He's just got all sorts of problems, doesn't he?"

Randy says it was boring, Paula is struggling to find something good to say, and Simon? "Boring, whiney, you look terrified, and you look verging on haunted…"

Simon says, "You need fresh air, you need…" and Steph Leann adds, "…to shave…"
_____________

One of my biggest pet peeves? Using "u" for "you", "r" for "are" and stuff like "2moro" for "tomorrow" and the like. I mention this because the texting commercial that features the "IDK, my BFF Jill" chicks. Drives me nuts. The commercial is kinda funny, I guess, but everyone uses those shortcuts, including my own father-in-law, Big Poppa Ron, who said to me "find out how 2 cancel before u commit" in a contract conversation over text. Not you, Ron! You sold out!
_____________

Dreadlocked Jason Castro, 24, is playing an instrument. Playing the guitar, he's singing Lovin' Spoonful's "Daydream", and though he's not the best voice ever, he's fun. I wish we could have seen this guy during auditions.

Randy says he was a little pitchy, but aight, while Paula has a bunch of sunshine rays she's tossing at him like spears in the hands of the Spartans, while Simon says it was one of the top two performances. "You've just got it."

Closing the show, the guy with the most Hollywoody name, Michael Johns. He's from Australia, with the accent which the ladies just love. Aussie Michael is doing some Doors, "Light My Fire". Channeling Jim Morrison, he is actually nailing the song. This might be my favorite performance of the night…

Randy loved it, comparing him to Michael Hutchens. Paula loved it. Simon says he's the most consistent of all the contestants so far.

Who goes home on Thursday? I predict Luke Menard and Jason Yeager(meister). Colton Berry and Garrett Haley can't be safe either.
Up Next... the chicks sing, and how I finally got closure with Charter Cable