Continuing my 4 part series on my day visit to Samson, Alabama, my journey has already carried me through Troy, Alabama, where I went to college. That alone could be another 4 part series, and maybe one day I'll write it, but for now, I've walked through downtown, seen some of the aftermath of March's terrible day, and am now sitting in my own home.
Catch up with
Samson Blog Part I: "...Knee High to a Puddle Duck"
PART II... TAMMY WARD & THE LIBRARY BOOKS
When we moved to Alabama in October 1984, we moved into a small yellow house on Johnson Street. For whatever reason, a year later, we decided to move across the street to a big white house with a monstrously big yard, still on Johnson Street, but now on the other side of Farmer Street. And then, a year later, they bought the house my mom lives in now, a small yellow house with a front porch, a small side yard and a half-acre backyard.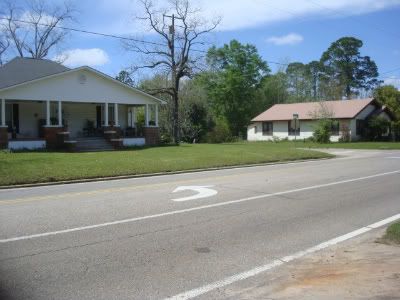 The first two homes I lived in, in Samson, Alabama. The one on the right is the one we moved into in 1984. The left is the one we moved into a year or two later.
It's time to come clean, though. I grew up in a smoking home. My mom smokes. My dad, before he passed in 2000, smoked. My sisters smoke. The entire family is one big cancerous cell of cigarettes and ashtrays. How I survived without lung cancer covering my entire body for all the years I lived there is beyond me, venturing into the plan and Grace of God.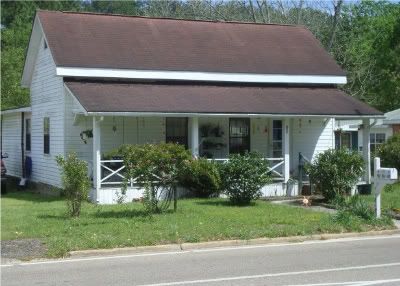 And here's the home I grew up. The front left window was my bedroom. I only snuck out once, in December of 1993. I walked around town. Went home. I lead a boring life.
I never understood how bad it was until I went to college, started washing my clothes and lived in a non-smoking environment. Dude, I smelled bad. Really. I have said before—I know I smelled gawd-awful after recess and in those days, you know, before boys discovered deodorant… and I still contend, I grow up in a clean smelling home and I get dates in high school.
I pulled up and came in through the front, with my mom very happy to see me. And the house smelled the same as ever. I spent some time with her, talking about the family, who's doing what, who's doing what where, who's having another baby
(somehow, I don't have kids despite the fact my family is very, very fertile… or maybe they just can't afford birth control, who knows)
, who's working where, who went hunting, who's going fishing next week, who's finally divorced from his 2nd wife to be able to finally marry the 3rd, mostly because rehab went really well and things are better. You only think I'm kidding. They tried to make him go to rehab, but he said no, no, no.
After a little while, though, I had to go outside and clear my head and my eyes because they were watering. It's hard for The Lovely Steph Leann when she comes down, too, because her head gets stopped up, she gets a bad headache, and truly her thin hair holds the smell for days.
I figured I would take a small stroll down to the Samson Public Library, the small building on the end of my block. I walked through four small front yards to get there, and remember how, in my very first day in Samson, Alabama, on October 24th, 1984, my cousin Terry took me down there, set me up with a library card account and I checked out two books… one was a kid's joke book, and I cannot remember the other. Years later—and I mean years later, like 15 or more—I went in there and found that very same joke book and saw the same card was there, with only a few more names on it, separated by a couple of years each. Apparently, it wasn't a very good joke book.
My first shock was that… Samson Public Library has computers! There are five or six along the wall, all hooked up to that new fangled interweb thingy they got going. I saw someone new behind the librarian's desk, only at a cursory glance, and she was taking care of two library patrons. So, I sat down at the computer and pulled up the interweb, checked my email. Tried to get on Facebook but it must be blocked, as it took me to a search site. Clever them, I see.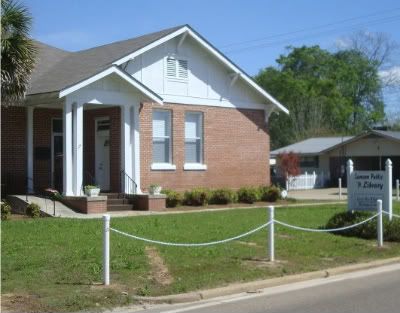 The Samson Public Library

I walked around a little bit, and reflected on the very last time I was in this library. I was doing a paper for college, and had come home for the weekend. It wasn't my senior year, I know that, but I can't tell you if it was freshman, sophomore or junior, but it was at least 1996 or before. I took a table, had books and papers spread out, and actually used the Encyclopedia Britannica for it. I probably scored an A, because, well, I'm awesome.
I clicked off the computer, then took a stroll around the shelves—I'm not lying to you when I say that there are about 20 bookcases in the entire library, counting the ones against the wall. I didn't see the Dewey Decimal cards, though, so that might be an improvement. The people that were being helped by the librarian finally walked out with their new books, and the librarian piped up, "Hey d$!"
I turned around, surprised at being recognized and there stood before me… Tammy Ward. "Well, hello Tammy," I smiled. I walked over and gave her a hug and we began to chat, in the way that friends who haven't seen each other but once since 1993 will sometimes do. We discussed kids, family, jobs, futures, pasts, and of course, the events of March 10th. She looked great, and it was a joy to see her there. She remembered me bringing The Lovely Steph Leann to our high school reunion in 2002, and asked about her and us, and I let her know that yes, there was an "us".
We said our goodbyes, I gave her my info and blog address
(because naturally, I want everyone to come to this page… otherwise, why do it, right?)
and walked out into the yard. I strolled back home, visited with mom some more, and then adjourned to the front porch. There, on the front porch I stood for the better part of half an hour, just watching the traffic go by. For every sports car and Toyota Camry, you'd see a tractor humming down the road, for every small Ford pickup truck, you'd see another three times its size, covered in mud and grass and evidence that its used for more than just trips to Wal-Mart.
I looked up and noticed how low the front porch ceiling was. When I was a kid, I could jump with all of my might and barely touch it. This time, I laid my palm flat. Sometimes a car would slow as it passed, and I could see the driver glance my way in a, "Could that be…. No, can't be…" sort of fashion, but none stopped. Across the street and to the left is a small day care, so the kids were running wild in the backyard, and what a great day for it.
Somewhere along the way, my mother has decided to collect wind chimes. I don't think I've ever paid much attention to the sheer quantity of chimage on that porch until now. The sound of kids yelling and playing across the street was matched by what I counted as 11 wind chimes, with 44 individual noisemaking bars, all whipping around in a cacophony of dinging metal. It was on that very porch, at that very moment that I decided… being in Samson might not be so bad. Seriously.
Don't get me wrong, I have no intentions of packing my stuff, I have no reason to leave The Happiest Place in the Mall, I have no thoughts of discussing with The Lovely Steph Leann a way to make a life for us down in South Alabama, but I thought if something disastrous happened, if something crazy occurred, if something forced us—or me—to start over… Samson might not a bad place to be. Funny how I spent all those years waiting to get out of that town, another decade forgetting it existed, and then a stint on the front porch can make me re-think all of it.
Note: A few days after I wrote this entire blog post, all four parts, I had another stop on the d$ 2009 Reunion Tour when I met Stan McDuffie for lunch--having seen the guy once, in 2002, since we graduated, it was good to catch up on things. I discussed the possibility of going back one day, maybe, and he only sort of agreed. Reflecting upon this conversation, I agree. I am happy and content with where I am right at this moment, but going back wouldn't be the end of the world.

Without a word, I decided I'd take another stroll. I headed down Johnson Street until I came upon the next street over… and I always forget the name of it… Owens Street! I always avoided that road when I was a kid, because there was this big dog that lived there. He chased me when I was on my bike, so Lord knows I would never actually run down that road on foot. No dogs today though—I did, however, watch a little more carefully than anywhere else.
I walked the block down Owens Street, then cut a left onto Ripley, then strolling into the IGA supermarket. Bill Taylor has owned this place as long as I can possibly remember. This is the kind of place where my mother, in ill health, has called up there for a couple of groceries, and they would deliver it to her. Barbara, who has worked there as long as I can remember, is the one who went and got an absentee ballot for my mom to help her vote for the first time in her life. These are the kind of people that Samson breeds.
The IGA seems much smaller too, though really, I guess everything does. I bought a Co-cola and a Mounds bar, having not had lunch, and then I spent $10 on a magnetic car ribbon, one that says "THOUGHTS & PRAYERS 3/10/09" with a Tiger paw on the corner. All proceeds go to victims families, apparently. It's on my car now.
It's $10 well spent

I left IGA, walking back down Ripley Street in the direction I had come, but instead of going right onto Owens to head home, I took a left on Owens, walking up to Broad Street. This is where Samson High School, home of the Fightin' Tigers, sits.
Next... High School High... and Lows...