The following is an overindulgent walk down the Memory Lanes of Samson, Alabama, my hometown and where I'm from. What started out being a three page post ended up being an 11 page post that I've been forced to break up into 4 parts for better readability. Part of it was that you could read and learn more about your author, and perhaps identify things in your own life, in your own upbringing that were similiar, or were perhaps far off. Part of it was to just remember the day as it was... just about perfect. In weather. In time. In smiles. Overall. Not perfect. But close. Anyway, here's part one...
Part I... "...Since You Were Knee High to a Puddle Duck..."
"You have this obsession with the past, don't you?" I was asked recently. Pondering this thought, I replied, "No. I just want to remember where I came from, I want to remember the parts of my life and the people in my life who made me who I am… plus, I want these memories fresh so that I can draw what I need from them as I write my book."

It's always a funny thing when I go home. Sometimes I expect to see everybody, and see no one. Other times I think I won't see a soul that I knew from back in the day… and I see more than one or two familiar faces. Such was my trip last Monday.
I had a couple of days off from The Happiest Place in the Mall, and since I worked at The Most Caffeinated Place on 280, I thought I could make a day trip of it to my hometown of Samson. I hadn't been back since Thanksgiving
(direct all comments about what a bad son I am to me, with the subject heading "too busy"),
and especially since the events on March 10th.
For those of you not familiar with the lay of the Alabama land, or unsure of where I was headed, I took I-65, after a quick stop at Whataburger for breakfast, down to Montgomery. Typically, you would get on I-85 headed to Atlanta for about 7 miles, get off on Taylor Road, cut across to Highway 231 and head to Troy. I actually got off of I-85 this time on Perry Hill Road, went over to Vaughn Road and up to Eastern Boulevard. The only difference really is this is an extra 10 minutes or so, and I went through a little of Montgomery, rather than avoiding most of it on the roads described above. From Eastern, I turned onto 231, and it gave me a glimpse of the Montgomery Mall. I used to work there in 95 and 96 at The Disney Store, but over the years I think the cost of complimentary Kevlar to customers was too expensive, so they shut the whole mall down. I heard it was pretty dangerous there for a time.
Troy is 45 minutes down the road from Montgomery, and I would turn right onto Highway 87. This time, though, I took a shortcut in Troy over to downtown, stopped by WTBF to say to my old program director, Doc Kirby, but he wasn't there. I stopped by the house on Three Notch Street where Wookiee and I lived from June of 94 to May of 95, lamented melancholy about the fact the Crowe's Chicken was now some cheap Chinese takeout.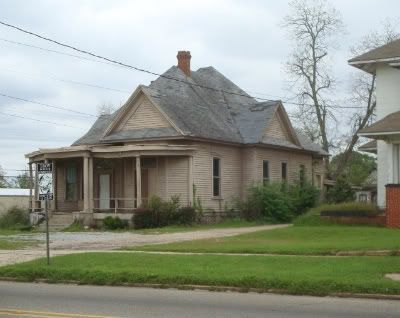 This old house was actually broken into two or three apartments, owned by Mr. & Mrs. Ferguson. Wookiee and I lived in the back part, one huge bedroom, heated by gas heaters that you had to light (meaning high, high gas bills) and ten foot ceilings. And there was a trampoline in the back. I split my favorite pair of Duck Heads when Lisa Murphy, Kathy Hollingsworth and I were jumping on it, in 1994.
Stopped over at The BCM, stepped in, talked to our old campus minister Brad Bensinger, and then took a walk around the campus. I actually kept my eyes peeled for a few people that I knew at Troy, but alas, to no avail.
What's amusing to me is how I've carried on about how much it has changed, and when you go into the Adams Center, this is totally apparent. The food court has gone from The Grill/Trojan Room to an open court area with an A&W Root Beer stand, a Chick Fila, a smoothie place and more. I just wanted to grab some freshman, shake them and say, "Do you realize what you have here? This is a gold mine, I tell ya!" See, when The Lovely Steph Leann and I paid off all debt last year, much of it was credit cards. If I had access to an A&W and a Chick Fila on campus, I can't imagine how bad it would have been.
How does the food court look like this? There was a wall running right down the middle back in the day, separating two rooms!
Beyond that, the landscaping now added (with a fountain!) to the class building quad and a few touch ups to the athletic areas, really… not that much has changed. There is still the porch swing where Heather Howell and I sat and… you know, I can't remember if I asked her out the first time there, or she broke up with me there. Good times? Bad? I don't know. Anyway, the big hill is still the same.
Walk through the Barnes & Noble (!) and you get to the student offices, and the big open couch study area—it's the same. Alumni Hall is pretty much the same, just with newer tile. I went in, and it smelled the same. Even went into the restroom to visit my favorite stall from back then—and it looks the same. Yeah, I know, they've redone it, but there is only so much you can do to a place like Alumni, short of leveling the place and rebuilding, a la Clements or Dill Hall. Clements is now what Cowart was back in 1997, and Dill is gone completely, replaced by Hawkins Hall. I stopped a sorority girl and asked her what Hawkins was, and she told me it was education. She then turned her nose up and walked off. Must have been a KD. (Oy!)
Did my tour, snapped some photos of old and new, then got back in the car, drove around to both Thomas Circle
(the Wookiee/Dave dig for 95-96)
and Willow Terrace
(the Wookiee/Dave/Brunson crib for 96-98)
then got back on 87 for the remainder of the trip. About 8 miles out of Troy, you come to a fork in the highway… well, you can go straight or veer a slight right, and the slight right will take you through the towns of Jack, Alabama
(home of the Zion Chapel High School rebels, our band rivals for like, a year or two—and I really don't know why)
, then through Elba, Alabama
(where it flooded in 93—water was up to the clock tower, so if you ever go through there, you'll see it)
and then to Samson.
I, however, stayed on the straight and two-laned, headed to Enterprise, Alabama, if for no other purpose than I just wanted to. Took the highway
(after all this time, I still can't tell you the roads through Enterprise).
Stopped at the Cannon Food Mart for gas—again, a nostalgic venture… I would wait tables at The Wright Place in Samson, then leave around 10pm, drive to Enterprise and get on the air at midnight until 9am. Elisabeth Bradshaw told me she used to sit up and listen to me. Made me blush. But I would always stop at the Cannon Food Mart, if not for gas then at least for snacks.
Took the country roads towards Samson, and came upon Five Points. Now, in Birmingham, Five Points is a thriving little community of clubs, bars, dives and such… Five Points in south Alabama is a junction where five county roads come together. One, the one I was coming from, leads to Enterprise. Take an immediate right and you'll go off somewhere to a dead end. Take the other right and you'll go through Sellersville and get to Samson. Take a left, you're in Coffee Springs in three minutes. And go straight, which I did, and you'll run slap into Highway 52. I got to Highway 52, took a left, and went towards Geneva. I stopped and saw my friend Jennifer for a few minutes, did some talking, left and was on the road to Samson.
As I drove, I began to think that I needed some good music for a drive through town… had to be something that I was listening to when I was in high school… Sheryl Crow? No. She didn't pop up until college. Hootie? Same thing. Plumb? Geez, that was early 2000s… wait… what about… Janet Jackson. "Rhythm Nation 1814". I put that CD right on in, and began to jam to "Miss You Much" and "Rhythm Nation" and as I hit Samson's city limits, I heard the music of "Love Will Never Do (without you)". It was awesome.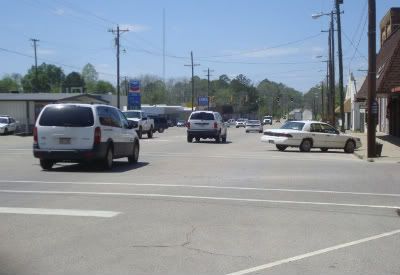 Samson, Alabama. This is the same picture that you saw in March, only this time I'm taking it, and this time there aren't cops and state troopers and police tape everywhere. This is just a typical Monday.
Drove into town, saw that there is now a Mexican restaurant in Samson, Alabama, and I laughed really, really loudly. Moved slowly, just soaking it all in. Didn't know how the town had changed, wasn't sure what would be different. The peanut mill still looks the same. Another feed store is going out business. Looks like another few store fronts are now empty. The old Piggly Wiggly that had become another grocery shop that at some point spent time as a tobacco shop is now nothing but an empty shell. Bill's Dollar Store is nothing now. Choice Video has a new façade. And wouldn't you know it, Merchant's clothing is still there.
Choice Video... they are finally getting rid of VHS movies. They don't even rent them, they are just selling off their inventory of them. You know how places have a certain smell? Not a good smell, not a bad smell, just a certain scent? Choice has had that smell for 20 years.
I pulled up in front of Sandy's Beauty Shop on Main Street, stopped and hopped out, hoping that Sandy would be inside. The Sandy I speak of is Sandy Wright, middle daughter of Forrest and Charlotte Wright, owners of The Wright Place restaurant that I waited tables at for something like 7 years. The oldest, Jennifer, was who I visited earlier in the day. The youngest, Cristie, was who I was supposed to marry, at least according to half the customers who came into the restaurant. Sandy? Well, let's put it this way…
What The Angel is to Troy, Sandy Wright is to Samson. Just a vision, especially when you are in 9th or 10th grade and she's graduating high school. But, alas, no one was there. I looked in, the store was empty, and so I just looked around the town. Glanced over at The Big/Little Store, which looks like nothing every happened. The bank looked busy as well, and traffic was actually a little busy through town—for Samson, anyway. Walked across the street, took some photos, and was walking toward the western side of town
(mind you, downtown consists of two blocks long)
when a car drove past me, slammed on brakes, backed up and swerved into a parking spot directly in front of me. I waved, not knowing who I was waving to, and it was in fact, Sandy Wright.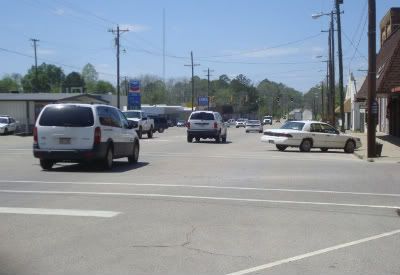 The old Wright Place restaurant I used to wait tables in. I was awesome. I could do the whole four-plates-on-one-arm thing, with three glasses of sweet tea in the other hand.
Her last name is no longer "Wright", and she has a beautiful daughter now, but her accent and friendly demeanor hasn't changed at all. We chatted for a minute, I told her I had been to see her sister, and Sandy asked me if I was planning on going to see Forrest & Charlotte. I told her I hadn't actually seen my own mom yet, but I would try to make it out that way. Sandy left, on her way to Dothan for her daughter's doctor appointment. I walked around a little more, then decided to slip into Choice Video for a minute.
Ms. Holland was behind the counter, and looked at me strange when I walked in. "Can I help you?" she asked, and I told her I was just looking around. Choice Video opened up across the street back in the 80s, and I remember getting my first ever video membership there, and my first video was "Coming to America". Funny movie. I toured the store a few minutes, and again, she asked me, a little more suspiciously, "Can I help you find something?" I smiled and replied, "I used to rent here when I was a kid, a way long time ago."
She tilted her head, paused and said, "What is your name?" I told her, "I'm d$." Another pause as this sunk in, her face brightened and said, "Oh my gosh, d$... wow…" Now that the comprehension was complete, she said, "Well, you used to rent from me when you were knee high to a puddle duck!" Only in Samson, Alabama, really. We started chatting about the old days, the town, and of course, the tragedy of a month earlier. "It was a terrible day, d$. It was a terrible, terrible day," Ms. Holland sighed. I asked her to give my best wishes to Wesley and Brandy, friends of mine from the old days, and left the shop.
Finally, it was time to head to my parents house, the house I grew up in. So I did.
Next... Part II: Tammy Ward & the Library Books