BEFORE THE RESULTS, LET ME SAY...
Tonight was fun, as after church, The Lovely Steph Leann and I went down the road to Veteran's Park, right beside Spain Park High School, to check out the Shelby County Tea Party. We knew that Rick & Bubba, local radio idols, were helping to put it on, and Sean Hannity was behind it as well, so we wanted to show our support to the cause. The cause? Less government spending. Less government altogether. I can dig it.
We chanted "U-S-A" along with the rest of the crowd, shouted and cheered at the "People who work should not be over-taxed to support those who don't!" sentiments, and booed at the "Congress thinks that ALL of you are rich, and don't need to keep what you earned!". It was an all around fun evening... until...
We got in the car. The Lovely Steph Leann looked at me, and said, "Did you... uh... rip one?" I said, "No, I didn't." She said, "Are you sure?" and I looked at her increduously, "Dear, I'm pretty sure I'd know if I had gas. I don't."
We drove around the parking lot for a few minutes, working our way through the line, and again she said, "Are you sure? Did you just pooty that time?" All women have their own special terms, knowing that "fart" is kind of a crude word. "Pooty" happens to be the term of choice for The Lovely Steph Leann. "No, I didn't. You certainly are gastronomically accusational tonight, aren't you?"
Finally, a third time, she asked me, and by this time I was smelling something gawd-awful... and I reached up, flipped on the lights and it was there we discovered that The Lovely Steph Leann had apparently stepped into a fresh pile of pet poopy. And it was terrible. She started (understandably) complaining, and I handed her some napkins... keep in mind she had not changed clothes from work, so she still had on her nice leather slip-ons
I pulled off into a subdivision down the road a bit, laughing out loud by now, as she stepped out, wiping all that she could off with the napkins, getting it on her hands. I'm holding my nose because its so terrible, and still laughing, and finally she looks up and said, "David. I really need you to NOT laugh right now. Really." That was my cue, and though it took biting my lip, I held the laughter to nil.
The poo in question apparently was over most of the bottom of her shoe, as well as on the side of her shoe, in the little leather creases and stitching. I luckily found a plastic bag in the backseat to toss all the napkins in, but all the way home she sat, one shoe on, one shoe with a napkin wrapped around it, hands on knees, open palms up. It was dark, so I thankfully could not see her hands, but it did smell.
The Lovely Steph Leann has now spent the last 30 minutes wiping her shoes down, scrubbing poopy off of the sides, trying to wash her hands and like a good hubby, I sit, wait for her to finish so we can start Idol and will get up and help when I'm call upon.
__________________________________RESULTS...
The Lovely Steph Leann just sat down, looked at me and simply said four words... "That was so disgusting."
THIS IS
AMERICAN IDOL!!!!
Tonight, Miley Cyrus will no doubt perform "The Climb", a song that I have now heard about 73 times in the last week or so, as its on the big screen at The Happiest Place in the Mall every day, all day.
Seacrest reminds us that the judges--Randy the Dawg, Kara the New Hotness, Paula the Flake and Simon the Cowell--still have the Lambert/Gokey Memorial Save left, allowing them to overturn the people's vote.
And early in the show, they sneak in that Ford commercial! We already saw it! Those sneaky Idol devils... but they won't pull one over on us for this group song, this time from
"Flashdance"
, its Michael Sambello's "Maniac", a song that should not be performed unless someone is wearing leg warmers. No one under 30 will get that joke.
We do see the Idols going to the premiere of "
17 Again"
, a movie that I think will be pretty funny.
But, let's dim the lights. My Next American Idol Allison Iraheta stands... could she be in the bottom three, headed to the Silver Stools of Failure, or will she stay seated on the Couch of Safety? After the nationwide vote... My Next American Idol Allison Iraheta stays My Next American Idol!
The Ambiguously Gay Adam Lambert stands! And flames! And sits down again!
Look! Its The Ambiguously Gay Adam Lambert! No, I'm serious. This is really him... doing his drag queen thing. Oh, you should see the ones I didn't save and post. Just try googling "Adam Lambert" and "Drag". Cindy Jo, this is for you.
Five Idols left, three Bottom Three spots left. I'm guessing Anoop Dawg, Lil Rounds and Matty G, and Lil Rounds goes and sits down again--and after two straight weeks in the Bottom Three, he makes it a third week in a row.
Before we find out who joins The Eyebrowed One, we get to see Jennifer Hudson perform a little. I often wonder if Fantasia looks at her and throws things at the screen, thinking that should be her. Or if Kimberly Locke looks at Jennifer Hudson, and wonders why she didn't get those breaks.
Normally I would fast forward, but The Lovely Steph Leann has requested to watch. And after the... well, crappy... night she's had, I'll oblige. By the way, Jenn Hudson sounds great.
Seacrest heads over to the Couch of Safety, asking Kris Allen to stand. Lil Rounds stands up beside him. Simon the Cowell tosses in, "Kris, I didn't get to speak last night, but I thought you were brilliant." Kris Allen sits down on the Couch of Safety, Lil Rounds heads to the Silver Stools of Failure. Which means Matty G cannot feel good sitting next to The Widower Danny Gokey.
The Goke is wearing one of his "Ticket to the Gun Show" kind of shirts, as in, tight on the arms. Matty G is in the Bottom Three, and we all knew this, despite Seacrest's attempts to throw us off with the verbage. Kara the New Hotness agrees that this is the right group, Paula the Abdul agrees.
Seacrest does the "goes back to the Couch of Safety" routine, picking Anoop Dawg to go back. Fast forward through commercials, and here's Miley Cyrus! And the >> button on the remote, there goes Miley Cyrus! Seacrest asks Simon the Cowell about who they'd save, and Simon the Cowell responds that there is one they might save... and it might be a surprise... hmmm..
Dim the lights! After the nationwide vote of over 36,000,000, Matty G and Lil Rounds stand... and Lil Rounds is safe.
(The Lovely Steph Leann says, "Crap" under her breath)
. This leaves Matty G singing for his life.
The judges confer as Matty G sings... they only have 2 more weeks to use this blasted save thing, which is not going to be used on The Ambiguously Gay Adam or The Widower Danny Gokey, because neither will be in the Bottom Three. As Matty G sings the song, Kara the New Hotness and Paula the Flake sway and sing along.
The crowd is chanting "Save! Save! Save!" and rightfully so, cause Matty G did much, much better than last night. Simon the Cowell disagrees, saying that he doesn't think that Matty G has a shot at winning the competition. That being said... Matty G gets the Save!
The Idols rush out, giving Matty G huge props and hugs, but Simon the Cowell breaks the news... next week, 2 people go home. And its Disco Week.
To that, The Lovely Steph Leann looks up from her blankie and says, "Why do we even have Disco Week? What is the purpose? I don't even think Simon likes it!"
And that's your Idol. Samson blog coming later tonight/early morning.
__________________________________PERFORMANCES...
Another week, another Idol... its the Top Seven, now that Scott the Blind Vampire is gone. Tonight's theme is Music from the Movies, and tonight's guest? Quentin Tarantino. He did this once before, several years back
(I'm sure I could look it up, but I'll find it later)
and he did a pretty good job--he wasn't a push over and seemed to be pretty honest.
In any case...
THIS IS
AMERICAN
IDOL!!!
Tarantino is known for his musical selections in his films, with my favorite song from my favorite QT movie being The George Baker Selection's "Little Green Bag", probably in my Top 10 or Top 15 songs of all time.
THE FIRST TEN SECONDS OF THIS VIDEO IS NOT SAFE FOR WORK. EMMY TURNBOW IS NOT ALLOWED TO PRESS PLAY...This is the brilliant opening to "Reservoir Dogs", a film in The Dave100. It truly is a cool, cool scene, one that we recreated some years later, taking some photographs for the cover of our first Deuce CD.
Our judges... Randy the Dawg, Kara the New Hotness, Paula the Flake and Simon the Cowell all sit, ready to strike fear into opinions. Ryan the Seacrest is discussing the show that over ran the clock last week, messing up the start of "Fringe" for Wendi Deckermiller and others, and causing the judges to not be able to love-fest on The Ambiguously Gay Adam Lambert.
My favorite Tarantino films, top to bottom... Reservoir Dogs, Pulp Fiction, Kill Bill, Death Proof, Kill Bill Volume 2, Jackie Brown... and I'm pretty pumped for his new film, Inglourious Basterds. And QT is assisting the Idols with their song choice... whats great about this is that he doesn't sing, he just knows what sounds good and what doesn't. And he's admittedly an avid Idol fan.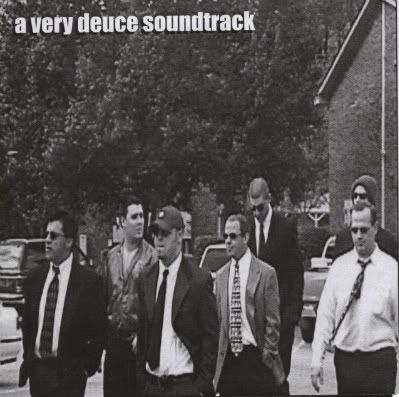 This is the cover of A Very Deuce Soundtrack, one of three CDs we put out during the Deuce days of 2000 through 2004. We call it "Reservoir Christians". From left to right, Yours Truly, Mikey Nipp, Justin Glenn, Shawn Sharp, Wookiee, Tom Johnson, Daniel Powell. Imagine "Little Green Bag" as we walk. We rocked.
My Next American Idol Allison Iraheta
is going to do something that might be hard to do... make "I Don't Want to Hear a Thing"
(from
"Armageddon"
, by Aerosmith)
a song that I enjoy. Cause really, it was Aerosmith's first number 1 single, which is a shame, because "Sweet Emotion" is one of the best driving songs in the history of the world. Along with "La Grange" and "Everything Zen" by ZZ Top and Bush, respectively.
Anyway... My Next American Idol Allison Iraheta is doing the song justice, as well as can be expected for this particular song. Really, though, towards the end it kinda falls apart, which is too bad.
Paula the Flak tells her she's authentic. Simon the Cowell calls her the only hope for the girls. I agree! That's why she's my next American Idol! Simon the Cowell says that she might go all the way to the end. Randy the Dawg and Kara the New Hotness don't talk, as part of a "taking turns, two at a time talking" deal in order to save time.
We're told that
Anoop Dawg
is going to sing "Everything I Do (I do it for you)" by Bryan Adams, from
"Robin Hood: Prince of Thieves"
, a movie probably in The Lovely Steph Leann25. Seriously... that movie is good. Its kitchy, its cheesy, its a little hammy... but its still awesome. Morgan Freeman is great, Alan Rickman is fantastic, and for a time,
Mary Elizabeth Mastrantonio
was the hottest thing in the world, at least in my eyes. This movie, plus "The Abyss"
(a movie in The Dave20),
she was a knockout.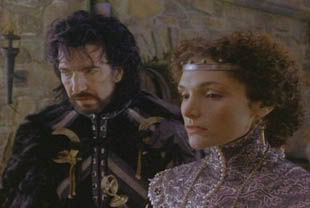 One of The Lovely Steph Leann's favorite parts in all of moviedom is where Maid Marian looks out, sees Robin Hood, and does that crazy loud "RRRROOOOOBBBBBIIIINNN!!!!!!" scream. She could watch that over and over. And has.
So Anoop Dawg is doing the Bryan Adams song... its not bad, actually. Honestly, though, a few weeks back he broke through doing the ballad, and he's done nothing but ballads since then. Might be time for him to go a little faster.
Randy the Dawg says The Eyebrowed One did a great job, while Kara the New Hotness says that Anoop adds soul to the pop song, and it was one of his best vocals so far. Heck, what do I know?
Now comes time for
The Ambiguously Gay Adam Lambert
to do to Steppenwolf what he did to Johnny Cash. Throw a classic song on the ground, kick it with a platform shoe, then spear it with a gay triangle. "Born to Be Wild" is from
"Easy Rider"
, the road film starring Peter Fonda and Dennis Hopper, a film that I've only seen once and can only be described from me as "interesting". I can see how it can be considered a classic, especially for the time period (1969), but I can also understand how it can be considered overrated and silly.
So, The Ambiguously Gay Adam Lambert... you know, it wouldn't be bad if he just wouldn't do that Ambiguously Gay Scream. Or maybe if he didn't sing at all, it wouldn't be bad either. His screeching reminds me of when Axl Rose does the screeching at the end of "Paradise City" or "Welcome to the Jungle", only without the coolness.
Paula the Flake loves him. Simon the Cowell says vocally it was incredible, but visually it was like watching "The Rocky Horror Picture Show". I agree!
Matty G
is up with another Bryan Adams song, this one from
"Don Juan DeMarco"
, starring Johnny Depp. The song is "Have You Ever Really Loved a Woman?", a song that isn't one of my favorite Bryan Adams songs. You wouldn't know it by the soft stuff he did in the mid-90s
(dear goodness, don't get me started on that stupid "All for Love" song he did with Sting and Rod Stewart.. one of the worst songs I've ever heard in my entire life)
,but truly, in the 80s, he rocked out... "Run to You", "Heaven", even in the 90s, with "Can't Stop the Thing We Started" from the
"Waking Up the Neighbours"
album
(a great CD, by the way).
Never seen the movie.
Matty G is pretty good behind that piano. Still, Randy the Dawg didn't like it as much, while Kara the New Hotness didn't like the song choice.
The love of my friend Cindy Jo is up next, that being
The Widower Danny Gokey
. The Gokerino has picked up a guitar and is learning it, hoping to be ready for the Idol tour. He's choosing "Endless Love" by Lionel Richie & Diana Ross, though I'm guessing The Goke will be doing Lionel Richie's version, from the
1981 movie of the same name
.
Have you ever seen this movie? Its ridiculous. Seriously ridiculous. Brooke Shields is in her young movie phase, looking all 80s fine and all, but her character's name is Jade Butterfield. How can you expect me to take any movie seriously with a main ingenue named Jade Butterfield? It's not, however, quite a ridiculous as
"The Blue Lagoon".
Paula the Flake loved it. Simon the Cowell didn't like the song as much. There was a harp involved tonight, and is disappointed that The Goke didn't do alot with it. He compared him to when Cook took "Hello" last week and rocked it out. Somewhere, somehow, Cindy Jo is squealing like a little girl in the playground.
Kris Allen
is singing the song "Falling Slowly" from the movie
"Once".
The only reason I know anything about this song is that it won the Academy Award for best song in 2008, beating out 2 songs from the far superior "Enchanted", and yes, I only say that because I'm in love with Amy Adams. So there.
What? Did someone call for a picture of Amy Adams? Who am I to disagree?
So hundreds of thousands of movies out there, thousands and thousands of viable movie songs and we get "Falling Slowly", "Endless Love" and two different Bryan Adams songs? Really?
That being said... Kris Allen is awesome. Like, really awesome. Dude has come on strong and if My Next American Idol Allison Iraheta falls, he might be My Next American Idol In Waiting.
Randy the Dawg didn't care for it that much, calling it pitchy. Kara the New Hotness thought it was one of Kris Allen's best moments. I agree!
I think I just heard Seacrest say that
Lil Rounds
was doing
"The Rose"
. Really? Talk about a boring, overdone song. She has the
ENTIRE BODYGUARD SOUNDTRACK
TO BLOW THROUGH and she picks a Bette Midler song from a Bette Midler movie that no one ever thinks about or remembers they've seen unless its brought up in conversation via a show like American Idol.
Heck, Lil Rounds, pick something from
"Woo"
or
"B.A.P.S."
or something by Tyler Perry. But "The Rose"? Sigh.
She does put a slight gospel feel to it, which for me, saves the entire performance, but still... she's got a great voice, she can sing, we all know this, but give me some soul! Give me some funk! Show off that blackness, which means you can do stuff that most of 'em can't do! Come on' sista!
Paula the Flake loved it. Simon the Cowell says that the song was soft and safe and that she isn't the artist that they met in auditions. I agree!
So my favorites of the night... Kris Allen, My Next American Idol Allison Iraheta, Anoop Dawg, Lil Rounds, The Widower Danny Gokey, Matty G, the sounds of the bad gas I had the other night after eating mexican food, and finally, The Ambiguously Gay Adam Lambert