RESULTS
(thinking to himself... wait... ambigiously... for weeks now, that hasn't seemed right... let me google it here and see what.... ah... not a-m-b-i-g-i... its a-m-b-i-g-U-o-u-s-l-y... that makes sense... hmmm... guess I gotta fix that now...)
Well, this should be a quick update. Why? Because my dear sweet friend Lauren left me a Facebook note, one that was revealed in my own email, of who was booted. Before I even picked up the remote. Before I even looked at all of my emails. Before I had even pulled off the Happiest Costume in the Mall. Sigh.
But, at least Pickles will be here. I love Pickles!
(mandatory Pickles picture later).
To open the show, they did this riff yesterday with baby pics of all the judges--Randy the Dawg, Simon the Crank, Paula the Flake and Kara the New Hotness, and tonight, Seacrest shows a video of a song that was popular when Simon was born... Frankie Avalon is singing, then the real Frankie Avalon comes out.
And here's the group song... and here goes the fast forward button... and here's the Ford video... and here goes the fast forward button...
Dim the lights, its time to tell The Ambiguously Gay Adam and The Goke that they are safe! And the Gokey/Lambert Memorial Save is still active as well...
The Ambiguously Gay Adam, Kris Allen and Anoop Dogg stand up... Randy the Dawg gives TAGA praise, Kara the New Hotness does likewise, and Paula the Flake takes fifty words to say "good job". And in news as shocking as "Brad Latta doesn't agree with George W. Bush", The Ambiguously Gay Adam is safe.
As for the other two? Anoop Doggity Dogg is in the bottom three, while Kris Allen is safe, and takes a seat on the Couch of Safety.
Do you remember the first time I ever actually heard Flo Rida? Uh... its right now. He's ripping off and desecrating an already crappy song, "You Spin Me Round (like a record)" by a band called Dead or Alive, all the way from 1985. Flo Rida's version is "Right Round". The stage is crowded with pimps and ho's, so it took me a second to realize that yes, Flo Rida is a guy... I guess he's the one rapping the most, though there is some other pimp doing his part too. Maybe they are a band, one is Flo, the other is Rida. The one that I assume is Mr. Rida is now onstage, surrounded by all of his beeyotches and ho's.
You know, if I'm a rapper, I'm buying a boat, and I'm labeling that boat "Beeyotch". Because there is no other way. Unless I'm in Milwaukee, then I'm calling my boat "Milwaukee's Best"... I think its been done before, but darn it, I'm doing it anyway.
I've also made the decision that if I ever turned by back on all that I know to be good and right (would that make me a lib? Hi oh!!) and decided to form a heavy metal band, I'd call it "Debauchery". Thats just a cool name for a band.
Seacrizzle and Florizzle banter a little onstage. Pickles is coming up!!
Okay, we're back, and The Widower Danny Gokey stands up, and in another shocking turn of events, he'll sit down and live to Goke another day. Big Matty G stands, and the more I think about it, the more I liked what he did last night. So did America. He sits.
Scott the Blind Vampire stands up. Does anyone else wonder why he stares directly at whoever is talking to him? Could it be... because he can see them? Hmmm?? Anyway, he is in the Bottom Three, as Anoop the Dogg helps him to the Silver Stool of Failure.
My Next American Idol Allison Iraheta stands with Lil Rounds. Seacrest, that devil, fakes out everyone again, but reveals that My Next American Idol Allison Iraheta will be back, and Lil Rounds goes to The Bottom Three.
Simon reveals that there are a couple of people--one in particular--that they would consider using the Lambert/Gokey Memorial Save with. I think her name sounds like Lil Rounds. Just a hunch.
But before that... you know what time it is? THAAAAATTTT'SSS RIGHT!!! IT'S PICKLE TIME!!!!!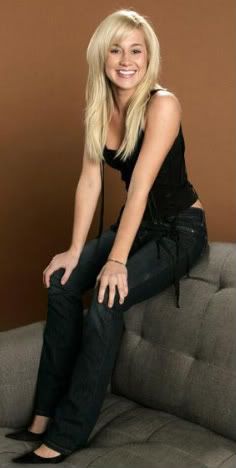 I'll be honest with ya... she doesn't sound all that great. But its not her fault. Its the band. Its the producers. The mic must be faulty. Cause Pickles is awesome! Fine, I'll admit it... she sounds pretty terrible. The album is great, though... and she looks
(glances around to make sure The Lovely Steph Leann is still asleep, and not coming down the stairs)
freakin' hot. Really, really hot.
The Bottom Three come to the center of the stage now... Seacrest now sends Lil Rounds back to The Couch of Safety. Has anyone ever been so hyped early in the show to flame out like Lil has? I remember Chris Sligh was pushed hard ("Fro' Patro'" anyone?) and he went home 10th... I wonder if Lil Rounds is going to last the next few weeks...
Seacrest stands with Anoop Dogg and Scott the Blind Vampire, and reveals that 30,000 votes separated the two. Scott the Blind Vampire will go home. Now he sings for the judges, to try and take The Lambert/Gokey Memorial Save...
Let's be real here... I wouldn't buy his CD. You wouldn't either. He'll probably do a few songs that you and I both like, maybe one that sticks with us down the road, but we knew he wasn't going to be the American Idol... having said that, the guy can sing. Toss him in front of a piano, like his Billy Joel cover last week, and he's gold. Scott the Blind Vampire will be fine... as long as he never sings this Survivor song ever again. Ever. Again.
I was really hoping to use "Scott the Blind Vampire" again, because it makes me laugh... and being my blogsite, that's whats important. Simon says that two judges want him to stay, two judges want him to go. And... The Lambert/Gokey Memorial Save stays with the judges, Scott the Blind Vampire goes back to bleed some other necks and massacre other power ballads, while kickin' bum on the piano.
Did you see Scott the Blind Guy's new shoes? No? Well, neither did he! Ha! (or did he?... hmm....)
___________
THE PERFORMANCES
Its a show that happens every year, a show bound to make me feel... well, old. Its songs from the year you were born. Which means, in my case, songs from 1975.
So, if I were on the show, here's some of the songs that I could sing... "Rhinestone Cowboy" by Glen Campbell... How Sweet It Is (to be loved by you) by James Taylor... "Cats in the Cradle" by Harry Chapin... "Fire" by The Ohio Players"... "Jive Talkin" by The Bee Gees... "Kung Fu Fighting" by Carl Douglas... "The Best of My Love" by The Eagles... and the immortal "Love with Keep Us Together" by Captain and Tennille. Yes, not a stellar year for music, I'd say....
Anyway...
THIS IS AMERICAN
(wait for it...)
(wait for it...)
IDOL!!!!
There are eight playa's remaining in the game of Idol, that being The Ambiguously Gay Adam Lambert, The Widower Danny Gokey, Anoop Dogg, Lil Red Allison, Lil Rounds, Scott the Blind Guy, Matty G and Kris Allen. Seacrest is here, as are Randy the Dawg, Simon the Crank, Paula the Flake and Kara the New Hotness. Yes, Mindy D'A, she really is hot. Live with it.
The Goke was born in 1980...
here are the Top Five Songs of 1980, in case you were wondering... "Call Me" by Blondie... "Another Brick in the Wall" by Pink Floyd... "Magic" by Olivia Newton-John... "Rock With You" by Michael Jackson... and "Do That To Me One More Time" by Captain and Tennille.
The Goke is, however, going to sing the countrified Mickey Gilley version of "Stand By Me", the 82nd most popular song of 1980. Personally, it would have been fun to see him do "Escape (the pina colada song)" by Rupert Holmes.
The Widower Danny Gokey is NOT doing Mickey Gilley's version of this song, by the way... he is just using the fact that the song was done in 1980 as an excuse to actually do this song. They show Paula the Flake standing up, dancing. Being flaky.
Okay, someone tell me truthfully... should I like The Goke more than I do? I mean, everyone is telling me to like him. Should I just give in? Should I just sit next to my friend Cindy Jo and April A on the GokerWagon?
Randy the Dawg didn't love the song, but still loved Gokey. Kara the New Hotness is agreeing about how "you just killed it! You did it well." Paula the Flake gushes about rainbows and puppies and small baby otters. Simon the Crank liked the beginning and end, but not the middle, but still liked it. Eh.
Kris Allen was born in 1985,
and the top five songs from that year are "Careless Whisper" by Wham! ft. George Michael... "Like a Virgin" by Madonna... "Wake Me Up Before You Go-Go" by Wham!... "I Want to Know what Love Is" by Foreigner... and "I Feel for You" by Chaka Khan.
There were some strong tunes from that year... but "All She Wants to Do Is Dance" by Don Henley (ranks 97th that year) isn't one of them. Okay, so he also could have done "Heaven" by Bryan Adams, or "The Power of Love" by Huey Lewis & the News, or maybe even "Boys of Summer" by Don Henley... but this sounds terrible. He's performing in the middle of the Swaybots, and its like... a wreck.
Kara the Hotness starts out with "Kris, you know I'm a huge fan..." and that's never good. Paula the Flake tries to tell him he's still good. Simon the Crank says he was likable, but the song was indulgent and boring. He and Randy the Dawg both agree it was a literally stupid song choice. I agree.
Oh, you know what else is from 1985?
"Take On Me" by a-ha... and one of the coolest videos ever. EVER.
Here's Lil Rounds, who was born in 1984...
top five songs from that year? "When Doves Cry" by Prince... "Whats Love Got To Do With It" by Tina Turner... "Say Say Say" by Michael Jackson & Paul McCartney
(one of my 10 favorite songs of all time, by the way)...
"Footloose" by Kenny Loggins... and "Against All Odds (take a look at me now) by Phil Collins.
And Lil is taking on Tina, with the aforementioned song... and as the music starts, I'm looking forward to this... and... and... I want it to be better. The Lovely Steph Leann is upstairs asleep, and I wish she were down here, cause I'd love to get her take on this. I think Lil is singing it okay... but I'm not a fan of the version. I'd love to hear her do "Time After Time" by Cyndi Lauper, or maybe "Automatic" by The Pointer Sisters. What about "Let's Hear it For the Boy" by Deneice Williams?
Paula the Flake tells us that she loves Lil Rounds, but didn't like the song. She even takes a pause between every two words. Simon the Crank says, "We aren't looking for an imitation of Tina Turner" and mentions that he feels like they've lost her. Randy the Dawg agrees with Simon the Crank, saying she's got to be her own. Kara the New Hotness agrees as well.
Seacrest teases Anoop by saying "He shows his true colors..." Really? True colors, huh? Please tell me that Anoop Dogg isn't singing Cyndi Lauper... please... for the love.. please...
Anoop Dogg was born in 1986,
when the top song of the year was that gawd-awful "Thats What Friends are For" by Elton, Dionne and Gladys, the song that will be remembered for ruining thousands of graduations by being played as the class song, the song that was probably the prom theme for hundreds of spring dances, the song that 12 year old girls dedicated to other 12 year old girls in a promise that they would be friends forever, only to have them hate each other because one likes Joey Cooper while the other one actually went out with Joey Cooper. Devestation.
The other top songs of that year? "Say You, Say Me" by Lionel Richie... "I Miss You" by Klymaxx
(an extremely underrated heartbreak song that I happen to know by heart)...
"On My Own" by Patti LaBelle and Michael McDonald
(the line that talks about making love makes me thrown up in my mouth, having seen Patti and Michael through the years)...
and "Broken Wings" by Mr. Mister. Yes, yes, you are now singing that song aloud.
Back to Anoop Dogg, and I was right, as he is singing the 42nd most popular song of that year, "True Colors " by Cyndi Lauper. I hated that song when it was popular, I hate it now. Kodak even used it for an ad campaign. Phil Collins re-did the song some years later, after the original. But didn't help. You know that little white speck atop chicken crap? That little white speck is crap too.
1986 was the year of not only "Party All the Time" by Eddie Murphy, but also, "Rock Me Amadeus" by the late, great Falco. Would have loved to see Anoop Dogg do either of those.
Randy the Dawg liked it very much. Kara the New Hotness said that he controlled the song, and not the other way around. Paula the Flake loved it. Simon the Crank says Anoop Dogg is like a yo-yo... up and down and up and down. I hate the song, so that didn't help me like his version, but his version wasn't bad, considering.
Scott the Blind Guy was born in 1985,
which also had songs like "We Built this City" by Starship, "The Heat is On" by Glenn Frey and... what? He's doing "The Search is Over" by Survivor, eh? This should be interesting... Another song I can sing by heart, just like their other song that you might have heard, "Eye of the Tiger".
I wonder if he's considering doing the sunglasses like every other blind musician in the world. Scott the Blind Guy has the guitar in hand, and he... sounds... terrible. And that blank non-seeing stare is creepy. And those two teeth make me think he's a vampire. He's a blind vampire. He just screamed.
By the way, you know those "Real Men of Genius" commercials by Bud Light? The lead singer of Survivor is the guy in the background of those.
Kara the New Hotness didn't like the power ballad route. Paula the Flake questions the electric guitar, and Scott the Blind Guy says it was his punk side. Simon the Crank tells him to go back to the piano and thought the song was horrible. Randy the Dawg didn't think it was all that great.
By the way, which would be a bigger scandal? Scott not being blind, or The Goke's wife not actually dying? Just wondering....
Red Allison,
whom I'm liking more and more and more as time goes on, was born in 1992. Dear goodness, 1992. The top songs of that year? Five songs I can sing front to back, by heart...
"End of the Road" by Boyz II Men
(we belong together... and you know I'm right...)
"Baby Got Back" by Sir Mix-a-Lot
(I ain't talkin' 'bout Playboy, cause silicone parts are made for toys...)

"Jump" by Kris Kross
(cause I'm the miggity miggity miggity miggity mack daddy, I'm the miggity miggity miggity miggity mack...)

"Save the Best for Last" by Vanessa Williams
(all of those nights you came to me, some silly girl had set you free, you wondered how you'd make it through, I wondered what was wrong with you, cause how could you give your love to someone else and share your dreams with me, sometimes the very things your looking for is the one thing you can't see... sorry, got carried away)

And "Baby-Baby-Baby" by TLC
1992 is right in the middle of The Greatest Six Years Of Music, Ever, which encompasses 1991 to 1996, and she's singing "I Can't Make You Love Me" by Bonnie Raitt. And I'm lovin' this... thats right... with the people we have left... she IS MY NEXT AMERICAN IDOL. I just purchased my ticket, and I'm sitting right next to Chris Hansen on the Allison Iraheta Bandwagon, front row, ready for departure, Kool-Aid being served as we speak. I love this girl.
Paula the Flake loved her singing that song. Simon the Crank thought it was very good. He comments that she needs to be more likable and come out of her shell more. And I would agree, though the producers have got to pull up on The Widower Danny Gokey and The Ambiguously Gay Adam love fest. And who do you think gets the pimp slot tonight? TAGAL... thats who.
Randy the Dawg compares her to Kelly Clarkson... by the way, have you heard "My Life Would Suck Without You"? Already in the running for Top Five Coolest of 2009. That song has picked up about 10 plays on my iPod already, and I only downloaded it last week. Kara the New Hotness says taking that song and making it believable is huge, and she did it.
Matty G was born in 1985...
and he's taking on a song that killed Chicken Little Kevin Covais a few years back... Stevie Wonder's "Part Time Lover". Matty G looks like a playa, fedora cocked slightly on his head, bling around his neck, leather jacket. If I tried this, I'd be laughed out the city. His version isn't great, but its not bad. Its kinda fun, actually... but I'm afraid I'm going to like this and the judges won't.
Randy the Dawg says it was one of the best of the night. Kara the New Hotness loved it. Paula the Flake loved it. Simon the Crank says "Well done". They rush through, as they have to give proper time to The Ambiguously Gay Adam Lambert, right? Right.
My DVR just ran out, so luckily, I recorded "Fringe" too, so I could see the end of the show in case it ran over, and it has run way over.
The Ambiguously Gay Adam Lambert was born in 1982,
when the top five songs were "Physical" by Olivia Newton-John... "Eye of the Tiger" by Survivor... "I Love Rock N Roll" by Joan Jett & the Blackhearts... "Ebony and Ivory" by Stevie and Paul... and "Centerfold" by the J. Geils Band.
He's singing "Mad World" by Tears for Fears, though he's doing the Gary Jules remake, the one that was featured in "Donnie Darko"... and as he sings, you don't know how bad I want to hate anything this guy does. Seriously. I want to. But really? I can't. The song... the song is pretty doggone good. Heck, the cover is really good... now, he kills it when he screams--I think if he could just not ever scream again, it wouldn't be quite so bad with him... but this song is good. Well done, The Ambiguously Gay Adam Lambert. I liked Gary Jules better.
Simon the Crank starts off, and gives him a standing ovation... which never, ever happens.
Now, here's my only flaw with this particular song that he did. The Ambiguously Gay Adam Lambert pretty much did the exact same version that Gary Jules did, just a little higher pitched. Nothing new, no new arrangement, no risks, just sang the exact same song. Granted, he did a great job, but when Lil Rounds did an imulation of Tina, she was blasted for it. Did she just need to sing it better? Why is it she gets blasted for doing an imitation, while The Ambiguously Gay Adam gets lauded for doing the same thing?
This is the part where The Lovely Steph Leann practically screams his name and gushes for the better part of an hour about how he's so effortless and smooth and his vocals and he's so talented and... I wished she gushed about her husband on anything like that... sheesh.
Tonight's rankings... well, I hate to rank The Ambiguously Gay Adam higher than 11th out the 8, but due to the fact half the group... well, sucked...
My Next American Idol Allison Iraheta, The Ambiguously Gay Adam Lamber, Matty G, The Goke, Anoop Dogg, Kris Allen, Lil Rounds, Scott the Blind Guy