Hey... have you seen Dolly Parton's new shoes? Neither has she!! Hey, what song does Dolly Parton sing in the shower? "Smoky Mountain Rain"! Do you remember when you were a kid, how poop jokes, fart jokes and boobie jokes were the funniest things in the world? Of course, the words "poop", "fart" and "boobie" were almost taboo... in a whisper, you'd hear someone go, "...you... said "poop"..."
Who am I kidding? To most guys, those jokes are funny now. In the same manner that guys would NEVER point out another guy who has brown shoes and a black belt
(mostly cause we won't notice),
girls don't find these things funny.
Anyway, I only bring all of it up, because the Country Diva herself, Dolly Parton is on the air...
This.
Is American Idol.
(cue music here)
Ryan starts us out with an unfunny April Fool's Joke... "This week's show has been preempted, due to legal action pending from the American Vocal Coaches Association... April Fools!"
Dolly is one of those icons that everyone loves. I mean, fans of Johnny Cash, Megadeth, Michael Buble, Mariah Carey, Factor Seven... they all either love, or at least respect, Dolly. She's someone that I would just love for The Lovely Steph Leann and I just to sit down and have dinner with. And I'm going to go on a small limb here and say you'll hear two songs: "9 to 5" and "I Will Always Love You".
Brooke White
And one of my favorite Dolly songs, "Jolene", is being taken on by My Next American Idol Brooke White. Guitar in hand, accompanied by a solo drummer, a violinist and a backup singer, she starts off... well, just ehh... I've heard better. This is hard for me, cause I am anticipating the Brooke White cd that will be released sometime in 2009
(I don't have that confirmed, I'm just guessing)
.
I'm curious as to how Simon will approach this week, not being much of a country fan. Paula might actually be the only one who appreciates this show.
Randy says it was aight, and that this is her style of music. Paula blows sunshine, telling her, "You are Brooke White." Good job, Paula. Simon says My Next American Idol Brooke White lacked emotion, and even says the three backup players looked odd together.
Ryan says, "This is Brooke White!"
David Cook
Much like Chris Daughtry two seasons ago, David Rob Thomas Cook has set himself up to be The Guy. You know, everyone wants to know what he's going to do. This can be good or bad... last season, it was Sanjaya who was The Guy. And that wasnt good at all.
Just saw a commercial for "Are You Smarter than a 5th Grader"... a two hour episode on Thursday. Really? I mean, two hours?
David Rob Thomas Cook mentions the band Doxology, who he borrowed an arrangement from... I only mention this because
Doxology was kinda mad
that David Rob Thomas Cook did in fact borrow their version of a song from a few weeks ago, and not mention them at all. So, he antes up.
The band responded today
.
He'll be doing "Little Sparrow", one I'm not really familiar with, though in the pre-performance video, he sounds good and Dolly loves him.
DRTC sounds great... seriously, this guy has a great, great voice. When My Next American Idol Brooke White gets voted off, because that's what always happens, I might elect DRTC as the Next My Next American Idol.
Randy liked it, especially the original arrangement of "Little Sparrow". Paula likes his haircut, saying something about his music like flowers, sunshine, birds, rainbows and fluffernutters. Simon liked last week better, but says, "If you can make a song about sparrows good, which you did, then congratulations."
Ramiele Malubay
Perhaps we can do a double elimination... Little Ramy and KLC, gone in one night. Little Ramy is singing "Do I Cross Your Mind", a great little country oldie.
I looked up at the television, and the camera angle almost gave you a straight-up-the-skirt angle. I threw up in my mouth. Little Ramiele is... just not that good. I mean, why is she still here? I'd love to see CheezyDeezy take on some Dolly.
Randy says he wasnt' jumping up and down, but it was aight, pretty good. Paula is proud of Little Ramy, who laughs as Paula is talking. Simon says it was just forgettable. Cute, but cruise shippy.
Jason Castro
Ryan is sharing fanmail with The Dreadlocked One, a bunch of postcards all from the same girl. Do-do-do-do, do-do-do-do
(the sound made with a knife slashing motion)
. Creepy.
The Dreadlocked One is singing "Traveling Through", who Dolly loved to hear. He starts out with a drummer beating a bongo on the side, and guitar in hand. The Dreadlocked One sounds really good here... this seems like the perfect song for him.
FYI... this song, "Traveling Through", is actually about we are just traveling through this world, with Jesus on the other side. Good stuff... Dolly is a believer, from what I gather. Of course, this was the Oscar nominated song from "Transamerica".
Randy says it was pretty good, while Paula says it was one of his strongest. Then she stumbles over the sunshine. Simon didn't like the song at all. Somehow, I thought he might say that. The word "Jesus" was mentioned.
And just a question... has Randy ever heard a song that started awesome, and fell apart at the end? "Like, you did yo' thang at the beginning, but it was just aight for me at the end"?
Carly Smithson
The Irishgirl is actually singing my very favorite Dolly song, "Here You Come Again". The only thing that makes me somewhat of an authority on Dolly's music is that I grew up on this kind of old country... Dolly, Cash, Waylon and Willie, The Statlers, The Oak Ridge Boys, Billy Crash Craddock, T Graham Brown, Mel McDaniel... I remember when "Elvira", "Baby's Got Her Blue Jeans On" and some of this stuff was brand spankin' new.
Anyway, Irish Carly starts out really slow, just a single guitarist and herself. Carly sounds awesome... but I like the pace of the original song, so turning it into a complete ballad leaves a little to be desired for me. So, like, I like the voice, but not the arrangement.
Randy says it was one of the best of the night. Paula says glorious sunshine. She's pherklempt. Simon says it was good, not great. Then he tells her that her outfit isn't good... "At this stage, you have to start looking more like a star--and I'm not seeing that progression at the moment."
Maybe Carly should put a tattooed dress on that chick on her arm.
David Archuleta
His followers are called Arch Angels. Seriously.
He is singing "Smoky Mountain Memories", back to the ballads that got him this far. What's great about this show is that a month ago, Young David was the heir apparent for the next Idol crown, but after a stumble here, a forgotten lyric there, its not a race for second place for everyone else now. Not if David Rob Thomas Cook, Irish Carly, or My Next American Idol Brooke White have anything to say about it.
By the way, Carly Simon's new cd, her first cd of original music, is being released on April 29th, only at Starbucks. That's right... I'm all over it with my discount.
Oh, Young David sings great. Randy says, "Correction... THAT was the best performance of the night!" Paula blows sunshine. Simon says he was absolutely on the money.
The Arch Angels yell "We Love You!" from the front row.
Do you think Michael Jackson is at home, rooting for Young David?
Kristy Lee Cook
Awww... if you've never heard "Coat of Many Colors", you're missing it. It's a story about a girl who's family was so poor, that she didn't have a jacket to wear to school... so her mother gathered up scraps of fabric, and made her a "Coat of Many Colors", which the girl was so proud of. Problem is, when she got to school, everyone laughed at her, and her coat.
"They didn't understand it, and I tried to make them see, one is only poor if they choose to be. I know we had no money, but I was rich as I could be, in my coat of many colors my mama made for me."
Classic. One of the greatest country music songs, if not any genre, ever. Brilliant.
And its a true story--this happened to Dolly when she was a child. And who better to butcher this amazing song that good ol' KLC?
This is actually up KLC's alley, being a twangy country classic. Randy liked it, Paula blows sunshine, and Simon says "pleasant, but forgettable". She's barefoot too! Another Idol tried that a few years ago... it didn't work.
For all my kidding on KLC and Ramiele, I actually think I like Little Ramy's singing better... but I think I'd enjoy hanging out with KLC more. Ramiele looks much, much hotter though. Either way, they both have to go.
Here's the real song.
Syesha Mercado
And yes, here's the Idol career killer... "I Will Always Love You". Chances are, she's headed to the Whitney version. I like the Black Julia Stiles, but this is dangerous...
Like most of the Idols tonight, Syesha is accompanied with only one instrumentalist, this one being a piano.
The Black Julia Stiles starts out... not bad. I mean, anytime this song is sung by anyone, be it KT or Mikey or Sum42
(41? Who cares, they still suck)
, its going to be compared to Whitney, not Dolly.
And I'll be honest... The Black Julia Stiles did it right. And that last note was awesome...
Randy admits that was the biggest tiger of the night, and did aight with it. Paula blows sunshine. Simon says what everyone is thinking... the song paled in comparison to Whitney, which is what everyone will think of, so it may or may not help.
The newest Mac commercial has Mac and PC sitting, talking to a therapist. The therapist's name is
Corinne Bohrer
(her real name, I mean--her character here is not named).
Corinne has been featured in several commercials in the last few years, including Tostitos and Walgreens, and that Kay Jewelers's Mother's Day commercial where she opens up the garage and the kids are singing to her.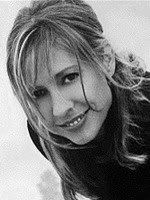 This chick is going to be 50 this year. Fifty!!
I only mention this because I'm kinda sad she's relegated to tv spots. She's really a good actress... I remember being 12 or 14 and thinking she was totally hot in movies like
"Dead Solid Perfect"
(of course, anytime you play the love interest to Randy Quaid, it might not be the best thing for your career)
and
"Police Academy 4: Citizens on Patrol"
, and the Judge Reinhold magnum opus,
"Vice Versa"
. I miss
Corinne
. She did get some airtime in Veronica Mars, but still, someone hire her!
How do I remember this crap?
Michael Johns
A pianist and guitarist behind him, Aussie Michael takes the stage for a bluesy, soulful Dolly cover of "It's All Wrong".
Ya know... aside from a little screeching here and there, this might be my favorite song of the night. I love the blues, R&B swing on it. Its great to hear him do something well, besides Queen.
Randy thought Aussie Michael brought it. Paula blows sunshine. And I'm not sure what Simon said, because the DVR just ended. The show ran late... I'm going to have to start recording Hell's Kitchen, I guess, to make sure I catch the end of Idol.
And you know, not a single mention of Idol Gives Back, for next week.
For tonight... I gotta give to Michael Johns as my favorite, followed closely by David Rob Thomas Cook, Irish Carly, My Next American Idol Brooke White, Young David, The Dreadlocked One, The Black Julia Stiles, and then together, Ramiele & KLC. Take either one of those two. Please, take them.