"She says she hates to sleep alone, but she'll do it tonight. She wants to grab her telephone, but she knows it ain't right. So if he won't call, she'll survive, and if he don't care, she'll get by. Climb into bed, bury her head, and cry... She says she feels like she's addicted to a real bad thing, always sitting, waiting, wondering if the phone will ring, she knows she bounces like a yo-yo when he pulls her string... it hurts to feel like such a fool." -- "Addicted", my 5th favorite Dan Seals song
Dan Seals passed away March 25th, 2009, of mantle cell lymphoma. Apparently he'd been suffering from it for a while... and it makes me sad. I really liked Dan Seals. And I felt that you, the reader, should know him. Like the music, don't like the music, but his career and success is respectable.
The name might not be familiar, and if you are not a longtime country fan, its likely you would have never heard of Dan Seals. However, you are a 70s soft rock pop fan, you might be familiar with England Dan and John Ford Coley... same Dan.
Dan was born in 1948 close to Dallas, Texas, where he went to school. His brother, Jim Seals, played saxophone on The Champs' immortal "Tequila", and eventually teamed up with Dash Seals in the 60s to form the band Seals & Croft
("...summer breeze... makes me feel fine... blowin' through the jasmine in my mind..." or "darlin' if you want me to be... closer to you... get closer to me..."),
his other brother Brady spent some time in Little Texas
("ooh... God blessed Texas...")
, and then Dan joined with classmate and friend John Colley to form England Dan and John Ford Coley.
Here's a performance of my 4th favorite Dan Seals song, the classic made with John Ford Coley
Colley shortened his last name by a letter to Coley, then added the "Ford" as his middle name to help with the pronunciation flow. "England" was a childhood nickname born out of his love for the Beatles, so England Dan and John Ford Coley became a duo.
Their hits in the 70s were numerous, including "I'd Really Love to See You Tonight", "Nights are Forever Without You" and "We'll Never Have to Say Goodbye Again". All in all, they had 6 Top 40 hits between 1976 and 1979, before eventually parting ways. John Ford Coley actually became a Christ Follower in 1999, still performs with some 70s groups that won't go away
(you know, groups like Ambrosia and Poco)
probably at county fairs and small town festivals that like like say "Hey, come to our event... we have The Edgar Winter Group! Live in concert!"
Dan Seals tried his soft rock solo career in 1980, signing with Atlantic Records and releasing his first album,
"Stones"
, as England Dan. He ended up in a struggle with the IRS, almost lost everything, then started over with his album
"Harbinger"
. Like "Stones", this album was a commercial failure, charting no singles and selling few copies. Dan Seals rethought his approach, then began to adapt his style for the country side of things...
"I just had to call you babe, I got your letter and I understood almost every line. You said TLC is what you miss from me, you want back in my arms PDQ. Ooh, I love this game, them three letters by your name, LOA. What does that say? She said oh baby it's so simple, did not mean to make it hard to understand. I've been gone so long I want you to know I miss my man oh yes I do. And that message for you tells you what I'm gonna do when I get home oh..." -- "Love On Arrival", my 3rd favorite Dan Seals song
Country in the mid-80s was much different than what we know today. The country rockin' style of artists like Rascal Flatts, Kenny Chesney, The Dixie Chicks and even Carrie Underwood was unheard of, Garth Brooks had yet to transform the genre, and it was two sided.
First, there are the immortal artists, those that will never grow old, those that now perhaps their legendary status and reputation possibly surpass much of their music's quality itself... The Highwaymen
(Cash, Jennings, Nelson, Kristofferson),
Merle Haggard, Hank Jr..
Then you had the softer country side that were artists like Marie Osmond, the Judds, Don Williams, Eddie Rabbitt... these were artists that would likely never get much airtime nowadays aside from some sort of "classic country" hour at noon or on Saturday nights. Back then? They were the Chesney, Paisley, Urban, Swift of the day. And it was in this genre that Dan Seals found his niche.
Dan Seal's first album for Capitol Records, where he signed after leaving Atlantic, was called "Rebel Heart", and though it wasn't a blockbuster, it did much better than his first two pop albums. Next was
"San Antone"
, in 1984, where he finally started seeing some chart success, first with "(You Bring Out) the Wild Side of Me" and "My Baby's Got Good Timing"--classic country song titles.
His biggest success came in 1985's
"Won't Be Blue Anymore"
, and one of his biggest hits came when he teamed with Marie Osmond for "Meet Me In Montana", the first of 9 straight number one country hits. "Bop" came next, was a number one single, and won Single of the Year at 1986's CMA Awards.
The singles came, as did the success, classics like "You Still Move Me", "Addicted", "They Rage On", "One Friend" and a song perhaps written about Samson, "Big Wheels in the Moonlight"...
"I came from a town that was so small, if you looked both ways you could see it all..."
Dan Seals released
"On Arrival"
in 1990, and it produced the number one singles "Love on Arrival" and "Good Times", a remake of the Sam Cooke R&B classic. This was his final success in an album, and these were his last Top 40 singles.
(Marie) "Well were stuck here in these hills that they call mountains. (Dan) Darlin' back home in your arms is right where I want to be. (Marie & Dan) Won't you meet me in Montana... I wanna see the mountains your eyes. I had all of this life I can handle, meet me underneath that big Montana sky... " -- "Meet Me In Montana" by Dan Seals & Marie Osmond, my 2nd favorite Dan Seals song
Dan Seals soft, guitar plucky style was suddenly out of favor by the early 90s, giving way to the Garth Brooks kind of country music... not that this was a bad thing, mind you, but country was changing. No one wanted to hear Don Williams, Juice Newton, Earl Thomas Conley, John Conlee... or Dan Seals.
He signed with Warner Brothers, released
"Walking the Wire"
and
"Fired Up"
, did an acoustic album of his earlier hits on
"In a Quiet Room"
for Intersound, then released a few more albums for TDC Records.
Dan Seals suffered from mantle cell lymphoma (MCL), one of the rarer of non-Hodgkins lymphomas, rare enough that there are only about 15,000 patients presently in the U.S. He had radiation treatments in June of 2008 and even received a stem cell transplant in December of last year, but eventually, the MCL won out. On March 25th, 2009, Dan Seals lost his life, passing away quietly at his daughter's home. He was 61.
And here's my favorite Dan Seals song... its from the album "Won't Be Blue Anymore", and its all about a rodeo rider, trying to raise a daughter on his own after his wife has apparently left them for brighter lights and bigger arenas...
Ten albums in a duo, and seventeen solo albums, along with six different "best of" compilations, thats work on 33 different albums. That, my fellow music lovers, is a career. Thank you, Dan Seals, for making my country music childhood enjoyable with your music and your love of such, and though I'll be honest, I thought "Bop" was rather silly, so much of your music makes me sing along and makes me smile.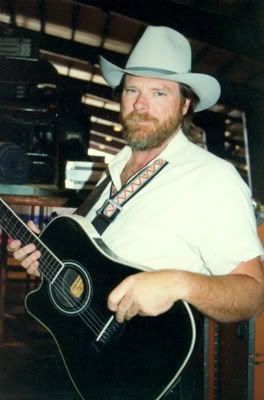 When it comes to Dan Seals, everything that glitters truly is gold.