926p... AAAAANNNNDDD that's all we're going to say about Super Bowl XLIII... thanks for joining us for the 4th Annual Super Bowl Blog. Our next running diary will definately be at Oscar Night, February 22nd. Night!
925p... Santonio Holmes won the Super Bowl MVP. He gets his hardware, The Lovely Steph Leann laments that Larry Fitzgerald should have gotten it.
922p... NFL Commish Dan Goodell is handing Steelers owner Dan Rooney the trophy. Dan Rooney is about 128 years old. We make the obligatory "oops, I crapped my pants" joke.
920p... Here's the trophy presentation, given by a very rough looking Joe Willie Namath. I hear "He's probably drunk", "Is he even sober?" and "I wanna kiss you..."
916p... Awaiting the MVP award announcement, plus the handing off of the Lombardi Super Bowl trophy.
909p... And it was a fumble. Pittsburgh Steelers 27. Arizona Cardinals 23. Pittsburgh Steelers, Super Bowl XLIII Champions. Pittsburgh Steelers, winner of 6 Super Bowls now.
908p... Warner takes several seconds, goes to throw, loses the ball, its a fumble. Pittsburgh gets the ball back. And... it might just be over.
906p... Final timeout. Arizona is at the 50 yard line, :15 seconds left in the game.
905p... 22 seconds, Fitzgerald the Inhuman just caught a missle from Kurt Warner. Arizona timeout.
904p... 29 seconds remain. Oy.
9p... Homeslice catches the ball for the Steelers, both feet in, right at the corner of the end zone. The question is, did he catch it? And yes, he did. Pittsburgh 26, Arizona 23, extra point pending. So, now, Kurt Warner has about 35 seconds to go the length of the field.
855p... This game has become so fun that even The Lovely Steph Leann is cheering loudly, for Arizona. She never does this unless its Alabama football. Maybe its the red jerseys that are inspiring her.
853p... Another exchange:
Jill J: Three point spread!
Yours Truly: You have no idea what you're talking about
Jill J: I just repeated whatever I heard
850p... Matt Leinart gives Larry Fitz some love. I can only imagine this exchange:
Matt Leinart: Hey, we're gonna win this!
Fitzgerald: You've done nothing. Shut up.
847p... Here's our scene. Tom J, Jenn Adams, or should I say The Quiet Hotness Jenn Adams, John, Mikey, Holloway and Mr. Ken are absorbed in this game. Andy and Kristi are also watching. Lil Sister Ashley and Stephanie are talking in another room, Amy McL is doing something in the kitchen and Jill J and Jenn Powell are chatting about cross stitching.
And Kurt Warner just tossed a line drive to Fitzgerald (there is no reason this guy should ever, ever be open), who broke wide open and scored... Arizona Cardinals 23, Pittsburgh Steelers 20.
844p... HUGE PENALTY. Ben Rottenburger tossed it out, completed the pass, looked great... and a holdingin-the-end-zone penalty on the Steelers gives Arizona a safety... and the ball back.
839p... And in three plays, we just watched Kurt Warner collapse. Whether it was his fault or his O-line, it was pretty bad. Do they punt and pin them deep? They do. They punt, the ball is down at the 2 yard line, another flag is thrown, and another flag is thrown... and its another personal foul, this time on Pittsburgh, which puts the ball on like, the 4 inch line.
And suddenly, this game gets reeeeeealy interesting.
835p... Arizona is back on offense, gets the ball, throws for a gain and... flag. Seriously? Wait? Wait? Its on Pittsburgh! Seriously?
833p... "McGruber" commercial. Fresh from Saturday Night Live, its a Pepsi commercial, and actually has Richard Dean Anderson in it. Classic.
825p... Larry Fitzgerald gets a touchdown catch in the Super Bowl! We're waiting for the flag... and nothing! Pittsburgh 20, Arizona 14.
821p... Another flag on the play--but this time on Pittsburgh. We've spent the last few minutes coming up with the ridculous penalties that we feel that the refs have been calling--"Harsh language at the line on the offense!" and "Touching the quarterback" and "Intention to tackle!"
812p... Random question... "Wasn't it Lavar Burton who was the main guy in 'Roots'?" The answer? Yes. He was Kunte Kinte.
808p... Okay, so if Arizona loses this game, I'm thinking part of it will be because of the really stupid penalties they've accrued in the last few minutes. Running over the holder, personal fouls like crazy... its terrible...
802p... I'm wondering what would happen if I met Tim Tebow and then met Kurt Warner... who would change my life more, according to the announcers? If I met them both at the same time, I might just ascend into Heaven automatically. Just sayin'.
801p... Lil Sister Ashley just arrived. Yay!
8p... We just saw the new Transformers trailer. The entire room went nuts.
757p... My brilliant observation... Arizona can still win this, but they have to score more points.
754p... Penalty on Arizona on the field goal attempt... "running over the holder". And in the replay, the poor Steeler holding the football got steamrolled. And Pittsburgh is close to scoring again.
744p... They show Cuba Gooding Jr in the press box. Is it sad that for the Arizona Cardinals, the greatest football moment really was when Rod Tidwell scored the go-ahead touchdown against the Cowboys in 1996... in the movie
"Jerry Maguire".
741p... Here's the preview for "Race to Witch Mountain", from Disney, but more importantly, starring THE ROCK. Caaaaaaaaan you smeeeellllllll what the Rock is cooking?
Any excuse to show a The Rock WWE clip:
737p... Denny's is giving away a Free Grand Slam breakfast on Tuesday. I miss Denny's. I used to go there all the time back in the early decade, because there use to be one across town. I miss Denny's and Steak-n-Shake, two greasy dives that I miss intensely.
Arizona turned the ball over, but it seems like a incomplete pass and not a fumble. The call is overturned, Arizona gets the ball back. Pittsburgh still leads 17-7.
733p... The Lovely Steph Leann, while discussing the "GI Joe" movie with Andy, middle school pastor at Valleydale Church (an sbc fellowship) says she's excited because it has Dennis Quaid in it. Then she turns around and solidly informs me, "Dennis Quaid? Totally Colin Firth Club."
727p... Its the beginning of the 2nd half and the room has cleared. Some have gone home, some are Rock Banding it upstairs... but being a trooper down here is Jenn Adams, John, Mikey, The Lovely Steph Leann, Daniel & Jenn Powell, Kristi Murry, Mr. Nipp and Yours Truly.
Of course, The Lovely Steph Leann, holding the spawn of Amy McL and Tommy Mac and feeding her Fritos, is discussing scrapbooking with Jenn Powell, who is cross stitching a pattern for their new nursery for the upcoming baby.
720p... While Bruce sings, Daniel took a room shot: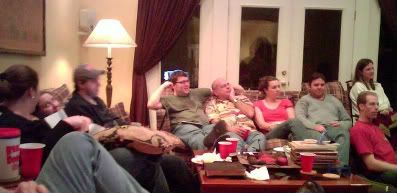 There's Mr. Nipp's legs in the front, with Jenn Powell talking to The Lovely Steph Leann on the couch, Yours Truly, Mikey on the next couch, his pop-in-law John, Jenn Adams (always forget how good lookin' she is), Shawn, Jill, and Tom J on the floor. Photo by Daniel Powell.
713p... He's singing "Born to Run", which is pretty cool. Early Bruce is great, late Bruce is too political.
And if he has a wardrobe malfunction, I might throw up in my mouth.
711p... Just had plate of queso dip and it was roody poo awesome, let me tell ya. We're now watching Bruce Springsteen perform here on the halftime show. He did a knee slide across the stage and almost took out a cameraman.
Glad that wasn't in 3D
7p... Going to eat some more. back in a few
656p... The magic of 3D brings everyone together. Halftime Pittsburgh 17, Arizona 7
652p... Turnover, Pittsburgh gets the ball, runs it back and Arizona misses about 382 tackles as the guy runs the entire length of the field, and then falls hard on his head right on the goal line.
650p... We're all downstairs now, even breaking from Rock Band, to see the new trailer for "Monsters vs Aliens", as its going to be in 3D. We've all got the glasses, we're all ready to see the aliens and monsters leap off the screen. Then a lame commercial staring the Sobe Lizards from last year, then a preview of "Chuck", in 3D--a 3D triple play.
And... its a guarantee that we'll have a bajillion people coming into The Happiest Place in the Mall asking for "Monsters vs Aliens" merchandise. Cause if they still ask for "Kung Fu Panda" stuff, I know they'll ask for this.
646p... Ah, a good night. People, friends gathered around, the game is actually really good thus far, the party is alive as everybody over here, everybody over there. The crowd is live enough as I pursue this groove, party people in the house move (next in line) groove
(watch me all night... the music hits my mind...)
642p... And who shows up but Andy & Kristi Murry. Andy is the middle school pastor at Valleydale Church (an sbc fellowship)
640p... Bruce "The Boss" Springsteen is performing at halftime. Personally, I think Bruce is past his best days, and is kinda overrated... but like U2, he's so universally loved, he could sing the IRS list of people who is over 180 days past the tax payment deadline, and win accolades and awards. Well, that is unless he became a Republican. Then he'd be washed up.
636p... So far, best commercial of the night... E*Trade kid is back, this time with a friend who busts out a version of "Broken Wings" by Mr. Mister. Hiiiiiiiilarious.
631p... This exchange
Mikey: I don't think Matt Leinart should get a ring if Arizona wins
Me: I wondered about that. Maybe he'll do the honorable thing and give it back
Mikey: He'll probably give it to Paris Hilton
The Lovely Steph Leann: Who's that?
Mikey: Exactly.
630p... The appeal of Rock Band upstairs has caused the group to splinter. Mikey's woman Ashleia has already gone upstairs with a few people, and we figure Drewski is heading that way. Huge punt return by Shawn Breaston for Arizona.
628p... The Enchanting Nikki Brown will be proud. Somehow, Mikey and I end up singing a rousing version of "To all the girls Drew (morris) has loved before...."
621p... God loves Kurt Warner. He stumbles, fumbles, bumbles, and still gets the ball tossed up and its caught by Ben Patrick, the appropriate reciever for Arizona. Pittsburgh leads 10 to 7.
618p... Tom J recommends
The Fire and Ice restaurant
, as he and Jill went there for their 5th anniversary a few days ago. Also celebrating their 5th, Hannah Pruitt Cool Award Winners James & Jessica Hawbaker. Congrats!
611p... One of the first times in recent memory, EVERYONE is actually watching the game, or at least in the same room as the television. Usually, only a few of us stay the whole time in front of the tv, some come in and out, and others are around the house playing Wii, cards, games, etc.
609p... Pittsburgh into the end zone! Touchdown Steelers! Okay, so I might think of revising my pick of an Arizona win, though Denver went up 10-0 in Super Bowl 1988, and Washington won, like, 50 to 10. Here's a commercial with guys being hit in the head with various objects, and another starring wild animals, encouraging us to adopt pets.
608p... Two commercials (Doritos and GoDaddy.com) and two chicks in various states of undress. One of them was Danica Patrick. Um. Bad! Bad! Yeah, its bad!
603p... Also saw a preview for the show "Medium". Heard there will be a spin-off, shortened version called "Small". And a movie version, called "Large". Ha!
602p... Just saw a great car commercial with Potato Heads, then we see an until now unemployed Vin Diesel in the preview for "Fast and Furious".
555p... The arrival of Tom & Jill Johnson stirs the crowd, but not nearly as much as Tommy Mac and Amy McL, who trump the Johnsons by bringing in their daughter, Sophie.
552p... Score is still 3-0 Pittsburgh. We now have our 3D glasses, and we just saw the hysterical trailer for "Year One", starring Jack Black & Michael Cera.
550p... This exchange:
Jenn Powell: Mrs. Lynn, what are you doing?
Mrs. Lynn (tearing apart 3D glasses): I'm separating 3D glasses for the upcoming 3D commercials
Someone in the room: How do we know when to put them on?
The Rev'rn Ty Coffey: When the tv gets blurry.
548p... Here's the trailer for GI Joe:
544p... Who all just showed up? Daniel & Jennifer Powell are here, Sybil & Dan just came in, The Holloways have been here all day apparently.
543p... In the commercial front,
"Angels & Demons"
trailer just came on, with Tom Hanks weird hair making a triumphant return.
Jason Statham
appears in an Audi commercial... I think its always a good decision to have Jason Statham in a cool commercial.
541p... Okay, just loaded up on chicken wings, a taco, a big fat roll with slightly melted butter, sausage balls and several pigs-n-a-blanket. In the game, Pittsburgh apparently scored but Big Ben (Pittsburgh's QB) fell short of the line, via a coach's challenge. The Steelers got a field goal.
528p... Eating. Back in a few.
522p... Its the trailer for "GI Joe: The Rise of Cobra," and stars Dennis Quaid. It comes out in August and the entire room went silent for it.
521p... Mikey is rooting Kurt Warner all the way, because "Ben is a professed athiest. Can't be having that."
519p... Jennifer Hudson is now singing "The Star Spangled Banner".
516p... Our picks tonight? Mikey goes all Arizona... Rev'rn Ty says, "Who's playing? Seriously..." Shawn's pick? Faith Hill, currently singing "America the Beautiful". Jennifer Adams picks? "Who's playing? Steelers? I'll go Steelers."
514p... We are here! We are blogging live from the Nipp Household, that being Ken & Lynn Nipp, parents of the infamous Mikey, good buddy from Deuce Days. Here right now is The Lovely Steph Leann, Mikey and Shawn Sharp. In the kitchen, brewing up some good eats for us all is Ken & Lynn. In comes is The Rev'rn Ty Coffey and entering the home is Jennifer Adams (I never get to see her, so I always forget how hot she is...)
318pm.... Well, it hasn't begun just yet. I am on my way to WalkAbout (middle school drama team) practice. Then back to The Cabana to pick up The Lovely Steph Leann, then off to the Super Bowl...
My early prediction? Arizona 31, Pittsburgh 26. I called it right here.