So, here's our Walt Disney World vacation for our 5th Anniversary, 2009. I tried to figure out the best way to tell it without rambling, but the best way really was just tell some stories. Read the ones you want, skip the ones you don't, but along the way, I'll give you some great Disney tips and perhaps some food reports too... it might be two columns, it might be four, who knows... but, here we go...
I love seeing Cinderella's castle at the beginning of any of my Disney vacations. The broad base and moat, the tall blue spires that reach towards the heavens in... well, for lack of a better term, a majestic fashion. I know the castle doesn't do this for everyone.
Different things excite different people. I could care less about U2, I think Rammer Jammer is stupid and though I can dig on "Hey Ya!", its not my favorite joint... but in the same way that Mikey gets excited when he hears the opening notes of "With or Without You" in a U2 concert, or in the same way that Tyler Campbell jumps for joy when Rammer Jammer starts blaring from the band or in the same way that Mindy D'A starts breakin' it down when "Hey Ya" comes on the radio, I am about Disney World.
(granted, I'm not sure that Mindy D'A breaks anything down when she hears OutKast, but I thought I'd name drop)
There's so much to tell in any trip to The Happiest Place on Earth, especially one that starts on a Thursday night, and doesn't end until Saturday of the following week. This was planned to be the 5th Anniversary vacation for myself and The Lovely Steph Leann--we had honeymooned here the first week of March, 2004, for 4 days before embarking on a 3 day Disney Cruise, so we thought a return for our fifth year kickoff would be grand. We'd already been 2 times in between, but who's counting.
Well, along the planning stages, somehow, someway, The Lovely Steph Leann's mom, Ruth, and Aunt Becky worked their way into the trip. Being a manager assistanty type person, a part payment for my hard earned work is the ability to get myself and three others into the parks pretty much most of the time. So, for you math skolurs out there, take myself, add The Lovely Steph Leann, throw in my just wonderful mother in law and now the aunt, and that makes four.
Discussions where had, compromises were negotiated, and no matter how I did or didn't feel about the entire thing, it was what it was, it is what it is, and Ruthy Campbell was paying for gas, so there ya go.
The thought was to leave late, late Thursday night, possibly around 10 or 11pm, drive all through the night and arrive at The Magic Kingdom around 8ish or so. The women would sleep in the car, I could drive the trip, and the next day, I'd be dead tired, but hey, I've done the whole "up for what feels like a bajillion hours" before. Well, we're taking this behemoth of a vehicle, a GMC Yukon, the type of SUV that cars like Toni Rocki Honda would actually orbit around, and I'm just not comfortable driving something that unfamiliar.
So, in my brilliance, I called up The Lovely Steph Leann a few days prior to departing, and suggested that we leave earlier, and get a room for Thursday night. She agreed, I called down and though Pop Century was completely full, we upgraded slightly for a night at Port Orleans Riverside...
...DISNEY TIP!!! There are several catagories of rooms, with the least expensive being "Value Resort", which is All Star Movies, All Star Sports, All Star Music and Pop Century. I highly recommend these, mostly because all you truly need is a bed at Disney. That being said, sometime it is nice to go a little better every now and then. "Moderate Resorts" include Coronado Springs, Port Orleans Riverside, Port Orleans French Quarter and Carribean Beach. From there, you get to "Deluxe Resorts", which include the very pricey digs like Grand Floridian, Yacht & Beach Club, The Polynesian, The Contemporary, Animal Kingdom Lodge, Fort Wilderness Lodge, Boardwalk Inn, Saratoga Springs and a few others. Beyond that, you've also got Disney Vacation Club resorts, campgrounds and a few other places mixed in...
...which is cool because we'd never stayed at Port Orleans Riverside. Its kind of my thing now, I want to try to stay in the different hotels at some point, with the ultimate dream of mine being The Polynesian, with all its tropical atmosphere and tiki towers rising through the lobby. We stayed at Animal Kingdom Lodge for a night in September of last year, when we went with our friends DeLisa and DeNick, and it was glorious.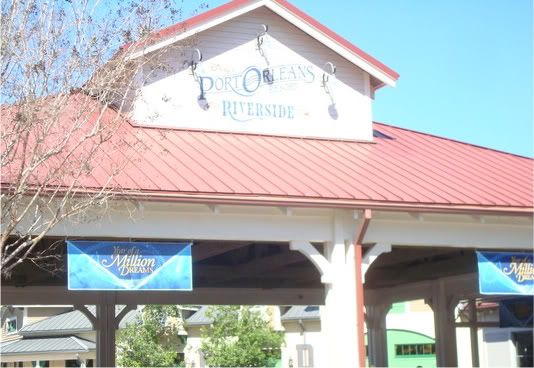 The hotel we slept in... for about four hours. It was awesome. And breakfast was great, too.
Problem was, we actually didn't quite get out of town until around 6pm, or after, and truthfully, when you have three women picking at each other about which direction to head, and who it is to blame for why we left so late and so on and so forth, its easier to just sit in the back seat, plug in my earbuds, and keep quiet.
After all this, we finally rolled up into Disney World, or at least Port Orleans Riverside, around 430, maybe 5am Eastern Time. Check out at the hotel was 11am, and we hadn't even checked in yet. I laid my head to rest around 530p, The Lovely Steph Leann didn't get to lay down until closer to 6am. We slept until around 9, then had to get up and pack up the few things that we had taken out. It might be silly to pay for a room for only a few hours, but trust me, that sleep was invaluable--I wouldn't have traded it for anything.
$$$$$$$$$$$$$$$
The benefit of having so many days in front of you at The Happiest Place on Earth is that you can take your time doing everything. Magic Kingdom is not nearly the biggest size-wise, but has the most to do and is the park that is almost impossible to cover in a single day, so we had already planned to break it into two, perhaps three days, so we hit Magic Kingdom first, doing most of Tomorrowland... we rode Buzz Lightyear's Space Ranger Spin, we toured the Monster's Inc Laugh Floor
(both highly recommended rides),
we rode Space Mountain--which, by the way, they will be closing later this year to update it, making it faster, darker and adding music.
We strolled into Pixie Hollow, which is located in Toontown...
... DISNEY TIP!!! The Magic Kingdom is comprised of seven different areas, each with its own style and atmosphere. Besides Tomorrowland, there is Main Street USA, which you walk on when you enter the park, finding various shops and such... Liberty Square, where you'll find the Haunted Mansion... Adventureland is the home of the Jungle Cruise, the Tiki Room and Aladdin's Magic Carpet Ride... Frontierland has Splash Mountain and Big Thunder Mountain... Mickey's Toontown Fair contains Goofy's Barnstormer kid coaster and The County Bounty... and finally, Fantasyland, a big area with all the major traditional rides like Mad Hatter's Tea Party, aka the teacups, Dumbo, Peter Pan's Flight, It's a Small World and so on...
...more specifically, the County Bounty, a huge pavilion of gifts and stuff. To the right side of the County Bounty, once you enter the big doors, you'll see two queues, one to meet princesses, and the other to meet fairies. We got in line, and for the first time, was able to meet Tinkerbell
(who called my pin lanyard 'flitterific')
and her fairy BFFs Silvermist and Rosetta.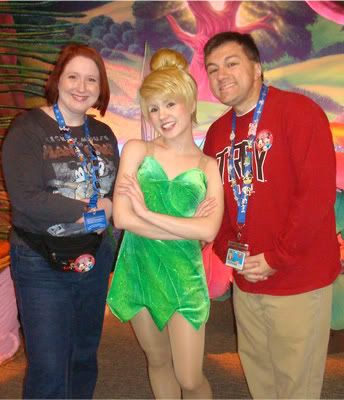 $$$$$$$$$$$$$$$
FOOD!!! That night we ate at 1900 Park Fare, which is located at The Grand Floridian Resort & Spa, at Cinderella's Royal Gala. Quite simply, its this huge buffet topped off with table visits by Cinderella, her boo Prince Charming, the Wicked Stepmother, and the two stepsisters, Drisella and Anastacia. The two stepsisters are my favorites, though, because they always seem to really play it up great.
Dessert was marvelous
Dinner for me consisted of yummy creamed potatoes and a large hunk of sliced roast beast, some mac & cheese, some other foods I can't think of, a bowl of chilled strawberry soup, and several little bitesized cheesecake tarts, berry tarts and chocolately junk. It was a-may-zing.
$$$$$$$$$$$$$$$
After just passing out within ten minutes of getting to Room 240 at Pop Century, I slept like a baby. And since we went slower on Friday, we had to be up early on Saturday to hit the ground running... and Saturday...
TOY STORY MIDWAY MANIA!!!
This was a ride we had been unable to ride last September due to the fact the wait was up to 3 hours in length. I had heard this ride was just unbelievably a fun ride to be on, so I wanted to prove it for myself... The Lovely Steph Leann and I raced... well, I say raced, but you have to understand, The Lovely Steph Leann doesn't run. She just doesn't. I was talking with The Dainty Steph Halpert earlier tonight, and she agreed, "Yeah, Stephanie doesn't run. I'm sure of that."
So when I say "race", we really just walked kinda fast. We got there and immediately got our fast passes, then immediately jumped in the currently-only-20-minute-wait-but-soon-to-grow-to-hours line. The queue is fascinating, as its as if your a toy sized being walking through Andy's room... everything is enlarged, from the crayons to the Tinkertoys to the Barrel o'Monkeys to the Scrabble game on the ceiling. In the back is Mr. Potato Head, telling jokes and singing and welcoming one and all to Toy Story Midway Mania.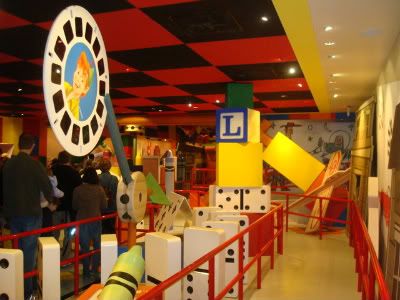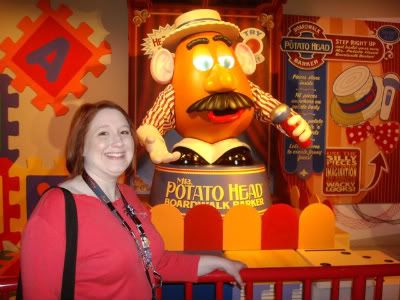 Finally, we get to the ride, and are just giddy... seriously, we've heard from a ton of people that the ride is great, but truly, we really don't have much of an idea of what we'll be doing. We get in to the little car, both of us sitting behind brightly colored "guns" with a little pull string coming out of it. We throw on our 3D glasses, and suddenly are whirled in front of a screen with Woody and Jessie, as they tell us its time to practice. Pull back on the string, and a little "ball" flies across the screen, smashing "paint" all over a plate Jessie is holding.
Hold on... this is... kinda cool... this is really, really cool!
The little car zips around through various scenes, and we shoot ducks and plates and balloons and we try to ring the little alien guys and it was 100% incredible awesome. It was a ride you wanted to continue, so as soon as it ended, we hung out in the Pixar area until our fastpasses allowed us to ride it again. Over the course of our vacation, we rode Toy Story Mania five times.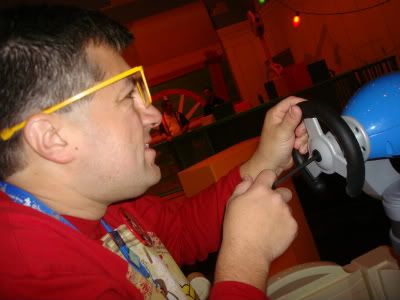 ...DISNEY TIP!! When you go to Hollywood Studios, you want to go immediately to this ride if you plan on doing it. Why? Because that is what every single other person will be doing. The fastpasses will sell out usually by midday, but even if you got one of the last ones they give, it wouldn't let you on the ride until 4, 5, maybe 6pm. My suggestion is to get a fastpass for it right off the bat, then either ride it then (allowing you to ride it again later with your fastpass) or just ride it a little later. The wait time will get up to an hour or more. If you aren't interested in this ride, though that's just weird, this is a good time to go straight to Tower of Terror and Rock'n Roller Coaster, because again, most people will be at Toy Story Mania
$$$$$$$$$$$$$$$
We headed over to The Beauty and the Beast stage show, which is about 30 minutes in length, but is worth it. The colors are vibrant, the music is great--yes, the songs are somewhat condensed, but its enough "Gaston" to whet your appetite--and the dancing is top notch. Plus, its a great chance to sit and relax, especially since the theater is covered, during the summer months it will be awesome. Another show that is along the same lines, though not quite as good is "The Voyage of the Little Mermaid", which is simply the Little Mermaid story.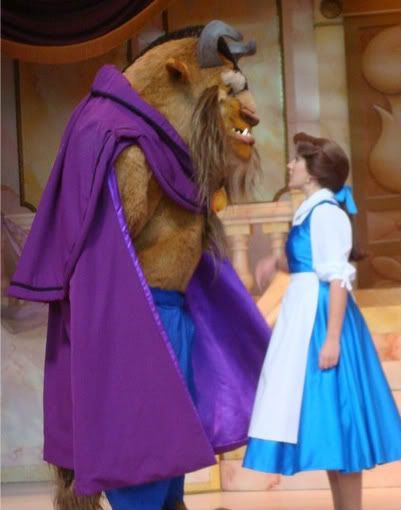 Ursula looks cool, but beyond that, its just a so-so show. Its a good wake up, though, when onstage the ship is in the storm, and in the audience, you get rained on. Sprinkles, really, but it will make you wet. Beware.
$$$$$$$$$$$$$$$
They just started The American Idol Experience at Hollywood Studios, which both The Lovely Steph Leann and I jumped at. Earlier in the day, we passed the audition area, where you could sing for the judges to try and get on the show, but The Lovely Steph Leann refused to do so.
Though the "grand opening" wasnt until the next week, February 14th, they were showing "preview shows" all week. We filed in, and the stage looks like what the American Idol stage probably looks like in real life. There was a judges table, with the Coke containers sitting so you could clearly read "Coke".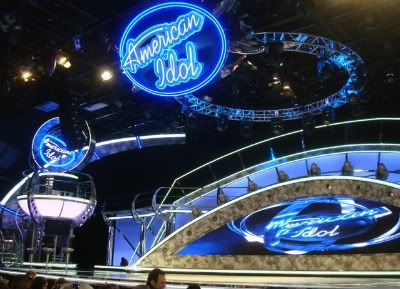 The stage is set. The contestants are here. The dream is alive. THIS. IS. AMERICAN IDOL (lite)
A guy comes out, energizes the crowd and tells us how it all works
(apparently, they do this on the real show too)
... quite simply, three people perform, that being three guests who auditioned and were chosen. The audience picks the winner. Our host comes out, this chick with long legs and a bit too much makeup, and three judges come out, two girls and a non-British guy on the end.
Since its a preview day, the prizes won't be awarded today, but apparently, there will be four shows per day. The first three shows each produce a winner that goes on to the 7pm "Finals" show. The winner of that show, crowned the best singer of the day, gets a special "golden ticket" that allows her to go to any Idol audition in the country, and go directly to the front of the line.
The first girl to come perform is like, 15 or 16, and she does a great job even though she is singing "Colors of the Wind", on of my least favorite songs. The next guy does a forgettable country song
(as in, I actually don't remember what it was)
and the third chick does a loud version of "Independence Day". She starts off great, but loses it toward the end, but the crowd goes nuts anyway. The Lovely Steph Leann voted for the third chick, I went with the first one, but the third chick won out.
$$$$$$$$$$$$$$$
I got to meet Frozone!
There is an Art of Disney show that I highly recommend, because... well, its really cool. Afterwards, though, you spill into an area to meet some characters and see some animation, and they have a few kids areas too. We heard that Rhino the Hamster and Bolt were going to be there, so we got in line--we were the last ones in line, as a matter of fact.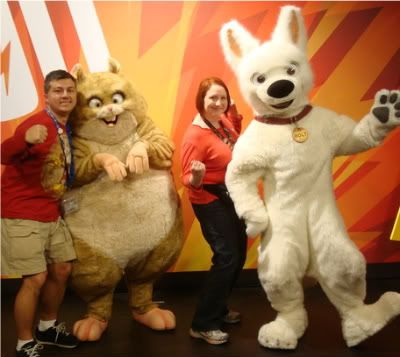 Its Rhino and Bolt! It was awesome! It was beyond awesome... it was.... BE-AWESOME!
On our Times Guide, "The Characters of The Incredibles" was listed as being there, and though I love me some Incredibles, we had already met Mr. Incredible and Elastagirl. But after our pics with Rhino and Bolt, I glanced up, and saw a familiar blue color. In a voice that sounded like I was eight, I giddily exclaimed, "Steph! Frozone is up there!"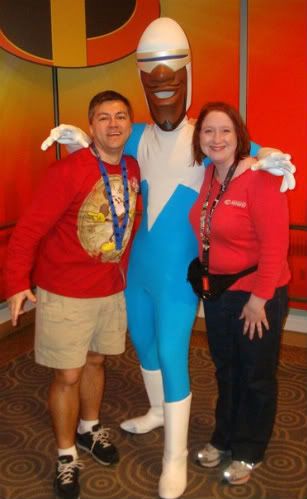 We scurried up the walk, and there was Frozone! It was one of the coolest things ever!
$$$$$$$$$$$$$$$
FOOD ALERT!!! For dinner, we traveled over to The Garden Grill, located at Epcot in The Lands. The Garden Grill is a character meal, but its known more for the restaurant itself. It spins. When I booked it, though, I was imagining a tower like building with a rotating top, much like the one that used to be in Florence, where I shared a dessert date with Mary Ann Crittenden in 2000.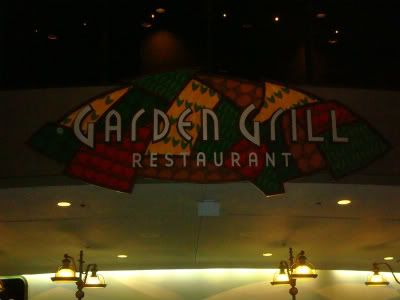 The fact that I couldn't recall any such tall tower in Epcot, though, puzzled me. Its not in a tall tower, though... its on the 2nd floor of The Land
(a building in Epcot that houses "The Circle of Life" ride, "Living with the Land" and "Soarin'")
and when we first walked up, The Lovely Steph Leann says, "Oh, it must not be rotating tonight. That's too bad, I guess its broken."
So I ask our cast attendant about it, and he says, "No, its working!" I stared at the floor, at a small black seam on the floor at the top of the ramp. On the right side, the ramp was just there, not moving. On the left side, every so slightly, the floor was moving. You had to really look at it to tell, no doubt it took an hour or more for it to make a full revolution. There was the lower level of seats that was in a big circle, where you could overlook part of The Land lobby area, and another part of the circle allowed you to overlook the "Living with the Land" ride.
We sat on the second level, which was really just one step up. It was strange, because as I sat, there was a large rock on the outside of the "vehicle/restaurant", and twenty minutes later, I had to turn around and look behind me to see the same rock. The food was great, though. They served us roast beast, along with turkey and some other meat, potatoes
(now, I'm not a huge fan of potatoes unless they are really creamy, but there were some rockin' creamed taters all over Walt Disney World)
and some cranberry sauce that The Lovely Steph Leann was diggin'.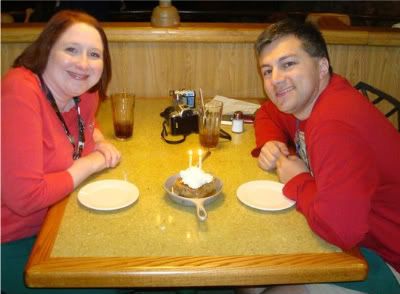 They even brought us Anniversary Dessert, which was really a cupcakey thing with a few candles on it. It was nice, though.
And on Sunday... its off to The Magic Kingdom!!