1059p... Good night, folks. Coming Tuesday? The Top Twenty Coolest Things of 2008.
1055p... And thats a wrap. "Slumdog Millionaire" goes home with like, 8 Oscars. And to end the night, we see a cool preview of movies coming up this year... and we're all pumped. Rob Downey Jr in "Sherlock Holmes", and Denzel in "The Taking of Pelham 1 2 3" and Pixar's new film "Up!" and "Terminator Salvation" and an Amelia Earhardt biography and Tarantino's new one and Amy Adams in "Night at the Museum 2" and "Harry Potter & the Half Blood Prince" and Tom Hank's hair in "Angels & Demons" and "Ice Age 13" and Eddie Murphy's new bomb... rock on.
1053p... "Slumdog Millionaire" completes the Oscar domination, whether it deserved it or not. The Lovely Steph Leann finishes her night with 63 points, Mikey with 49 and I get up to 28.
1048p... Steven Spielberg comes out to not only give away Best Picture, but to introduce a montage of clips from the nominees, intersparsed with clips from other Best Picture winners and nominees
(and in the case of "Saving Private Ryan", movies that should have won--it lost to "Shakespear in Love")
1046p... Sean Penn then rails against the people, the majority mind you, who voted for the ban on gay marriage in California, then shows some love to Barack Obama. Then he shows particular love to Mickey Rourke specifically.
1042p... And the Oscar goes to... Sean Penn in "Milk". The Lovely Steph Leann goes to 58 points, leaving Mikey with 44 and myself with 23. "I want to make it very clear that I know how hard I make it to appreciate me," says Sean Penn, after calling the audience commie, homo lovin' sons of guns.
1036p... Here comes the Best Actor winners, with previous winners Robert DeNiro, Ben Kingsley, Michael Douglas, Anthony Hopkins and... Adrian Brody? All those legendary actors, and Adrian Brody? What was Al Pacino doing, making another crappy-end-of-his-career movie like "88 Minutes"?
Michael Douglas, one of my favorite actors, instroduces "Frost/Nixon". Robert DeNiro discusses Sean Penn, who actually smiles. I've seen him smile three times already--I don't know what got into him. Adrian Brody discusses Richard Jenkins, a character actor that you have seen in lots and lots of movies, yet you probably can't think of any of them, only to think "I've seen that guy somewhere!"
Anthony Hopkins talks about Brad Pitt, and that leaves Ben Kingsley to discuss Mickey Rourke.
1035p... We knew Kate Winslet would win this, but that doesn't make it any less freakin' awesome. KATE KATE KATE!!!!
Here is My Dear Kate's speech at the Golden Globes in January
1032p... KATE!!! KATE!!! KATE!!! KATE!!! KATE!!! KATE!!! KATE!!! KATE!!! KATE!!! KATE HAS AN OSCAR!!! KATE HAS AN OSCAR!!! KATE HAS AN OSCAR!!!!!! KATE WINSLET WINS AN OSCAR!!!! KATE!!! KATE!!! KATE!!!
1025p... Now its time for Best Actress, as they show previous winners. Presenting this year is Sophie Loren, Shirley MacLaine, Halle Berry, Nicole Kidman and Marion Cotillard.
Shirley is speaking of Anne Hathaway, and it looks like Anne is about to cry. Marion is struggling to spit out English to My Dear Kate, who looks ravishing. Halle is introducing Melissa Leo, from some movie called "Frozen River", a movie that I'll never see, I'm sure. Sophie Loren, looking like a mummy, is discussing Meryl Streep, and Nicole Kidman is introducing Angelina Jolie.
1020p... She's here to give out the Best Director award, and of course, it goes to Danny Boyle, "Slumdog Millionaire". The Lovely Steph Leann approached fifty points with 48, Mikey has 39, I had 18.
1018p... Reese Witherspoon, a full member of The Ashley Judd Club, cause frankly, Reese is hot. Really, really hot.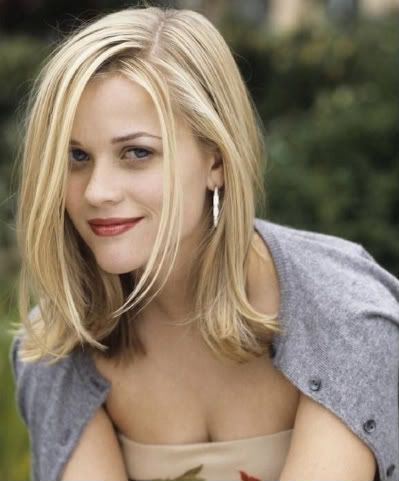 1015p... Mikey and I were discussing Brad Pitt, and he asks me if I had seen the new trailer for Quentin Tarantino's new film, "Inglourious Basterds". Oh yes, I tell him, yes I have. And its glourious. Inglourious. Whatever...
I'd say this trailer is PG-13... the movie will most definately be Rated R. And Brad Pitt's accent rocks.
1011p... Queen Latifah, who had a great talk show that I do miss, but not as much as Ricki Lake, introduces the In Memoriam montage of people who have passed. She is singing "I'll Be Seeing You" as we see Bernie Mac, Ollie Johnston, Isaac Hayes (who gets a big applause), Ricardo Montalbon (another big applause), Van Johnson, Michael Crichton, Charlton Heston, directors Sydney Pollack and Anthony Minghella, character actor Pat Hingle and of course, Paul Newman at the end, who gets the biggest applause.
You kinda feel bad for people like Ned Taven, who no one claps for.
We were wondering if they are going to show Heath Ledger again... they showed him last year, as the Oscars in 2008 were right after he died.
1008p... I'm currently 6-14. If I were a college football team, I feel like Charlie Weis would be my coach.
1005p... Hugh Jackman is back, welcoming Liam Nieson and Frieda Pinto from... you guessed it, "Slumdog Millionaire", giving out the award for Best Ferrin Film. I went with "Waltzing with Bashir" because it was the only one I'd heard of. The winner is? "Departures" from Japan. None of us won it.
10p... Then all three sings all three songs together. Peter Gabriel is probably outside kicking small animals. Or Verne Troyer.
Zac and Alecia announces the nominees again. The winner is? "Jai Ho" from "Slumdog Millionaire." The Lovely Steph Leann runs to 43, Mikey to 34... and Yours Truly to 13.
Can I just say it... "Slumdog Millionaire" was a good film. But it is nowhere near as good as this. Not all these awards. Its supposed to be "inspiring" and "uplifting". I was neither "inspired" or "lifted up", I was just mildly entertained. Seriously.
956p... The Indian version of Jesse McCartney sings, "O Saya" from "Slumdog". Then, John Legend sings "Down to Earth". Then Indian Jesse McCartney teams with the Indian Britney, singing "Jai Ho".
950p... The montage of songs nominated for Best Score, done by the orchestra. Alecia Keyes and Zac Efron come out to announce the nominees. The winner is? A.R. Rahman for "Slumdog Millionaire".
The Lovely Steph Leann: 40
Mikey: 31
Yours Truly: 13
Best Song. Peter Gabriel, writer and singer of "Wall*E"'s song "Down to Earth"
refused to perform the song
at this year's ceremony because they cut all the songs down to a 1 minute version. He said that he didn't feel like it was a true sampling.
The nominees are 2 songs from "Slumdog Millionaire" sandwiching the "Wall*E" tune.
941p... Eddie Murphy
(who is an Academy Award nominee, strangely enough)
is out to do just that very thing... giving Jerry Lewis the Jean Hersholt Humanitarian Award, something about some telethon he does. I kid, I kid, I know what "Jerry's Kids" is...
..and is it bad that even though its been on, every Labor Day, my entire life
(since 1966, actually)
, I've not seen more than four minutes collectively of that entire thing? Jerry Lewis comes out, looking like he has lost some weight, looking very hunched and old.
He is in fact 83, will be 84 in March, and he looks like he's had a recent stroke, the way he moves and talks. Resembles Kirk Douglas when Kirk came out a few years ago.
938p... I had wings last night, and cheap chinese today for lunch... I'm waiting for the Jerry Lewis Humanitarian Award to be given out, so I can go to the restroom.
937p... Its kinda like NASCAR or the PGA tour or something... at some point, no matter whether
she wins or loses the rest, The Lovely Steph Leann now has an insurmountable lead. Now can she get the final six points to take the "most points ever"? Its very, very likely.
928p... Will Smith introduces Out-Stounding Sound Editing. I chose "The Dark Knight", as did the other two in the room. The winner is? "The Dark Knight". The Lovely Steph Leann goes to 35, Mikey has 28, I have 13.
Sound Mixing. Again, I got with "The Dark Knight". Again, I miss it. "Slumdog Millionaire" wins another Oscar, en route to the big ones. We all miss it.
Will Smith: "I am still here now. Hugh must be napping."
Film Editing. I went with "The Dark Knight", playing it safe again. The winner is... "Slumdog Millionaire" The Lovely Steph Leann goes to 37, Mikey stays at 28 and I still have 13.
923p... Here comes the Sound Awards, Mixing and Editing. I chose "The Dark Knight" for both of these. Here's a kickin' montage of 2008's action movies, with Ironman, Rambo, Bond, Hancock, Hulk, Indy, Batman, the Joker, Hellboy, Speed Racer, the Transporter and many others.
Will Smith rises from the stage
(and hopefully from the crap that was "Seven Pounds")
to do Visual Effects. I'm so far behind now, both Mikey and The Lovely Steph Leann stopped asking what I picked. Just as well. I went with "The Dark Knight", and "Ben Button" wins. The Lovely Steph Leann has 33, Mikey has 26 and I still have 11.
917p... Documentary Short Subject. I picked "The Witness-From the Balcony of Room 306". It looks like a Civil Rights film... but... the winner is "Smile Pinki". No one got it.
24 awards, 13 given out, and I've gotten 4 right. Sheesh.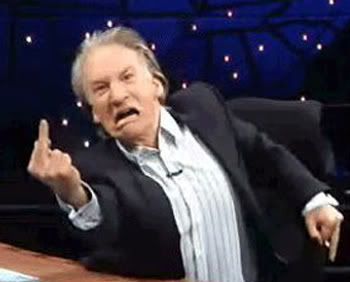 Here's what Bill Maher thinks of you and your Jesus
913p... Bill Maher comes out for Best Documentary. Mikey and I both say, "Oh geez..." at the exact same time. I absolutely despise. He is a bigot, he is a racist, and he's a freakin' liberal snob who thinks anyone who believes in any God, especially Jesus, is ignorant and stupid. So there. And he even makes an anti-God joke while onstage.
I haven't seen any of the documentaries nominated, but whichever one is most Anti-American, or Anti-Military or Anti-Dubya... that's what will win. I picked "Trouble in the Water". The winner? "Man on a Wire". Sigh. The Lovely Steph Leann has 32, Mikey has 25, I have 11.
One of the winners balances the Oscar statue on his chin.
909p... They show in the audience, Kate Winslet, Adrian Brody, Mickey Rourke, Rob Downey Jr and several others, many of which have tears, look somber or are nodding in agreement. Except for Ben Kingsley, who is blinking like he's got something in his eye.
And seriously, dare Bill Condon and the orchestra strike up the band to cut them off? They probably could have talked for 20 minutes.
901p... Here's a montage for Best Supporting Actor, which is almost a shoo-in for Heath Ledger in "The Dark Knight". Kevin Kline (winner for "A Fish Called Wanda"), Alan Arkin ("Little Miss Sunshine"), Christopher Walken ("The Deer Hunter"), Joel Grey ("Caberet") and Cuba Gooding Jr ("Jerry Maguire") all come out to present the nominees. Its cool that all of them are here, but especially Cuba--what else is he going to do? Absent is Javier Bardem, who won this last year for "No Country for Old Men."
Alan Arkin announces "Seymour Philip Hoffman". Ha! Cuba Gooding Jr announces Robert Downey Jr for "Tropic Thunder", with a "in blackface? Are you out of your mind?" Chris Walken is... well, Chris Walken. I almost expect him to offer some cham-pan-ya.
And the winner is? Heath Ledger. I'll be honest with ya... I've thought about this, and I think that Heath Ledger might have won this even if he hadn't died. He was brilliant in this film.
The Lovely Steph Leann now dominates with 31, Mikey has 24 and I finally break 10 with... 11. The Lovely Steph Leann's new goal is 42, which would tie Mikey's record score from last year.
853p... There's a musical montage now, with Beyonce and Hugh Jackman singing bits from random musicals. Not very entertaining. Zac Efron and Vanessa Hudgens come out, somehow working in "High School Musical", along with Amanda Seyfriend and some guy from "Mamma Mia". Boooooooring.
842p... Keeping on the 2008 movie montages, here is the one on Comedy. It features Seth Rogan and James Franco watching the comedies from last year, and then they come onstage. Here's the Oscar for "Live Action Short", of which I went with "Manon on the Asphalt". This will ensure that it won't win.
The winner is...? "Spielzeugland (Toyland)". As soon as we saw the clip, and saw that it was a Holocaust short film, Mikey and I both groan. We knew this would win. The Lovely Steph Leann picked it, and chants, "Nazi movie! Nazi movie! Ha! Ha! Ha!"
The Lovely Steph Leann has 24, Mikey still has 20, I still have 7.
838p... Jessica Biel comes out to do the "Technical Award" montage. They always get supposedly pretty chicks to do these, as Jessica Alba came out last year for it.
831p... We continue on our movie journey as Natalie Portman and Ben Stiller come out together to give away Cinematography... and Ben Stiller is dressed as Joaquin Phoenix, with the ridiculous beard, sunglasses and staring off into space. I'm not sure if the joke is all that funny to the audience, but they are laughing all through this bit.
Ben Stiller/Joaquin is randomly walking around the stage. The winner is? "Slumdog Millionaire", giving the 3 points to The Lovely Steph Leann, with 23 points. The tie is broken, as Mikey stays at 20, and I stay at 7.
825p... Robert Pattinson from "Twilight" is here, with "Mamma Mia" star Amanda Seyfried to introduce 2008's Romance Montage. Both starred in movies I hated.
822p... And finally, SJP and James Bond are still here to give away the Academy Award for Makeup. I went, again, with "The Curious Case of Benjamin Button", though at this point, I'm sorta rooting for "Hellboy II: The Golden Army". And the winner is? Me! One more point for my 7 total, while 20 for the leaders.
819p... Here comes Costume Design, as I went with "Benjamin Button" again. This time, Mikey and The Lovely Steph Leann went with "The Duchess", so can gain 2 points... and the winner is? "The Duchess". 19 points for the leaders, still 6 points for Yours Truly.
815p... The Oscars are being given out in the sequence of "doing a movie", with Screenplays first. Sarah Jessica Parker the Horse and Daniel Craig are out doing Art Direction, of which I listed "The Curious Case of Benjamin Button" as the winner. And the winner is? Yay, I got it! And so did Mikey (17pts) and The Lovely Steph Leann (17pts). I have 6 points.
808p... They remain out to give the Animated Short Film, none of which I, Mikey, The Lovely Steph Leann, nor YOU, have ever seen. And the winner? "La Maison en Petits Cubes". None of us got that. The Japanese director actually says, in his acceptance speech, "Domo negato, Mr Roboto".
803p... Jennifer Aniston and Jack Black are out now to present the Best Animated Feature, which includes "Kung Fu Panda", "Bolt" and "Wall*E", which I went with the last. Actually, they aren't presenting... they are showing a 2008 "Movie Yearbook of Animation".
Says Jack Black, "I make more money doing animation than live action. I take all the money I make from Dreamworks, then bet it all on Pixar at the Academy Awards."
And the winner is... "Wall*E". Finally, I get one (4pts)! And so does Mikey (15pts) & The Lovely Steph Leann (15pts).
Best Animated Feature "Wall*E"
758p... And now for Best Adapted Screenplay... I went with "Frost/Nixon", with the theory that this will be the only Oscar this will take tonight. And I probably should have gone with "Slumdog". And the winner is? "Slumdog Millionaire" Mikey and The Lovely Steph Leann have 11 points. Yours Truly has 0.
If "Slumdog Millionaire wins Best Picture, the terrorists win.
754p... Tina Fey and Steve Martin are out, presenting the award for Best Original Screenplay... out the five movies, I've only heard of three, only seen one, that being "Wall*E". And the winner is... "Milk". Mikey and The Lovely Steph Leann now stand at 7 points, I still have zero, as I chose "Wall*E". Mikey makes a point... "The gays always win over cartoons!"
748p... And the winner is... Penelop Cruz for
"Vicky Cristina Barcelona"
. Score 4 points for Mikey and The Lovely Steph Leann, and zero for Yours Truly. This will be a long, long time. This is a Woody Allen movie, which is why I'll probably never see it. I'm not sure I understand anything that Cruz is saying right now.
743p... So, five previous winners of Supporting Actress, and they are giving out the award this year for Supporting Actress... normally, the previous year's supporting actress gives out supporting actor, and vice versa, same for Best Actor and Best Actress, I'm only guessing that they do that to keep someone who might be nominated again for the same award giving out that award...
...but this year, instead of showing film clips, the five previous winners are actually talking about each nominee's performance. This is a fantastic twist this year.
740p... "Mickey Rourke, say whatever you like tonight... we have a 7 second delay, but if you win, we'll move to a 20 minute delay"
737p... And its really funny that he's cracking himself up, sometimes holding back a laugh while sing. He gets a standing ovation from the audience when he's done, and great laughter when he sits in Frank Langella's lap.
735p... Hugh Jackman is bringing down the house with this opening... I personally love it when they acknowledge the stars in the crowd and Hugh brings up Anne Hathaway on the stage to do a "Frost/Nixon" bit... Mikey, The Lovely Steph Leann and I are rolling here.
732p... Hugh Jackman, a member in good standing in The Lovely Steph Leann's Colin Firth Club, is hosting... and even though we didnt know how funny his opening monologue would be--he's hysterical. He quips about Kate Winslet playing a German in "The Reader", and Robert Downey Jr playing an Australian who plays a black guy in "Tropic Thunder", both nominted...
"I'm an Australian, who plays an Australian in a movie called 'Australia'... and I'm hosting."
730p... Okay, we do a scoring game here. Each catagory has a certain number of points assigned to it, with the lesser, shot-in-the-dark awards like Animated Short and Foriegn Film being 1 point, and the big ones, like picture, director and main acting awards, being 5 points. Mikey won last year, Nikki Brown the year before and others in years before.
And Mikey has won this award four times since we've been doing it for the last 9 years.
721p... I'll be that Penelope Cruz spends 30 minutes per day getting her unibrow under control
713p... They show Mickey Rourke
(remember, we're on ABC now)
, and The Lovely Steph Leann says, "I have to say, this is the best I've seen Mickey Rourke look in all these award shows and
[they pan down and show the gaudy white pants and pointy cowboy boots]
... and never mind."
705p...
Frank Langella
onscreen leads to this:
Mikey: He's been in some bad, bad movies
Yours Truly: Dude! He was
Skeletor
!
704p... Its Sarah Jessica Parker and Matthew Broderick, which leads to this exchange:
Mikey: I heard they broke up
Yours Truly: I had heard that he cheated on her
Mikey: I would
Yours Truly: Me too
The Lovely Steph Leann: Michael! David!
701p... Just turned it to ABC, where Robin Roberts and some other guy are doing a 30 minute Oscar special before the show, and who pops up but Kate Winslet... she looks better on E!
659p... Kate Winslet. Love 'er.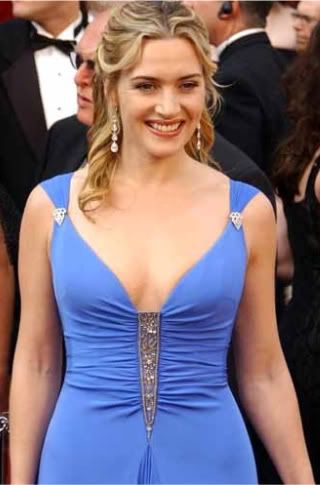 648p... After an unhealthy, ungodly amount of Zaxby's chicken, Zaxby's bread and Thin Mints, we're ready for this show to start. Mikey and I have already ogled at Kate Winslet
(The Lovely Steph Leann: "Her hair looks awesome!")
and made fun of Penelope Cruz' accent, then made fun of Angelina Jolie and Brad Pitt and a few other things.
603p... We're watching the E! Academy Awards arrival show. Here's Michael Shannon, who might be the luckiest guy on the planet. He's looks like a gorilla, he's from nowhere, he's a nobody... and in "Bug", he made out with The Goddess, and in "Revolutionary Road", he made out with Kate Winslet. How does this even happen?
603p... Amy Adams. Hot. Freakin' hot.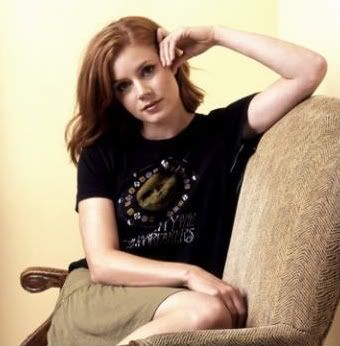 6pm... Welcome! Its time for the 2009 Academy Awards! Mikey just showed up, bringing in Zaxby's chicken and lotsa sauce. We're picking our catagories and filling out our Oscar ballot... for the record, I'm picking wins for Kate Winslet, my favorite actress to win Best Actress for "The Reader", and Mickey Rourke for "The Wrestler".
I'm also picking "Slumdog Millionaire" to win the directing prize and the best picture award, even though I don't think it should win either. Personally, I think that Kate should win, and either Mickey or possibly Frank Langella should win for "Frost/Nixon"... I haven't seen "The Wrestler" or "Frost/Nixon" but I heard both are just incredibly.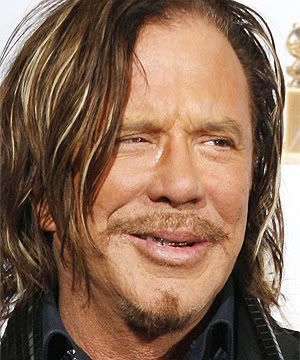 If Mickey Rourke wins, we all win
Speaking of Mickey... if he wins, where does his acceptance speech fall in the "No One Knows What the *#&$ Will Happen" catagory? Like, it could be boring, or unforgettable for any number of reasons.