This past weekend, I went to the first homecoming at Troy University since I'd left Troy for Birmingham back in 1998. They took on a terrible, terrible North Texas football team that they proceeded to beat down 45 to 7, even while turning the ball over 6 times.
Honestly, by the third quarter, I was kinda bored with the game. Most of the student section had cleared out, the end zone section we were in was beginning to thin, and the home side, filled with alumni and parents had begun to empty slightly.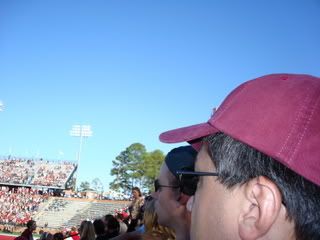 Flecks of grey tussled through my hair, both I and Tom watch the game, though North Texas put up very little of a fight
What I could marvel at, however, was how much the place had really, truly changed in the 9 years since I had a class there. As someone put it, "It's becoming a real university!"
The traveling crew for gameday was myself, my buddy Tom
(who is my former Deucemate),
and Big Wookiee, who was my roommate for four years, and one of my best friends. We got there late morning, just missing the homecoming parade, and stopped by Wal-Mart so Wookiee could find a Troy flag to replace the tattered one that was on his truck.
We parked at the BCM, the Baptist Campus Ministry, and for me, it was surreal. Tom had never been there before, being a graduate of Samford here in Birmingham, and Wookiee wasn't a regular attender, but for me, it was my old stomping ground. Some of my most cherished friendships, relationships and memories stemmed from the walls of that place--Shelby Logan, Troy McConnell, Amy Alexander, Melanie Jackson, Eddie Hamner, and my best friend in college, Allyson Guy--and so walking through the doors again was... well, heartwarming.
Those BCM couches... terrible to sleep on (believe me, I tried) but great to hang out on (did that too)
I walked upstairs and looked at the couches, those same couches that ten years ago, I would sit on, skipping class to play Phase 10 with Kim Springer and Ink Hwang-Po, or to talk in sign language to Julie Haynes, or wonder if I'd ever find a chick as gorgeous as Tiffany Abbott
(my sophomore crush--and I did, by the way).
I ran into Sharon Dobbins, who was sitting downstairs with a chick named Annie, whom I didn't remember at first, and by the time I did, I think she thought I was making up the fact that I remembered her. I also got to peruse the photo scrapbooks laid out on the table, one of which I made and took most of the pictures for.
I was hoping to talk to Rene, who graduated the year before I did at Samson High School, and truly one of the nicest people I've ever met. But, she wasn't there, and I never got to catch up with her.
Wookiee & Tom & I walked over to FarmHouse Fraternity, of which Wookiee was in the Beta pledge class (the 2nd) and I was in the Eta class (the 6th). Consider for me, this was 1995. I got to see old friends of mine from back in the day like Bob Spurgeon and his wife Betsy
(and their kid!),
Dave and Dana Bush
(and their kids!),
Warren and Melissa Whittaker
(and their kids!),
Dave and Suzy Huck
(no kids...)...
remember, these are all people I went to school with, so this puts an age on them all.
In fact, I went out with Melissa Westberry once, when we were both freshman. She sat next to me in Dr. Welch's Advanced Western Civilization, and I asked her to a movie... we went to see "Indecent Proposal". We had a good time, but didn't go out again. She went on to marry Warren
(and in a moment of gooberism, when I saw her on Saturday, I actually said, "Well, hey, its Melissa Westber... er, um, Whittaker!")
Betsy walked by me and smiled, saying "Hey, the grey looks good on you.". I smiled and rolled my eyes. A few minutes later, Dana told me that one of the FarmHouse brothers had changed the trash, and she replied, "Thanks for doing that", to which they answered, "Yes ma'am!".
It was somewhere in this timeframe that I made the most startling discovery of the day... Troy has a Barnes & Noble. The bookstore on campus sold to B&N two years ago, and from what I gather, B&N has bought several college campus bookstores. And when I walked in, I was blown away.
A Barnes & Noble? Proudly brewing Starbucks Coffee? Heck, I'm going back to school...
It was bright, it was vibrant, it was packed, and they even had a coffee cafe there. Its on the 2nd floor of the Adams Student Center, and as I exited the bookstore and walked down the long corridor, I saw the more familiar locations--the big ballroom where Shelby, Wookiee, Heather Howell and I played campus Pictionary
(our team, "Green Deoderant Soap", got rooked on a bad call),
I saw the large lounge area with the couches where I would take naps as a Freshman while my girlfriend at the time, Katharine Gates, studied, and the kitchen area where I spent tons of evenings at my job for Marriott Catering.
Over the course of the day, I saw very few people I knew, besides the ones already mentioned. I saw a guy named Wally, though I chose not to talk to him. I mean, I guess he's a nice guy and all, but I wasn't all that big on him to begin with, and I didn't want to spend however long it would take to find out about him, tell him about me, when neither of us truly, really cared, only to say "good to see you" and not really mean it.
I saw another guy I knew that worked for the school newspaper, couldn't remember his name, and again, didn't stop for reasons you can re-read in the above paragraph.
At the BCM tent, I didn't see anyone I knew. Well, I take that back, I did see Jennifer McKenzie--now Jennifer Mosley--but we barely spoke at Troy, so I didn't want to bust in on her conversations. I did randomly spot people I thought I knew, thinking of how they used to be, then mentally aging them 10 years, but no one that really excited me to see them.
I did see Joy Johnston at the game, though. She's someone I knew back in Troy, and unlike Wally, she's someone I kinda wished I had known better, and had taken the time to get to know better. We caught up a little bit sitting there in the bleachers, and it was nice to chat for a few.
Joy! So good to see Joy!
All in all, it was a great day for a game, a great day to go back and remember. Marriage and Deuce aside, college was perhaps one of the greatest eras of my life... I love talking about it, I love remembering, and I would do it again in a heartbeat (though there are some relationships I would definately take back...)
Oh, and one final thought... it wouldn't be a Troy football game without the best freakin' college band in the country, the Sound of the South. Million Dollar Band? They suck. There's a reason the band hall of fame is in Troy.
Anyway, if you read
The Rise of Troy
, chronicling their trouncing of Oklahoma State earlier this year, you'll know that the Sound of the South wouldn't be the same without Sweet Sweetback and his BadA** Song... and Sweet Sweetback was here again, in all his male, velvety pant wearin', colorguard flag wavin' goodness. Cause, it just had to be.
You know, if Sweet Sweetback is actually straight, he's probably a genius, because I'll bet every chick in this band LUVS this guy.
GO TROY!!