If you are reading this on The Blogspot Page, and wonder why all the links are below instead of on the right, its because you have an older version of Internet Explorer. If you have the new one, the links will lay right over the pictures. I could reduce the size, but I like it like it is.
So, Friday night, my buddy Mikey and I drove down to Troy to see the Men of Troy take on the Cowboys of Oklahoma State. This is big simply because this is only the 2nd time a school from a major BSC conference
(both times now being The Big XII)
has visited Troy, Alabama. Generally, Troy Trojans go elsewhere to get blown out
(ie, several trips to Nebraska, a trip to Florida, another to Arkansas)
or to almost have an on-the-road upset
(ie, Florida State a few years ago).

Last time, Missouri rolled in with Brad Smith, their early season Heisman candidate. They left, getting their heads handed to them, with the crown chanting "NO MORE HEISMAN" to the sullen Missouri Tiger line. Brad even turned around and glanced in the direction of the seats that Mikey, Drew, Big Tom, Tommy Mc, Wookiee and I were seated
(not that he was staring at us, but in our area).

And this time, Oklahoma State rolled in with big aspirations, thinking that their early season loss to Georgia might have been an anomoly, only to leave losers by the score of 41 to 23. The score actually should have been something like 56 to 10, as Troy left two touchdowns on the field, and gave up two late, due to stupid penalities and missed tackles... I think that they were just getting jittery over the fact they were about to beat down another Big XII school.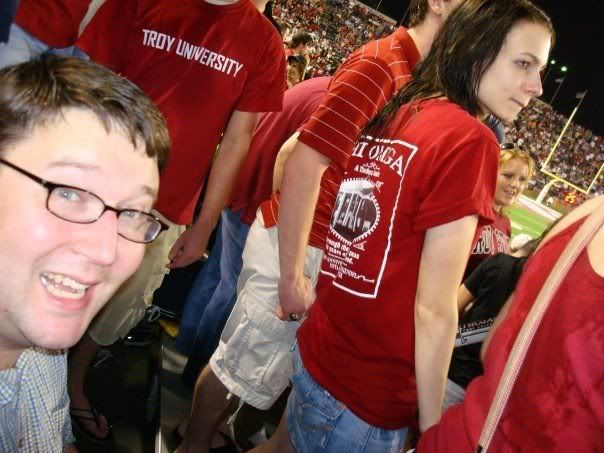 Mikey, enjoying the game, with Jessica the Chi Omega drying out from the rain. I'm partial to Alpha Gams myself, but Chi Omegas are nice too.
I did get to see my friend Leah, she worked with me at Starbucks at Cahaba Heights, only to realize the job wasn't for her, and left to go work with CCM Magazine, or something like that.
Our seats freakin' rocked. We were five rows up, about on the 40 yard line. It was great. The rain also made for a great night. It was downpour all day, cleared up on the way down, then started again when we got there. We parked, had to walk across the campus (which isn't that huge) and had to walk around the stadium to get to will-call. The rain came pouring down, we walked around with our rainjackets on. I had my NBC13 jacket. It was a terrible job, but the jacket and meeting Wendy Garner were two good things came out of it.
Had some fun with the people around us... highlights:
We stood on row 5, in front of three older guys, and behind an attractive Chi Omega and I'm assuming her date for the evening, and another couple, the chick with short blond hair and loud screams and a guy who looked like he listened to David Allen Coe and Eminem while mudriding in his 4x4, at the same time wanting to be a baller.
The old guys behind us were hollering at us to sit down. We were forced to stand on the seats, not the concrete walk, because the tall dude in front of us was, well, tall. I told the guy behind us that I couldn't sit, or move because the guy in front of me. So the older guy leaned over me, tapped on the shoulder of the tall dude and asked him to move. What ensued was a war of loud words about how the whole section would have to sit down and the old guys had season tickets and...
Loud Blonde Chick quietly asked him to move, and he wouldn't do it. After the war of words ceased, I leaned forward, and quietly said to the guy, "Hey man, you're pretty tall. If you stepped down, you could still see, then I could see, and everyone behind me could see too."
Eventually, the guy stepped down. I only mention all of this because for the entire rest of the game, he was actually pouting. Pouting. POUTING. As in, he didn't clap, he didn't cheer, as the touchdowns mounted for Troy, he just stood there.
Loud Blonde Chick leaned over several times and whispered "Don't be mad, baby... don't be mad... I want you to have a good time.. come on sweetie, be happy..." Mikey and I thought it was hysterical.
The Chi Omega was actually named Jessica Williams, who lives her in Birmingham. Its funny how, in games and competitions such as this, you develop small communities with the people around you. The game was full of one liners, comebacks, cheering and high fives with the older guys behind us, Jessica the Chi Omega, the Guy with Jessica the Chi Omega and a few others.
Funny, Loud Blonde Chick and Pouty Boyfriend disappeared after halftime, only to return with a coke for each, and two small bottles that resembled syrup bottles from Cracker Barrel, though I'm sure that pancakes weren't what they were enhancing.
Speaking of halftime, we got a nice show from a guy in the flag guard. Sweet Sweetback was wearing great velvet pants, and looked like a gay Keenan Ivory Wayans. It was rather amusing. He wasn't even that good.
Sweet Sweetback's BadA********* Song
Some of my favorite chants for the night:
"Boomer Sooner!"
"Troy, Alabama! Where Big XII dreams come to die!"
"Put in Lemon!"
(one of their players who didnt see any play time)
"I love Robinson! He's our hero!"
and of course, the favorite: "You suck!"
Robinson was OSt's QB, and was terrible... which lead to this exhange from me and Mikey: Mikey, after seeing Robinson run: Oh, so he's a running quarterback now?
Me: Well, he sure as heck ain't a passing quarterback
After the game, of course, the goalposts came down. We went onto the field, but decided against the rush of people. Like the Mizzou victory, Troy University gave up one goal post, but police officers surrounded the other one. As we walked out on that end of the field, I said, loud enough for the officers to hear me, "Hey Mikey, let's take down the other one! You and me!" The officers chuckled.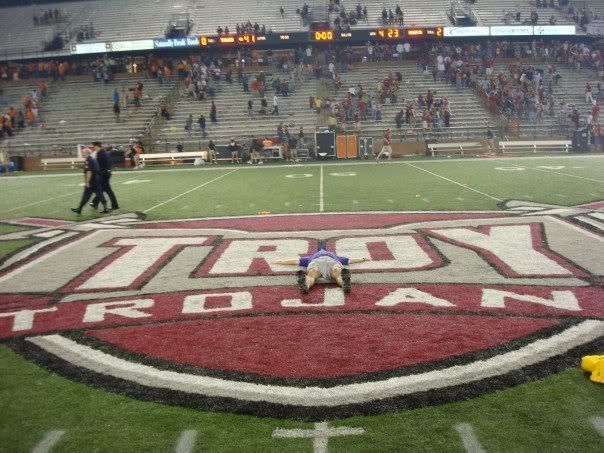 I love college football.
As we left, walking across the campus, I was reminded about how much Troy University had changed... new buildings, new dorms, old dorms refurbished, one torn down, old fields once used for flag football and ultimate frisbee at 3am now made into parking lots... I felt right at home being there, and look forward to going back in a few weeks for the BCM Alumni Reunion
(that I finally decided to go to, after wavering over and over).GO TROY!!