Here's what is shooting through my brain while I watch The Amazing Race on video, on Sunday night at 11:14pm...
I love The Amazing Race All Stars.
EW's Michael Slezak
affectionately calls Charla & Mirna, the lawyer and the midget, "Team Bats---". I actually think this is one of the funniest things I've ever heard in my entire life. I have to catch myself from saying it out loud, because it's just not the language I like to use. But man, its funny.
I'm in like with Dustin & Kandice, however. Yeah, they can be a little boneheaded from time to time, but they are fun to watch, they are competitive, and I am rooting for them hardcore. Anyone but Joe & Bill, the 57 year old gay couple. They annoy me.
______________________________
I really want a Wii. I want to make me a Mii, and play the Wii. One day, perhaps.
______________________________
Stephanie and I have begun the preliminary house-hunting tasks... right now, its all about working on getting our credit reports cleaned up. Hers looks a million times better than mine, but still, there are a few errors on it... mine is a minefield, really.
Most of it is correct, but a few things had to be cleared up. There was one bill I still owed
(which I didn't know I still owed it)
from a few years ago, but it was on there twice. After this is taken care of
(the whole thing, not just this one bill)
we'll do the mortgage thing, then the house hunting thing
(though Steph has found one she's really excited about, which makes me excited about it too)

______________________________
So, the Rick Ousley situation hit me like a brick. Dunno why. He's a very famous local pastor who has led camps, retreats, conferences, marriages conferences, sermons, etc, who admitted to having an affair in the fall of 2005. From the way the initial reports were released, it sounded as if it had been happening off and on for 20 some years... and I'm thinking it might not have even stopped if the woman hadn't come forward
(
the story is listed here
)

Made me think long and hard about 1) how much I love my wife and 2) how much I'd lose if I pulled an Ousley. This guy lost and/or is losing just about everything... his wife is supporting him, but of course, when the story was splashed across the front page of the Birmingham News, every place that had booked him to speak has replaced him
(and rightly so).
His ministry, Quixotic, and his
website have been shut down
.
David Platt, the pastor of
The Church at Brookhills
(a mega-church here in B'ham that Ousley helped found)
, did an incredible sermon on 3/25 about "What to do when the church is in moral failure", and can be
listened to on podcast
.
Pastor Calvin said it best: "Given the right situation and the right time, any one of us is capable of committing just about any sin". I think its by the grace of God that I've truly never been--nor put myself--in a position where I'm having to make a clear decision of the right and wrong thing... heck, I flirt a little too much. I recognize it. It's a fault... perhaps one that I am thinking of a little more.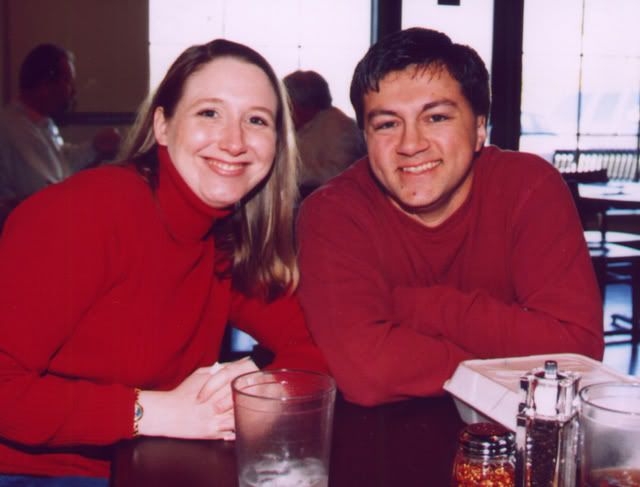 My wife is hot and brilliant, especially with the shorter hair she has now
So one of the things I started doing is praying in the morning that I will truly only have a heart and eyes for my wife... even though I've never really had a heart nor eyes for anyone but her, its a great way to pray for marriage strength.
Anyway, she's amazing... she continues to be the most wonderful, beautiful and sexiest woman in the whole wide world... how could I ever toss away her, my ministry, my friends and my life for something stupid? Plus... I love my TV.
_____________________________
I went to two parties tonight... the first was a KidStuf BBQ party... KidStuf being the children's theater production ministry we do on Sunday mornings at Valleydale Church
(an sbc fellowship).
I love those people... like April Adams and Cindy Warner might be the greatest big sisters that aren't actually related to me, and Michael & Melissa Clark are just cool people.
Later, I attended a Wrestlemania 23 party. I missed the 8 Man Money-in-the-Bank ladder match
(which apparently had Edge taken out in a stretcher),
but got to see Vince McMahon get his head shaved
(when Umaga lost to Bobby Lashley),
got to see Donald Trump clotheline Vince, and then see John Cena retain his title against Shawn Michaels. Though it was fine hanging with NallWall and Rocky and the Starbucks Wrestlegroup, I would have loved to have continued playing games with the KidStuf group. But seeing John Cena was cool.
_____________________________
I was pleased to see
Jennyross
the other day. I moved from Starbucks 280 to Cahaba Heights a few days ago, now I'm the ASM there. And on my first day, here comes a girl I hadn't seen in what, 8, 9 years? Her name is Jennyross, she was an ADPi at Troy State, and we were both pretty active in the Baptist Campus Ministry there. Her brother, Jonathan, was a fraternity brother of mine.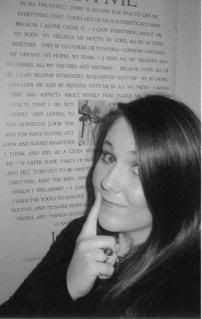 Adorable + lovable x TSU buddy = Jennyross
Jennyross has always been simply adorable. While I never found myself romantically interested in her
(nor her me, for that matter),
she was the kind of chick that you could sit with on the couch and talk about fifty four different things in the span of 90 minutes and have a good time laughing all the way through it. She's just that kind of girl. I'm very pleased to know she'll be stopping through every now and again.
_____________________________
The
King of Queens
commercial just came on... three thoughts:
1) This is the final season, and the final 7 episodes are airing soon. Its been on for 9 years? Basically, the last time I saw Jennyross, this show was brand new.
2) Luna Halo is the artist you hear on the commercial.
Mikey Nipp
has a Luna Halo cd. I didn't know they were still around.
3) What the heck is
Stacy Kirosi
going to do with herself? Did you know she's best friends with Taylor Dayne?
_____________________________
In watching the Amazing Race All Stars, the teams are headed to Auschwitz concentration camp, and Mirna (of Team Bats---) just tried to be philosophical about learning from our past. I'm jabbing the nearest Sharpie marker in my eye right now. Ow.
_____________________________
And Finally...
It's the Dave's Random Bracket Elite Eight!
The Sweet Sixteen scores include (5) Wendy Garner taking out top ranked (1) Strong Bad 3-1, while (15) Dodgeball: A True Underdog Story is no longer an underdog, defeating (11) The Entire Mackey Clan 3-2. When (4) Scott Latta found out he was taking on (9) Ashley Judd, he said "oh crap". He was right, as he goes down 3-1. (10) Factor 7 drums out (3) Hard Rain featuring Christian Slater 3-1.
(4) Kellie Pickler defeats (8) Christy Parvin 3-2, while (10) James & Jessica Hawbaker continue their ride through the bracket, taking out (14) Sarah McLachlan 3-1. (13) Fergie's "Fergalicious" defeats (1) OutKast's "Hey Ya" video 3-2, and (2) Tyler Campbell remains the highest seed in the bracket, taking out (6) Lost 3-0.
The Elite Eight:
The Mikey Nipp Regional Finals: (5) Wendy Garner vs (15) Dodgeball: A True Underdog Story
The iPod Regional Finals: (9) Ashley Judd vs (10) Factor 7
The Paula Maddox Regional Finals: (4) Kellie Pickler vs (10) James & Jessica Hawbaker
The Troy State Regional Finals: (13) Fergie's Fergalicious vs (2) Tyler Campbell
_______________________
Okay, one more thing... Charla, the shortest member of Team Bats--- is using a butterknife to make herself throw up so she can eat more sausage. And because Team Bats--- and Dustin & Kandice are joined together for this task, they might cost my girls the game.
Mirna: I'm doing everything! I do everything! What are you supposed to be doing?!
Charla: Nothing. I'm supposed to just let you yell at me.
Bad times, bad bad times.
(fyi, D&K just made the pit stop)