Its American Idol time! And unlike yesterday, I actually got all two hours of it on tape! So let's begin…

First is a recap of the guys last night, including Sundance's horrendous version of "Nights In White Satin". Apparently, Punjab went after a Stevie Wonder song, one of those Great One artists that Randy, Paula and Simon hold in high regard… so now, it's the chicks turn, some of which I can't even name by face.

See, Idols are so funny to me. Out of all the Idols I've pushed for in the past, including Amy Adams, Kim Caldwell, Kelly Clarkson, Julia Demato, Taylor Hicks, Daughtry, Pickles, My Girl McPhee and others, I don't own a single Idol cd. I will say I've gotten Kelly Clarkson's and Carrie Underwood's cds on my iPod, and they are both very good, and I'm looking forward to hearing Pickles and McPhee's stuff (I like what I've heard so far). So as much as I like Gina Glocksen so far, I don't know that I'd buy an album off of her… not a fan of the tats all up and down her arm, not bing a chick tattoo fan to begin with. One or two is okay, but covering a body part? Eeeh. That's just me. Stephanie keeps the fire-breathing dragon tattoo that covers her back hidden.


Stephanie Edwards is first. Chick #1 I don't remember. She looks like a lighter skinned, taller, more friendly Fantasia, whom I absolutely cannot stand. I like the soul in her voice (Stephanie, not 'Tasia). She's sassy too, which is fun. She actually reminds me of Latoya London, whom I just loved back in Season 2. Randy's all excited about it, Paula is all excited about it… and Simon's all over it. I agree. Go Stephanie.

Amy Krebs. Chick #2 I don't remember. They're showing her audition, and her trip to the Top 24, of which I don't remember a thing about. I can see her being a face for Proactiv. But that's just me. Oh, and she's taking on Bonnie Raitt's "I Can't Make You Love Me", an already gut wrenching song that can only be made more gut wrenching by singing it badly. She's doing okay, very soft, very… well, to be Randy, very safe. And guess what word Randy used? "Safe". And Paula? "Safe". And Simon? "I still can't remember you". Yeah, I don't see her making the Final 12.

Which brings us to Chick #3 I don't remember, that being Leslie Hunt, singing "A Natural Woman" by Carole King. For you kiddies, Carole King can wail, so good luck honey. She looks almost like someone I might have gone out with as a freshman or something… maybe I'm thinking of Christy Long. Randy wasn't impressed, Paula is blowing sunshine, and Simon says "wasn't great." Perhaps will sit next to Amy Krebs on the plane ride home tomorrow night. Leslie's dad looks like someone I saw on "To Catch a Predator".

Sabrina Sloan… finally, someone I remember! Vaguely. I just remember her as having good hair. I'm not sure of the song she's singing… but I like it. Oh, wait… she's singing "The Way That I Love You"… that might be the title of it. I think its an Aretha song, and I've heard Sheryl Crow do a great cover of it… anyway, Sabrina is rocking it. I might have found my first favorite of the year. Randy and Paula loved it…and so did Simon. I'm now going to go get the original off of iTunes.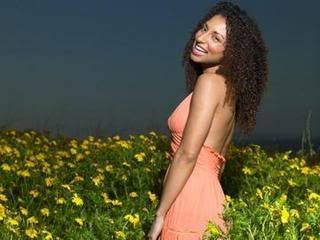 An early favorite, that being Sabrina

Oh, its Antonella Barba. See, she was in the group that I think got my early favorite, Bayley Brown, punted. So, I'm not liking her to begin with… she's doing a female take on "Don't Want To Miss a Thing" from Aerosmith. And to me, not all that well. Randy says "Wasn't great", Paula says "Wasn't bad", then harps on how hot she is (which I don't agree with that either), and Simon says "song was way, way, way too big for you". He's even predicting she's gone after tomorrow night. Long live Bayley Brown!!


I just saw a disturbing commercial. They aren't even putting roman numerals after those "Land Before Time" movies (I mean, what's the Roman numeral for 134?)… there's a new one called "Land Before Time: The Great Day of the Flyers". Why? Oh why?

Hey! Its Lisa Turtle Part II! I like Jordin Sparks, honestly, and have since her first audition. She's got kind of a large head, and great Melanie Jackson hair (a chick I knew in college with the thickest hair in the history of the world). She's singing "Give Me One Reason" by Tracy Chapman, and I like it because its not a "sing like Tracy Chapman" performance, it's a "sing a Tracy Chapman song my way" performance. She's fun… I'm diggin' her. Randy is telling her to go bigger with song choice. Paula is blowing sunshine. She looks like Deena Emaish, whom I work with at Starbucks… Deena's gorgeous, so no wonder I think Jordin looks great.

Nicole Tranquilizer, #4 that I don't remember, is up now. She's taking on Chaka Khan, which is tough to do… she looks good in her black and silver, but she's not that great vocally. I mean, I'm not a great judge, cause I suck, but still, I think I could grow to like Nicole Tranquility. I love it when they show the parents, who are usually so white they can barely clap in beat. She's not Jordin Sparks, but she's got great hair too. Randy says "that just ain't your vibe, rough for me". I agree. Paula? There's some sunshine, and she's blowin' it. Simon says "aggressive, unnatural, fake, indulgent, over-rehearsed". I concur. Randy keeps talking a little more, essentially saying "You are too white for those kind of songs"

Haley Scarneto… at first, I didn't remember her, but they just showed her audition tape of "I Can't Make You Love Me", and now I recall that I love this chick. She also busted out on some Celine, she's like, super hot, and here she is taking on Celine tonight. "Its All Coming Back to Me Now". For all you Celine haters out there, you might not like her style, and think she's cheesy, which she is, but you gotta admit, she can take on some notes and harmony. Randy says the infamous "just okay for me". Paula? Whoosh. Simon says "You sounded 40 years old". I disagree… I liked it.

Melinda Doolittle… how can you not like her? She was, like Brandon Rogers, a former backup singer, she's fun, she's cute, she looks like the kind of girl you want hanging out in your group, because she's going to add soul to your party. She's taking on Aretha, and she's going nuts on it. Unless she falls victim to the Mandisa/Latoya London/Diva voted out too early disease, Melinda Doolittle can win this thing. How 'bout for me, she just had the best song of the night? Randy loved it. Paula loved it. Simon loved it. Darn it, I want Melinda Doolittle to come have dinner with Stephanie and I, so we can play Uno Attacks, cause she's so humble and cute.

Alaina Alexander is coming out now. She's little. She needs to eat some gravy and biscuits. I do remember her, though, she's the one that Simon said "That was really, really, really great" at her audition. She cries a lot. Like, she's tearing up while discussing crying a lot. Unfortunately, she's making me tear up listening to her butcher "Brass In Pocket" by The Pretenders. Randy tells her she wasn't great. Paula says "you didn't put your umph into it." Simon recalls the line in the song, "I'm special, so special", and says "you really weren't". He's right in saying that this is a song, as are most Pretenders songs, that's hard to make it "your own". Ryan is raving about her. Simon accuses Ryan of hitting on her.

Here comes my early favorite, Gina Glocksen. She looks like someone who almost wants to look like a punk rocker chick. And she's taking on Celine Dion's version of Eric Carmen's "All By Myself". Didja know that he's the same dude who sang "Hungry Eyes" on the Dirty Dancing soundtrack, a song that actually isn't that bad. Cheesy yes, but fun. Oh yeah, Gina… she's hitting the hollerin' part just perfect too. Randy loved it. Paula has sunshine and she's gonna use it. Simon said he didn't expect it, though he didn't think she hit the right notes.

And finally, LaKisha Jones, this season's Mandisa. She's got a booming voice, a soft personality and a great, tv-drama story. She's singing "And I'm Telling You That I'm Not Going", from Dreamgirls (it's the song nominated for an Oscar from Jennifer Hudson). I've never actually heard this song. If I'm Krebs or Les Hunt or even Antonella, after seeing Melinda, Sabrina and now LaKisha, I'm thinking "oh crap". I actually just clapped my hands after that performance was over… that's the way to end the show, friends. Randy is bowing down, Paula is standing up, Simon says 'I'm tempted to tell 23 people to book their plane tickets home… that was in a different league." Wow. That was freakin' awesome. I wish I were a big black lady who could sing.

So tonight… my faves include Melinda Doolittle, Sabrina Sloan, Jordin Sparks, Haley Scarneto and LaKisha Jones. Toss in Gina Glocksen, and I'm hoping those are your top six chicks…

Going home? Amy Krebs and Leslie Hunt. Or Antonella, if we're lucky.