So, my lovely wife Steph bought us two sets of Broadway tickets for Christmas… one was
Twelve Angry Men
, which is one of the best productions I have ever been too. Simply amazing.


7) "Movin' Out (Anthony's Song)" from the album
The Stranger
… Sergeant O'Leary is walking the beat, at night he becomes a bartender. He works at Mr. Cachatorrie's, down on Sullivan Street, across from the medical center. He's trading in his Chevy for a Cadillac-ac-ac-ac….

I say all of this to tell you that we aren't rookies at this, we're both huge theater buffs—okay, also to get a record of all the shows I've been to in case I forget, and also to brag about all the shows I've seen and you haven't, but humility has never been something I've professed to own—so we really look forward to any chance we get to see something such as the above listed shows… well, maybe not Fame, Starlight, Whorehouse and Swing, four shows I didn't enjoy at all.


I think the most disappointing thing was that Stephanie and I really, really wanted to love this show. At least, I did.
Where was I? Oh, "Movin' Out"… okay, the fun of Mamma Mia is that they incorporate the songs of ABBA actually into the storyline, and the music is sung in context with the comical story. It's marvelous. Absolutely marvelous. So, when I found out that Billy Joel was lending his music to a similar type show, I was just ecstatic… and it was called "Movin' Out"? One of my top ten favorite Billy Joel songs? Rock on! It can't be anything but fantastic, right?

6) "The Downeaster Alexa", from the album Storm Front… not really sure why I like this song. I mean, its about fishing on a boat called the Downeaster Alexa. I hate fishing. But it's a powerful, powerful song--actually, more narration--sung loud and brash, about a man who's in desperate need because he's got a family to take care of. He's trolling the Nantucket sound, but "…there is no luck in swordfishing here…" From what I understand, he wrote the song, using his daughter's name, Alexa Ray. And "Downeaster Alexa" is a cool name. I wonder if Downeaster Alexa Dollar would be a good name. Steph?
5) "She's Always a Woman", from the album
The Stranger
… She only reveals what she wants you to see. She'll promise you more than the garden of Eden, then she'll carelessly cut you and laugh while you're bleedin'. Yeah, I dated her. I won't tell you who she is, but if you read
A Love Story in Three Acts
, you might have a guess.


The morning of the show, we saw one of my best mates, Michael, and he told us he and his wife Ashleia had seen it the previous night… and they weren't enthused at all. I thought, "Well, he's not a big musical person like Steph and I, so perhaps we'll appreciate it a little more…" Then we met Randy Latta, daddy to Matt, and he and his wife Lisa told us the show was disappointing. Something about "one guy singing the whole thing" and "lots of dancing" and such… afterwards, Stephanie and I were both completely confused. What did he mean, one guy singing? The whole thing? Is this a musical, or a concert?

We get the program, and I flip to the songs, which all have characters listed by the song titles, leading me to assume that those would be the characters what would be singing the aforementioned songs. And we found quickly, we were wrong. Taking Randy Latta's advice, we had read the story recap, which we're glad we did, because we wouldn't have had a clue what was going on.

The whole thing was one guy and his band singing Billy Joel songs from a balcony, and a bunch of people dancing. Granted, the guy singing, the band playing and the dancers dancing were very, very, very talented… I mean, very talented. The guy was nailing Billy Joel's music perfectly, the band was entertaining, sometimes just to watch, and the dancers were very gifted in what they were doing.

4) "Piano Man", from the album Piano Man… When I was a kid, I used to hate this song. I think it was just too long, because I felt the same way about American Pie, but now I'm all growed up and have a much finer appreciation for lyrics that slightly go deeper than "how come every time you come around, my London London Bridge is going down". The album cover still creeps me out, though.
3) "Only the Good Die Young", from the album
The Stranger
… as a Christ-follower, I'm not sure I really should like this song. I mean, honestly, I shouldn't sing the line "I'd rather laugh with the sinners than cry with the saints" but this song makes me just darn skippy happy. And they only sing a ¼ of it in "Movin' Out", those jerks.

Still… I was kinda bored. I really was.
It was hard to understand really what was going on, and even with the music
, if you didn't know the lyrics of many of the songs, how would you know what was going on with Brenda and Eddie? They had it all ready by the summer of 75, I guess. It also didn't help that the lead, the guy who played Eddie, looked remarkably like the
character actor guy
who played that guy in
"Not Another Teen Movie"
. And honestly, that meant I really couldn't take him seriously the whole show, not when I'm seeing that stupid kid's face in my head.

I guess the guys who put the show together didn't want to copy Mamma Mia's format, with the songs being sung by characters within the show, but here's the thing… I wouldn't have minded one bit had they done that. Not at all. It would have been kind of fun to see one of the characters bust up with "Only the Good Die Young", or have a marathon dance-off with "We Didn't Start the Fire" (which, by the way, is one of the most ingenious songs ever written, yet still one of my least favorite Bill Joel tunes).

Overall, it was an okay show. It wasn't what I was expecting, though to be truthful, I'm not really sure what I was expecting. And as Steph said when we walked out, "Well, at least we can say we've seen it."

2) "The Longest Time", from the album An Innocent Man… come on, who doesn't like this song? If you don't at least find your foot tapping a little bit, or are at least fighting temptation to snap your fingers and say "wha-oh-ah-oh… for the longest time", you're a communist. And I mean that in the most affectionate way. By the way, this is the album that also features "Leave a Tender Moment Alone","Tell Her About It" and "Uptown Girl".
1) "Scenes from an Italian Restaurant", from the album
The Stranger
… I don't even know how I came to like this song. I think, like American Pie and Hotel California, it just sorta happened. Brenda and Eddie, popular steadies, hook up, break up, hook up, break up, shop at Sears, go broke and so on… all with a bottle of red and a bottle of white.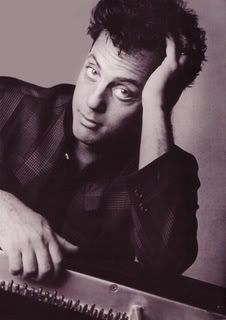 The genius that is... Billy Joel.
Random Billy Joel story… so I have
the box set
that incorporates Billy Joel's Greatest Hits, Volumes I, II and III. It's a great set that also includes liner notes on the songs and such, and my only beef with it is that it does leave off "Leave a Tender Moment Alone", probably my 11th favorite Billy Joel song. Anyway, it's got a 4th disc, which is a live CD where Billy not only takes requests from the audience, he tells the story of the song before he sings it. He goes through several, including a line by line explanation of "Piano Man".

And you know what really bugs me?

I LOST IT!!!! I have no idea what happened to it… while living at The Deuce, it one day up and disappeared. Now, had this been Volume I, II or III, I would have just replaced the disc by buying that album. But this live CD is one that only comes in the box set. Not good times. Bad times.