30. Leigh Nash's "Blue on Blue"
Great album, great music, Leigh Nash has, in one project, left behind Sixpence None the Richer to start her own career. Buy it. Love it.
29. Katharine McPhee

Ah, My Girl McPhee. Looking back, she was a little arrogant, I think, and over the years, I feel I'm going to end up being a Pickles fan, but for four months, I was all about Katherine McPhee. Her rendition of "Black Horse & the Cherry Tree" made me happy, and she truly does have an incredible voice.
28. Reese Witherspoon's "Wildwood Flower"

The movie "Walk the Line" is a great take on the life of Johnny Cash, with several Oscars going to it, including one to Reese Witherspoon
(deservedly so)
. And the soundtrack is also a great piece of music, with Joaquin Phoenix, Reese and other cast members doing the songs they did in the film. And this particular take on June Carter Cash's classic is simply amazing. Simple, warm, Reese is singing only with a guitar playing, and she sounds amazing. This ended up being the most played song on my iPod in 2006.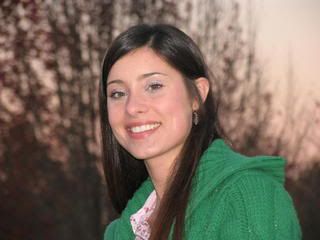 We're so glad that Ashley and her pretty green eyes are here in Birmingham

27. Ashley Spell

She was dating Drew when we met her, then she wasn't when we saw her the next few times. At Tommy & Amy's housewarming party, we told her that if she ever needed a place to stay, we'd be happy to lend our extra bedroom out. She asked us later if she could stay a few days, to look for a job here in Birmingham, and we said "Yes!". She found a job, so we offered her the room for a month or longer, to get on her feet here. After all God had given us, it was a blessing and pleasure to be hospitable. And it doesn't hurt that she's just really, really cool. Very blunt, she tells it like it is, willing to help, and fun to talk to for many reasons.
26. Dancing at a Greek Wedding

Our friends Nick & DeLisa got hitched in June, and seeing as Nick is Greek, it was a Greek wedding. You can read
about Part 1
, the wedding itself
in Part 2
and the
Greek dancing here
.
25. Café Lalo

Here's what I wrote when I visited last year, after spending the day in Manhattan with
Emily Reynolds
(Kid Sis), Jennifer Boutwell (J-Bo) and Georgia Ann (G-Ann):
Lalo is a little Upper West Side cafe between Amsterdam and Broadway, on 83rd Street. You'll know it by the trees in front with the lights on it. If you've ever seen the movie
"You've Got Mail",
then you will remember the scene where Kathleen Kelly (Meg Ryan) plans to meet her IM friend, MrNY152, which of course, she ends up meeting Joe Fox (Tom Hanks). Unbeknownst to Kathleen, but beknownst to us, MrNY152 and Joe are the same person. Anyway, this is the cafe they met in. In fact, its kinda fun to stand on the steps where Joe and Kevin (Dave Chappelle) discuss whether Joe should go in to meet Kathleen. Now I really want to see that movie again.
Walking into Lalo is a diabetic nightmare, and a sweet-tooth's dream. Desserts fill up a large glass case, tables are packed in like sardines, and cool artwork line the walls. We get seated immediately, and order our food based on the idea that we'll be moving the plates all over the table and eating each other's treats. I got a Key Lime Cheesecake, Kid Sis got some sort of Lemon Mousse pie and J-Bo hooked up on some sort of double-triple chocolate cake concoction that I ate one bite of and determined it too sweet to continue. G-Ann just ordered "coffee and a fork".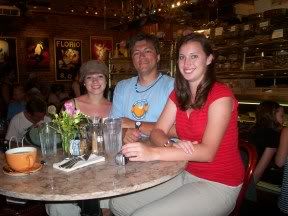 Kid-Sis, Yours Truly and J-Bo in Lalo
Outside, Kid Sis had made the comment that there seemed to be a high population of people who played for the American League, and I made a similar joke about myself, sitting in Lalo with three women, enjoying cheesecake. G-Ann made the comment, "Well, David, if you were gay, you'd fit right in here." Kinda funny, mostly because it was Georgia Ann Boutwell saying it.
My Key Lime cheesecake was perhaps one of the best cheesecakes I've ever had. I also ordered
Virgil's Root Beer
, because both Steph & I are root beer afficianados. They actually brought me a Virgil's Root Beer instead, which was good, but I told them I had to try the root beer in the bottle.
(They didn't charge me for the float, either).
It was not as good as the root beer we had in Disney World's Liberty Tree Tavern, but darn it, it was good.
(just found out that they sell it here in B'ham, at World Market. That's a stop after work).
We ate the desserts, I had my Virgil's, J-Bo had a hot chocolate, Kid Sis had a mocha, G-Ann sipped on more coffee... all in all, it was a very, very good time.
(you can read the
full day's blog here
)
24. Wookiee & Gina Are Expecting
First it was the weddings… now it's the babies. And when I got word that there would be a little Ewok, that Chris & Gina were going to have a child, it made me estatic. Big Wookiee is going to be a Big Wookiee Daddy. Sometime, I believe in March, we'll welcome little Austin James to the world—its only fitting that Wookiee have a son. Perhaps God will load them with four daughters now, but a son was just natural.
23. MySpace
Wow, what a wired world. As I've mentioned before, I only signed up so I could post a message on
Amy Mc's page
. Within a week, I had like, fifty friends. Some of them, like
Jason Smith
, I had not talked to since the night we graduated high school in May of 1993. Its how I reconnected with
Launi
(#40) and
Jenni
(#31), and randomly, I'll get an friend request from someone who I haven't talked to in, maybe 10 years... and I'll say "Wow...
Michelle Kent
has a baby now!".
22. James & Jessica Hawbaker
We love everyone in our Sunday School class, but perhaps we just feel a little closer to James & Jessica. Married only a month before we were
(their anniversary is next week, on the 31st)
, they still live in an apartment (like us), they aren't rich but have a loving marraige (like us) and are just super-cool (like us). We've probably spent more time with these two than any other couple in the last year, and look foward to many more double dates to come.
21. "Twelve Angry Men"
This was one of my two Broadway Christmas presents... to go check out Richard Thomas and George Wendt in the stage rendition of Twelve Angry Men. The premise is a 12 man jury is set to decide the fate of an unseen defendant... and every bit of evidence seems to find the kid guilty of killing his father, from an old guy who saw the kid running away to the woman across the way who saw the murder. Or did she? Richard Thomas plays the lone juror who votes not guilty, simply because "we're making a decision on a man's life, I think we owe him a little more than one vote." The
original movie was good
, though, to me,
Showtime's version
several years ago starring Edward James Olmos, a strangely weak William Petersen, Hume Cronyn and an-actually-really-acting Tony Danza. This show was fantastic, though...
Top 20 Coming Up!