The countdown continues... and will culminate with the #1 Coolest Thing About 2006 this week... but for now...
40.
Launi Larrabee
So, I got on MySpace in July, mostly because I wanted to leave a comment for Amy McLeod, but couldn't without an account. So, I set up an account. And I was hooked. And in my random searching, who did I find but Launi Larrabee, a girl that I first met at Troy State's orientation back in 1996, and
who lived across the street from me
, The Wookiee and creepy Michael Brunson
(and eventually his chick Jill Taylor, but that's another story)
. No, we never went out, but we were friends, and in another MySpace reconnection tale, we were able to chat again, catch up on fun and frivolity, life, love, loss and Jesus. She's great.
39. The Purple Onion
Chick In a Sack… its chicken, with some sort of freakish Greek sauce, rolled up with cheesey something in a gyro wrap. Dip it in ranch dressing, and eat it with the seasoned fries that come with it… and it rocks my face off. Steph always gets the beef-kabob, with the hummus… open 24 hours, including Christmas
(where ya think we actually ate dinner on Christmas night?)
and Canadian Boxing Day, the Purple Onion makes for a great snack.
38.
Carmike 10's $1 Movies
"Lady in the Water"… "The Lakehouse"… "The Marine"… "The Da Vinci Code"… these movies and more were made worth the price of admission in that the admission was only a single dollar bill. The popcorn, regular price, was stale. The Cokes are flat. The seats are terrible, and sometimes rock when they aren't supposed to. The screen occasionally doesn't even line up with the picture. But it's a dollar. Only a dollar. I've taken Steph on tons of movie dates now… my fear is that they'll close it, much like they did when the Colinnade went from a respectable theater to a buck, but its still open thusfar.
37.
Texas Wins the National Championship
Could you ask for a better game? In a precursor really to what happened this year, big and bad USC rolls in with all the expectations of rolling out with a national title, and Vince Young has the freakin' game of a lifetime. The Texas Longhorns defeat the USC Trojans 41-38, in a game that seemed closer than that even. Vince ran for 200 yards, passed for over 265, and ran in the go-ahead game winning touchdown himself, as if to say "Yeah, this is my game, Msrs. Leinart and Bush."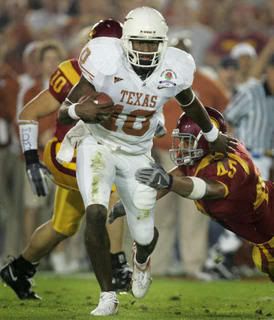 The Wookiee. King Kong. Triple H. Vince Young. All beasts.
36. Reconnection
Be it Facebook, MySpace, AOL or whatever, this was the year I was able to reconnect with scores of people—be it people from past jobs like Lisa or Brooke, or people I knew long ago like my buddies
Jason
and
Chris
... heck, I even found
the daughter of Mrs. Rials
, my high school typing teacher. Somehow, she went from 7 to hot in 17 years. The power of the web is to unite people who haven't seen each other in years, and strike up conversations like it was last week when they last met. Oh, and working at Starbucks hasn't hurt either, being able to see
Amanda Laughlin
on a regular basis, as well as other girls and guys that frankly, I would never ever see otherwise. Good times, good times.
35. The Geico Caveman

"Its everywhere I go… there's always something to remind me… of another place and time…" as we watch the Caveman, duffle on shoulder with a random old school tennis racket sticking out of it, stand on the moving sidewalk, passing a sign that says "Geico: So Easy a Caveman Could Do It". He disappears out of the frame, and then reappears, with a look of utter disdain and contempt. Its priceless. True story… I was shopping in Ross' Dress for Less, and
"Remind Me" by Royksopp
actually played overhead. Its was one of the most random, surreal moments ever.
34. Giving My Financial Testimony
Dave Ramsey
is a hero to me and Stephanie and many others who have found themselves
(or in Steph's case, found herself married to someone)
in financial straits… and after taking
Financial Peace
classes in 2005, I was able to actually give a video testimony on tithing… how major it is, how important it is and, like my loving wife sees it, shouldn't even be a question of "Should we?" but "Why wouldn't we?" Course, I forgot to tell Steph I was doing it, so when someone from the service told me "good job" as we were walking into the service, she was a little upset, but she got over it. And it felt good to share.
33. Margie & Gary Eubanks
I've known Margie a while as the chick who runs the adult drama team in church that I never get to be a part of. I knew Gary as her husband. But this summer, headed to NYC and Connecticut, I got to know them both very well, and realized how cool they both truly are. Especially Gary, whom I now affectionately call "The Idol", though perhaps "affectionately" isn't the right word. Anyway, I want be a drama teacher like Margie and a husband like Gary. Lofty goals.
32.
Finding Out My Fraternity Formal Date is a Freakin' Actress Chick Now
At 22, I went to my 1996
FarmHouse Fraternity Formal
with a then-26 year old named
Ambre Lake
. I was the man, with the hottest chick in the place, not to mention she was the older woman. We had a good time, we danced, and even though I'm kinda convinced she ended up hooking up with Scott Sarich, I still rocked. And now? Ambre Lake
is a film and tv actress
, having been in several small films, and bit parts in larger films
(
Sweet Home Alabama
, anyone?)
… and I danced with her at formal. So there.
31.
Jenni from NYC
Jenni from NYC is Jennifer Dunivant, a girl who went to school with me at Troy State, and had always admired and enjoyed. Well, through the wonderous power of the MySpace world
(yes, yes, its on the list, see #23)
I caught up with her again. And she might be one of the most fun, coolest people I've ever met. Her blogs are great, our emails are really funny and random, and being a Florida Gator fan makes her cool too. Oh, and her song on her page is "Steppin' Out" by Joe Jackson… I'd like to think that's my influence.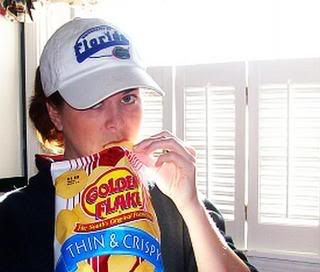 New York City can't stop Jenni... it can only hope to contain her
Next... Ten Other Things...