NYC'06 Entry #1: Early Morning (Opening Thoughts)
NYC'06 Entry #2: Encounter(s) in Stamford (Saturday Review)
NYC'06 Entry #3: The Truth is Served (Sunday Review)
NYC'06 Entry #4: Moments (Monday Review)
NYC'06 Entry #5: Don't Stop Believin' (Tuesday Review)
NYC'06 Entry #6: Popcorn for Jesus (Wednesday Review)
NYC'06 Entry #7: Speechless (Thursday Review)
NYC'06 Entry #8: Crack Pipes, Big Chicks & Cancer (Friday Review)
Before I begin this post, let me set for you the stage right at this moment, 1240am, Saturday morning. Pimp My Ride is on the big screen behind me, and in front of me, there is a table where sits five people at a table that has on it 15 beer bottles, one bottle of Corona, and a bottle of water. Next to them is a table with four boxes of pizza. And a lady just came over to the table about four feet from me and turned on a radio that is playing Stealers Wheel really loud. This is what I'm sitting in.
On my way down, I got into the elevator and realized not only was I in an elevator with nine girls, but someone (one of them, I'm sure) had pushed every button on the elevator. I'm on the 8th floor. I'm going to the lobby. I sighed and just stayed on. They were all chattering, being girls, and one of them apologized. I looked around and said, "I'm on an elevator with all teenage girls? Don't I just feel like R. Kelly." The girls exploded in laughter.
Maurice the bartender just gave me my Coke for free. He said, in his accent, "I didn't think you were coming down tonight." I told him tonight was my last night, we were headed back to Alabama tomorrow. He said, "Oh, well then, this one is on me, as a going away present." I said thanks and still threw some change on the counter for a tip.
So, now you know about the last twenty minutes of my night (I might break in and give you the update as the crowd around me gets more and more obnoxious), let me tell you about the day.
Julissa didn't show up. Part of me felt like that might happen. It's important to note that Matt & Ginger Latta wrote me an encouragement note, which I read last night. I've been blessed enough to have friends that gave me enough to have one for the morning, one for the evening... I've read notes from Mikey Nipp, Jason T'bow, LPSherman, Brooke Smith, Katy Sexton, Kenneth & Amy Poole, Ryan & Melissa Sherman, Teber, Randy Latta, April Adams and a few others I'm horribly forgetting, but none were bigger than the message that I got from Matt & Ginger. It was from I Peter, and though they gave me just one verse, that verses plus the one around it were simply put: Be hospitable in godliness.
So, I went into this morning ready to be just that. I prayed about it last night, and even though I was willing to have Julissa and possibly her mom come to Coney Island with us, part of me still didn't want them to come... I felt this was okay, because as long as I showed the love of Christ to them in my words and actions, didn't matter how I felt deep down inside. That I could mask. So when I read these verses, believe me, it hit me hard.
I met Coach Tim and Anna Lynn, who said they wanted to come with us to Coney Island, down in the lobby. Few minutes later, G-Ann and J-Bo came down, and finally young Emily, the young girl called K-Swiss, Swiss, Kid Sister and Kid Sis all over this blog. The Holiday Inn Select shuttle took us over to the train station, and we even met Mark & Cindy Warner there, along with Mama Faith, Natedawg and Abby Lohan. We told Julissa to meet us there at 930 sharp, because the train was leaving at 954am.
We had our tickets, we were all sitting near the front door, all looking out for Julissa and/or her mom. Even Mark & Cindy, and Mama Faith, Natedawg and Abby Lohan were looking out. Around 945am, I went outside, walked up the street a bit, looked around in the distance to see if they were there or might have been walking up. Nothing. I slowly walked up the steps, looking out the window the whole time... and didn't see them. We boarded the train at 950, late enough to get stuck on the bar car (meaning we were sitting on the unused counter). Both Coach Tim and I had the same attitude... she knew when we were meeting, she knew what time to be here, we did all we could. Poor Kid Sis was taking it harder, upset because she didn't know what happened, but more upset because she felt guilty.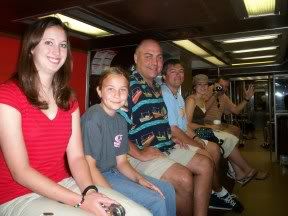 Here's most of the group, sitting on the counter of the bar-car, riding into NYC... J-Bo, Anna Lynn, Yours Truly, Kid Sis and Marky Mark. Cindy is around the corner, and G-Ann is taking the picture
Note: The train runs to Grand Central Station, where you can take any number of subway trains to wherever, including the #7 train or the S shuttle to 42nd Street, which is Times Square. This was our plan, followed by getting on the Q to 34th Street, then transferring to the D Train, and take it all the way down lower Manhattan, through Brooklyn and into Coney Island.
We got to Grand Central, we made a few phone calls, and apparently it was a misunderstanding, though Julissa said she was there at the station (how she could have been there, I don't know... unless there is another train station, which means its all her fault, because no other station goes to NYC from here, and she knew where we were going) but as Coach Tim says, "She's got to take some responsibility for it. We did all we could and what we were supposed to." I concur. And that's enough of that. We did tell Kid Sis she was no longer allowed to be upset about it.
We lost Mark & Cindy, and the Piersons (Faith, Nate and Abby) at Grand Central... actually, I looked around and they were gone. We found the S shuttle train to Times Square, took it, got off, wound our way around the enormous 42nd Street station, hopped on a train to 34th Street (one stop down) then finally getting on the D Train to Coney Island. For myself, this was my third visit to Coney Island, for Anna Lynn, her second... and I think for Kid Sis, Coach Tim, J-Bo and G-Ann, it was their first.
We got off on Coney Island about an hour later (its a long subway ride...) and as we were walking out of the station, there was a group there handing out fliers that said "Shut Down Guantanimo Prison". One woman stuck one out at me, saying "Shut down Gitmo!" and I smiled and said, "No thanks. I love Gitmo. There should be more of them." She gave me a mean look, and I felt happy for it. On the way out the entrance onto the street, another woman tried to give me one, and I said, "Nope. I think Gitmo is awesome... its like a resort for those guys." This irritated her too, and I loved it.
We walked up to the boardwalk, worked our way around the area, stopped for a lengthy restroom break, and then on to the Cyclone. That led to this exchange:
Kid Sis: So, is this like the Georgia Cyclone?
Me: Yeah, both wooden coasters and both pretty bumpy
Kid Sis: Yeah, but was the Georgia Cyclone modeled after this one? They seem alot alike
Me: Well, yeah but... uh... you know...
Kid Sis: You've never made that connection, have you?
Me: I, uh... well, I mean...
Kid Sis: No
Me: No
I was almost giddy, though I thought it might be anti-climactic, because last year I was geared up for it, and after a three year wait, I was able to ride it. I was almost afraid this would let me down... it didn't. I sat with some dude close to the front, with Anna Lynn and Kid Sis behind me, and a little farther back, J-Bo and G-Ann.
After riding it once, we all got out, Kid Sis said "I'm out." So the four of us paid $4 more to ride again, this time I was in the front. I tried to video with the camera, but I pushed the wrong button. Finally, for the third ride, Anna Lynn and J-Bo and myself were it... they climbed close to the front, I went straight to the back. I now have a 90 second video on my digital camera of the Coney Island Cyclone ride from the back car, a video that I have no idea how to transfer to computer. When I figure it out, though, I'll get it on the site somehow. Oh, and I lost my sunglasses. They have disappeared into the abyss of lost items on rides.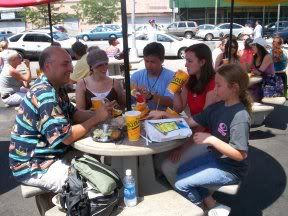 Nathan's Famous, having lunch. G-Ann is missing from some of these pics, because she's doing the camera work.
After the back row ride, I held my hands up, saying "I'm done." We all walked out, and headed to lunch at Nathan's Famous. I had forgotten that Nathan's Famous bought Kenny Roger's Roaster's several years ago, so by the time I realized that Coach Tim was in the Roasters line for roasted chicken, I had already paid for my lunch and was waiting on it.
The area was packed out, but with my wisdom and genius, I was able to find a table (I spotted one open). Ordered cheese fries and a cheese dog, with a big, fat Coke (that I drank almost half of instantly). We all crammed together around the table, blessed our food with praise to Him and dug in. After lunch, we decided to split up for about 30 minutes, with Kid Sis, G-Ann and J-Bo going to look at a few shops that were recommended by a NYC Lifer we met on the subway, Coach Tim & Anna Lynn were probably going to go back to the boardwalk, and I wanted to walk around to Mermaid Avenue to see if the Salt & Sea Mission was still open. I came to NYC in 2002 with another church, doing 10 days worth of mission work on Coney Island, working with the mission, sorting clothes, feeding homeless, praying for and with the locals.
I was a little disappointed that I didn't even find it to begin with. Finally, I realized I had passed it, which you can probably tell meant it wasn't there. The sign was still there, but the doorway I remember had a garage door over it, the tree that we did homeless Bible study under was gone, and the convenience mart on the corner was boarded up with a "for lease" sign in the window. Still, I called Alex Milner, one of my friends from that trip and left her a message telling her where I was. Haven't spoken to her in over a year, seen her in over three years, so I don't expect a phone call back, but it was a good call anyway.

We then ventured onto the N Train, not the D. We decided--at least, I decided, and they somehow listened to me--that instead of using the D and getting off on 34th, we'd ride the N all the way to 42nd Street. On the way back, I was honored that Kid Sister gave me her testimony and story--any story that ends up with mistakes turned into grace and blessings and God's will is great, but her's was just wonderful to hear.
And about an hour later, we climbed the steps into one of the coolest places on Earth, that being New York City's Times Square. I love this place.



Man, this is a good picture... good pose, great backdrop, good lighting... if Steph were in this, I'd have this framed. As it is a 17 year old friend of mine, I'll just put it on this site.

Coach Tim and Anna Lynn decided to go play some games at ESPNZone, leaving Kid Sis, J-Bo and G-Ann to wander the streets. Our wandering included:

You can see the ESPNZone building in the link above... however, this is the view from a bathroom stall, complete with a television. Yes, its almost TMI, but you have to know how cool TVs in the stalls is.

Had a pretty good cheeseburger and some fries, and dessert was tempting, but I waited. Kid Sis had been raving about Cafe Lalo for days now, so I was going to trust her and wait on dessert. I did, however, call Wookiee and brag about where I was. Got his voicemail, but its becoming a year tradition--go to ESPNZone, call Chris Fulaytar, tell him "Hey, I'm here and you're home cutting grass!" I also got a call from Tommy McLeod:
Me: Hello Tommy
Tommy: Hey Dave... what's the house number? (I know immediately what he's asking, because there is a social at Jason & Emily Turnbow's house for our Life Connection class)
Me: You know, I'm not sure. You may want to call Stephanie.
Tommy: I know its on Oak Glen Trace, Amy & I just aren't sure of where it is
Me: Well, I'm sort of out of town, so Steph will be there, not me
Tommy (beat): Oh, wait... you are in NYC still, aren't you? (I hear Amy laughing in the background)
Me: Yeah, I'm in Times Square right now
Tommy: Oh, well... hope all is well!

After dinner, Coach Tim & Anna Lynn were headed to the third floor to play some more games, then they were headed home. That left G-Ann, J-Bo and Yours Truly to follow Kid Sis uptown first to Laila Rowe, a small jewelry store, then to Cafe Lalo. She had spent about three days up here last week with her cousin, before we arrived on Saturday, and her cousin had taken her to some great, out of the way type places, places that weren't on the tourist handbook like Empire State, Statue of Liberty and Rock Center might be. This is great, because again, having been there multiple times, it was fun to do something else.

First was Laila Rowe. On the way, we passed by the New York First Baptist Church, which had a sermon Sunday morning (this morning, I guess) entitled "Why I Am a Dispensationalist". This stumped all of us, because we could barely say "dispensationalist", much less define it.

As we walked down to Laila Rowe, I spotted a few people handing out stand-up comedy fliers. We got to the street corner, and I turned to J-Bo and said, "J-Bo... where can we find some good stand up comedy in this town??!!" J-Bo was confused, but immediately, the girl behind her turned around and said, "Are you serious? Oh my gosh!" and she grabbed her fliers. I told her we weren't serious, but I wanted to hear her schpeel anyway... "Some of the guys in Manhattan were pretty agressive, so what do you have?" So she gave us her best "buy comedy tickets from me" speech, which was pretty good and I told her so. Her name was Jessica, and she offered us a deal, but we had to decline. We shook hands and went about our way.

Laila Rowe is a trendy jewelry shop with clunky necklaces, earrings, scarves, purses, flip-flops and floppy hats. J-Bo and G-Ann of course go crazy, with Kid Sis being so pleased because she brought us here. It was fun little shop, and I did look around some because I knew that I hadn't bought Stephanie a single thing--yes, yes, she would say "oh, you don't have to bring me anything" but NO GIRL means that. Granted, I'm a boy, so the novelty of Laila Rowe wore off in about ten minutes, just as the other girls were getting fired up. I stepped outside, then next door to the Candy & Nut Shop, where I figured out what to buy Steph... either Cashews or Pecans. Unfortunately, I couldn't remember what she liked, so I had to call her.

Talked to my wife for a few, and knowing she was at the social, I asked her to ask James Hawbaker what "dispensationalist" meant. James deferred to Jessica, his wife, as he was involved in a game of foosball, and with Jessica's answer through Stephanie's translation, I had no idea what it meant.

About twenty minutes later, G-Ann, J-Bo and Kid Sis came out from Laila Rowe and we were on our way to Cafe Lalo. Now, I've mentioned this several times, but here's the scoop on Cafe Lalo... it's a little Upper West Side cafe between Amsterdam and Broadway, on 83rd Street. You'll know it by the trees in front with the lights on it.



Here's Cafe Lalo, a place in the Upper West Side that is famous because its where Meg Ryan & Tom Hanks had their mismatched dinner in You've Got Mail. We stopped here for dessert tonight.

If you've ever seen the movie "You've Got Mail", then you will remember the scene where Kathleen Kelly (Meg Ryan) plans to meet her IM friend, MrNY152, which of course, she ends up meeting Joe Fox (Tom Hanks). Unbeknownst to Kathleen, but beknownst to us, MrNY152 and Joe are the same person. Anyway, this is the cafe they met in. In fact, its kinda fun to stand on the steps where Joe and Kevin (Dave Chappelle) discuss whether Joe should go in to meet Kathleen. Now I really want to see that movie again.

Walking into Lalo is a diabetic nightmare, and a sweet-tooth's dream. Desserts fill up a large glass case, tables are packed in like sardines, and cool artwork line the walls. We get seated immediately, and order our food based on the idea that we'll be moving the plates all over the table and eating each other's treats. I got a Key Lime Cheesecake, Kid Sis got some sort of Lemon Mousse pie and J-Bo hooked up on some sort of double-triple chocolate cake concoction that I ate one bite of and determined it too sweet to continue. G-Ann just ordered "coffee and a fork".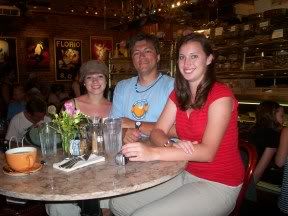 Kid Sis, Yours Truly and J-Bo at Cafe Lalo. You can see the dessert case lined up behind us, and the backdrop of art and flavor in the back of the restaurant.

Outside, Kid Sis had made the comment that there seemed to be a high population of people who played for the American League, and I made a similar joke about myself, sitting in Lalo with three women, enjoying cheesecake. G-Ann made the comment, "Well, David, if you were gay, you'd fit right in here." Kinda funny, mostly because it was Georgia Ann Boutwell saying it.
My Key Lime cheesecake was perhaps one of the best cheesecakes I've ever had. I also ordered Virgil's Root Beer, because both Steph & I are root beer afficianados. They actually brought me a Virgil's Root Beer instead, which was good, but I told them I had to try the root beer in the bottle. (They didn't charge me for the float, either). It was not as good as the root beer we had in Disney World's Liberty Tree Tavern, but darn it, it was good. (just found out that they sell it here in B'ham, at World Market. That's a stop after work). We ate the desserts, I had my Virgil's, J-Bo had a hot chocolate, Kid Sis had a mocha, G-Ann sipped on more coffee... all in all, it was a very, very good time.
I can say this... I would have had fun with the Eubanks & Chucky, the Warners and the Piersons, and I enjoyed my time with Coach Tim & Anna Lynn, but I'm very, very glad that I was able to spend this time with just Emily, Jennifer and Georgia Ann. We had a fantastic time, everyone was in a great mood, the weather was awesome, the conversation flowed wonderfully, the desserts were delicious and... well, it was just one of the most fun nights that didn't included Stephanie that I've had in a long, long time. As for the cafe itself, I highly recommend it, as it will be one of the places that I'll search out to take Stephanie when we go to New York. And of course, Kid Sis was very proud, because you could tell she was slightly worried that she dragged us all over the Upper West Side for something that wouldn't be worth the time. Cafe Lalo was her Coney Island.
After this, our night was pretty much over. We began the trek to the subway, catching the train up to 42nd Street, the S shuttle over to Grand Central, and finally, the 1040 train to Stamford. Unfortunately, I had given Gary Eubanks, my idol, my train schedule, so I didn't know when the local trains ran versus the express trains. The difference? The express train stops, maybe once or twice. The local trains? At least a dozen times. And from what I gathered, there were no express trains this late at night. So we caught the 1040pm local train, which made stops at like, 472 stations... I mean, it was just goofy.
We got on the train, sitting close to a guy and a girl from Brazil, which made Kid Sis just light up. I didn't catch much of the conversation, as I and J-Bo just sat quiet, while G-Ann and Kid Sis asked questions and carried on the conversation. After the Brazilians left, Kid Sis lit up, saying she now had plans to marry a Brazilian. G-Ann was on the other aisle, nodding off, so J-Bo, Sis and I had a good time laughing about her future husband Paolo (said with a head twist) and their wedding.
Jennifer Boutwell is a good kid too. For all my talk about Kid Sister Emily, I can't say enough about J-Bo. She was in WalkAbout Drama her 7th and 8th grade years--thats the middle school drama team at Valleydale Church (an sbc fellowship) and was just great. While she was a good talent onstage, perhaps she wasn't the best, mostly because she would never project, but I loved putting her in the spotlight because she was totally committed to what we were doing, she was willing to do whatever and it really gave her confidence.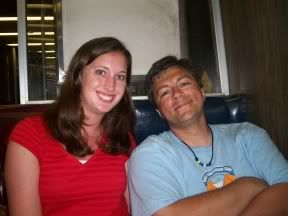 Myself and J-Bo, on the train back to Stamford, both exhausted and sleepy.

Anyway, G-Ann told me earlier that J-Bo thought I had forgotten about her... nothing could be further from the truth, and I'm soooooo glad she came on the NY trip this year. She almost didn't come, but I think she's glad she did, and I saw God use her alot too. Casey, would you please play "Wind Beneath My Wings" for J-Bo, because she was the wind beneath all of our wings. Dave, here's your request and dedication.
After what seemed like the 46th stop at a station where no one got on or off, we arrived in Stamford. I had already called the hotel about the shuttle service, and they quit running at 1030pm (which was a problem as it was 1030pm when I called, and we were over an hour away). I called the cab company, but they said they have cabs there already. So, when we got there, we all trumbled out to a cab and went back to the hotel.
J-Bo and G-Ann are staying another few days in Manhattan, just to tour and sightsee, so this was the last I saw of them for this trip. I gave them a hug as they came off the elevator, told Kid Sis I'd see her for breakfast in the morning (we agreed to meet in the overly priced buffet) and I went to the room. Chuck was in there already packing, so I packed my stuff really quickly, grabbed the laptop and headed to the bar...
...which is where this night's blog began.
Okay... so you've read the NYC story now. I've got one more posting to write, perhaps Monday night or Tuesday, with Sunday morning's happenings (which is basically, breakfast, van ride, shuttle ride, check in, get on the plane, get off the plane, go home--though the freak woman sitting next to me on the flight must me discussed), my closing thoughts, my shout outs to each person on the trip and a few other comments.
Next... Closing thoughts.