Yes, yes, American Idol started last night, and continues tonight, and no doubt some of you--Scott Latta, at least--might be interested in my thoughts... and I'll share them in due time. Right now, just enjoy the badness that is the first few episodes. Oh, and on with the Top 100 Coolest Things of 2006:
#100 - 91...
90 - 81...
80 - 71...
70 - 61...
60 - 51...
50. Andrew Mann
He's the leader of Graffiti 2 in the hard area of The Bronx. Graffiti 2 is a youth organization that does everything from basketball and drama classes to helping kids read better, in an area that isn't ideal for anyone to grow up. Expecting a six foot black man, imagine my surprise to see a 5'7 stocky redheaded guy named Andrew. But he's amazing with the kids, dealing with fights, language, problems and parents. His job is unenviable, but he's got a heart for Christ and I daresay his missions rivals that of many overseas... you can read about the ministry and the Mann in my day's review here.

49. Brooke Smith
My pal from NBC 13, we have lunch about once per month to catch up. I let her know what's happening with Starbucks and my upcoming store, and she fills me in on the moves and shakes at the news station, my former employer. She's sweet, she's fun and though she never talks about her Bachelor days, we still have lots to talk about. She's no Stephanie (who is, really?) but I enjoy my monthly Brooke luncheons all the same.

48. Attacktix Tournaments
Starting last January, we boys got together to do what boys do… talk about girls, watch sports and play a stupid boy game called Attacktix. Its not Dungeons and Dragons, there's no role playing, its simply "knock the other guys figures down, and you win". In the summer, we started giving the monthly events names, like Attacktix Backlash, Attacktix Great American Bash, and of course, the controversial ending to Attacktix Royal Rumble. I'm going to go write my name in my underwear now.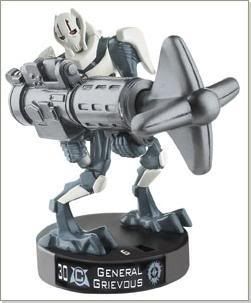 I daresay that Steph loves me in spite of... nay, because I'm a big nerd

47. Deuce Babies!
People in and around the Deuce family started having kids! Yay!

46. J-BoJennifer Boutwell was one of my kids in WalkAbout, circa 2001. Didn't really talk to her much after that (wasn't my fault—never saw her much) but lo and behold, she's coming on the NYC trip in July. And it was awesome. She's so sweet, so cute and when you get her finally opening up, she's pretty funny. Her mom, Georgia Ann, came as well, and you can see where J-Bo gets her personality from.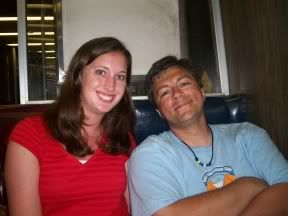 J-Bo and I riding home after we and K-Swiss and G-Ann had spent the day in Manhattan.

45. Tommy & Amy Get a HouseFirst, we were all getting' married. Tommy & Amy, Tom & Jill, Mikey & Ashley, Yours Truly & Stephanie Leann, and so on. Then, we were all gettin' houses… Tommy & Amy, Tom & Jill, Mikey & Ashley, Yours Tru… waaaaiiittt… not yet. But still, it was great to see Tommy & Amy finally get a home to call their own, one that doesn't include the words "apart" and "ment".

44. Mackey & the Boyz
Got to know Josh Blackburn on WalkAbout, and then his little bro Brandon, in NYC and then subsequent Attacktix nights. Knew their mom Paula from church, and got to know Ken Mackey, their dad, over the last year. Seems that Ken married Paula, and took on the boys as his own, being one big happy Mackey clan… well, it became an official Mackey clan when the adoption of Josh & Brandon, by Ken, became official this year. Extremely heartening, very cool and just great. Congrats.

43. The Coney Island Cyclone
Yes, yes, this was the coolest thing about 2005. Its dropped 43 spaces—not that its not cool, but I've done it already now. I rode it, oh, about four times this summer, and even lost my sunglasses, and managed to get footage on my small ghetto camera. Its still cool, but I'm done with it.
A view from the top. I rode it in the front, the back, the middle, eyes open, eyes closed and all...

42. Brad McGuffey
He fixed our computer for very little money. For that, Brad, a former KidStuf'er and very soon to be a dad with Julie, gets a spot at the 100 seat table of Coolest in '06.

41. Sarah McLachlan's "Wintersong"
Very rarely do I enjoy Christmas CDs in their entirety. Usually, it's a track or two, but the rest are rehashed versions of hymns and carols I've heard a thousand times… but this one is awesome. Sarah's voice lifts what could even be the most overdone songs, like "Silent Night" and "The First Noel" and definitely does justice to the Charlie Brown special classic "Christmas Time Is Here". Of course, the jewel for me is "River", a great sentimental song about just wanting to go home.
Coming in the Top 40... NYC's Jenni... McPhee... Reese... Auburn... Lee Ann.. K-Swiss... The Sports Guy... and much more..