Where do I even start today? I'm really tired, my brain is fried, so I'm going to be all over the board today... I hope I can give you a glimpse of our day, but some of this will be carry over from yesterday's Coney Island issue.
I told Chuck about an hour ago, "I think I'm finally getting to the point where I'm kinda sorta ready to head home." He half-smiled and said "...yeah."
So, shall we start at the crack pipes, the slam in the alley, prayed for cancer, salvation or K-Swiss almost making me cry?
Like a few minutes ago K-Swiss got a phone call that she wasn't happy with. She left to go upstairs, but before she did, she handed me a note of encouragement that made me tear up. Here I am, sitting in the lobby/bar full of half drunk people and Maurice the Bartender, with moist eyes, wiping them away quickly because let's face it, I can't cry in a bar.
By the way, the lobby spills into the bar, so its not like I purposely went into an actual bar--its an area with a lot of dining tables, an outlet that I can plug into, and a bar in the middle for drinks--just to clarify for the people at Valleydale Church (an sbc fellowship)

This has been the most spiritual fulfilling, joyous, incredible, life-changing mission trip out of all I've taken--and yet, the most exhausting, and possibly the most spiritually draining. And today was no different... and our free day we thought would be a free day is turning out to be only a slightly free day, possibly more complicated than it has to be... and I hate stuff that is more complicated than it has to be. Am I rambling? Probably.

Okay, let's actually get to today's stuff...
Have I told you about Sylvia yet? She's this older lady with a thick accent who works at the Daily Grind cafe, and has been giving all of us a hard time when we try to order. This morning, I came down around 645am, with the cafe opening at 7. I saw Ms. Sylvia come down the hall, so I purposely waited until about 710 before going on... I walked in, and simply asked, "Are you ready?"
"Yes, yes, I am working now, yes," she said, counting her change in her drawer. And as I started the words, "I'd like a breakfast sandwich and..." she cut me off, putting one hand up to stop me, saying "Give me jus' a minute, please. Jus' minute." Gary, my idol, calls her the Sandwich Nazi.

We arrived at The People's Park around 815, just in time to pick up trash around the court. Its amazing how we leave it pretty spotless at noon, and coming back 20 hours later, its just junked up with cups, paper, glass and whatever. Woodlawn Baptist, who has primarily worked with Graffiti 2 the whole time (instead of splitting time with another ministry, as we have with Encounter Church), gets there first, and has done a great job of picking up stuff even before we get there.



Gary trying to take it to the basket past Crystal. No luck.

Moments worthy of mentioning, good and bad:


Andrew did a great job sharing the gospel during the devotion today, using an illustration of dirtying up a shirt, then bleaching it to make it white again. Afterwards, Gary, my idol, took his group off to the side and said, "You guys have any questions about what Andrew said today?" Everyone said no, but one kid. He raised his hand with a question. Gary asked him to just come over to the side and talk to him, and then two more kids followed. In their questions, Gary could tell they were hanging intently on every word Andrew had to say, because of the details of their questions. Long story short, in their conversation, Matthew (a little Hispanic kid), Greg (a kid who had been seen putting on his jersey and reading his Bible as he left the day before) and Dylan (a rough kid who had tussled several times this week using all sorts of fun language) all prayed to receive Christ this morning. We have three more brothers in Christ now... and I'm just speechless at God's glory.

Cindy, who had witnessed a couple of guys doing drugs the day before in a close by alley, saw even more today. Before the camp started, we prayed together next to the alley, asking not only for the alley to stay clear, but moreso for God's protection of us and the kids from whatever may be lurking there. Cindy actually witnessed a man drop trou, take a slam, then whip out his crack pipe. For those of you not in Deuce speak, that means he poo-poo'ed in the alley. She was quite disturbed after this.

Cedric, one of the kids in another group, came up and was watching the guys who were doing drugs. He looked at Cindy and said, "That ain't right, man." She said, "Well, are you saying that now because we're here, and later you'll go out and do that, or are you saying that because you know that truly is not right?" and he said, "No, that ain't right. I ain't never doing that." I hope so, Cedric. I hope you keep that mindset.

Crystal, whom you can see in a picture with Gary above, is in the group with J-Bo, Mama Faith, Coach Tim, Natedawg and Abby Lohan. She's 13 years old (she might be 12, soon to turn 13) and we've joked all week how Crystal can take any of us down... let's face it, she's a big chick. Not fat, just big. She is an awesome basketball player, but was kicked off the team for fighting. She seems like a good kid at heart, though. Anyway, she came up to Coach Tim, and in joking, did a leg sweep and took him down. Quite funny.
Coach Tim had his girls sign his shoes last year, and he's retired the shoes. This year, he brought a new white pair (which I had to put in my bag to keep him under the 50lb weight limit) for everyone to sign. Well, today he took them to camp, and all the girls had fun signing them... apparently, one of the kids put something really foul on the shoes, which Tim later just scratched out, and the girls created an uprising. You would have thought they were going to riot on the poor kid. Coach Tim laughed.

Kendall came and stayed a little while today. I moved people and manipulated jobs around just enough to get K-Swiss in the truck with her to be able to talk, which they did. I've said before that all of us can see K-Swiss in five years becoming like Kendall, so it was good they could connect, at least for a little while.

We ran out of basketballs. The camps in the area are just so darn big (one camp apparently had like, 140 kids... we had 70 today) that they are running out, so we not only had to give away some slightly used Upward Basketball basketballs, we ended up giving the last six kids some old balls, telling them to come by Graffiti 2 later to trade them in for new basketballs that Kendall was bringing later.
Kendall was also supposed to get a picture with Coach Tim and I before she left, and she left without doing so. Leaves me wondering if we'll ever get to see her again (though saying that makes me think of that stupid song at the end of Grease... "we go together like rama lama lama ba bing da de de do boo")

The ice cream guy came a little earl

y today, so we had to convince him to stay away a little while longer--I remember last year, the shaved ice guy showed up at 10am the first day, and we lost all of our kids. Anyway, with the help of K.D. (from Woodlawn in Baton Rouge... and it stands for Katherine Denise. She was impressed I remembered it) we told him to come back at 12 noon and he'd make a killing. He did, and he did.
So Upward Camp 2006 in The People's Park for Valleydale Church (an sbc fellowship) is now officially over. I was drenched from head to toe in sweat, just feeling nasty. G-Ann had done laundry the night before, and had washed some of my shirts, but I hadn't gotten them from her, so I was wearing shirts that had dried from a few days ago. Quite putrid.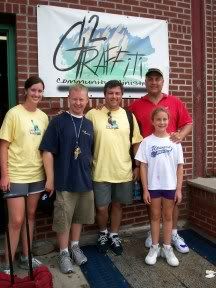 In front of the Graffiti 2 building, here's J-Bo, Andrew Mann, Yours Truly, Coach Tim and daughter Anna Lynn.
Just looked around and saw my man L at the front desk... remember I told you that we didnt have towels? Yeah, well Chucky didn't get any, so after blogging until 1240, I came back down and waiting 20 minutes to get a towel request in. L was the only one behind the counter, answering phones, helping a line of people (including me) and dealing with a woman who was mad about her key doing something or whatever. He did it with a smile, was friendly to everyone, seemed like he actually cared. This morning, I saw L and told him he did a good job. So, it was 1am when I finally headed up to my room, which was okay, because I ended up meeting Maurice the Bartender, the guy who's been serving me Cokes and Sprites all week as I blog. When you're up blogging late enough to close the bar down, its time to stop. Where was I?
Now that the secret's out, I can tell this story without fearing someone on the NYC trip here will read. Early in the week, K-Swiss wanted to do something for everyone, like maybe a framed picture of each family she had taken on Monday night. She even had some of the families that had come for VBS. Anyway, she had me walk with her and J-Bo to Target a few nights ago, where we figured out some ideas, deciding to do some cards and include the photo. Well, last night, we were going to go to Target as soon as VBS was over, and we ended up meeting in the group until late in the evening. So, after the meeting, here's what we came up with: After Upward Camp, just get dropped off at Target, go in and buy some blank cds, walk the five blocks to the hotel, burn the pictures onto the cd, take the cd back to Target by walking back, get the pics printed, then come back and be ready for the cookout at Landon's & Christy's by 4pm. Which is why last night, I obtained a blank CD from Courtney the Stairstep Child and Alan, which means it cut out a good ten block total walk and an hour of extra work.
With that being said, it let us be free to go to Lucky's (the Johnny Rocket's wannabe, as Anna Lynn puts it) with the Warners, Coach Tim and Anna Lynn. After lunch, we split off and Anna Lynn came with K-Swiss and myself to Target... I had to buy some socks anyway, I am completely out. And I am NOT wearing dirty socks.
Had to be ready in the lobby of the hotel by 4pm, but that didn't stop me from taking a shower when we got back at 345. I was almost giddy that I was going to be clean finally... and I was clean! Met the group downstairs, and we all piled in the vans again to travel the two or three blocks to Avalon Grove, where the Reesors live. The reason we drove, instead of walking? First, we were all tired of walking. Second, it was about to rain, which it did soon after we got there.
We had a good de-briefing meeting at the conference room, the same one we briefed on Sunday, with all of us sharing a little about our week. Notably, Landon shared with us the struggles they've had, especially Christy. She's this beautiful mother of three who, when they lived in Atlanta, had lots of friends in the neighborhood, lived five minutes away from her family (and the kids grandparents), was a stay at home mom and such... well now, they choose to stay in the apartment to help continue to connect, but its hard on Christy because she doesn't have a lot of chances to meet new women she can relate too.
Landon said that she meets other women in a "play date" with the other kids, a group that contains something like five different nationalities and about eight different religions. Anyway, they received news from of the ladies that her husband had been diagnosed with cancer. This is a family who just bought a $2 million dollar home, has gardeners, nannies and so on, you know, plenty and plenty of money. Landon said he felt that this was God's provision, doing whatever He can to make an inroad to the hearts of this man and woman.
K-Swiss spoke up about a conversation she and Coach Tim and I had on Sunday... I think it was Coach Tim who had said that possibly the only way to some of these people is a situation that money can't buy them out of, like cancer or health issues. In our prayer walk, we didn't pray that anyone would get cancer, but it was prayed that God would use what He would to make it happen. So, there you go.
We had VBS tonight, and it went well. Most of the kids came, and later, Julissa and her little brother Kevin came in. This week has been all about being a fisher of men, and being fished in by God, so tonight brought it all home. Lots of music, lots of hugs, lots of pictures in a slideshow that was put together by Alan, lots of goodbyes. I told Christy Reesor how much I respected her and was encouraged by her for the fact that she was so willing to just pack it all up and go, following her heart and Landon's lead in moving to Connecticut. I would like to think that Stephanie and I would do that, but I know it would be so hard to do. Mad props to both of them for the impact they are having.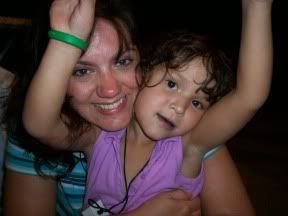 Cindy, holding Natalie one final time
Cindy was just convinced that she and Mark were taking home little Natalie, who has been the heartstealer of the VBS show this week. Her slightly older brother was Frederick--who was late yesterday because of, I kid you not, chess lessons. Chess lessons. At age 6.
When it was time to go this morning, she shed some tears over Noah, who she loved at camp. Tonight, after being convinced she cannot pack Natalie into her suitcase, she had to let go. I got to hug several of the kids too, which is always heartwarming and such.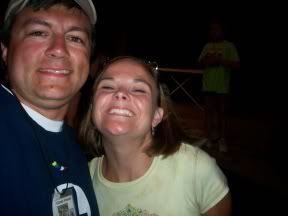 Yours Truly, and the wife of Gary Eubanks, my idol
And then we began the conversation of Julissa coming with us to Coney Island tomorrow morning. Planning to go now is J-Bo and G-Ann, K-Swiss and myself. And Julissa. And somehow, Julissa's mom wants to go. We've told her that they have to find someone to keep Kevin, the little brother, because there is no way he can come with us... but yet, we're all still a little concerned that Julissa and mom will have Kevin with them tomorrow, and we'll have to put our foot down.
I'm not going to bore you with the details of this ordeal, I'm just a little frustrated because all I wanted was to ride the Cyclone once more, and now its become this ministry opportunity with Julissa that now borders on the edge of "taking advantage" with the addition of her mom now wanting to come. We told Julissa we would take care of her, and G-Ann said she'd front the mom money for the trip... but we just don't want to offer a cookie and be expected to give a bag of Oreos instead. I went back and forth between G-Ann, Mama Faith, Coach Tim, Julissa, K-Swiss and back to G-Ann, first trying to determine who was going, then trying to figure out who wanted to do what, then deciding where to go and so on and so on... finally, after we were done at church, I just walked out, declaring to whoever was listening, "I'm going to Starbucks." I actually intended to walk alone, but K-Swiss piped up and said "I'll go with you."
After a few minutes of walking in silence, she vented. Then I vented. And it was good. We are both wrestling with the whole "we are selfish to not want her to come... yet, we don't to be walked over, so where's the line?"
So, here's our plan... and I only mention this, because I am curious as to how God will work it out... we'll meet Julissa and possibly her mom at the train station at 930 for the 954am train. Go to Grand Central, then Coney Island, ride the coaster, eat lunch probably at Nathan's, hang out around the boardwalk, then head to Times Square around 2pm, where we'll meet Mama Faith, Natedawg and Abby Lohan. We'll probably split up a little and cover Times Square, then meet back, and we'll take Julissa and her mom to the train station. We'll put her on the train back to Stamford (its a straight shot--this cannot possibly get screwed up, can it?), then the Boutwells, K-Swiss, Yours Truly and whoever is left from our team there will go and have dinner somewhere, just hanging as a team.
This is my plan.
We'll see.
Its bad enough that my iPod battery died, forcing me to listen to the sounds of My Fair Brady on the tv behind me, there is a kid in the pool below (the bar overlooks the pool) and she/he is making some really loud squeaking noise, similar to the boga in Episode III... and I want to poke this child, possibly with a spoon (why? so it will hurt more, you twit).
Now that I've got those thoughts in my head, its time to go to sleep.
Next... NYC'06 Entry #9: Manhattan Afternoon