Before we begin... I love you and miss you Steph! Wish you were here serving beside me, but since you're there, I'll be encouraged in knowing you love me and are praying for me!
Okay, let's play a game. I'll give you some words to unscramble and it will make a key phrase that will describe the main advantage of the Holiday Inn Select over last year's spot, the West Side Inn... ready? The phrase to unscramble is:
"conditioning air".
Did you guess air conditioning? You're right! Yay for you!!!!
(of course, an even better phrase is listed under the comments section of the West Side Inn page-- it says "welcome to hell")

Our first full day here in Stamford, CT, is almost over... its about 1025pm EST, and I'm sitting in the lobby lounge typing out the day's info. This is such a stark contrast over last year, I don't even know where to begin... I mean, no sweat pouring down my face, no naked foriegn ladies coming out of the nearby rooms, no $5 per hour to use the internet--well, actually, to use the internet here is free, but you have to rent the one computer at $.69 per minute... for you Alabama folk, that works out to about $7 per TEN MINUTES... which will run you about $40 per hour. Luckily, three different people brought laptops this time around, so I'm on Chuck's laptop now.
Feeling a little weird, cause I'm drinking a Sprite I ordered from the bar ($1.86, plus tip--$3, and I didn't even get the whole can), and it looks like a mixed drink. So, here I am working on updating a blog full of God and prayers, drinking what looks to be a Vodka Spritzer. Who knew.
The day started early, early, early... if you read the previous blog posted at about 4am Saturday morning, you'll know that I'm running on about an hour & a half sleep... this will be a factor later, but for now, just know I got to the church around 445am, meeting up with the vans. Larry Long, a participant on last year's team, and Ken Mackey, husband of last year's participant and this year's Barnabas Partner header-upper Paula, drove the vans.
Mark & Cindy Warner, Jennifer & Georgia Ann Boutwell, Margie & Gary Eubanks and the two Eubanks hobbits Josh and Meagan, Chuck and Danielsahn, Coach Tim Harrington and daughter AnnaLynn, Faith Pierson and her two teens Abby & Nathan and Yours Truly (Emily was going to meet us later in NYC, having come earlier in the week) all piled into the two vans and headed for the Birmingham World Renowned International Aerospace and Nautical Port. Last year, P-Wat (Philip Waters) had us there at like, 2am for what was seemingly like a 7am flight, so this time, Mark relaxed the time constraints just slightly.
We all checked at curb-side with no problem, except for the check-in guy telling Mark in a not-so-subtle fashion that "we work on tips, man..." So we all gave him a few bucks and it made him happy.
Had a bagel in one of the airport cafes, and then we boarded. Margie was expressing slight concern over the size of the plane, and how small it was, and Gary piped up "at least we don't have to walk across the runway to get to it."
The seating was all weird like... I actually had a seat with Margie, Gary and Josh, while their four year old daughter was sitting five rows up... so Meagan and I switched out, which planted me next to Mark. Faith Pierson sat across the aisle with some strange guy, while Coach Tim and Anna Lynn sat in front of us. Cindy was sitting diagonal from us, with a strange woman... I could have been unselfish and traded to let the Warner's sit together, but by the time I realized what was going on, I was already settled in. I apologized later, if that means anything.
The flight was uneventful, as it should be, and we landed in La Guardia Airport in NYC a little over two hours later... and we stepped off the plane onto the runway to walk to the terminal. Grabbed our bags, and met up with Landon Reesor, church planter and pastor of Encounter Church in Stamford, CT.
We took a shuttle over to Budget Rent-a-Car, where we were supposed to get two larger vans that we would drive to Stamford, about 45 minutes away, just across the NY state line. Well, it worked out that the vans were gone, but they gave us four minivans for the same price. So there was tons of room for everyone in the vans, and Landon had a minivan of his own. I rode with him, and we chatted about life, church, seeker vs. builder churchs, sex in God's eyes and even more. Interesting discussion.
We arrived at the Holiday Inn Select around 1245pm, and we able to check in not long after that. Within walking distance was Taco Bell, McDonald's, Subway and Starbucks, so everyone went to drop their stuff off and made their way to lunch. I started walking with Chuck and Danielsahn when we realized it was raining... so we dashed back in and grabbed Chuck's minivan, out of the four we have, to drive to McDonald's, getting totally turned around the in the process. Chuck is on the phone while chatting with his under-the-weather daughter, which distracts him and is probably the root cause for him turning down the wrong way of a one way street.
We found McDonalds (after finding the on ramp to I-90 first) and parked down the road. By this time, it had poured rain, and was still raining a good bit, so we made a run for it. Not having a son in tow made it easier for me to move quicker, so I went on down to Subway. A few minutes later, Mark & Cindy showed up, followed by G-Ann (Georgia Ann) and J-Bo (Jennifer)... they had all walked, so they were soaked. We had a quick lunch, then went next door to McDonalds to see that K-Swiss (Emily's new nickname) had joined us.
Margie & Chuck and The Hobbits were already eating their lunch, while Coach Tim and Anna Lynn apparently had eaten at the hotel's little "Daily Grind" cafe. I had seen the Piersons eating earlier, but they had disappeared. I walked on down to Starbucks, talked to some of the partners there, got some coffee, then walked back to find that everyone except for the Eubanks had disappeared. So, they finished eating, we all walked back to Starbucks and they indulged in some hot tasty beverages (with my partner discount, natch) and then we strolled into the library, which has the 'Bucks attached to it.
At three, we met in the lobby of the hotel, meeting up with Alan and his son Nate. Alan is interning with Landon at Encounter, so he walked us over to the Unitarian Universalist Church were Encounter meets for their Saturday night services.
Landon explained to us a little about this church... first, its a blessing that the UUC actually lets Encounter rent space, because Encounter's doctrine is much like Valleydale Church (an sbc fellowship's) doctrine, and the UUC is pretty much... well, not.
It started out as two churches, the Universalist sect and the Unitarian sect, with the former believing in multiple ways to get to God, and the latter believing in one God, one way. In the 1950s, however, due to low membership of both, for whatever reason, they merged the churches to be Unitarian Universalist, keeping the "however you can there" mentality. Its evolved from a doctrine into more of a spiritual philosophy at this point. Kind of like a "religious free for all". In their sanctuary, they actually have a Hinduism flag, a Star of David flag, a lotus flower/Buddhism flag, a yin-yang Taoism flag, an Islamic symbol flag and a Christian Cross flag, all hanging up side by side, none greater or less than the other. Quite remarkable.
Landon says there is one lady who come on Saturday night to help set up for the UUC Sunday service, and they've been able to talk to her, but I didn't get her name.
Our jobs this afternoon was to take a few 8oz bottles of water and some fliers for the Family Festival on Wednesday and the VBS "daycamps" that are happening during the week, and pass them out to people we see. Landon stressed the importance of shedding labels of everyone, and how much different "Christians" are looked at here as opposed to down South.
I walked out with G-Ann, K-Swiss and J-Bo, each of us carrying a few bottles and some fliers. This is the part where I reveal to you my failures in this area. I love people, I love talking to people, and if I'm sitting in a lobby like the one I'm in now, or in a cafe or wherever, and an opportunity comes up to talk to people, I love it... but just walking up to people and handing them stuff? Not so much. And for the three ladies I was with, they said it was a shortcoming with them too...
We walked up the streets a little while, talking to people, giving out some water, telling about our events coming up. K-Swiss talked to some cops, while G-Ann talked to a guy named Gordon Smith, who was just as nice as he could be. He asked out our group, and what we were doing, so G-Ann got to share a little bit. I spoke to a guy named Robert Douglas, who seemed bothered by the fact that he might have to pay for parking on Cove Island, which is apparently an important and affluent enough place to have parking fees.
Margie and Gary had talked to another guy named Joe on their ventures... Joe is a former Catholic, lost his entire family (no one told me why, or even if they knew, but I didn't ask) and is pretty angry at God. Perhaps we'll see him at the Family Festival.
By 445, we returned to Encounter to gather for the 5pm Saturday service... this is essentially the Sunday morning service, but since UUC meets then, Encounter does theirs Saturday night. A guy named... Kevin?... anyway, he was the Worship Leader Guy, and he led us in some worship, as most worship leader guys do.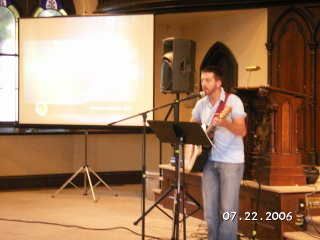 The Worship Leader Guy, whatever his name may be
One song he got into was rather amusing, and he started over like, four times because he couldn't find the key. Finally, he started playing something else, deadpanning "That song was dumb anyway." Cracked us all up.
After a few songs, Landon came up, introduced himself to the group and the newcomers, and there were a few, and gave the "stand up, speak to someone you don't know" talk. Valleydale Church (an sbc fellowship) does this, like many churches, I'm sure, but V'dale only give you maybe 30 seconds before they launch into another song, signaling its time for you to sit down again. And so you have half a minute to find about two people to connect with in a church with about 2,000 people in.... not Encounter. Landon gave us, like, ten minutes. Not counting the 17 of us, there were about 12 people there, so we had a chance to connect, reconnect, re-reconnect and even rededicate our lives.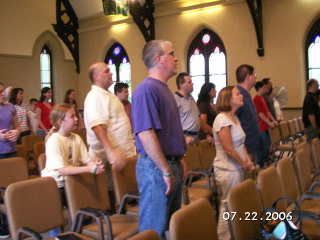 A group shot during worship, led by the Worship Leader Guy
Here's where the tired part that I mentioned comes in. Its raining again outside, there is a big oscillating fan going, its slightly warm, but not too hot in this room, and Landon is speaking into a muffled microphone, so I'm only catching half of what he's saying, and I'm in the fourth row. And this is bad for me, because I'm going down hard... my head is bobbing, my eyes are jerking open after drifting closed... 90 minutes of sleep for what has been essentially the last 36 hours is now smacking me in the face with a number one stick.
At one point, K-Swiss, sitting next to me, elbows me because I was out. I jerk my head up to see Cindy looking back with her "you'd better wake up" look. And Landon is not boring... he's giving a solid lesson on Acts 5:33-42, though I can't tell you solidly what its about. And, love the guy, but he's a long prayer guy... and on a day like this, this is bad for everyone who has a plane ticket with "Birmingham" on it.
Mark later points out that this is almost necessary... in a place like Stamford, where church attendance is in the low single digits in percentage, you may only have one shot to present the gospel to people. You don't know when and if they will ever come back to Encounter or anywhere else, so every week, its all got to be added in.
Finally, the service ends--again, a good service, I'm just not in a place to take on a service unless there's charismatic dancing involved to keep me awake--and I notice Margie talking to a woman named Maria. It seems that she's lost custody of her three daughters, she's living a hard life and she writes poetry. There was an article in the Stamford paper (Landon had let me read it earlier when we were driving over) about the recent Southern Baptist missions movement to plant churches across the country, especially in the New York area, and it mentioned Encounter in one line. Maria had come based on that mention in the paper.
In fact, several new faces were there tonight... Gary, Margie and Mark prayed with Maria over her issues and life, so that's a prayer request for you.
We did get to meet up with Todd & Sharon, the couple that we met last summer on our one day visit to Stamford, and they are doing well. Very good to see them, and I'll try to get a picture up before this trip is over, so you can put a name to a face.
Everyone headed down to Lucky's for dinner, a Johnny Rocket's type place that we had eaten at last year--with Todd and Sharon, as a matter of fact. Coach Tim, Anna Lynn, Chucky and Danielsahn sat at the bar, K-Swiss, the Piersons, and JBo and G-Ann sat in a booth, so Mark & Cindy, Eubanks and The Hobbits and myself sat at a long table in the back.
Someone made a good point about Encounter over dinner... "(paraphrasing) Here we sit in a 2,000 member church, we complain when the temperature isn't right, we make a fuss when the preacher isn't saying what we want him to say, we complain over the littlest things when we've got every ammenity we could need, and when we don't like it, what do we do? We move out, go down the road and just start another church... when places like this have handfuls of people just looking for somewhere to go, we don't go where we are needed..." Warranted mentioning.
After dinner, the group walked towards the hotel together, while Margie, Mark and I were going to break off and go to the five story Target--two stories of Target, three stories of parking, because I needed saline solution and Margie needed makeup.
On the way, I met Bruce. He's a rugged ol' soul who smelled a little like alcohol, so when he asked me for a few dollars, he wasn't shy about why--"food... something to drink... cigerettes and beer?" I told him I would take him to McDonald's, and he seemed to oblige.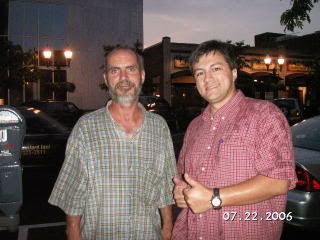 Bruce and I, Outside of Mickey D's
He then told me that he'd rather have the money, that he'd go down to the diner for some other food, but I told him "Sorry, man... I don't have alot of money, so McDonald's is all I can afford... but if you don't want it, that's cool." He quickly smiled and said he'd love the food. I took him into the restaurant, and bought him two Big Macs and a large Coke ($8.55? What a rip!). I talked to him for a minute (didn't find out anything substantial), shook his hand and told him I loved him and Jesus loved him too. I then told him that Encounter Church was just down the road, and would love to see him next Saturday night.
For whatever reason, God has a habit of putting hungry souls in my path... I've bought McD's or street hot dogs or K-Mart pizza slices for countless people, some I've prayed with, some I just gave a hug too, but I really enjoy doing it. I'm sure it will come up again.
After Target, we all made our way back and I grabbed Chuck's computer... thanks to Emily, I figured out how to put pics on the site... btw, in my tired mind while I was nodding at church, I thought this: "Jennifer... I should call her J-Bout. No, J-Bo. And instead of typing out Georgia Ann everytime, I'll call her G-Ann. Emily is a good kid. She's like a kid sister or something. I could call her Kid Sister. Or even Kid Sis. That sounts like K-Swiss. So from here on out, I'll call her K-Swiss or Kid Sis. I like that." I wish I were kidding.
J-Bo and K-Swiss went to their room about an hour ago, so here it is, 1140pm EST.
Here are the things you can keep in your prayers:
Maria. Don't know what she's dealing with, but, like all of us, she could use some Jesus in her life.

Bruce, Joe, Robert Douglas and Gordon Smith. God put them in our path, even if it was for just a brief, encouraging conversation.

The Team. We don't have to be anywhere until 10am tomorrow, so we can all get some sleep tonight--by the time some of you read this (on Sunday), we'll be just getting up, have been up for a while, or might be getting ready for bed on Sunday night... either way, pray for renewal each day, emotionally, physically and spiritually.

Boldness. With K-Swiss, G-Ann and J-Bo, I learned I'm not the only one who might struggle with a spirit of boldness, so pray that we are are unashamed to be Christ Followers in our witnessing.
So, thats Day One. A long blog (but you knew it would be, didn't you?) but this time, with pictures!
I'll close with this... its a song we sang in worship, one of my all time favorite worship songs, about growing closer to Christ, closer to his life, closer to his death and to become like Him in His risen life...
All I once held dear, built my life upon... All this world reveres, and wars to own... All I once thought gain I have counted lossSpent and worthless now, compared to this
Knowing you, Jesus, Knowing you, there is no greater thing... You're my all, you're the best... You're my joy, my righteousness... And I love you, Lord
Now my heart's desire is to know you more... To be found in you and known as yours... To possess by faith what I could not earn... All-surpassing gift of righteousness
Oh, to know the power of your risen life... And to know You in Your sufferings... To become like you in your death, my Lord... So with you to live and never die (this last verse just encourages me so much...)
See you tomorrow.