The second full day of NYC (or at least Stamford) is complete... and we've got to be here in the lobby at 615am, and as its 1015pm now on Sunday night, I'll do my best to make this a little shorter--but there's just so much to say, isn't there?

This morning I finally rolled out of bed around 845, which means I got almost 9 hours of solid, good sleep. As Chuck would mention later, it will probably take one more night (maybe tonight) of good sleep to catch up, so let's hope that's the case. Showered, meandered downstairs to the Daily Grind cafe where I got a bagel, some cream cheese, some milk and some yogurt, which still ended up costing me almost $7.



Start your day at the Daily Grind

Everyone met downstairs, Mark led a quick devotion and we were out the door to walk the few blocks to Landon's apartment complex, I think it's called Avalon Gardens or Grove or something. Avalon is one of the premier apartment reality companies in Connecticut, owning some of the most expensive and sought after properties in the area. Apartments usually cost in the neighborhood of a few thousand a month. Such is life in Stamford.

Just a little background on Stamford, for those of you not familiar with the city, it has an average income of around $145K, and that includes low income housing. You're looking at around 250 or more without it. Its the 8th largest business center in the United States, and its within 40 miles of New York City, truly one of the crossroads of the world. In fact, from the heart of NY, to a 75 mile radius out, there are about 21 million people... and 20 million of them are lost.

Landon told us that its even gotten to the point now where some hotels in the area are not leaving Bibles in the rooms. They have a "religious" menu on the phone, where "push 1 for a Bible, push 2 for a Koran, pust 3 for the Mormon Book, etc". He said that we probably don't have that in North Shelby County... but it probably won't be long.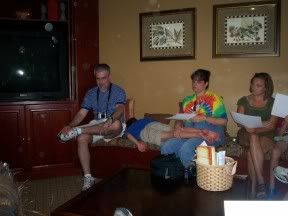 Chuck, Cindy and Margie, with Daniel passed out, listening to Landon brief us on the area

We met in a conference room in Landon's complex--and you could see why its so pricey. It is a beautiful building, with courtyards, racquetball courts and other amenities. He opened up the room, and we each went around telling about ourselves, what we were here for, and other fun things. I got to share my short time with Bruce (yesterday) and others shared their hearts for the kids, for the city, for the area and other things.

Landon even told us that Marty Rayborn, the lead singer for the band Shenandoah, was a member of Mussel Shoals Baptist, and came up a few weeks ago to serve with Encounter Church... Marty even led a drug dealer to Christ, while the guy was holding the drugs. While it was exciting that a drug dealer found Christ, no one else seemed impressed that it was Marty Rayborn. I mean, I would have been totally star struck had I been around him... Landon said he led worship at some of the camps, including one in a poorer area of town, where they were the only white guys around. Marty was singing some of the band's stuff, and everyone there was just kind of looking at him.

Shenandoah? These guys are awesome! "Two Dozen Roses"? "Moon Over Georgia"? "Ghost in This House"? "...ain't no place I'd rather be, next to you sitting next to me... ain't no place that I'd rather beeeee.... then next to you sitting next to me." Love it.

And then we all ate pizza.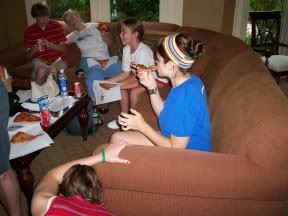 K-Swiss takes a bite of the pepperoni

Afterwards, we split into two groups and went prayer walking around the block. There are two buildings to the complex, so one group went one way, while Mark, Cindy, Abigail, Margie, Gary, The Hobbits and Yours Truly went the other. Alan, the intern for Encounter, also has kids of his own, and we got to take Courtney with us. I call her and her siblings "The Stairstep Children" because she's 15 or so (she looks like she's 20), while one brother is like 13, the next is 12 and on down one or two more times...

We prayed on one corner, and I stood back a little bit, closed my eyes, turned my face upwards. I felt the sun, felt the breeze and just felt the spirit smiling on us. This is the exact team that God intended to be here--myself included, and I'm excited to be following His will to be here.

The two groups merged again, and we walked back to the hotel... one the way, we stopped to pray in front of the Faith Tabernacle Baptist Church, which any Baptist church here is unusual. As we stopped, one of the members was walking out. Cindy said, "We want to pray for your church." The lady, Edith, was just pleased as punch, I think. She said the church had been here around 16 years, and had about 1000 members--we joked later that that's why we can't find any around town... they are all at Faith Tab.

Our next stop was to load up the vans and go up to the Encounter Church to set up for Vacation Bible School that starts tomorrow night. It was rather chaotic when we got there, but we slowly began to fill the roles, start making the stuff we need to make, compile our list of stuff and practice our skits for the next day.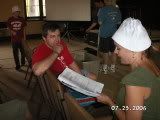 Yours Truly and Margie reading the KidStuf lines

We had a group doing name tag hangythings for tomorrow, G-Ann was working on the "fisherman's poles" for one of the lessons, the kids ran around, Nathan and Chuck worked on sound, and we just did stuff. The skit includes Abigail, J-Bo, Cindy and Yours Truly, and we all sort of kind of know our lines, but sort of not, but sort of... such is life when I'm involved in the drama.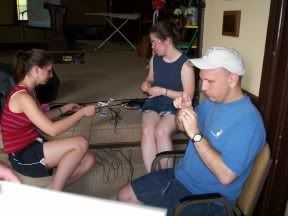 Here is Courtney the Stairstep Child, on the left and then Sharon & Todd that I've mentioned a few times, tying name tags

Finally, after getting all of this stuff done, we split into three groups... Chuck was taking some to Target, where they would pick up supplies, and where they ended up running into the Peruvian Independance Celebration, with a band and lots of flying flags.

The next group was with Margie & Gary and the Hobbits, Danielsahn, G-Ann, J-Bo, K-Swiss and a few others, and they went to a nearby park that is known for having rockin' playground equipment. They did pass out lots of fliers, and met several people that we hope will be coming on Wednesday night to the Family Festival.

Meanwhile, Yours Truly, Coach Tim, Anna Lynn, Cindy and Mark went over to Cove Island Park, where the actual Family Festival will be taking place. This park was huge and beautiful. It apparently is built on a cove of some sort, with a small marina just down from where we hopped out of the van. There is a beachfront, but also tons and tons of wide open grass space, marked here and there with trees, volleyball nets, soccer nets and lots of picnic tables and grills.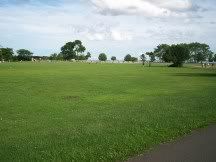 A picture of Cove Island, hopefully giving some idea of size. The beach is in the distance, and every way you look, there was tons of people.

I split from the group, handing out fliers as I could. I walked to where the sidewalk ended and the sand began, leading to the beach. I sighed, then took my shoes off, put them in my backpack and started walking on the beach barefoot. I am not a fan of what we are doing--there's nothing wrong with it, I just don't like doing flier work. It's necessary, however.

I did some walking on the beach, but realized that there were far too many bikinis here, and this was just a place I didn't need to be. I'm not saying anything about anything, I was just aware that too much skin makes for too much distraction, so I headed back toward the grass. As I was walking, I was actually thinking "Man... I really want to do something that I am good at!" Yes, yes, I know this isn't a servant mentality, don't email me and get me on this--I'm fully aware. But I'm being honest.

Anyway, I was thinking this, when I came upon six guys and three girls playing volleyball, so I stopped to watch them. Not more than a few seconds passed by, when one them looked at me and said, in a thick spanish accent, "You play?"

I said, "Nah... I'm just watching..."
He replied, "We need one more... come on, you play." He motioned me to come to his side, where they only had four, as opposed to the five on the other side. One girl asked me if I knew Spanish, I said no. She asked me my name, and I told her "David". She then pointed to the other side, and rapidly began to spew out names... "Thass Carlos, thass Melindo, thass Manuel, thass..." but she said them so quickly, I could barely keep up. They knew my name, though... as we played, I could hear Louis, the guy who called me to play, call my name out "daveed! daveed!" when the ball came my way--and I delivered pretty much 100 percent, thank you very much.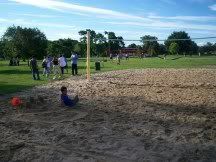 The court in which I served for the Lord, and where Louis got racked.

I asked one girl, Laidy, where they were all from, and she said that the side I was on was the Colombian side, and the other side was pretty much all Peruvian. I ended up meeting Louis, Laidy, Charlie, Neilton and a few others that I can't remember, and we played for about 30 minutes... until...

...one play that lasted forever, but we got the point. However, Louis ended up slamming his foot onto the wooden volleyball post... he limped off, and we all went over to look. The bone was sticking out of his second toe, the one next to his big toe, and in a matter of seconds, it was puffed up huge and already blue. I looked at Laidy and said "I guess the game is over."

He was saying that it didn't hurt, and I was like, "Dude, that's not cool at all, man." A few of the guys helped him up, and they started walking away with him to take him to the hospital. Then, I took a flier out of my backpack, turned to Laidy, and said, "Hey, we're having a family festival here on Wednesday night. Free food, free music and such... you guys should all come out." She smiled big, said thanks, and I shook some hands and waved goodbye.

The rest of the evening wasn't nearly as eventful, as we all met back at the front, and then went to eat dinner at Bennigans... or at least, Cindy & Mark, Anna Lynn & Coach Tim and myself. After dinner, we got here and met up with everyone around 830pm to talk about the day and tomorrow.

And that brings me to right now, actually. Its 11 after 11, so I'll give you some quick prayer requests:

--Pray that all the volleyball guys & gals maybe show up on Wednesday. And for Louis, that he'll be fine.
--A girl named Marie who works in the Daily Grind Cafe. She's Haitian, she's been here 17 years, and she asked us to pray for her, and for strength. Her husband is still in Haiti, as is her children, and she wants to see them brought over. Her kids are Samir (6) and Jaden (2), and her roommate Precious is pregnant and has been in the hospital for a few days. So, pray for Marie, and pray that we'll have an opportunity to share with her, especially Coach Tim who has really connected with her.
--Pray for Wednesday night's Family Festival. Its in Cove Island Park, which is, as you can tell now, a huge place for families, and a huge chance to connect with a lot of people in the area.
--As always, keep the team in your prayers as we go about day-to-day.
--I've read encouraging notes from Tebe, Randy Latta and my dear Stephanie, so I thank you guys for the props and prayers. I love you guys!

Until tomorrow's day begins, which it will in about six hours...

Trees of life are blooming, Your word plants the seed and we feel it growing,
Your kindness leading to repentance, and we see traces of deliverance, Lord, thank You for mercy
Oh, can you hear it? It's the song of the redeemed
The pursuit of passion for the One who set us free
Oh can you hear it? We're crying out for more
So listen to our song It's turning into a holy roar
A holy roar
Rivers of renewal, Spirit whisper a revival
And send us rushing, Lord send us rushing.
Open hearts with hopes of unity
We're servants to love in lost humanity
Lord send us reaching
And we come rejoicing and singing and crying out to You, Lord
Can You hear the holy roar
As we respond to Who You are and all that You have done Lord with our lives, with all that we are
We return to You, Oh God
You are holy God
We lay down our lives, our songs, these tears, Lord
Can You hear the holy roar?
These cries, these prayers…
Can You hear the holy roar?
Still hear the holy roar