I'm a happy man. The weather has been beautiful, my wife The Lovely Steph Leann is beautiful, I'm sitting in my comfy leather chair and on the screen is college football. Troy wasn't on the television--and if they were I didn't find them--and its okay I didn't see them, because apparently they got
blasted by Bowling Green 31-14
... I came in from an informal Bible study meeting with Jillip at Valleydale Church (an sbc fellowship) and turned on the tv to see the latter part of South Carolina and NC State, which was won by the Gamecocks, alma mater of DeNick.
Now? Its Boise State and Oregon, and currently, the Broncos lead 10-0 on the Smurf Turf.
THE GO GATORS SCARY RANKING
That scares the be-williez out of me too. Do you know how many teams ranked #1 at the beginning of the season went wire-to-wire and won the title? Four. USC most recently did it in 2004.
The Go Gators were ranked #1 by
the widest margin in history
, with something like 48,000 votes, while Texas, #2, got what, 0.0005 or something? And that frightens me. This means that there is a good chance the Go Gators will get knocked off. My guess is the October 10th game versus LSU, at LSU, would be the most likely candidate. Hopefully, if they lose, that would the game so they'd have time to rebound and get back to the BCS Championship Game on January 7th.
They are bringing back, like, EVERYONE pretty much, so if they do repeat, it won't be a shock. However, its almost a "too good to be true".
Here's essentially why it scares me... remember the Georgia Bulldogs? They were a heavily hyped #1 in August of 2008. And they
finished 13th at 10-3
.
This Saturday, they are favored by 73... thats SEVENTY THREE over Charleston Southern. I would feel bad for Chuck South except for the fact they are getting something like $450K for the game, so bring it on.
THINGS I BELIEVE ABOUT TIM TEBOW
First, if Florida beats Ole Miss in 2008, instead of being stunned 31-30, then the Go Gators run the table all the way up to the SEC Championship game, where they get beaten by Alabama by 6. It was that loss to the Rebels that let the Go Gators know, "Hey, Tebow... you aren't invincible." And they go on to win the championship.
Next, if Tim Tebow goes to Alabama, Mike Shula stays the coach for another year or two. They finished 6-6 in 2006, after Tebow goes to Florida
(and helps Chris Leak lead the team to the national title)
. If Tebow comes to Bama, I think the Tide finishes 8-4, maybe 9-3... they still lose the big games, but perhaps beat Arkansas, Mississippi State and possibly Tennessee.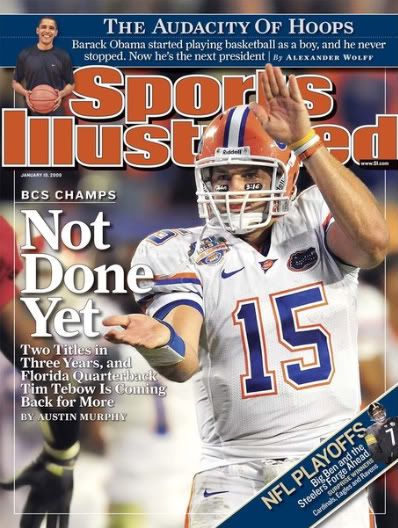 That would be enough to keep Shula employed by the University of Alabama. Nick Saban, unhappy, still leaves Miami Dolphins and goes elsewhere... Notre Dame? Who knows?... but the Tide get someone else, perhaps not as good as Saban, and with Tebow, they continually win 9, 10, maybe 11 games per year--but no national title. Just my theory.
And finally, something someone else believes about Tim Tebow... my buddy Ryan Sherman said it best, spoken like a diehard Tide fan... "You know, I think Tim Tebow is a great guy. Man, you can't hate him, he's a solid guy, a solid Christ Follower, and I think its awesome he wants to do mission work with his life after football. But, you know, I hope in the first game he breaks his leg. Then he can get to mission work faster."
TROY BEING TROY
Ah, the faithful sounds of the T-R (whoop whoop) O-J (whoop whoop) AAAAAA EEENNNN EEESSSS (wooooo!) Trojans football. And tonight,
they get blasted by Bowling Green
. And next week, they play the Go Gators. People ask me who I root for, and I say, "Troy", mostly because I know there is more of a chance of He Who Must Not Be Re-Elected saying, "I want to give you all some tax cuts" than the Trojans beating the Gators.
MY FANTASY
So, I'm in a Fantasy Football League for the first time. Matta Latta invited me, and I joined up with The Official Clouds in My Coffee Ombudsman Brad Latta, Mikey, Scotty Latta, Drewski Morris and a few others, and we had our draft this past Sunday night.
My team, Manilow's Revenge, is QB'd by Tom Brady, so my season rests on his knees. I've also got DeAngelo Williams at RB, Brandon Marshall as a WR and Jason Elam as my kicker. And... I drafted Mike Vick as a backup QB. Yes, yes,
he's not available until Week 3
, but still, I think when McNabb goes down (and he will), Vick will come out and be great again. He's got nothing to lose.
How can I like Vick? I don't, necessarily. I thought when we with the Falcons, he was kind of a pud, but he was an amazing athlete. And no, I don't condone what he did. His dog fighting was horrific, and the things he did with those dogs is horrific... but he served his time. Whether I feel it was punishment enough (which I do) isn't the point... the point is, not only did he do his jail time, he's been crucified and hated in the public, and his career is very close to being as ruined as his reputation.
Besides...
Plaxico Burress is spending what
, a year or more in jail for shooting himself in the leg, something stupid he did to himself... but Donte Stallworth gets drunk,
kills someone
while driving and
only gets 24 days
? Don't tell me Vick didn't serve long enough.
RELAXATION, CORONA STYLE
I don't drink. But if I did, I'd want to drink Corona, but only if I'm sitting on a beach, next to The Lovely Steph Leann, in a lounge deck chair on a beach with a cool breeze blowing, small table between us with two long neck bottles filled with cool refreshment, topped with two perfectly sliced pieces of lime.
They make drinking seem nicer than Bud Light, Miller Lite, that German green bottled beer I can't spell and Pabst Blue Ribbon ever do.
This would be typical of The Lovely Steph Leann and I... if we were drinkers
Though Samuel Adams looks like a cool beer to drink. It looks like a beer that me, as a cultured intellectual would drink.
But I don't drink.
d$'s PREDICTIONS
The current AP Top 10 is as follows:
1) The Go Gators... 2) Texas... 3) Oklahoma... 4) USC... 5) Alabama... 6) Ohio State... 7) Virginia Tech... 8) Ole Miss... 9) Oklahoma State... 10) Penn State
Here's how yours truly, d$, predict the season will play out. The final AP top ten will be:
1) Texas
(I predict they win the national title)
2) Penn State
(I predict Texas blasts Penn State something like 54-10 in the BCS title game)
3) Florida
4) USC
5) Ohio State
6) Boise State
7) TCU
8) Alabama
9) Oklahoma
10) Georgia
Mark it down. Bet on it. I can see the future. Look at this post on January 8th and you'll see for yourself.
THE SMURF TURF (and colleen's song) REIGNS
I've been blogging all along during the game, chatting with The Lovely Steph Leann about who wants to go with us to The Happiest Place on Earth
(can you believe we're actually having a little trouble filling that spot?),
and doing some random surfing on the interweb.
Tomorrow night, we hang out with Croyle and his wife Britlicious, and new friends Phil & Colleen. Went into Valleydale Church
(an sbc fellowship)
Middle School Ministry...
...okay, so "middle school" is the new norm? what was wrong with "junior high"? nothing! junior high ministry works just as well, perhaps better than middle school ministry. whoever changed that is probably responsible for dropping "junior college" from most junior colleges and turning them into "community college". you don't call junior varsity teams "middle varsity" or "community varsity", do you? not yet, anyway.

...and Colleen sang a song that she wrote. It was amazing. With apologies to Factor 7, I've only got one song written and sung by a friend that has anywhere over 2 plays on my iPod, and that's Joel Blount's song "Sunday Afternoon", which currently is in my Top 100 songs (11 plays). If I had Colleen's song, and I don't even know the title, on my iPod, it would rival it, easily. It was that good.

Finally... Go Gators.