One of the best
(or worst, depending on who you are)
parts about a class reunion, be it five, ten, fifteen or beyond, is seeing people that you hadn't seen in a long, long time. Friends you had, chicks you crushed on, people you didn't care for
(but can't remember quite why),
people you just knew and were used to seeing every day for years and years and suddenly, strangely, they are completely out of your life in every way possible.
When it comes to my own reunion back in 2002, for my 10th year anniversary of the Class of 1993, I saw some faces I welcomed like Chris McCall, Tonya Windham, Greg Avant, Stephanie Phillips, Tammy Thomas... now, with the except of Greg, I can keep up with them via Facebook. Some people, like my 4th grade crush Misty Kimble, I haven't actually seen since we walked off the football field around 8:30pm graduation night.
I think anyone who had been to a high school reunion will relate to some of this... just like The Lovely Steph Leann and DeLisa, who were attending their 15th anniversary of the Baker High School (Mobile, AL) Class of 1994.
After the treasure hunting that DeNick and I went on Saturday morning,
as reported in my previous post
, we all met back at the house for lunch at Baudean's Seafood. After lunch, I took a short nap, The Lovely Steph Leann took an unfortunately-for-her shorter nap, and DeLisa and DeNick did stuff there at DeLisa's DeParents house. He probably went fishing for a little while, and she just took it easy, being what, four months pregnant or something.
Around 445p or so, we were ready to leave. I won't be revealing any espionage type secrets in saying that DeNick wasn't thrilled about going, as he could care less about going to his own reunion, while I had mixed feelings about it myself. A whole room of people I had never seen nor heard of, in a class large enough to have people that DeLisa and The Lovely Steph Leann, actual members of this class, had never met or heard of.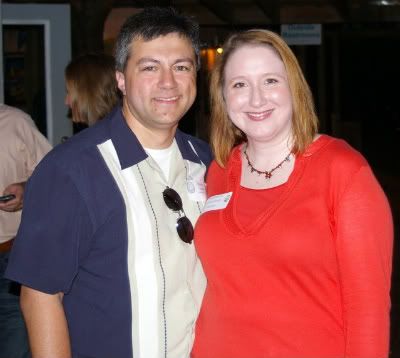 Yours Truly and The Lovely Steph Leann at her high school reunion. Gosh, we're cute.
But, DeNick is a loving husband and supportive of his wonderful wife, who actually helped put it together, and was going for her. I had dragged The Close Friend Steph Campbell to my aforementioned reunion years and years ago, and like DeNick, was willing to support my wife in her ventures, so away the four of us went.
The reunion was held at
The Blue Gill Restaurant
over in nearby Spanish Fort, out on the patio. While DeLisa had scrounged around for her 1994 Senior Yearbook, "The Novis", The Lovely Steph Leann had dug in the archives to find a ton of pictures, spirit ribbons, buttons and all sorts of nostalgic memorabilia. We walked through the restaurant to find a girl named Lynn Sprouse (now Kilgore), who quickly became one of my favorites of the night. It seemed that DeLisa and Lynn were part of a larger committee to help plan this shindig, but over time, it became ONLY DeLisa and Lynn planning this shindig, so while friendly enough, Lynn was quick to point out the failings of some other people. And it made me laugh.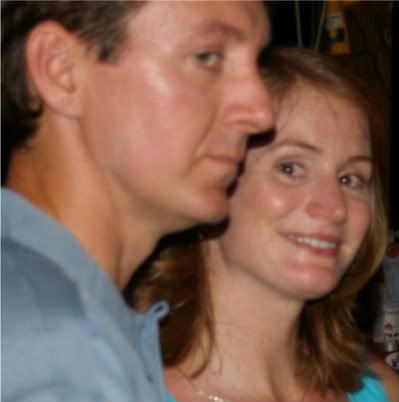 DeNick's expression tells of his joy at being at a high school reunion
We spread the memory junk on the table for all to see, along with a guest book for people to write their current information, plus a space to put "feedback for a possible 20th year reunion". To this, I later looked and found someone had simply written "yes".
The food was heavy hors d'oeurvres, which was veggies, chicken fingers and peel-n-eat shrimp. DeLisa had mentioned this earlier, so I was fairly excited because I'm not talented in very many areas, but one thing I can do very well is eat shrimp. Imagine my disappointment when a tray was brought out full of shrimp, covered in what looked like cajun spices. I am NOT a spice person... enough spice to make a young Dakota Fanning go, "Hmm, that is a little spicy" is probably enough to make me say, "Holy crap, that's friggin' hot!"
DeNick and I sat and chatted for a few, while The Lovely Steph Leann and DeLisa began making rounds with people as the Class of 94 slowly trickled in. We eventually ventured out of the patio, down a ramp and to the backside where a small boat and an air boat sat floating in dirty water next to the dock. We walked around for a moment, then shrugged and walked back to the covered patio with everyone.
The patio was really divided into two parts, the first under the cover was the reunion party, with a small bar in the corner and chick bartenders that looked barely old enough to drive, much less serve alcohol. There was a rope splitting the patio, with the other side being an open dining area for the regular patrons, and a small stage where a band called... "The DTs"? "The Deets"?... played. If you or your husband is 30+ and feels the need to play guitar on the weekends with some other dudes and sing cover songs at a bar for tips, then you could have been in the DTs. First song they played? "Hard to Handle" by The Black Crowes.
DeLisa was having trouble with the laptop she brought, as it was supposed to loop a long video showing high school pictures and such, so DeNick saved the day and got it working. Meanwhile, I sat at the table, free Coke in hand
(soft drinks were free, beer was $3 a pop, mixed drinks were at least $5)
, when I looked over and saw The Lovely Steph Leann's camera. I looked around and saw her talking to someone I obviously didn't know, so I opened up her camera case and took a few shots. I put the camera strap around my neck, and took a few more.
And thus, it began.
Somehow, over the course of the evening, I unofficially became the official photographer. Heck, it occupied my time and kept me busy. I would take candid shots of people at tables, snapshots of people looking at the memorabilia, the food, the bar, the ramp to the dock which somehow became the smoker's paradise cancer ward of the reunion, people drinking, people hugging, people dancing and everything in between. I had on a name tag that said "d$" in large print, and under it, it said
(The Lovely Stephanie Campbell),
so everyone who know who I belonged to, so I didn't think anything about it.
That is, until DeLisa came up to me and told me people were asking about my photography. Nervous that perhaps I had invaded someone's space, I asked what she was talking about, and DeLisa laughed that some people thought that perhaps I was hired for the night, and many were wondering when and how they would get to see all the pictures I was taking. I kinda smiled, a little bewildered and... well, just kept on taking pictures.
Lynn came to me and asked me about a group shot, and if we should do it in the band's next break, or wait a little longer for more people to arrive
(by now it was a good 90 minutes or more into the festivities).
"Well, I would do it the next band break. Most people are here already, and those who aren't should be--their loss. The big problem is, if you wait much later, you're going to lose people who will start leaving early." She asked me, as if I was a professional photographer, where we should take it. Really, I had no clue which area would be the best--do we take it with the sunset in the background, but run the risk of it washing out the faces? Or do we move it to the other side, and run the risk of being too dark? I mean, who am I,
Lesley Foley of Lesley Foley Photography
? Finally, I pointed out a clear area next to the railing, by the bar. "Move that table, and everyone can gather there."
The band took a break, and Lynn and I started gathering people up. We herded everyone together, and though significant others and spouses all had cameras ready to take group pictures, I stood atop a bar stool with the camera. DeNick and I shouted out instructions... "move in a little more!"... "you, in the blue shirt, move over a little bit"... "need the front row to kneel a little bit!"... "I'm going to take three pictures, starting on the count of three!"
Somehow, it worked.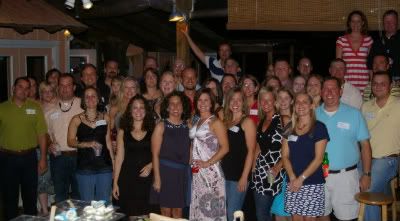 The Baker High School Class of 1994... or some of them, anyway...
Later in the evening, I sat down for a small plate of cold chicken fingers and lukewarm ranch dressing, and not too long after, was Baker Class of 94 member Cameron Lee joining me, with his pretty--and very pregnant wife--Amanda (I think?). Cameron asked me, "You done taking pictures already?"
"Nah, I'll probably take a few more. Just taking them for my wife, figured she's too busy to do it." I replied.
"Well," Cameron said, "I call your bluff on that one. You've been busy with that camera all night. Aren't you a photographer?"
"Ha!" I laughed. "I mean, who am I,
Lesley Foley of Foley Photography, serving the Florida Panhandle and Southern Alabama, contact 850-543-7407
? No, I'm just taking them for my wife The Lovely Steph Leann."
We chatted for a little while longer, then I got up and did what I was doing best for the evening--took more pictures. I was in line getting The Lovely Steph Leann a drink, and two girls turned around and said, "Oh, get our picture!", so I took it. This sort of happened all evening, as I would lift the camera, some, if not all, of my intended targets would pose, or smile or whatever.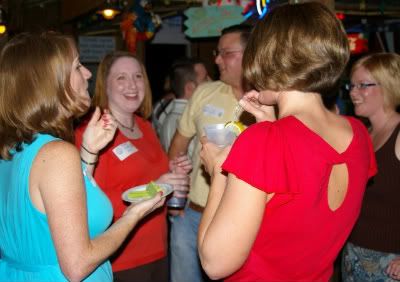 The Lovely Steph Leann, DeLisa and a few others laugh up the old days.
Met a guy named Shannon, later, as he talked to The Lovely Steph Leann. They were friends in high school, along with a chick named Tina, and I guess another girl named Raina, and Shannon told me he thought I was the photographer, and was surprised to find I was merely Stephanie's husband.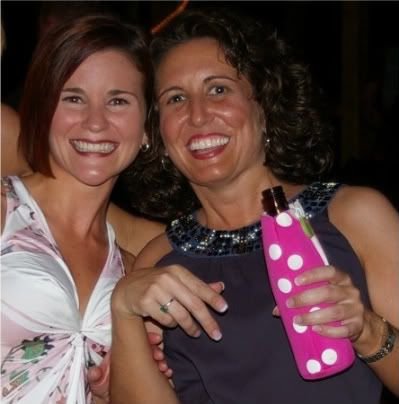 This chick gets the award for "Most Perky Beer Koozy of the Night"
Now, while all the photo-snapping was going on, lest you think I abandoned DeNick. Quite the opposite, actually... he was my go-to guy for one liners and cracks. We had developed a habit of observing people as they came in, and going to the yearbook and seeing how much they changed... the following is a few things we observed over the course of the night:
"Those aren't real."
"I checked her photo. She's pretty hot now, especially since she got her eyebrows under control."
"Time has not been good to him."
"Time has not been good to her."
"Wow... time has been that guy's friend, I think."
"Dude, time has been very, very good to her."
And my favorite exchange of the night:
DeNick: That chick's top... not many people can do a top like that, but she managed to pull it off.
Me: I'm sure a few more beers and thats exactly what she'll do
DeNick
(leaning over, trying not to choke on his $3 brew)
A few more observations from the night...
**Christy Turner gets the "Most Improved Award", tied with Ashley Sossaman. Both went from cute in their yearbook pics to hot 15 years later.
**At least at the beginning, the group covered the room like this... the really attractive girls and guys were over on one side in a huddle. The not quite as attractive girls and guys were on the other side. The black couple sat alone at a table. Ahhh, just like high school.
**The lone black couple were very, very nice. They sat for the entire evening, just enjoying the food and conversing with whoever sat down with them for however long they were sitting, but they were really great to talk to.
**Talked to one girl--and I'll be vague--and she was telling me, "See this chick walking in right now? Let me tell you..." and she proceeded to tell me some of the unnice things that had happened. When the offending chick walked in, she and the girl hugged tightly, squealed each others names, and hugged again. When offensive chick walked away, the girl came back to me, and said, "...like I was saying...". I don't get you women.
**I was trying to take a picture through the crowd of a chick named Shelly. I had the perfect shot, and right as I snapped the button, she picked her fork up with a big chunk of food on it. The flash went off, she looked up and gave me the stink eye. I held my hands up and mouthed "sorry!" No more pictures of Shelly for the night.
**As in most reunions, there is at least one that didn't make it for other reasons than "didn't want to come". Such was the case with Chris Mason, who apparently lost his life in military service. They had a small table set up with his picture, a letter from Dubya and some other small items. Made me smile when DeNick looked at it, had a disgusted look on his face, then picked up an empty beer bottle from sitting on the table. "They can leave it next to the cake, but don't leave your trash on this table. That's not right."
**Random observation... no matter the length of time, sometimes bitterness doesn't die. Just sayin'.
**There was one guy not in the Class of 94 that made me grab DeNick and say, "Check this out! Ron Jeremy is here!" He wasn't Ron Jeremy, but he had a 70s porn fro' and a great 70s porn 'stache if I ever saw one... not that I really ever have, mind you, but the stereotype is there for a reason.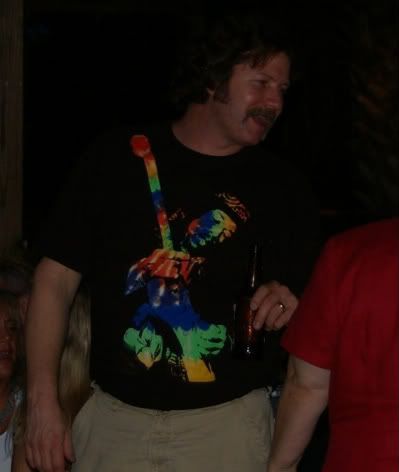 This pic doesn't do it justice.
We were set to leave, it was late, most had already gone and as we meandered out the door, I had a few people ask me how to find the pictures. I told them they needed to be The Lovely Steph Leann's friend on Facebook.
Mandy Blansett sat on a bench near the front of the restaurant, and as we were working our way through, she said, "Thank you for taking pictures tonight!" I had already been hugged for such activities by a girl named Raina, who was very pleased to also have met me, though I cannot remember at any time talking to her before she hugged me. I smiled at Mandy and said, "You're welcome. It was fun."
"How much are they paying you?" she asked.
I looked at The Lovely Steph Leann, who just smiled. "They didn't pay me," I replied. "I'm just taking pictures for Stephanie, because she was too busy to do it."
"Really? Wow! I thought surely they had hired someone like you to do it!"
"I mean, who am I, Lesley Foley of Foley Photography,
who's website can be found here?"
I asked. "Nope, just taking some pictures at will."
Then a discussion opened up between Mandy and The Lovely Steph Leann, who is a Creative Memories Consultant and
can be found here online
.
So that's the Baker High School Class of 94 Reunion in a nutshell. Met some fun people that won't remember me tomorrow, took some pictures, ate some cold chicken fingers and had a great weekend with The Lovely Steph Leann, hanging out with DeNick and DeLisa... two truly wonderful people that we don't see enough of.
FYI... Lesley Foley is a friend of The Lovely Steph Leann and DeLisa, and by extension, a friend of mine and DeNick's, and runs a very successful photography business, and I joked about how I was afraid for Lesley to see my pictures as I am not a good photographer, nor do I use a Nikon... so I thought I would throw some shout-outs to her and her business for fun. If you are in the panhandle, check her site out--she's pretty good.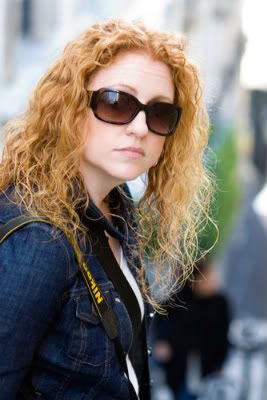 Lesley the PhotographerFYII... If you are on Facebook and reading this, search "Clouds in My Coffee" and join the fanpage. I'm on my way to 100, and I want to see how many people I can get before The Lovely Steph Leann actually joins. DeLisa is a member, as is Lesley Foley of Foley Photography, which you can email at
lesley@foleyphotography.com
... and if you email her at the site, make sure you answer the question "how did you find me?" with "I had some dreams, they were Clouds In My Coffee, Clouds In My Coffee..." My advice is to stop the song there, though. Keep going and she might not call you back.