Just some randomocity while leaning back, enjoying the first hours of two days off. Just got home from Starbucks, making lattes and servin' up the caffeine magic. My friend MZ just took over the managerial position there, so I'm pretty excited for her and pretty excited to be good friends with someone in such a powerful position. Perhaps I can get the shifts I want...
$$$$$$$$$$$$$$$
Worked at The Happiest Place in the Mall, and of course, first thing this morning, had a little boy and a little girl weave a path of destruction and disaster through the store. The little boy just liked pulling things off of the shelf and racks, and tossing them onto the floor. It got so bad that I just stayed about ten feet behind him, and when he looked the other way, I put the stuff he had just thrown down back up again. The worst was when he grabbed the Cars baseball set, complete with a big foam bat in the plastic casing, and starting swinging it around. Hitting things. Knocking things off. I was truly coming up with ways, in my mind anyway, to kick the kid in the back. Actually, I take that back... I wanted to kick the mom in the back. As I stood there in front of her, picking up after her child, she just smiled and gave a "aw, he's so cute" face.
The little girl was another story. In The Happiest Place in the Mall we have two register areas. We call 'em Box Offices. The one in the front is the primary register area, but the one in the back is accessable and we use it daily around Christmas time. Currently, though, the entrance has a rope over it to keep people out
(which only works sometimes)
and behind it, are stacks of snowglobles, among other things. There are some shelves there as well, displaying open demos of the snowglobes, and when a guest wants to look at one, I will pull it down, maybe wind it up, or turn it on, or show off the features.
I looked up this morning, however, and there is a little girl holding an Ariel "mini" or small snowglobe, one thats only about four inches high, if that. She's walking out from behind the back box office. Its only $14.50, but its not the price I'm worried about. I walk over to her, hurridly, and kneel down and say, "Hey princess... can I see your snowglobe there? Let me hold it for you, because its very breakable." She hands it over to me, giggles and runs to her mom, WHO IS STANDING NEARBY. Let me say that again. The girl is in an area that she isn't supposed to be in, and her guardian and safekeeper is standing feet away either not caring, or not watching or both.
Oh, it gets worse. The little girl is maybe 3 or 4 years old. Certainly not tall enough to reach the snowglobes on her own tippy toes. So what did she do? She used the boxed, new snowglobes that were under the shelf to climb up and get the one she wanted. When I walk back behind the Box Office, I see that several of the snowglobe boxes were disheveled and moved around. I close my eyes, breath a sigh of relief and straighten up, because let me say this very clearly... had she knocked this shelf off onto her head, this shelf that contained about four mini-snowglobes, two or three medium sized and one really heavy one, plus the fact that the shelf itself is made of glass, that little girl is in the hospital right now. With serious injuries to her head and face. And guess who's fault it is? Yep. Ours. I was working with Snow White, and told her that I should call DHR on her mom for being a biscuit head. But I digress.
$$$$$$$$$$$$$$$
As I type, I sit back and watch WWE: Raw. Its exciting, because tonight's "guest host" is Ted DiBiase, the Million Dollar Man, who comes out with his familiar theme song (Money money money... ) and he's holding his diamond studded Million Dollar belt. Myself, Tommy Mac and Mikey met him once a few years ago, as DiBiase, a solid Christ Follower, was speaking at a Christian conference of some sort. He told me that he wasn't sure about Hulk Hogan's salvation
(keep in mind, this was like, 2000, before "Hogan Knows Best")
but he knew that Sting and Chris Jericho were Believers, and then he demostrated the Million Dollar Hold on me. Tommy Mac got a pic of it, but I think he lost it. Shame. I would still be flaunting that pic if I could.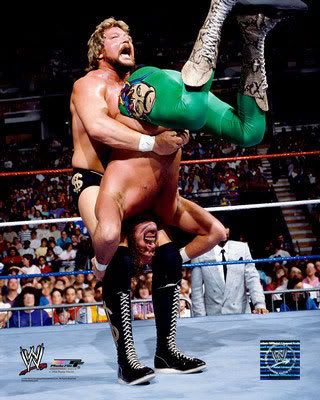 Correct me if I'm wrong here, but this looks like Ravishing Rick Rude that DiBiase is hoisting...
$$$$$$$$$$$$$$$
Speaking of WWE: Raw and 'rasslin... just found a Best Buy gift card I recieved for Christmas a few years ago... okay, The Lovely Steph Leann found it (formalities)... anyway, let me tell you, on August 25th, I'm taking it and heading to Best Buy
to get this video right here
. And I'm stoked, if only to hear The WolfPac theme song in its proper context. The Wolfpac is back causin' mass destruction, can't you see the bad boys o'wrestlin... don't turn your back on The Wolfpac, or you might end up in a bodybag....
$$$$$$$$$$$$$$$
Favorite song of the year thusfar, and will possibly rank in the top ten coolest things of the year as my favorite song of the year tends to do... "My Life Would Suck Without You" by Kelly Clarkson. Runner up, thusfar? "You Belong to Me" by Taylor Swift, which might have my favorite video of the year... truly, the song is precious and the video is super sweet.
$$$$$$$$$$$$$$$
Found this on Fox News
...
MEXICO CITY — Mexican authorities say two professional wrestlers found dead in a low-rent hotel in the capital may have been drugged to death by female robbers.
Autopsies are being performed on the two midget wrestlers, one of whom went by the name "La Parkita" — or "Little Death" — and wore a skeleton costume in the ring. The other was known as "Espectrito Jr."
Authorities say two women were seen leaving the men's hotel room before the bodies were discovered.
Prosecutor Miguel Angel Mancera said Wednesday that gangs of female robbers are experienced at using drugs to knock men out and rob them, but they may have used too strong a dose.
That may have been because of the wrestlers' small stature, although larger men have also died in similar crimes.
The other story I almost posted was "Teacher Sends Feces Home in Student's Backpack, School Not Amused" but I figured I would cut through the crap and give you the real news.
(what, you thought I was kidding?
Oh nay nay
)
$$$$$$$$$$$$$$$
Did this whole section on John Grisham, and how disappointed I've been in several of his books this year, but decided to delete it, figuring that could be its own post. For whatever reason, I've managed to read four of his books this year, and have got a bookmark in one
(and will probably finish it later, though you'll read later why its not now)
, and am working on
"The Innocent Man",
which is completely fascinating. No, Wookiee, it's not
the movie starring Tom Selleck
and that guy from "Sledge Hammer!".
$$$$$$$$$$$$$$$
There are 3 books/series that have intimidated me for a long time. The first is
The Lord of the Rings
trilogy, and actually, you'd probably need to toss in "The Hobbit" as well. I'm sure they are fantastic, I've heard as much, but really, they are just so long and involved and it would take sooooo much concentration.
Secondly, Stephen King's
Dark Tower Series
. All seven books.
Finally,
"The Stand" by Stephen King
, another book that is just huge. Well, while at Barnes & Noble I decided it was time. So I picked it up... and I'm 32 pages in thusfar. Only about 1100 pages to go. So far, the 32 pages are great.
$$$$$$$$$$$$$$$
Its no secret that "Campbell Isaiah" and "Lorelei Addison" have been names that The Lovely Steph Leann and I have bandied about and discussed and high probabilities for our children's names... here's another that I like, with the first name being my choice and the middle being one that The Lovely Steph Leann has said she really has come to like... "Naomi McKenna". Sounds very preppy and BMW drivery... but it might work. I have really taken a liking to Naomi. I guess its at least 10 months down the road, though. If not much more.
$$$$$$$$$$$$$$$
And finally... here's a story from the interweb. Its about Kendra Wilkinson, her recent marriage and her pregnancy... for those of you under a rock, or named Emmy Turnbow, Kendra was on a show on E! called "The Girls Next Door" about three... well, birthday suit models that lived with Hugh Hefner, and appeared in this magazine that sounds like "Play" and "boy". No, I never watched the show. I only mention her at all because I thought the following story was a hoot... oh, and I don't recommend Googling her images unless you have the SafeSearch button on. Just sayin'.
Now that Kendra Wilkinson and Hank Baskett are officially husband and wife the reality show duo is focusing on the next important phase - parenthood.While Hugh Hefner's 23-year-old former flame has led a pretty wild life (besides being Hugh Hefner's girlfriend, the number of times she's revealed her assets in public is well into the double digits), and said earlier this year that Baskett was helping her find God for the first time, she is determined to be a strict religious mama. "Our child will definitely be Christian," Wilkinson told Tarts last week, with Basket adding that they are going to be "very strict" yet still "spoil" their young ones at appropriate times.
"But they are going to have to earn it, we're not just going to hand it to them. Most importantly, they have to keep good grades because school comes first and then everything else after that," he explained. "Being a father is something I've always wanted and something Kendra and I have talked about from the time we met, we're just truly excited and truly blessed to be becoming parents very soon. We pretty much fell in love right away and when you ask someone to marry you that means you really want them to be the woman in charge of your family, the person to be your teammate in raising the child."Although the expecting parents won't find out until a few weeks what their first born's gender is, they already have names prepared."If it's a boy Hank the 4th and if it's a girl Arianna, we love Arianna," Wilkinson enthused. "I'm feeling so good, I'm in my 2nd trimester now at 14 weeks and I'm feeling like a whole new person, I feel great."
And with that, I've got nothing more to add....