I think because I work at The Happiest Place in the Mall, The Lovely Steph Leann and I have become sort of "de facto go-to" people for advice on The Most Magical Place on Earth. We are by no means experts, but through trial and error, we've figured out a whole heckuva lot to do, and not to do. I go through some of this on a blog from 2008,
called "How To Do Disney",
but am always looking around for more tips and advice.
All that is to say I am by no means a Disney expert--but I do have some fun stuff to share. Just today, my ol' friend Deniece emailed me to tell me that she and her family are headed to The Most Magical Place on Earth tomorrow (!) and wanted to know about character meet & greets. So I wrote a rather lengthy discertation on who to find where, what lines to watch out for and so on. Yes, I'm a nerd. But such a magical one.
Before we finish our Ten Disney Must-Do's, I wanted to give you a few things that are worth experiencing, and I didn't include them because they either fall just outside the Top Ten, or because they are so intregal to a Disney Experience, I figured it wasn't a suggestion, it was a no-brainer...
Fast Passes (this is vital for big rides and attractions)...
The Monorail (sometimes its nice just to ride around the resort and park)...
Downtown Disney (unbelievable shopping, a Lego store, a Toy store and great eats)...
Package Resort Deliveries (did you know that if you are staying onsite, you can buy something and have it shipped back to your room the next day? or if you are not staying onsite, or are leaving the next day, you can have it taken to the front of the park so you can get it on the way out)
Main Street Confectionary (on the corner of Main Street in the Magic Kingdom, they've got cotton candy, candied apples, M&Ms and Jelly beans of dozens of colors and these big, fat marshmellow krispy bars dipped in chocolate)
The American Idol Experience (This is fun to watch the first time. Don't know that I'd do it over and over)
If you missed it,
here's Part I...
here's the rest of d$'s Disney Must-Do's...
5. Pin Hopping
We are pin traders. We love it. If you don't care about pins, if you don't care about trading, then keep reading anyway. Just do part of it.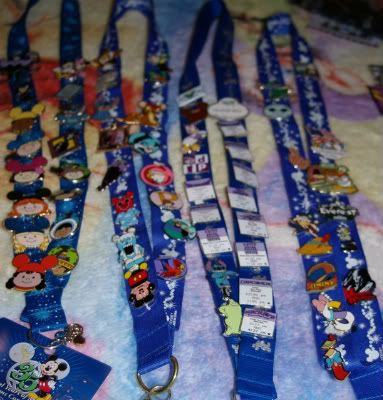 Here are lanyards that The Lovely Steph Leann and myself use when we go to the parks. Hers are the two on the left, mine are the two on the right. And yes, we only wear one at a time, the extra is a spare lanyard with extra pins.
The resort monorail goes from The Magic Kingdom to Contemporary to the Transportation & Ticket Center to the Polynesian to the Grand Floridian and back to the Magic Kingdom. Riding the rails on a hot afternoon is wonderful, if only for the air conditioning, the comfy seats and the relaxing whirrrrrr of the monorail.
However, if you want to do a little pin hunting, hop the monorail and ride it three stops to get to the Polynesian between 5p & 5:30p. They have a "pin board" they pull out and put on display, and you are welcome to trade two pins off of the board
(when you are done, go get some Dole Whip in the Polynesian's food court).
Get back on the monorail, and go to the Grand Floridian, because between 6p and 630, they also have a pin board they pull out. Again, you can trade up to 2 pins per person.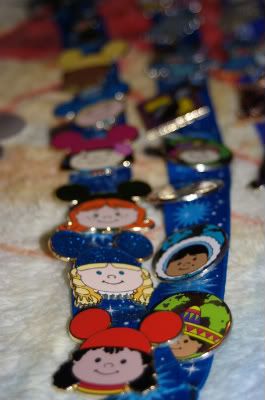 Here is what The Lovely Steph Leann was looking for... Small World pins. The ones on the left she got last time at Downtown Disney's Pin Trader's area, but didn't find anymore this time. The ones on the right she found this past trip.
Hope on the monorail once more, then take it 2 stops to The Contemporary, where they have the best, biggest pin board of the three. You have a full hour to peruse the pins on this set-up, but you can only trade one single pin per person--so choose carefully.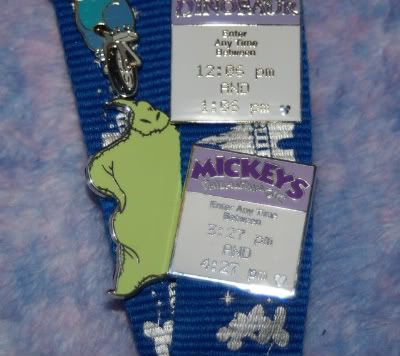 Going into this trip, I had 12 of 13 possible "Fast Pass" pins--pins that look like... well, "Fast Passes". Each series has one ride from each park (with the 2nd series having 2 from Magic Kingdom). My goal was to find the Mickey's PhilharMagic pin to finish my entire set. I found it on day 2.
Its a great way to see the resorts, see some pins that you might not otherwise see, you can take a minute and eat at any of the three resorts, and you'll find that you'll see the same people from resort to resort, sometimes striking up a conversation and a temporary, two hour kinship, as those in lines and areas are wont to do.
4. Soarin'
I love this ride. Its just magnificent. As soon as they allow you into Epcot, head straight for this ride, and get in line. You can get a Fast Pass, but many times it takes too long--try and get one after the ride, it will be a good ride to come back to around noon, when its 118 degrees outside.
You travel through the terminal of the ride, and are directed to stand in one of three lines
(if you can, ask for the front row... you might have to wait until the next ride, but its worth it).
A video comes up, and Puddy tells you about your flight, putting your stuff in the underseat compartment and all that. The doors open, you go in and see rows of hanging chairs. You take your seat, buckle in and wait.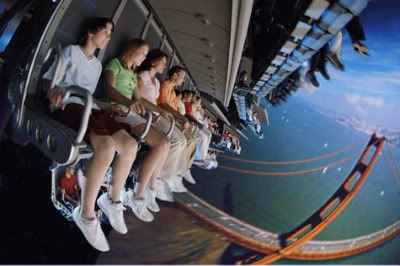 Finally, the ride lifts. If you are on the front, you are lifted over 50 feet in the air
(the second row goes up 35, the third up about 20),
but if you are afraid of heights, you don't feel the air you've taken. The screen lights up, and you find yourself literally "Soaring" over California locales like Monteray, San Francisco, Napa Valley, Yosemite, Malibu, San Diego and more... when you soar over orange groves, you get a whiff of citrus, you feel air rushing to your face and you feel like you are really hang gliding.
If not the best part, its right up there, is the music. Its simple, its peaceful, its not all sappy, its calming yet powerful. Its a perfect start to your Epcot day.
3. Wishes Fireworks
As you sit down for the SpectroMagic Parade, keep your spot until 10, for Wishes, especially if you are in front of the castle. At 10, you'll hear your host, Jiminy Cricket, and then the fireworks begin... and really, no one, and I mean no one, does fireworks like The Most Magical Place on Earth.
How much can I say about fireworks? Here's some shots from The Lovely Steph Leann's camera...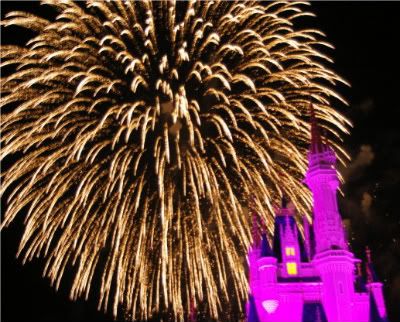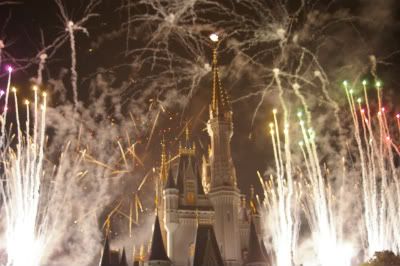 What's more, its not just about the fireworks, though thats the major part of it. Its the castle itself, lit up in blue, green, pink, purple and other bright colors, matching the fireworks. Its the crowd's "ooooh" and "aaaaah" that, thought cliche, is fun to listen to. Its the kids around you laughing as they marvel and clap and scream in joy at the loud bangs and firecrackers lighting up the sky. And the fact that not once have I ever smelled that burned fireworks smell that you get at just about any other fireworks display... sometimes the best Magic is the stuff you don't experience.
2. Get a Character Meal... or At Least, Eat Somewhere Nice
This is a vacation. And its not just any vacation, its a Disney vacation, one that you hopefully have saved for, prepared for, planned for and waited for... The Lovely Steph Leann and I are blessed to be able to take several trips, but for some families, it is a once in a lifetime--or at least, a once in a very-long-time--trip. This ain't Six Flags, friends, this is Walt Disney World.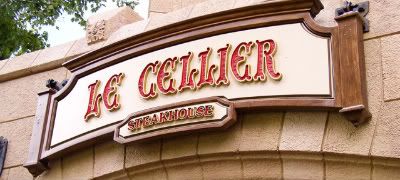 If you can get in, I highly recommend Le Cellier in Epcot's Canada. Its a fantastic steakhouse and seafood place, but you'll need reservations, or hope you get lucky.
Eat.
You'll have plenty of chances to do so, by the way. There are restaurants everywhere, so you'll just have to figure out what you want, but find a fun place to eat for the family. Have a "table service" meal, eat a steak, or a big bowl of lasagna, or some fish or something. Let the kids let loose and have some pizza. Disney servers are fantastic, and are trained well to give you a great experience, and most restaurants will work with you on allergins and such.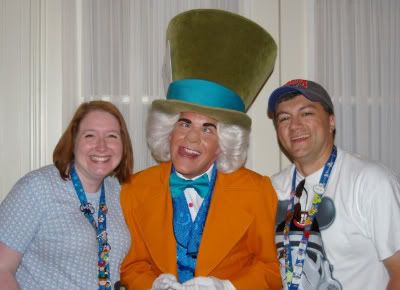 This is at the Supercalifragilistic Breakfast at The Grand Floridian, where you'll meet Alice, Pooh, Tigger, Mary Poppins, and of course, The Mad Hatter, who is always a fun character to meet.
Character meals are awesome, though. Depending on which characters you want to see
(Pooh? Tigger? Mickey? Pluto? Lilo & Stitch?),
and when you want to eat
(breakfast? lunch? dinner? late dinner? brunch?)
, and where you want to eat
(in the parks? in the resort?)
there are a ton of places to go.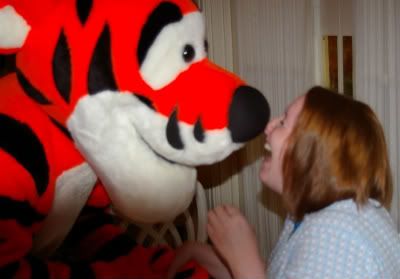 A fun picture of The Lovely Steph Leann and Tigger
Take the pictures, enjoy the experience.
And finally... my current Number One Must Do at The Most Magical Place on Earth...
1. Toy Story Mania
You will have more fun on this ride than possibly any other ride in the park. The Rockin' Roller Coaster is faster. The Tower of Terror will kick you in the stomach harder. Small World is more classic. Everest is bigger. But Toy Story Midway Mania appeals to anyone who's ever had fun throwing rings or tossing balls or trying to win at skee ball or trying to get those stupid little red tickets in an arcade... because "arcade" barely covers it.
You get in your little car, behind a goofy gun with a pull string. You put on the 3-D glasses, and then are whirled around to a screen where Jessie & Woody greet you, asking you to practice. You pull the string and... a little paintball appears on the screen, splattering a plate Woody is holding with red paint.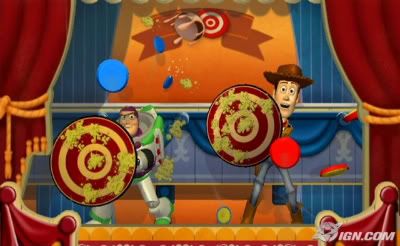 You are whisked away to five areas, breaking plates, popping balloons, tossing rings and more... your score is kept via your little digital readout, and the entire time, you are eager to beat the person next to you, and laughing all the way. Its awesome. The Lovely Steph Leann and I did it five times last February, and though we could only do it once, this is a ride that is on a short list of "we have to ride this everytime we go. Every. Time." kind of attractions.
Normally, I would strongly encourage you to get a Fast Pass for this ride as soon as the park opens, then ride it, leaving you Fast Passes for it later. However, this past trip, I raced ahead to get the Fast Passes, while St'ray, C'ray and The Lovely Steph Leann went to the line, where I'd catch up with them in just a few minutes. However, I'd never seen what I saw that morning... the Fast Pass line was a hundred persons deep. It stretched out of the Pixar Place gate and beyond. I said, out loud to no one in particular, "Forget this!" and joined the others in line.
We did end up getting Fast Passes for it later that morning, which allowed us to ride it after 6pm. We ended up giving them away, as we left the park before our Fast Pass time. So, judge accordingly, or get there first in line to get in the park to race to Toy Story Mania. If you are staying more than a few days, and are going to Hollywood Studios twice, get there early to ride this first... the next day you come to the Studios, you can go immediately to Tower of Terror and Rockin' Roller Coaster and probably be able to ride both a few times in a row, as everyone else is on the other side of the park.
So, there's my list of Ten Disney Must-Do's. You are welcome to add your own, or throw your own comments and advice in. The Lovely Steph Leann will be doing her own guest blog soon, telling her own Disney stories, so look for that hopefully next week!