There are hundred things I could tell you to do when you go to Walt Disney World. When people come into The Happiest Place in the Mall, asking questions about The Most Magical Place on Earth, I have to be careful not to be drawn into a 20 minute conversation, answering questions about the dining plan, the character meals, the places to find Mickey, the places to find Hidden Mickeys, the best (and worst) resorts and so on... I could make that list of a 100+ things, but I'm sure after about #12 or #14, I'd lose half of you, all but the most diehard Disney nuts.
I've been back a week from The Most Magical Place on Earth
(the Lovely Steph Leann informed me that "The Happiest Place on the Earth" is actually DisneyLAND, while "The Most Magical Place on Earth" is DisneyWORLD. Yeah, whatever. I'll make the change from here.)
Anyway, I thought I would share some of my favorite parts of the magic. These are ten things I've chosen as my MUST-DO attractions, rides, events and experiences when you go to Disney. Perhaps you've done some, all or none of things, perhaps you've thought about some of them but wasn't sure, or perhaps you just need some ideas for a quick trip... well, here is your checklist, from my perspective...
10. Dole Whip
Its this ice cream they serve at Disney World, but its more than just ice cream... its soft serve. Its tasty. Its refreshing. Its Dole Whip. You can really only get this at two places in The World, one being The Polynesian Resort food court, the other being a little vendor in the Magic Kingdom, over in Adventureland. Its served in a glass of pineapple juice, topped with whipped cream and a cherry on top.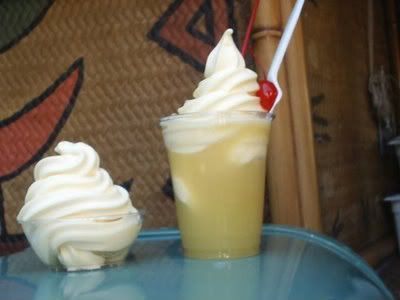 Its served in chocolate, strawberry, raspberry, mango and orange, but The Lovely Steph Leann usually goes pineapple, and I either go pineapple or vanilla. Its a Must-Eat.
9. Fantasmic
A couple of nights per week, Disney Hollywood Studios does a production unlike anything else in The World... its a production that involves Mickey Mouse, the Big Cheese, joins some of his closest friends, including Minnie, Goofy, Donald, Pluto, Belle, Pocohontas, John Smith, Rafiki, Cinderella and more, and they take on the evil villiany of Jafar, Hades, Cruella de Vil, Scar, Monstro and more. Maleficent shows up, turns into a dragon and when it looks like Good will fall to Evil... Mickey Mouse prevails!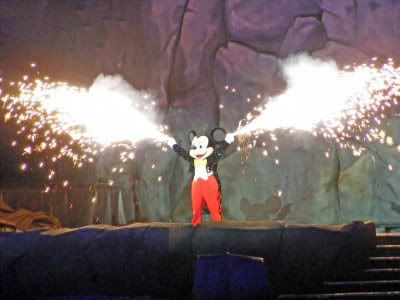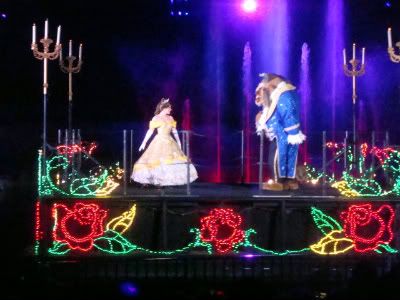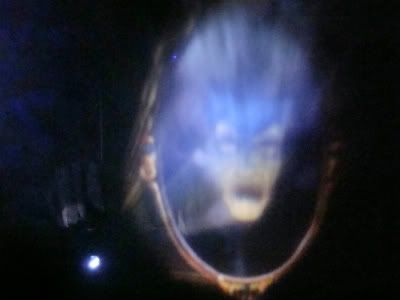 What makes this a spectacle is the pyro and hydro-technics. There's fire, there's explosions, there are massive water screen geysers with full-on movie scenes projected onto them, and of course, there's magic and imagination. Get there early, maybe 45 minutes ahead of time, to get a good seat... you can also do "Dining Packages" with several of the Hollywood Studios restaurants, like Hollywood & Vine and Mama Melrose's, where you can eat and get special Fantasmic seating. This can be expensive, between $45 and $50 for adults, but it includes a full, more-than-you-can-eat meal... if you are on the Disney Dining Plan, this is well worth the investment. This is a Must-Do
8. Finding Nemo: The Musical
When walking around Animal Kingdom, you check out the Times Guide, and see "Finding Nemo: The Musical", at 11am, 1pm, 245pm and so on. You think of whether to spend the 30 minutes in line, the 20 minutes seated, waiting for the show to start, then the 45 minutes on the show itself, or spend all that time riding Everest, or Dinosaur or go on the Safari.
When Crush comes out, the audience cheers. As well they should.
So, you figure, its hot, your feet hurt, why not take a few minutes in the air conditioning, right? And what you see is a marvel. Its a show on par with The Lion King Broadway show, in its imagination, its color, its music, its puppets and more... here's what
Chuck Schmidt in the Staten Island Advance
had to say:
"Finding Nemo: The Musical" captures the best moments of the Disney/Pixar film in the refurbished -- as well as enclosed and air conditioned -- Theater in the Wild, the previous home to the "Tarzan Rocks!" stage show. But what makes "Nemo" so unique is the range of talents employed during the elaborate 40-minute production -- everything from puppets to dancers to acrobats are combined with strikingly colorful animated backdrops and a beautiful score to present what is truly an exhilarating experience.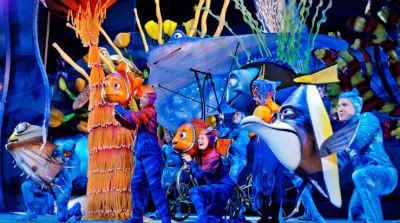 Unless you just simply detest "Nemo", this show is a Must-Sea

7. Mickey's PhilHarmagic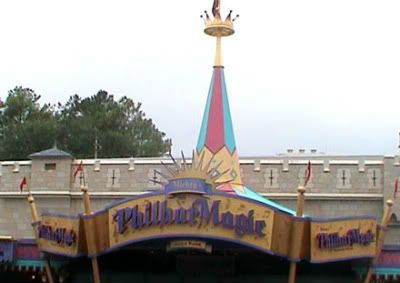 When you are in Fantasyland, you need to take a stop into this attraction. You walk in, you put on your 3-D glasses, and hear Mickey, Minnie and Goofy getting ready for a big concerto. But where's Donald? He's missing! Open those curtains, and there's Donald, asleep. Mickey Mouse comes out, wakes Donald and instructs him to not "touch my hat!" And of course, Donald Duck puts on the Mickey's Sorcerer's Hat.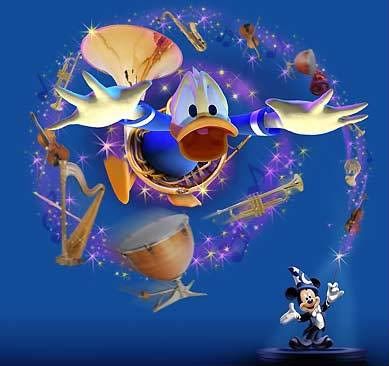 And it all takes place on a 150 foot, 3-D screen, and in it, you see Ariel, Simba, Lumiere, Aladdin, Jasmine, Peter Pan and Tinkerbell, and you hear some of greatest Disney tunes of all time... and Donald Duck is right in the middle of it all. Its wonderful. Its a Must-Do.
6. SpectroMagic
Currently, every night at 8pm, go around and find a spot either in front of the train station or town hall, or at the end of Main Street, perhaps around Cinderella's castle or even around the bridge. Have a seat, kick your feet up, rest a spell. Because at 9pm, the best parade around kicks off.. its the SpectroMagic Parade, filled with over 600,000 lights, over 100 miles of fiber optic strands and 72,000 watts of speaker power, all in 36 different floats or performers.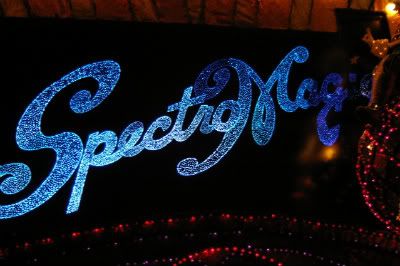 I'm not necessarily one for parades, really... I find the wait for them to be long, many times they are kinda silly, and having seen many a parade in my time, with everything from Miss Samson Misty Kimble sitting atop a car in a sequin dress waving insincerely at the crowd to Santa Claus tossing candy at the end of a Magic Kingdom procession... but SpectroMagic has me glued every time.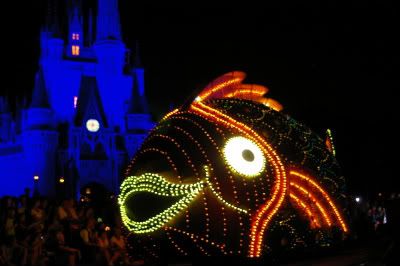 Perhaps its the little kid in me that just enjoys the lights, or the music, or Ariel in a bikini top, or whatever, but it makes me smile. Anything with that many lights makes me smile. Its a Must-See.
Tomorrow, Part II...