About a week ago, Jill Johnson called me, leaving me a voice mail to the effect of, "Hey, I know you and The Lovely Steph Leann are big Disney fans! My sister and her family are going for the first time, and I wanted some Disney tips from you... you know, where to eat, the pin trading stuff, what there is to do for kids, etc. Call me."
A week later, I sat down via email to answer, and realized the request of "Give me Disney tips" without knowing specifics--how old are the kids? have they already booked the trip? how many people are going? how long will they be there?--is a broad, vague question. And it required a broad, long answer.
And I liked it so much, I decided to post it... so here's a quick
(I say quick, even though its about 65,000 words)
overview of random and various things you need to know. You can email this to your friends if they are going to Disney, or just read for yourself, and comment on some tips that maybe I forgot to add!
Walt Disney World truly is the most magical place on Earth. I mean, yes, you can get more coasters at Six Flags or Universal, and maybe Atlanta is closer, but nothing is like Disney World. Its the whole environment, the meticulous attention to detail, the love and warmth of kids and families and adults alike... its a place you can have fun when you are 5, or you are 35 with a 5 year-old, or 33 and 32, like we'll be when we go in September, with no kids.
But if you've never been, or never been properly, there are some things you just have to know... dinner plans? Characters? Character meals? Fast passes? What about where to stay? You ready? Here we go. Take notes.
Invest in the Disney Dining Plan
If you are going more than just a day or two, this will save you a ton of money and hassle. How it works is, you are allotted a certain number of meals per day per person. Now the temptation is to get the plan with three full meals per day, but do not do this. We have found that three full meals is not only expensive, but it wears on you as you run and gun through 4 million miles of parks per day.
What we have done in the past is get the dining plan that allows for one table service
(like a sit-down, nicer restaurant)
per day, one counter service
(like a walk-up, burger, hotdog, etc)
kind of place and one snack
(which can include a bottle water, or ice cream, or pop corn).
We would have maybe a counter service in the morning, go to the parks, have a snack sometime during the day
(keeping ourselves hydrated)
and then have a great dinner somewhere... or we would have a sit-down breakfast, like a character breakfast, do the lunch snack, and then grab pizza or a burger for dinner. Either way.
Character Dinners
These are just awesome. Pick them carefully, though. I think that everyone should go to the
Princess Breakfast in the Cinderella's Castle
. Its a tasty breakfast, and all the princesses come out one at a time--Mary Poppins, Belle, Aurora, Snow White, Jasmine, others--and go table by table, taking pictures and such. Granted, sometimes you get princesses that just aren't very good looking, but still, it's just a magical way to start your day. Whats good is that most character meals use the Disney Dining Plan... though sometimes, they require "2 Meals", like this one does. No matter, though... at the end of our week last year, we still had three snacks and two counter services left, because we planned carefully.
I'm in one of the shops on Main Street, when I get this call from The Lovely Steph Leann, frantically telling me to come outside to Town Hall. Hurry! Hurry! When I ask her why, she almost yells into the phone, "Because Jiminy Cricket is out here, and I'VE NEVER SEEN HIM!!!"
Another one we loved was the Supercalifragilistic Breakfast, held at the 1900 Park Fare Restaurant in the Grand Floridian Hotel. Mary Poppins, Alice, The Mad Hatter, Tigger and Pooh came around at that one. A great dinner idea is the Cinderella Storybook Dinner, also held in
The Grand Floridian Hotel
, at 1900 Park Fare Restaurant, featuring the cast of Cinderella, an incredible buffet and some great strawberry soup. Yes, strawberry soup. Its incredible.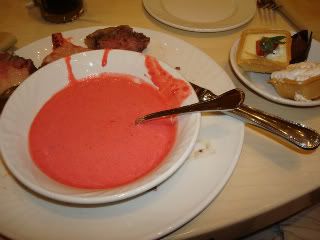 This would be the chilled strawberry soup at 1900 Park Fare that The Lovely Steph Leann raves about. Notice the other great looking junk on her plate around it.
Our favorite restaurant is
Le Cellier in EPCOT
, located in Canada. Its can be a little pricey, but its also accepted with the Disney Dining Plan. Be proactive though. These things fill up quickly. As a matter of fact, some of them start booking reservations as much as 180 days out--six months. The Lovely Steph Leann and I are going at the end of September, and the Princess breakfast, Le Cellier and the Storybook Dinner are all booked up, every day of our trip.
Character Sightings
Much of it is just waiting, and watching. Now, in EPCOT, they've got the Character Spot where you'll find Mickey, Minnie, Pluto and Donald usually, and sometimes Chip & Dale, and in Toontown, in the Magic Kingdom, they've also got a Character Barn. Remember, many times this is standing in line, so be wary of the children--we were in line at EPCOT for almost an hour for Mickey, because he's the Big Cheese, but we didn't mind it. Three year olds might mind it alot.
We randomly found Piglet in EPCOT's England. Pooh and Tigger had just left, but The Lovely Steph Leann loves her some Piglet, so this was a great moment.
You can always ask your local cast member where the characters will be, because at different times of the day, a certain group of characters may be scheduled to be in different areas. You'll likely find characters with their rides, like we found Aladdin and Jasmine at the Magic Carpet ride, we found Pooh and Piglet in the England area of EPCOT, we found Buzz Lightyear by the Tomorrowland rides... Hollywood Studios also has a special place for Lightnin McQueen, Mater, Sully & Mike, Woody & Buzz and a few others.
Its always great when the characters really, really give you alot. We had a great time with Genie, and The Mad Hatter was awesome. Peter Pan was as fruity as a four dollar bill, but still, he was perfect into character.
With the Cars, if you know they are coming, get in line. Even if you have to wait an hour, get in line. Make sure you know where the line starts, and make sure you are following cast member orders. We missed the Cars in the morning
(at Hollywood Studios)
but were told they'd be reappearing at 3 that afternoon. At 2pm, we got in line, where we were fifth or sixth. By 230, the line was already closed, and people were mad--but they didn't get there in time. And when Lightnin McQueen and Mater came 'round the corner, we were giddy. It was worth the wait.
Autographs are big for the kids, and even some adults. Almost all characters will do either autographs or at least ink stamps onto a page. Some characters, like King Louie, who just has dangling arms
(and no control in the costume)
couldn't do it, but most can.
Pin Trading
Ah, the pins. First and foremost, understand, this can be a very, very expensive hobby. Depending on when you are going, you might want to look on eBay for a $50 lot of 25 or 30 pins to trade. Here's how it works... cast members have either blue or green lanyards around their neck, or they might have a blue or green cloth patch on their belt. If you have a pin you'd like to trade, simply walk up to the cast member, ask to look at their pins, and you can trade pin for pin.
Etiquette dictates that you pull yours off, put the rubber back back on, hand it to the CM, and they'll reciprocate. They cannot accept a pin, however, if they already have it on their lanyard
(this is important, and I'll come back to this).
The blue lanyards can trade with anyone, adult or child, The green are only supposed to be for kids, but some will take a "all of us are kids at heart" approach, and trade with adults. Some, however, are stickler for the rules. And guests can trade with other guests--I traded several times with kids that came up to look at my pins. Usually, it was a pin I didn't care about much, and would trade just to make the kid feel happy--I always said, "Now, make sure its okay with mom and dad first."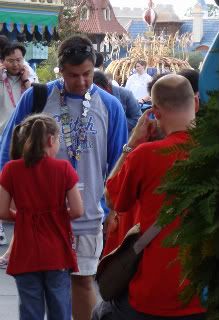 This is right outside of The Teacups. A little girl had approached me about pins, and I think I traded her one, but I don't remember. Its important to be good to the kids, yet make sure they don't take you for a ride and manipulate you for your good pins.
They do sell pin "sets" in the Disney stores there. Usually, a 4-pin set will run around $20, and an 8-pin set can run from 30 to 40. These are good ways to start, because you guy multiple pins at a time and trade them off one by one... however, many, many people do this, so if you've got a Halloween Pooh out of the set, and you want to trade it, you might find that same Halloween Pooh on a ton of cast member lanyards, and you wont be able to trade it.
Many pins have "hidden mickeys" in them, which are little tiny mickey ears on the pins somewhere, and these are usually pins that you cannot buy, but are given to the cast members just for trading. Its always good to pick a theme, like "Monorail Pins" or "Beauty & the Beast Pins" or what The Lovely Steph Leann collected, "Disney Topiary Pins", and I got all the "Disney Dollar Pins". Or, you can just find characters you like and go for them.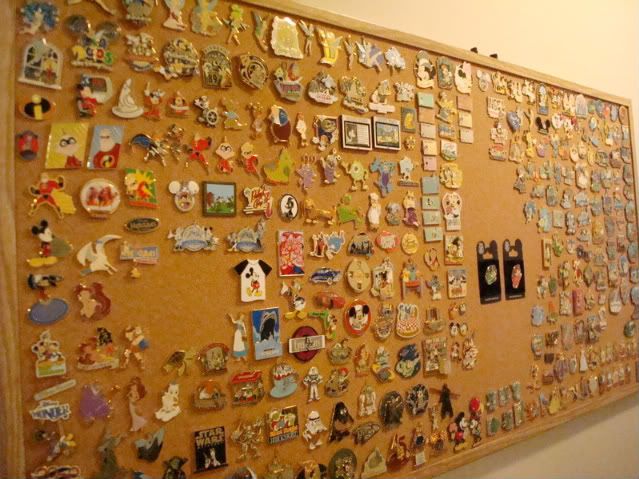 A gander at our pin board. We have more than this now, as we've added several since I went to work for The Happiest Place in the Mall.
Accommodations
Are you staying on the resort? I hope so. If so, then take the bus and trams everywhere. Its so much easier. Yes, it might take a little more time, but its so much easier than parking and walking and blah blah blah. Also, if you stay on the resort, you are eligible for Magic Hours. Sometimes the parks open earlier, or stay open later only for those who are staying in one of the resorts.
Also, the
All Star Value Resorts
--All Star Sports, Movies, Pop Century & Music--work just fine for us. Yes, other, more expensive hotels are nicer, but we came to Orlando to spend time in the parks--the rooms are for sleeping and showering. So give me a $80 per night room at the All Star Movies, and keep your $250 per night Polynesian... it would be nice, one day, but today we're on a budget.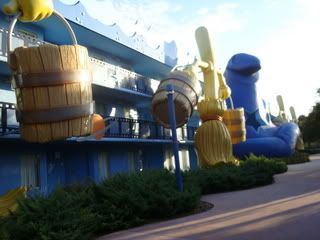 This is the All Star Movies Resort, where we stayed. Look in the distance, the building with the stars on it is the main court. Sometimes you stay farther back than what where we were standing.
When you book, though, you can ask for "Preferred Rooms", which are about 10 bucks more per night, but it puts you right up close to the food court. Otherwise, you might have to walk the length of a building or two to get to the food court, which leads to the bus stop.
Fast Passes
This is essential, so listen up. There are certain rides in the parks that basically sell out. In EPCOT, its Test Track and Soarin. In Magic Kingdom, its Space/Splash/Thunder Mountain, and for some ungodly reason, Peter Pan's Flight. In Hollywood Studios, its Tower of Terror and Rock n Roller Coaster. In Animal Kingdom, its Everest. Fast Passes are the answer to your prayers. Basically, its a pass that lets you come back at a later time. The trick is, you run into the park, get the fast pass for one, then go straight to the other.
At EPCOT this is crucial. Test Track is one of the most popular rides in all of Disney, so we raced to get Fast Passes for Soarin
(another brilliant ride that YOU CANNOT MISS),
then went to Test Track. The park opened at 9, we raced in, and by the time we were able to get fast passes for Soarin, the passes were for 1140am. They increase by 10 minute increments. We raced over to Test Track, got in line, and waited about 40 minutes. By the time we were out, Soarin fast passes were beyond 8pm that night, and within an hour, Test Track fast passes were gone for the whole day. And this is by 1030am.
Also, if it says "Return between 310 and 410p" then you cant go on until 310... but if you come after 410, its okay, they'll let you in. We learned this the hard way, as we ran across The World Showcase in EPCOT to the front of the park to Soarin in 20 minutes... The Lovely Steph Leann's feet hurt so bad.
Fast Passes can only be gotten one at a time--you get them by inserting your "Key to the World", or your park ticket card. Sometimes you can get passes for two rides, but many times that doesn't happen, so don't count on it. I've never gotten three rides on fast pass before the first ride time came up.
Rides
Soarin is a newer ride at EPCOT and is wonderful--make sure you do all you can to get on the front row. Toy Story Mania is brand spankin' new as well, and will be mobbed by people, so get the fast pass for that one too. Shows like Muppets in 3-D
(Hollywood Studios)
, Its Great to Be a Bug
(Animal Kingdom)
, Monsters Inc Laugh Floor
(Magic Kingdom)
, The Energy Show
(EPCOT)
and PhilarMagic
(Magic Kingdom)
are audience type shows, and while it might take a few minutes to get in, they fit hundreds of people in at a time.
Peter Pan's Flight fills up like crazy, for some reason, so if the kids want that one, get it early, after Space Mountain. Exciting rides like Space Mountain, Thunder Mountain, Splash Mountain, Rock n Roller Coaster, Tower of Terror--they fill up fast.
Closing Thoughts
You walk into The Magic Kingdom with a handful of kids and a "oh, we'll just go wherever" attitude, and your day is shot already. Now, this doesn't mean you should have a schedule on paper, never vary from it, and get angry when people do, but you do need to plan your "attack" when it comes to fast passes and your route. Do not expect to cover Magic Kingdom as a whole in one day, especially with a bunch of kids. If you've only got two or tree days, you need to decide what area of the park you will leave off, or what rides you will leave off BEFORE you go in the gate.
Look at the maps, have a decent route, and remember what times parades start. If you love parades, find a good spot early
(the maps will tell you the routes).
If you could care less about parades, its a great time to go ride some rides, because many people are watching the parade.
One More Note
We were standing in line to meet one of the characters, and we got into a conversation with this mother who had just brought their 3 year old to Disney for the first time. She got a once-in-a-lifetime snapshot of her daughter's expression the first time she saw the castle, which I'm sure was priceless and precious. Only problem was, she didn't have it, nor the camera. Seems she had lost the camera on Peter Pan's Flight, and three days worth of irreplaceable moments were gone.
Lesson is, if you bring a laptop or a storage device, unload your pics every day. She was so upset, she was even saying, "It's a $600 camera, but I don't care. I would take them turning in the memory card, and keeping the camera."
Now you know. And knowing is half the magic.