So, at some point in late July, I had just gotten back from a quick three day venture ot The Happiest Place on Earth with Rev'rn Ty, Amy Mc and Tommy Mc. I was sitting with Tyler, The Lovely Steph Leann's younger brother and by law, my brother-in-law, and we were discussing said trip to Orlando, and he mentioned something about Fall Break at The University of Alabama.
I, out of the blue, half joking, kinda serious, said, "You want to go to Disney on Fall Break?" He stared at me, and said, "Are you serious?" I replied, "Sure. I mean, I'll have to ask The Lovely Steph Leann what she thinks about it, but yeah, why not. Bring the roomdudes."
Tyler texted his roommates, and within a few days, it all came together. On Wednesday, we would leave out around 8 or 830pm, drive all night, arrive at All Star Movies
(where five of us would stay in a four person room)
and hit the Magic Kingdom, Epcot, Hollywood Studios and Animal Kingdom for three full days, and some on Sunday before heading back.
I had two conditions... 1) I didn't drive a vehicle that is parked at The Cabana. This is not to say I wouldn't drive at all, but Toni Rocki Honda wasn't built for five--its barely built for three--and I knew darn tootin' well that The Lovely Steph Leann was not about to let me take her car to Orlando. 2) I got a bed. I figured I'd sleep next to one of the guys, and I did, but I wasn't doing the floor. I'm too old to do such things. Other than that, let the magic reign.
So I figured I would post a few highlights and some pictures with myself, Tyler Campbell, Jonathan Lenning, Trey Cartledge and Jon Thompson and our weekend adventure to Disney World.
$$$$$$$$$$$$$$$
We left Wednesday night, with Tyler and Trey coming by The Cabana to pick me up, then swinging by Jonathan Lenning's home to pick up he and Jon, whom I'd never even met. Jonathan's sisters are Brittney and Scotty, but to be honest, I'm not sure I have ever spoken to either--even though they are my friends on Facebook. That's how it goes.
$$$$$$$$$$$$$$$
Traveled through the night, took turns driving, took turns sleeping, arriving at All Star Movies around 645 in the morning. We made Jon get lost as we checked in, because really there were only supposed to be four in the room. After getting the room keys, we walked to the 101 Dalmations building, got into our rooms and agreed to just take a two hour nap... I took a shower, then as soon as I laid down, I was gone.
We made it to the Magic Kingdom by 11a, and tackled Splash Mountain, Big Thunder Mountain Railroad, Mickey's PhilharMagic, The Haunted Mansion, Buzz Lightyear's Space Ranger Spin, Stitch's Great Escape, The Monster's Inc Laugh Floor, Pirates of the Caribbean... okay, just about everything.
Tyler insisted we do Small World
(which I ended up nodding off to once inside)
and Lenning sheepishly asked that we do Peter Pan's Flight
("Like, I rode it when I was a kid, and I... well, I kinda want to ride it once..."),
and I made sure we did the Tomorrowland Transit Authority. And all the guys wanted to see the princesses.
We looked kinda funny in line, with us being five guys surrounded by families with a bunch of kids. And when we got to Aurora, she asked us what kingdom we were from. We told her "Birmingham", and she asked the names of our horses. That led to this exchange:
Lenning: Traveler
Trey: Apples
Jon: Strider
Me: Buckley
Tyler: Uh... um... um... Mason
Lenning, Jon: Mason?
Trey: Mason?
Me, laughing because Apples is a sillier name than Mason, but because its Tyler, Mason becomes the goofy name.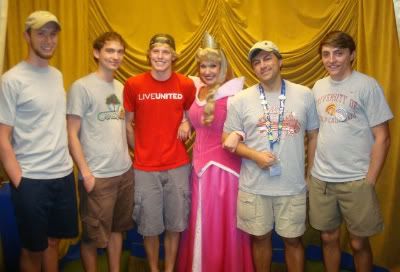 From the left, there's Tyler, Jon, Jonathan, Sleeping Beauty, myself and Trey. For the record, this wasn't my idea. I'm not opposed to it at all, I like the princesses there, but this was one of the guys ideas.
As we walked out of the County Bounty, the big gift shop that also housed the Princess areas, more than once Trey asked, "Okay, which one asked us about the horses?" "Sleeping Beauty," Jon would say. And then Trey would ask, "Oh, right. And which one was in the yellow?" "Belle," Tyler would say. "Right. And Cinderella was in the pink?" Trey would ask.
Strangely enough, the beauty of the princesses are never consistent, because I cannot remember the last time I got a good looking Aurora, the Cinderellas are hit and miss, and sometimes Belle is disappointing, other times she's beautiful--the last few times I've gone, though, its been the latter. Mary Poppins is the only one that is consistently pretty.
$$$$$$$$$$$$$$$
On the way down, we stopped in Auburn to visit Alan the Facebook Stalker. He is a Disney nut as well, and he lent
us
Trey the book of
Hidden Mickeys
.
A Hidden Mickey is a Mickey Icon that's... well, hidden. It consists of two smaller circular shapes sitting atop the larger one, and is placed somewhere in the park, be it on a ride, an attraction, a restaurant, or just in the scenery, that isn't obvious. Trey pointed me to one in front of The Haunted Mansion that might be one of my favorites:
We also managed to spot four or five on Splash Mountain alone, a couple in The Hollywood Tower of Terror and a few other select attractions.
$$$$$$$$$$$$$$$
Speaking of Hollywood, we hit it hard on Friday morning. We raced to Toy Story Mania first thing... just like everyone else in the Hollywood Studio World.
If the park opens at 9, they will start letting people in around 840a. The guests move up the street a bit to a certain point, where a rope keeps them from going any further. This is A) to build excitement for opening and B) to keep the crowds from extending from the gates to far back close to the lots.
The Cast Members wait, and when the rope drops, a few of them hold another rope up that they allow you to follow behind. If you would rather go to Aerosmith's Rockin' Roller Coaster or The Hollywood Tower of Terror, then just take a right and take off. But, if you are going to Toy Story Mania, then you have to follow the moving rope barrier. If you run past the Cast Members, they pull you aside and make you wait, helplessly watching a hundred-plus other guests race by.
We got there pretty quickly, got some Fast Passes for it, then hopped in line. We didn't like the ride... we loved the ride. I had ridden it before, and I think maybe Trey had as well, but the other guys had not, and it was awesome. Toy Story Midway Mania is one of those rides that you get really excited about taking other people on.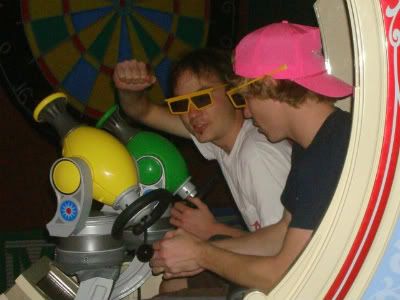 $$$$$$$$$$$$$$$
We were working our way to The Sci Fi Cafe for lunch when we passed by The American Idol Experience. One of us piped up to Lenning that he should try out for it. He said no, and another of us said he should, and still he said no, and finally we all pushed him towards the entrance. Of course the Cast Member at the front was trying to convince Lenning as well.
I said, "Okay, okay... if you will try out, I'll try out." Lenning looked at me, still unconvinced. Then I said, "Okay, not only I will try out, TYLER WILL TRY OUT!" This, of course, came as quite a surprise to Tyler, who, after the initial shock, said, "Uh... yeah! I'll try out!"
Essentially, it breaks down like this... you can audition for American Idol in Hollywood Studios. You sing for one of the producers, and if they like you, they send you down the hall to another set of producers. If those producers like you, you become one of three people booked on one of the shows. There are typically seven shows per day, from about 11a, each hour, until about 4p, maybe 5p.
The audience votes on a winner for each show. If you are a show winner, you come back for the daily finale, at 7p. Again, the audience votes, and if you win THAT one, you get a special golden ticket... that golden ticket allows you to go to ANY American Idol audition in the country and go straight to the front of the line and get special VIP treatment for your entire visit.
A CM was telling us that some people have come back and reported that after trying out for AI with their golden ticket, they are given special VIP treatment, backstage passes, special meetings and such for their entire visit.
So, anyway, we went into the AI building, and because I am a Cast Member, not only could I not participate, I could not even audition. Technically, neither could Tyler, being my brother-in-law, but we weren't really that concerned with his winning the show. They could only take one person in the audition room with them, so Tyler took Jon. Jon later said that Tyler sang, "Ain't No Mountain High Enough", complete with hand motions and movements. He didn't make it.
Lenning, on the other hand, took Trey with him. I stood in the lobby talking to a CM for a little while, when I learned that Lenning had made it to the next round. I went out to The Sci Fi Cafe and told them to hold our reservations, because we were with the Next American Idol. Tyler and Jon were sitting outside, waiting on the results of Lenning's second round audition.
$$$$$$$$$$$$$$$
I stood and chatted with Paul, the CM recruiting potential Idol'ers. We discussed the parks and the attraction, and he learned I worked for The Disney Store. Then he said something that made me want to punch him in his unmagical mouth.
"Oh, The Disney Store, huh?" he smiled. "So you guys are like, semi-Cast Members, right? I mean, do you get any benefits?"
What I said: "Oh yeah, we are full fledged Cast Members. We don't get some of the free admission perks that you get, but thats because you work here on-site, but other than that, yes, we are Cast Members just like you."
What I wanted to say: "'Semi-Cast Member'? 'Semi'? Listen friend... not only am I a full Cast Member, and probably more so than you are because I'm one of 17 people who work in an enviroment that provides Disney Magic in a city where there is nothing else, especially not four theme parks, two water parks and a shopping and club district that employs 55,000 people onsite. Plus, Paulie, I make more than you do, and I don't have to stand in the hot sun wearing that gay little vest you've got on. I got your 'Semi' right here." Then I would do the D-X Crotch Chop after I dropped him with a RKO.
$$$$$$$$$$$$$$$
Tyler texted Lenning's dad. His text read something like, "YOUR SON IS GOING TO BE ON AMERICAN IDOL". A few minutes later, Tyler gets a text. He reads it, and says, "Crap! Mr. Lenning trumps again!" The text read something like, "IN SOUTH AFRICA. DINNER WITH DISNEY VP."
$$$$$$$$$$$$$$$
Lenning made it. He came out wearing a number and a yellow card on a lanyard. We went nuts. The producer came out, and wanted to get some video of him celebrating. They got a great shot of us doing high fives, and Jon chest bumping Lenning. He did some interviews on camera, and finally, an hour and ten minutes after our reservation, we had lunch.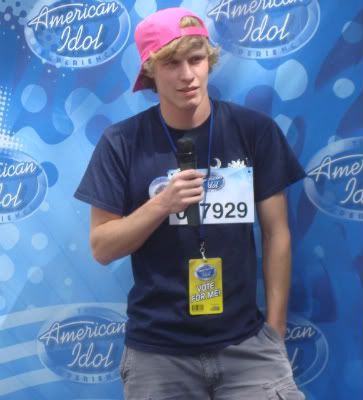 $$$$$$$$$$$$$$$
Lenning had to be back at 2:50 for make up, rehearsal and a few other re-show things for the 4pm show. The guys and I had enough time to run and do Star Tours and a couple of other things, then we had to meet up at 3:30p for the VIP door.
(Random Sidebar... does anyone else watch Survivor, and six weeks into it, you are still seeing people in the opening credits that make you say "Who is that guy?!" and "I didn't realize someone named Mick was on the show?" Or is it just me. Its on right now, and I'm trying to figure out who Mick is. And apparently, there's a Ashley too. Can you say "uninteresting cast"?)
The family and friends of the other two that made it were also at the door when we got there, and soon enough, a CM led us to our seats, close to the front on stage-right side of the theater. Each seat has an arm rest with two sets of buttons number 1-1o, which you use to vote on your favorites. As we walked in, the first contestant was finishing up his practice song, which was "I Like It" by Tim McGraw. The guy singing, Billy Cox, was a country bumpkin kind of guy, and sounded decent enough.
Lenning was singing "Sweet Home Alabama", which was a blessing and a curse. He sounded great, but I dearly hate that song. Always have. Makes me feel like I should be driving a 4x4 truck, covered in mud, a tennis ball hanging off the long antenna I have and a big Confederate Flag in the back window. Under the gunrack, of course. So, it makes me feel like I'm back in Samson. Yee-haw.
Lastly, Jada Davis, a big sista', got up and sang "Respect". As she sang, I looked and Tyler, who looked back, and we both looked up at Jonathan on stage, who saw us. We all shook our heads. Jada was tearin' it up... and we knew it was over.
The little girl sitting next to me was the daughter of Billy Cox, and she looked up at me and said, "She's really good." I nodded, and said, "You know, if you accidentally hit 2 on your buttons there, instead of 1, then its okay." She smiled and said, "And if you hit 1 by accident, its okay too." I heard Tyler say, "Touche."
The show started, the judges came out--one is like Randy, one is like Paula, and one is like Simon... go figure. Billy Cox sang his song, and again, sounded pretty good. The judges said their stuff, then Lenning got up there... and again, sang well. The Randy-Judge told him that he needed to be more animated, the Paula-Judge said, "You are so cute! You look like you are 12 years old with your fuzzy little legs!" You know those moments when something happens and you just know that this will stick with you for a long, long time, and you are going to hear about it a whole heckuva lot? That was this moment with Jonathan Lenning. Trey, Jon, Tyler and I just about passed out in our seats with laughter.
The Simon-Judge told him that "I once carried some frozen peas and that was slightly interesting than your performance."
And Jada Davis got up, sang awesome, and the judges loved her. The Cox family next to me had a little baby girl who started crying, and the daughter next to me had to take her out, leaving her buttons unattended. So when it came time to vote, I hit "2" for Lenning... then I hit "1" for Billy Cox, cause that is what Cox the Daughter would have done.
Who won? Tell you in the next post, this weekend...