I am about one hour removed from seeing what might have been the best movie I've seen all year... certainly it was the most fun. Probably the most fun I've ever had at a movie was "Scream" because I saw it in Troy with all of my good friends... but tonight, I had the honor of hanging out with Michael Nipp to watch... Snakes on a Plane.
And you thought "Roadhouse" was craptastic good fun
Quick background about this movie... it was written about... well, a bunch of snakes on a plane, but was originally called "Venom", then changed to "Pacific Air Flight 121." The guy the studio was courting, Samuel L. Jackson, had issues with it. First of all, it was to be rated PG-13, and secondly, the title was awful. So he basically demanded that the movie push for an R rating to allow for more gore and the use of his favorite word, a four letter word often used in conjunction with a mom (of which I'll refer to here as "cotton pickin'", simply because I like that phrase, always have).
They added more gruesome snake related deaths and attacks, beefed up the scripts with lots of "cotton pickins" and then change the name to "Snakes on a Plane." Sam Jackson said yes imediately.
Samuel L. Jackson is one of those legendary actors that is just... well, cool. He's been in some awesome flicks (See Jurassic Park, Unbreakable, Pulp Fiction and The Incredibles), he's been in films that were pretty bad, but were so good (see The Negotiator, Star Wars Episode II, DieHard With a Vengeance and Deep Blue Sea), had random bit parts (do you remember him from Coming to America, Goodfellas or Out of Sight?) and of course, he's had his share of absolute crap... that being Loaded Weapon I, The Long Kiss Goodnight, The Man and Amos & Andrew, among others. Yet, he's still just cool. Somehow.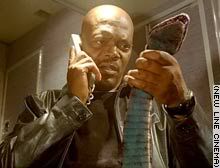 Sammy Jackson holding a cotton pickin' snake
The movie was set to be a goofy, quiet little film, until the power of the internet took over. Fans started producing their own videos and trailers to it, most of which you can find on YouTube, and blogs were set up to talk about the film, the most notable being Snakes on a Blog. Instead of ignoring fan hype, the studio embraced it, even as far back and January of this year.
New Line Cinema partnered with CafePress.com to allow fans to produce SoaP shirts, and one of the more famous stories floating around now is how Chris Rohan of Maryland created a mock video of the movie, featuring a Samuel L. Jackson sound-alike, uttering the phrase "I'm tired of these cotton pickin' snakes on this cotton pickin' plane!" Fans went nuts over the possibility of hearing the great Sam Jackson say these words, so the studio reshot a scene just to add that line in.
As for the movie itself, the title pretty much sets up the plot... Sam Jackson plays Nevill Flynn, an FBI agent who is escorting Sean Jones (Nathan Phillips) from Hawaii to Los Angeles, so that Sean can testify against mob boss Eddie Kim (who Sean conveniently saw murder another man). Well, Eddie Kim can't have that, now can he? So he rigs a crate full of poisonous snakes to open while the jetliner is flying over the middle of the Pacific Ocean.
And the movie is a hoot... it starts well, and then when the snakes go crazy, we have a good solid twenty minutes of creative and fun death-by-snakes. There is a "mile high" scene with boobage (warning) but they pay for their transgressions courtesy of a fork-tongued judge, jury and executioner. If you are squimish about snakes, as my buddy Ryan Sherman is (wuss), then this isn't the best way for you to spend $9 and two hours... lots and lots and lots of snakes, all hissing and striking and biting and slithering and so on and so forth. There's a wound being cut open and venom seeping out, there's someone being squeezed to death, there's eyes being taken out, there is drool from a tongue that gets bit... family entertainment.
Watching Sam Jackson do his thing is a blast, too. From the moment he enters the movie, he just entertains... Michael and I were sitting there quietly uttering other movie phrases we've seen him do, stuff like "I killed the snake and I hope they burn in hell!" and "do you think this snake will fulfill the prophesy and bring balance to the force?" and "I wonder if he'll read the snakes Ezekial before he shoots?" (from A Time to Kill, Star Wars Episode II and Pulp Fiction, respectively)
The only time the movie drags is during the middle third, after the snakes have done their initial damage, it slowly becomes a typical "the odds are against us, we all could die, what are we going to do?!" kind of movie... it does keep its unpredicability in that some really likable characters get snipped, while others live on. Plus, it was nice to see Anchorman's Champ Kind do some stuff, as well as seeing Dick from High Fidelity working again. Heck, even Kenan gets involved, though there's no Kel to be seen.
Sans Kel, Kenan gets a juicy role
You'll also see Julianna Margulies, who I must admit is looking pretty good for her 40ish age... though she had it in her contract that she wouldn't be near the snakes at any time (which, thinking back, I don't think she was...) so that's not fun. I know some of you might be thinking ER, and you're right, but most of you probably know her as Rica from Out for Justice, or Maureen from Ghost Ship.
Of course, when Samuel L. Jackson says the money line, "That's it! I've had it! I'm tired of all these cotton pickin' snakes on this cotton pickin' plane!" the whole theater went nuts, and truly, that line alone was worth the price of admission. If you decide to go see this movie, please have the mindset of "This is gonna be really crappy", and I think you won't be disappointed. Its as fun as you make it, truly.
My fear is that they'll take something fun and run it into the ground (see Ghostbusters, Police Academy) by making "Rats on a Plane" or "Snakes on a Speed Yacht" or "Rabid Beavers on a Louisiana Air Buggy"... but until then, I just say to you... Enjoy the crapfest goodness that is Snakes on a Plane.