NEW to the Blog? Click Here
Looking for The Day After Thanksgiving? Scroll down
or click here
Thought since December had already started, I'd finally list the music on this months musical playlist... normally, I try to keep the list around 15, but its Christmas! That means a jumbo list of songs, all suited to keep you in the holiday spirit while you read The Clouds in My Coffee
(and become a Coffee Drinker... it doesnt sign you up for anything, it only lets the world know that yes, you enjoy this blog!)
"Sleigh Ride" by Ella Fitzgerald.
Is there a better way to start off a Christmas playlist that Ela Fitzgerald? This is one of my favorite Christmas tunes, and until I heard this one, Harry Connick Jr's version was the best... and then I discovered this Ella tune.
"All I Want for Christmas" by Vince Vance & the Valiants.
This is truly my favorite Christmas song. Seriously. I don't know who Vince Vance is, I'm not sure who that actually is singing, and I've never heard of the Valiants--in fact, the rest of the album that I've heard is actually pretty terrible... but this countryfied, love-sick Christmas carol is just great.
"Have Yourself a Merry Little Christmas" by Judy Garland.
The Lovely Steph Leann turned me on to
"Meet Me In St. Louis"
, the musical starring the beautiful Ms. Garland. Its on my short list of movies that I really liked and just have to see again... I have a feeling a few viewings, and its probably going on The Dave100 2.0 in 2012.
Random trivia... Judy Garland refused to sing the original line, "Have yourself a merry little Christmas, it may be your last", as she regarded it as depressing and grim, and she was singing to Margaret O'Brien, then a child. She changed it, and the version she sings here is the one that everyone knows.
"Linus & Lucy" by Vince Guaraldi.
You know this tune. You love this tune. This tune makes you happy, don't pretend that it doesn't.
"All I Want for Christmas Is You" by Mariah Carey.
Perhaps one of the most overplayed songs this time of year... and you know what? I stop the radio every single time it comes on. I love this song. It makes me happy. This is Pre-Skank Mariah in her best form.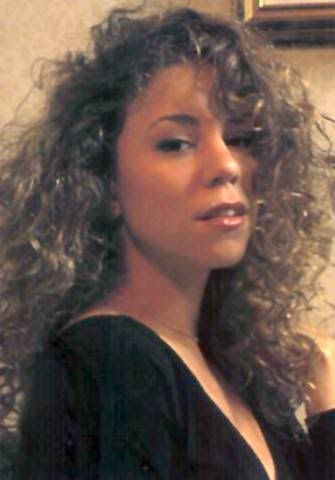 Even with the 1990s hair, I'd take pre-skank Mariah over skank Mariah any day of the week. She just sang better... "Vision of Love", "Fantasy", "Dream Lover", "Can't Let Go", "Emotions"... nothing in the last few years that she's released has come close to her early brilliance--and for whatever reason, every song has to have a "feat. (fill in rap/hip hop artist here)" tag attached to it. Is this necessary? Factor 7 never had a "Dusinane feat. RZA" or a "It Is Well feat. Missy Elliot with The Lox and Ray-J". When your "feat" tag is twice as long as your song title, its bad news. Where was I?
"Please Come Home For Christmas" by The Eagles.
This is a fun song to sing. The piano keys echo to begin, then Don Henley's rasp comes... "bells will be ringin'.... the sad, sad news..."
"The Christmas Song" by The Carpenters.
This is one of two for The Lovely Steph Leann. My favorite version of this is from Hootie & the Blowfish, but I couldn't find their take on this classic on the playlist site I use. So, I went with The Carpenters.
"Grown Up Christmas List" by Amy Grant.
Aw, this song makes me all warm and fuzzy and weepy. Well, not weepy, but warm and fuzzy. Amy Grant is awesome.
"You're a Mean One, Mr. Grinch" by Sixpence None the Richer.
There are several versions of this song out there, including the immortal Boris Karloff classic from the actual cartoon... but I liked the Sixpence. Leigh Nash's voice is just amazing.
"Feelin' Good" by Nina Simone.
Technically this isn't a Christmas song, but every year, Starbucks comes out with a Holiday CD with a mixture of old, classic and new artists--Ella, Etta, Frank, Tony, along with Sarah McLachlan, Aimee Mann, Jack Johnson and the like. Well, one one entitled "Sleigh Full of Songs", I found this gem buried between Bing Crosby's "Little Drummer Boy" and The Great Satchmo's "Cool Yule"
(that's Louis Armstrong, fyi).
And from there, I discovered the joy that is Nina Simone. She's freakin' awesome.
"My Favorite Things" by Lorrie Morgan.
Another song that has been done a thousand times... and aside from the original from The Sound of Music, this is my favorite take on this one. Lorrie Morgan is a country star with very little success nowadays, but back in the early 90s, when I assume this was recorded, she wasn't too bad.
"Christmas In Hollis" by Run DMC.
Ah, anyone who has seen DieHard will recognize this. Its the song that Argyle the Limo Driver puts in when driving John McClane to the Nakatomi Building. "Don't you have any Christmas music?" asked McClane. "This IS Christmas music!" Argyle responds. Right he is.
"O Holy Night" by Rebecca St. James.
While working at WTBF in Troy during Christmas of 1997, Word Records sent me this demo sampler CD from Rebecca St. James forthcoming Christmas album. It had a few different carols and hymns, but this is what stood out. Arguably, the definitive "O Holy Night" is Mahalia Jackson, and I won't argue there, but this is good too... its different.
"The River" by Sarah McLachlan.
This one isn't too old, I don't think. Its from Sarah's Christmas CD "Wintersong", one of the 100 Coolest Things of 2007. Sweet. Sad. Lovely.
"Same Old Lang Syne" by Dan Fogelberg.
The other song I threw on here just for The Lovely Steph Leann. The late Fogelberg reminded me of REO Speedwagon, STYX and Toto... great artist, especially at melancholy, sad ballads, but shouldn't every try to rock out. Fogelberg never really did, saving himself the laugh that is "Renegade" from STYX. Don't get me wrong, its a fun song, but "Renegade" is a silly song, not a rockin' song. Anyway, enjoy The Dan.
"Christmas Eve-Sarajevo" by The Tran-Siberian Orchestra.
Another one I came across in 1997. I was blown away by it. I immediately played it for Doc Kirby, our program director, and he loved it too. We started tossing it into rotation. I played it for the WKMX program director then, and he didnt think it was all that great. "Not sure that will be very popular."
"Christmas in Dixie" by Alabama.
For me, Alabama is the quinessential Alabama group. And as much as I hate "Sweet Home Alabama" by Skynyrd, I love "Christmas in Dixie". Perhaps its because I grew up on old school country
(I vaguely remember when this song was brand spankin' new).
"Santa Baby" by Kylie Minogue.
I cannot hear this song without thinking of Stephanie Rector. Deuce Christmas, 2000, I believe. Maybe 2001. Stephanie, in a purple sweater and red Santa hat, takes the microphone and begins to sing "Santa Baby". Mikey, her brother, looked on in horror as his younger sister reduced every other guy in the room to a puddle of mush at her feet. She swore she'd never do it again. Now married, that might be a good thing.
"Last Christmas" by Wham! Featuring George Michael.
How can you have a Clouds in My Coffee Christmas without this tune? Most people aren't even sure when this song was done, who did it and where it came from--well, it was released as the B-side of the record "Everything She Wants" in 1984.
Back in the day, when singles were released for purchase and to radio
(back before the words "digital" and "download" were used commonplace)
, the actual song that was to be released was on the A-Side. Now, because it was an actual record, with two sides, they had to put something on the other side, and usually it was a "throwaway" song, one that really had no hope of being popular... on the 84 record, "Last Christmas" was the B-Side.
And for you, My Clouds In My Coffee Drinkers... I give you the video, in all its horrendous glory, to Wham! feat. George Michael's song that will undoubtably last forever... "Last Christmas"
"Santa & His Old Lady" by Cheech & Chong.
After the video, I'm not sure anything could top that. Well, maybe this hilarious little bit by Cheech & Chong, discussing Santa Claus and his magical night over Christmas. Don't worry, its a clean comedy bit.