As I sat in the little gold car, snuggled up next to the lovely Steph Leann, with only a small metal bar across our laps to protect us from centrifical forces, I closed my eyes. I closed my eyes to perhaps stop the spinning. The little gold car, with its metallic sheen and blinky lights, spun rapidly on it's base. The base itself was attached to an arm which led to a small hub, where three other arms spread out in opposite directions, all arms spinning, each with its own gold car attached. The bigger hub of four cars was attached to a giant arm, which led to the central hub, the big fancy thing in the middle, the big thing that itself was spinning, creating for me not just on immediate spin, but two others occurring at the same time.
And this was all on an incline.
On thought went through my mind... Toby Keith. Well, not Toby Keith himself, but a Toby Keith lyric....
"I ain't as good as I once was... and that's just the cold hard truth. I still throw a few back, talk a little smack, when I'm feeling bulletproof"
When the ride stopped, and the lovely Steph Leann and I slowly made our way off the platform and wobbled into the walkway, we decided that would be the last time we'd ride the Mind Spinder again. I looked at Steph Leann and grimaced "Wow... I'm not 20 anymore."
But that's okay, we were at the Park Formerly Known as Visionland, that being
Alabama Adventure Amusement Park
. That's right, it was Birmingham's own Miracle Strip. If you're standing in the welfare line, and you ask for Land O'Lakes butter, Kraft cheese and Six Flags, they had you gubmint butter, gubmint cheese and Alabama Adventure.
Sidebar: I cannot express to you how my heart sunk when I discovered a few years back that
Miracle Strip Amusement Park
was being torn down for a high rise condo (of which the deal, rumor has it, has fallen through). I grew up in Samson, right across the Florida line, about 70 minutes from Panama City, and Miracle Strip Park was a yearly destination. They had all the rides Alabama Adventure has, only fancier, and admission was cheaper, and darn if the Starliner Coaster wasn't one of the scariest coasters ever... not because it was built scary, but because it was so old, you knew one day it would collapse.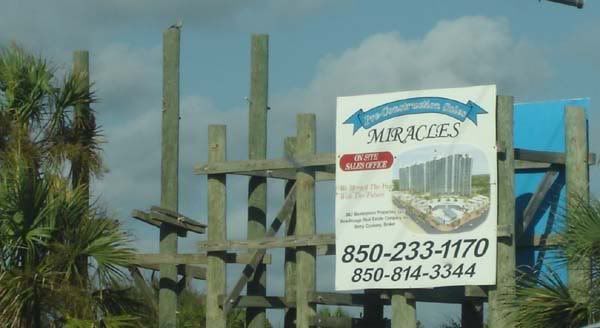 Miracle Strip has become Miracles Condos. I weep for the future.
In our yearly trip to the beach with the Campbell Family in 2004, I drove by in horror as some of the rides had been removed, weeds grew in the parking lot and a construction fence was surrounding the lot. It actually hurt me. RIP, Miracle Strip Park.
Steph Leann works for Southern Company, and they sometimes do "team building days" where everyone from a SoCo department gets together has lunch somewhere (in this case, Alabama Adventure) and has fun "team-building" exercises and games. Late in the afternoon, after everyone else has left the team building un, I drove out to meet Steph Leann for some Visio... er, Alabama Adventure fun!
For those of you unfamiliar with the park, its really set up like any other park... when you enter, you have several shops and snack bar areas on either side before you get to any rides. There are actually two parks--Magic City USA (named for Birmingham being "The Magic City") and Splash Beach, the water park next door. Our tickets actually included admission to both, and part of me wanted to visit the water park, but just not tonight.
Go down the steps at the end of "Celebration Street", where all the shops are, and you enter into the game area, where you can pay five dollars to toss a ball and miss for the chance to win an oversized Shrek that if you did win, you'd have to carry around all day.
The big thing happening tonight is the Summer Concert Series, which this summer features such superstars as Aly & AJ, Jesse McCartney, Darryl Worley and tonight, megastar Bo Bice. Bo is from Birmingham, so his audience is a bit bigger than usual. For my money, though, I'm ready to ride the two roller coasters, the Rampage and the Zoomerang.
We tackle the ferris wheel first (which I hate ferris wheels, so I won't be doing that again), then go to the Log Flume, a ride that seems to take, oh, about 9 seconds. Seriously, in a fiberglass log, you go up a big hill, drop about a foot, go around two small curves and then down a hill. A little water splashes and that's the ride.
We go up the hill to the big swings... like the ferris wheel, I hate the swings. Just can't do it. So I sit this one out... Steph Leann loves it, though, and I see her smiling as she rides.
Immediately after the Mind Spinder, we gather ourselves and decide to ride something a little less spinny, The Scrambler. It doesn't spin quite as much, but still, it spins. Perhaps too soon after the Mind Spinder. After the Scrambler, we figure to play through the pain and just knock out the spinny rides. The Himalaya.
I ain't as good as I once was, my how the years have flown, but there as time back in my prime when I could really hold me own...
If you've never been to a county fair or festival, or have never seen the Mind Spinder (or rides like it) or the Scrambler (which is the universal name for this--or should be), you will probably know The Himalaya. Its a bunch of cars crammed together in a big circle, and the whole things spins. You go up an incline and down an incline. Then, about two minutes later, the whole thing sping backwards. Haven't been on the Himalaya in a while, and this one was missing something... The Unintelligible DJ.
At county fairs and festivals, there is an Unintelligible DJ in a booth next to the ride, playing loud music like "Pour Some Sugar On Me" or "Sweet Emotion" really loudly. This time there was music playing, but I think it was an OutKast cd. Anyway, the DJ is talking, but perhaps due to the ride spinning or the DJ having biscuit dough crammed in his mouth, I dunno, but you can never understand a word he's saying... save for two words. "Go Backwards". That's the announcement that now the ride will in fact be reversing its course. Here's what you hear:
mmphmmph mpm pmmph mp mmp Go BACKWARDS!!
Miracle Strip called it the Muzik Express, and they had The Unitelligible DJ.
We had a chance to meet Bo Bice, because I knew a few people that worked there from working with them in a previous job, but Steph Leann and I stood there in the meet and greet tent and just stepped out of line. I mean, what do I say to Bo Bice? I don't own his CD, I am not planning on buying it, and that terrible song "The Real Thing" that came out last year doesn't make me a fan. I'm sure he's a nice guy and all, but we shrugged and headed for the coasters.
Steph Leann had ridden them both earlier, and it kinda gave her a headache, so I ventured solo onto the Zoomerang, a big metal coaster that resembled the late Viper in Six Flags Over Georgia.
I used to be hell on wheels back when I was a younger man. My body says "you can't do this boy" but my pride says "oh yes you can"
I have a firm belief that every coaster should be ridden in the front and back (NYC Jenni, insert your own joke here) so thats what I did. Front row, then climbed back in line and sat in the back seat. As coasters go, its not bad, but I can name several that are better than the Zoomerang. Someone liked it, though, as I passed by a triangular patch of hurl on the sidewalk on the way down. I was excited about the Rampage, though, as I've ridden it before--its a wooden coaster, and wooden coasters are awesome.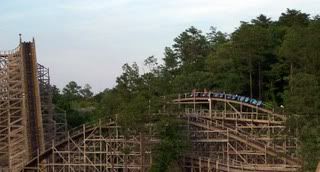 The reason I wanted to come to Visio... er, Alabama Adventures.
I've been on the Rampage before, a few years ago, riding it four or five times in a row, but I was excited to revisit the ride. The Travel Channel even listed it as one of the country's Top 10 wooden coasters, and its right here in Birmingham!!
Its never a good sign, however, to see four guys with harnesses and toolboxes walking up and down the tracks of the coaster. This led me to believe that I wouldn't be riding it tonight.
We hit the pirate ship and then the log ride again, battling swarms of gnats along the way, and decided it was time to get going. I missed The Rampage, though.
It's probably a good thing. After multiple spinny rides, and too many twists and turns when all I'd eaten was some soft serve ice cream and some of Steph Leann's funnel cake, I was about done. Heck, when climbing out of the back seat of the Zoomerang, the chick asked me if I wanted to ride it again. I politely declined. After all...
I ain't as good as I once was... I gotta few years on me now... but there was a time back in my prime when I could really lay it down...