Okay, so in this two blog posts that turned into four blog posts somehow (because why say in 500 words what we can say in 2400?), here are the final four books in my list of 2018's favorites.
But first... the links to previous stuff...
The Not Top Ten Books of 2018
Top Ten of 2018, Part 1
Top Ten of 2018, Part 2 (review of "The Six")
The 4th Best Book I Read for the First Time in 2018
"DON'T BULLSH*T YOURSELF: CRUSH THE EXCUSES THAT ARE HOLDING YOU BACK" by Jon Taffer
Excuse makers seem to put more time into crafting the perfect justification for their actions (or inactions) that into working and succeeding. We all do it. And it's time for us to stop. Excuses are the common denominator of failure. - Jon Taffer
So, I'm a big fan of the Spike TV now Paramount TV show "Bar Rescue"...
First, does anyone else remember The Nashville Network? America's country home? I remember watching the nightly show "Nashville Now" hosted by Ralph Emery, featuring some puppet named Shotgun, while the country stars of the 80s and early 90s appeared, stars like Marie Osmond and Dan Seals and Alabama and Vern Gosdin and so on. This sounds like a blog post on it's own, so we'll come back to this later.
Anyway, "Bar Rescue" is this reality show that features business man and bar expert Jon Taffer who goes into failing bars and restaurants and helps turn them around with what can only be described as tough love. Usually, the bars are nearly bankrupt because of poor management, so Jon yells at them to get their act together, has his compatriots teach them bartending and cooking skills, and overhauls the bars. The level of success is debateable, as I've read stories of how some of the rescued bars still fail, but overall, the show is awesome.
Taffer offers the same level of pull-no-punches instructions to the readers as he does to the Bar Rescue viewers, but this time talks about the things that get in our way and keeps us from being successful -- fear, knowledge (or lack of), time, circumstances, ego, and scarcity -- and it all boils down to a simple "Stop making excuses and get your crap done."
I found the direct line of coaching to be pretty refreshing, and I think this is a great book for anyone who needs to pull a Toby Keith (put a boot in your a**, its the American way) and get their stuff done.
The 3rd Best Book I Read for the First Time in 2018
"REPUBLICANS BUY SNEAKERS TOO: HOW THE LEFT IS RUINING SPORTS WITH POLITICS" by Clay Travis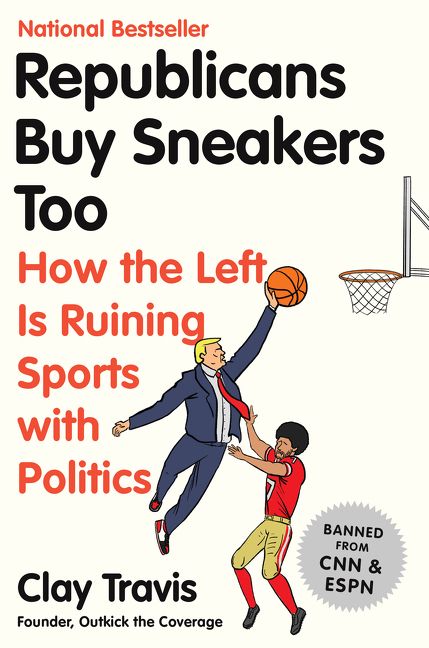 "Sports united us and the games themselves entertained us. They helped to keep us sane amid an increasingly insane political and global environment. Until, that is, everything changed and ESPN, the most powerful source in sports media, decided to turn into MSESPN, the nation's most far-left-wing mix of politics and sports, and every other sports media entity followed their lead" - Clay Travis
Okay, first up, you may hate Clay Travis. And if you do, then keep scrolling, because I'm obviously going to talk about how much I liked his book. So don't @ me. (is that what the young folk are saying? Don't at me? Only using the @ sign? Is that like a clapback? I'm so old now)
I don't listen to Travis' morning show, but I do listen to the (mostly) daily 30 minute Outkick the Show podcast, which is a humorous take on sports and news of the day. Travis will tell you himself, and has many times, that he worked on the Bill Clinton campaign in the 90s, and voted for Obama twice, so he's not a Republican, but he hates the hypocrisy that is all up in our politics from both sides of the aisle, and this book spells out much of that.
If you listen to him on podcasting, you'll know his take on how ESPN let Jemele Hill slide on something awful she said on Twitter, while firing Curt Schilling over something he said in private, and the media embrace of Lebron's claim that someone vandalized his home (no evidence) and Michael Bennett's claim to have been racially profiled in Vegas (evidence to the contrary) and some stuff about Trump and how ESPN has gone full-on left wing. And a chapter on Michael vs LeBron politically, which lends to the title of the book, based on something that Michael Jordan is alledged to have said.
Think he's a punk and full of crap? Well, Clay Travis called the ESPN ratings collapse two years ago, as we are beginning to see some of that now. And he's made several more predictions of that kind, and they've come to fruition.
I like the guy, as he makes me laugh. I don't agree with many things he says, but some things are dead on. And if you like him, you'll enjoy the book like I did... and if you don't... well, like I said, keep scrolling.
The 2nd Best Book I Read for the First Time in 2018
"THE ART OF WORK: A PROVEN PATH TO DISCOVERING WHAT YOU WERE MEANT TO DO" by Jeff Goins
"This is not a book about miracles. It is a book about finding your calling, about how you discover what you were born to do. A calling is that thing you can't not do, an answer to the age-old question, 'What should I do with my life?'" - Jeff Goins
I've been a fan of Goins for a while, especially since I finally met the guy at The Thing conference last May. He basically writes about the creative process, including writing actually about writing, with books like "Real Artists Don't Starve" and the aptly named "You Are a Writer"
(which I really enjoyed).
This is a book about finding your calling, but more than that, finding out what you were meant to do -- including being a writer. Each chapter is based on a theme, from Awareness to Discovery to Profession and so on, with sharing a real story from each theme.
It goes through subtle, and not so subtle, hints in life about embracing failure... when trying isn't good enough... learning from unexpected teachers... building a legacy and much more. Ultimately, it tries to help you answer the simple question of "What were you meant to do?"
For some folks, you'll find an answer, for others, you'll be reassured of what you are doing now (like me), and maybe for some, you'll be just as lost as before, but with more wisdom and soundbites in your head.
And of course, it doesn't hurt that Goins pulls a great theme from the Michael J Fox magnum opus "The Secret of My Success" to discuss happiness and opportunity. And if you really want to know what the Secret of My Success is, then just ask the 80s band Night Ranger... "The secret to my success is working TWENTY FIVE HOURS A DAAAAAAAAAAAY"
THE BEST BOOK I READ FOR THE FIRST TIME IN 2018:
"THIS IS MARKETING: YOU CAN'T BE SEEN UNLESS YOU LEARN TO SEE" by Seth Godin
"Marketing is the act of making change happen. Making is insufficent. You haven't made an impact until you've changed someone. You can do this by creating and then relieving tension. By establishing cultural norms. By seeing status roles and helping to change them (or maintain them). But first, you need to see it. Then you need to choose to work with human beings to help them find what they are looking for" - Seth Godin
Not that I have a bookshelf full of marketing books, but I've read a few here and there, and can tell you hands down, this is the best marketing book I've ever read. Without question. And that even surpasses some of Godin's other marketing books.
Quite simply, the book is about storytelling. And being someone who sees the needs of others, those you are trying to serve, as you market to them the product or service you want to serve them with. Its the seeing that most people miss. According to Godin, "Marketing isn't a battle, and it's not a war. It isn't even a contest. It's the generous act of helping someone solve a problem. Their problem."
The book is a tweet factory, as I felt like I could have tweeted out 3,000 statements and one liners from the book itself, as it uses various examples from companies both big and small in marketing ideas.
I don't even know what to tell you about this book other than if you have a small business, or a large one, and your marketing scheme doesn't seem to connect -- then get it. The audio is great, as Godin reads it in his dry tone, but I'm really wanting the workbook now that will go with it.
And I want to read it again, this time to absorb more of it and try to not just read, but soak it in.
Well done, Mr. Godin. Well done.
And there you are... the best books I read for the first time in 2018...