Did you know that
George Michael
grew facial hair as a teen just to cover up his acne? Its right there on the screen, in a little white bubble that popped up. Who doesn't love them some Pop Up Video on Vh1 Classic?
Funny story about George Michael, and The Lovely Steph Leann... yes, I might have already told this story
(I did a search for it in The Clouds in My Coffee Blog, but saw nothing)...
one day, we're driving down the road, down I459 to be exact.
This song comes on, and its not of The Lovely Steph Leann's favorites, though keep in mind, this is 2001, and she's not The Lovely Steph Leann Dollar, she's The Lovely Steph Leann Campbell, and not only are we not married, we aren't even dating.
"Father Figure"
is a very sensual song, though granted, it loses some of its flavor and value when you remember that George Michael is a Rainbow Coalition member. The same effect takes place when you remember that the kickin', angry song "You Oughta Know" is rumored to be written about
Uncle Joey
, or that anything Elton John was not written about a chick... well, except for "Candle in the Wind." We think.
Anyway, the song comes on, I'm singing it all breathy and stupid, and the second verse kicks in... "that's all you wanted, someone special, someone sacred, in your life..."
So I reach over and grab The Lovely Steph Leann Campbell's hand, the one not on the steering wheel, and begin to rub it on my face. Singing very breathy, I go into the next line, "...just for one moment, to be warm and... naked... at your side..." She yanks her hand back, very, very quickly, and gives me a look that says "If I knew I wouldn't feel kinda bad later, I'd pull this car over and kick your candy a** out right here, freak." And she still married me. Good times, good times.
Personally, I think that George Michael is a trendsetter... the phrase you know and often here, "Who's Your Daddy?" isn't anything new... I give you the line, "...I will be your father, I will be your preacher, I'll be your daddy, I will be the one who loves you, 'til the end of... time."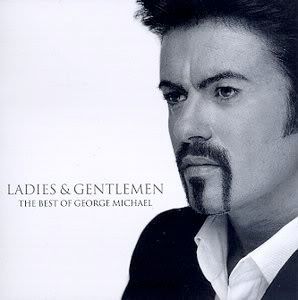 First, let's clear up a rumor. "The Jitterbug" is actually called "Wake Me Up Before You Go-Go". The name of the band was "Wham!", then when George Michael realized he was better than
Andrew Ridgeley
, it became "Wham! featuring George Michael". Get it right.
Sidebar, with Andrew Ridgeley, according to Wiki, he is not only married to Keren Woodward of Bananarama, he fights for the rights of people to have clean water, partners in a business that makes surf equipment, and is reportedly the inspiration for the character of Alex Fletcher, played by Hugh Grant in
"Music & Lyrics"
. And he's never been busted in a restroom for anything. Worth mentioning.
Since we're on the subject, my favorite George Michael songs: "Too Funky", "One More Try", "Freedom '90", "Father Figure", "Praying for Time"... honestly, "Freedom '90" is probably my favorite, but because, like, 3 seconds ago I read this line on Wikipedia:
The song also alludes heavily to the struggles of being a
closeted
gay man, and acted as a catalyst to his effort to break free from his publishing contract with Sony Music.
...I felt as if I had to drop it a few notches.
Be honest, before this blog, could you name five George Michael songs? Didn't think so. I mean, unless you're Scotty Latta, why would you want to?
No kidding, if you had told me to list 1,000 things I might blog about when I sat down, The Songs of George Michael would not have been on this list.